Russell Mills well and truly made his mark at the season-opener for NDRC Pro Alcohol at the Sydney Nationals with a record-setting display on his way to the event victory – now he is lining up for back-to-back events on opposite sides of the country as he looks to continue his title pursuit.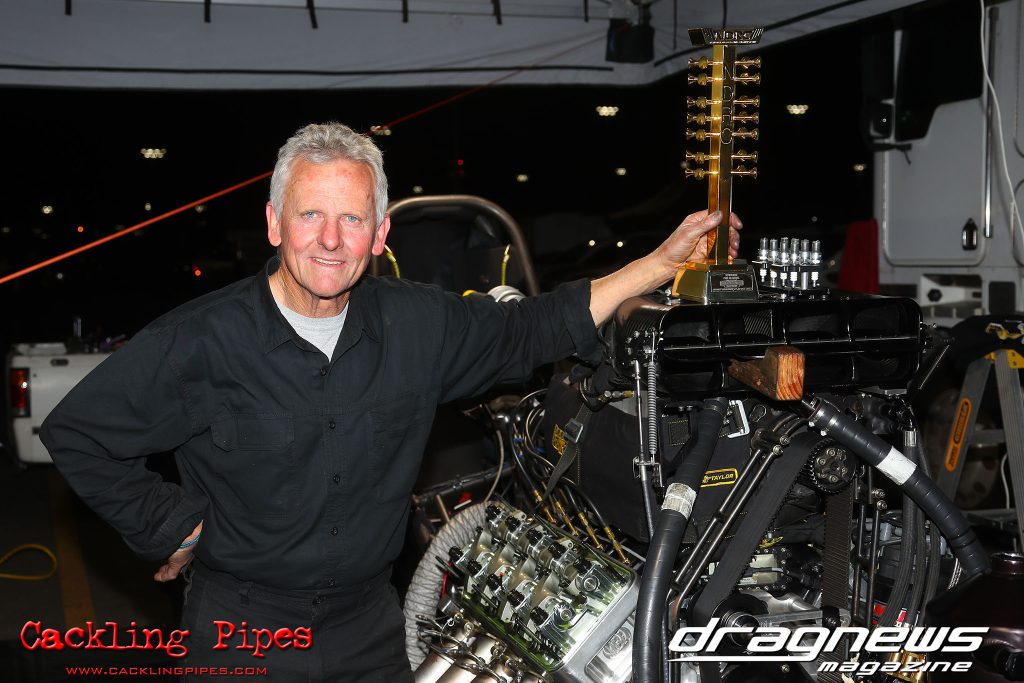 Mills will be on-track for the Perth Motorplex's Goldenstates this Friday November 24 and Saturday November 25 – the lone interstater in the Pro Alcohol field – before travelling back across the country to his home-track of Sydney Dragway for the Top Fuel Xmas Showdown just six days' later on Saturday December 2.
This weekend the Cronulla racer and his Pro Alcohol compatriots will be joined on track by Nitro Funny Cars, Top Doorslammers and Top Fuel Motorcycles, while in Sydney the schedule will include Top Fuel and Pro Mod alongside Pro Alcohol, with both events to also host racing for the Aeroflow National Sportsman Championship.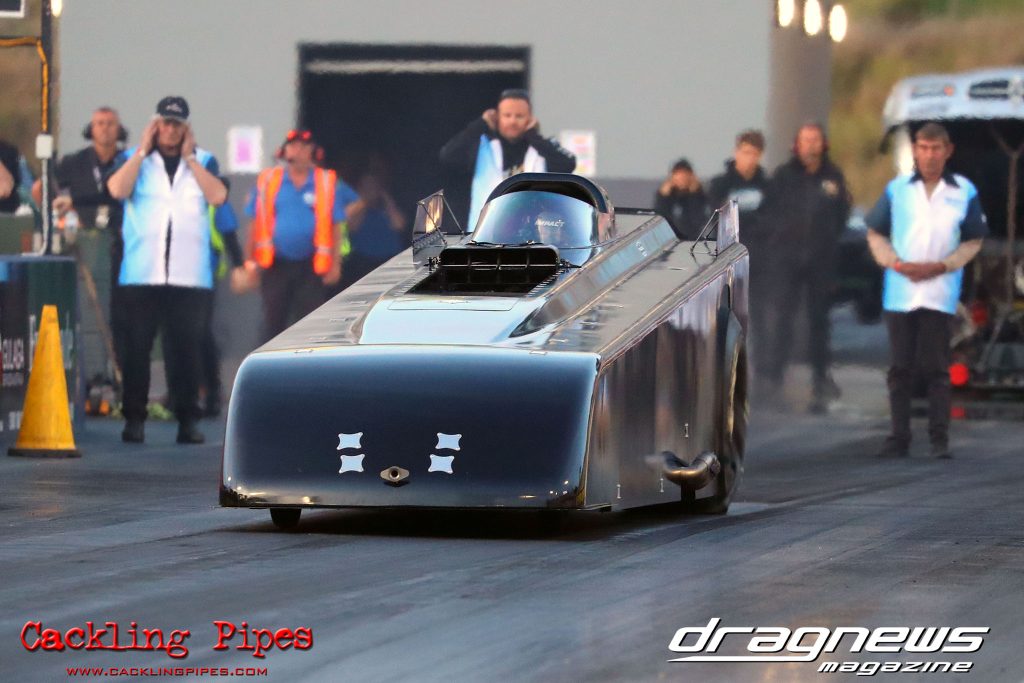 "I have never been past Adelaide, so I am really looking forward to going to Perth, they say it is a fantastic track with great air conditions, and the help I have already been offered from local racers has been fantastic, as a couple of my crew can't make it for this weekend," said Mills, who is 71 years old.
"I don't feel any pressure being the championship leader after just the one round – it is early days with a lot of water to go under the bridge before the season is over.
"Having said that, to be able to go back-to-back with another win in Perth would be just fantastic. In this kind of series, you must get points, we have seen that over the years that you need all those little points because sometimes it can come down to the tiniest of margins, so getting Low ET, Top Speed, round wins, it all helps.
"When you ask me how I would feel about winning at both Perth and Sydney, back-to-back, well, I still wouldn't relax if that did happen! You can be in a great position in the championship and things can turn, I remember the Winternationals years ago for instance where I couldn't race due to hurting one little part and that was that.
"I never predict a win either, especially in this field – the competition is so stiff, and there is nothing in it between the racers at the higher end of the class.
"Of course, though, if we were able to do that, to win again in Perth and then in Sydney, and to not only hold onto but expand that championship lead in the process, well that would be great, wouldn't it?! But you still can't relax, you can't ever relax," he laughed.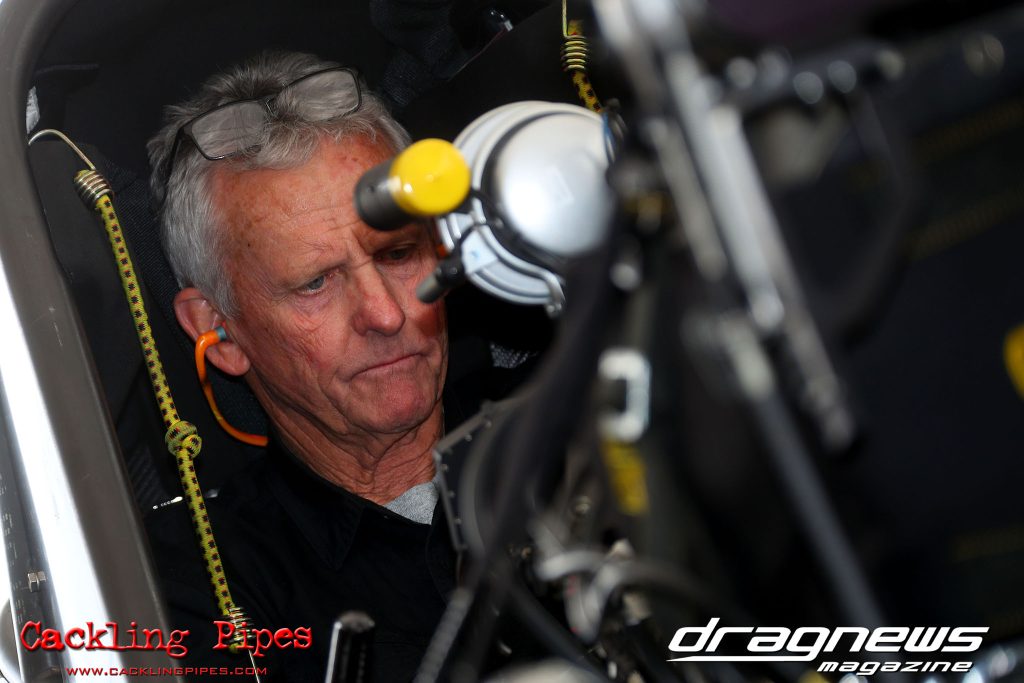 While he doesn't want to make predictions, Mills' commitment to chasing the title is unquestionable, given the challenge he has set himself for the next two weeks.
"Going to Perth and then heading right back to Sydney for the very next event only six days later is of course a very big ask but I am lucky that I am able to do it," he said.
"I have always wanted to race in Perth, and we should get the car back to Sydney with one day spare to prepare, so hopefully all goes to plan!"
While all racers put in a fantastic effort across the season-opening event, there was no doubting that Mills was a true standout and a deserving event winner, laying down a record setting 5.458/431.83kph pass in the first round of racing, 5.433/428.60kph in round two, and an event winning 5.540/393.58kph in the final against Daniel Reed.
Whether on a record-setting run or not, Mills always turns heads at the track thanks to his unique looking Torquay Hotel-backed Mckinney Mills full-bodied front engine dragster.
"The kids call it the Batmobile, which we find pretty cool," said Mills, while acknowledging the car's backers, Torquay Hotel, B&J Racing Transmissions and Leanders Clutch.
"I used to have another car that was similar but had a little narrow body and a big front wing and a big back wing, they used to call that a Funster. This car is a development on that, as we look to make that kind of car more aerodynamic.
"It is a stretched funny car chassis under a body which streamlines the whole car into something that looks like a stretched altered-slash-funny car. That body, which encloses the engine and the wheels and everything, makes the car in round figures around 10mph faster than our old car, without having really done anything else.
"It was very pleasing to set the record in it at the first round of the championship and I think the car still has a few miles per hour left in it without too much trouble.
"It definitely has a little more in it. For example, I think 270mph is accomplishable, it has gone so close to that already.
While confident that he can extract more from his unique looking racing machine, you won't see Mills making huge sweeping changes anytime soon.
"I am a great believer in little steps. At the Sydney Nationals it did a 5.45 and then with a little tweak it ran 5.43. I don't make big changes; I just work away at it," he said.
"Heading to Perth, not having been there before, we will start with a conservative approach to doing good runs and then just working on it like I normally do and creep up on it as the day goes on, just like we did in Sydney for the season opener.
"Everyone tells me the track is fantastic so I am looking forward to it, but we will be conservative to start before seeing if we can increase that mile per hour record some, and who knows, maybe go for another win!"
As well as Pro Alcohol, the 49th Goldenstates at the Perth Motorplex will feature incredible 11,000hp/500kmh Nitro Funny Cars across November 24 and 25 alongside Top Doorslammers and Top Fuel Motorcycles for the NDRC as well as some of Australia's best sportsman drag racers across two huge days and nights of racing, which will also include plenty of entertainment, fireworks, a pit party, and more.
The very next weekend, the Top Fuel Xmas Showdown will bring an action-packed day and night of racing to Sydney Dragway on Saturday December 2, featuring Top Fuel, Pro Alcohol and Pro Mod, alongside the Aeroflow National Sportsman Championship as well as plenty of on and off track entertainment.
For more information and to purchase tickets for both events, go to ndrc.tv