The new FuelTech Pro Mod Championship as part of the National Drag Racing Championship (NDRC) burst into life at Sydney Dragway's Sydney Nationals at the weekend, well and truly signaling an incredible season of racing to come.
With such a high-quality display delivered to race fans on-site and watching online, it is no surprise that buzz is already building around the bracket's next appearance at Willowbank Raceway, where it will race with the NDRC alongside Top Fuel, Pro Alcohol and the Aeroflow National Sportsman Championship across December 1 and 2.
Eight FuelTech Pro Mod racers well and truly delivered in Sydney running to a 5.85 performance marker, but it is safe to say that for one racer in particular, it was a perfect weekend.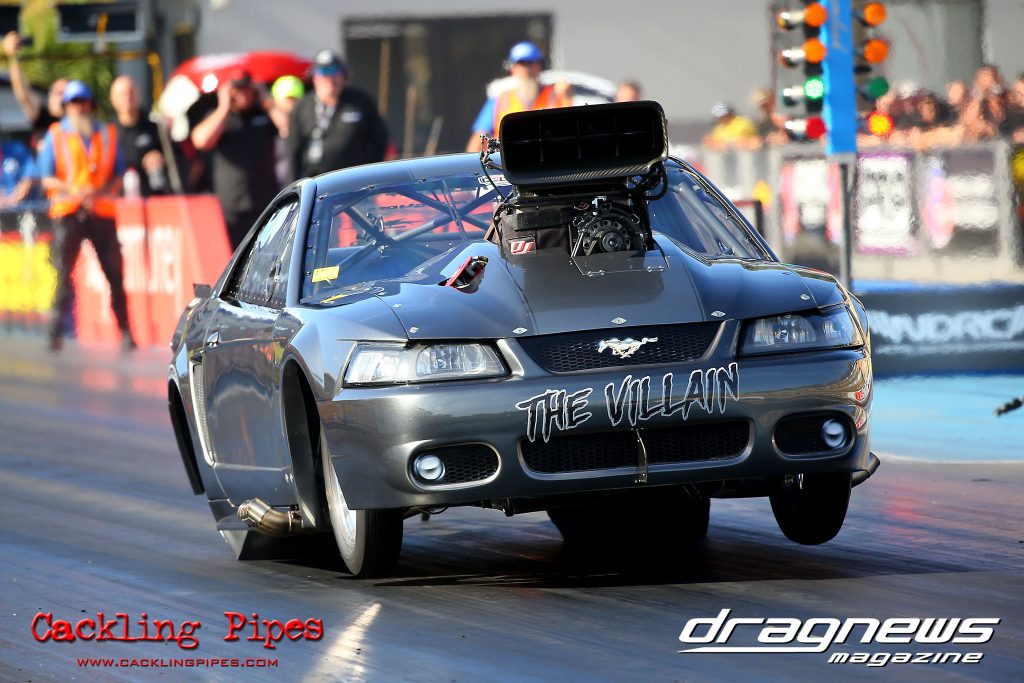 Top Doorslammer regular Craig Burns decided to turn his hand to the FuelTech Pro Mod Class with 'The Villian' Ford Mustang this weekend and with a top qualifying result, stand-out consistency (5.865/5.870/5.871/5.857) and three race wins – including the all-important A-Final – well and truly made his mark.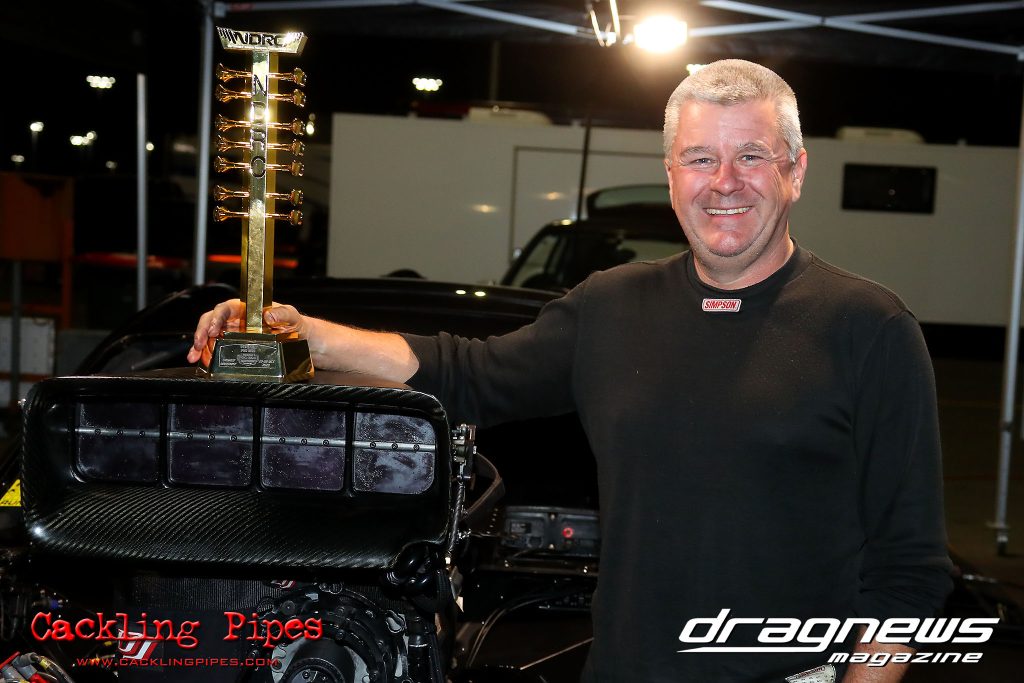 "This is awesome – what a great day," Burns said when handed the NDRC Gold Christmas Tree trophy.
"It really has been a perfect weekend and a really great weekend for us.
"I come from Top Doorslammer but there was no Doorslammer racing this weekend, so I thought, let's do this!
"We have run on the money over the whole race day which has been just awesome, and we top qualified as well.
"We ran as fast as a 5.857 and as slow as a 5.871 – it is just amazing what it did.
"I am very happy to get the Gold Tree – the first NDRC Gold Tree for Pro Mod. It makes it even cooler that it is the first one."
Burns was immediately impressive as one of three racers to go into 'the fives' straight off the trailer to open proceedings in qualifying.
Burns blazed out of the gate with a top qualifying performance of 5.865 seconds at 396.60kph. Second quickest in qualifying was Joe Gauci, who was debuting his ex-Carl Cox Ford Mustang at the event, who laid down a 5.886s/391.52kph pass ahead of third quickest, Frank Tarabay (5.894/404.20kph).
Burns' qualifying domination secured him a solo pass for the first round of racing in the three-round all-run format, but he didn't take it easy – punching out a 5.870s/393.72kph effort in a beautiful and crowd-pleasing run which saw him carry the front wheels down the track and celebrated as 'Mr Consistency' by the commentary team.
Burns was the only racer into the fives for round one, with Robert Campisi (6.203/387.85kph – win over Geoff Gradden's 7.214/341.80), Frank Tarabay (6.301/377.22 – win over Joseph Murina's 9.624/147.54), Neil Murphy (6.530/215.36 – win against Greg Tsakiridis' 7.748/202.24) the next quickest runners of the round. Gauci and Stew Walsh also faced off, with Gauci taking the win with an 8.632/168.35 to Walsh's 8.910/133.02kph.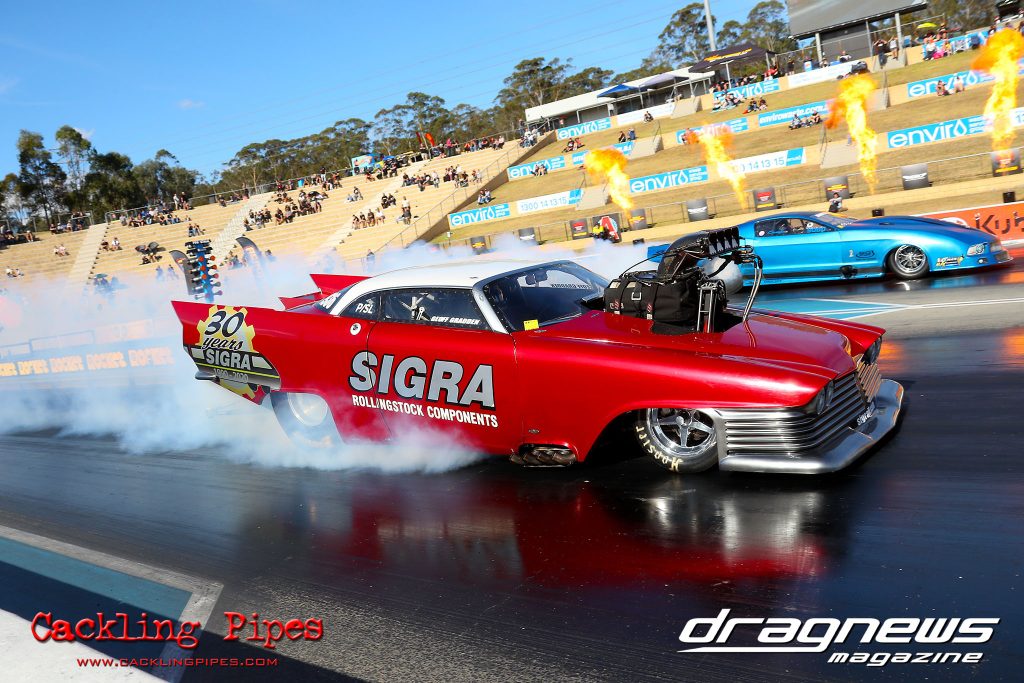 In round two, Burns again made a statement as one half of a staunch side-by-side pas with Tsakiridis, with The Villian's 5.871/388.24kph run ultimately bettering his opponent's 6.049/391.31kph run – despite Burns' having to spend longer than usual waiting to take the start when Tsakiridis had issues in his fire-up. The reaction times were on-point too, with a .010 for Burns and a .008 for Tsakiridis.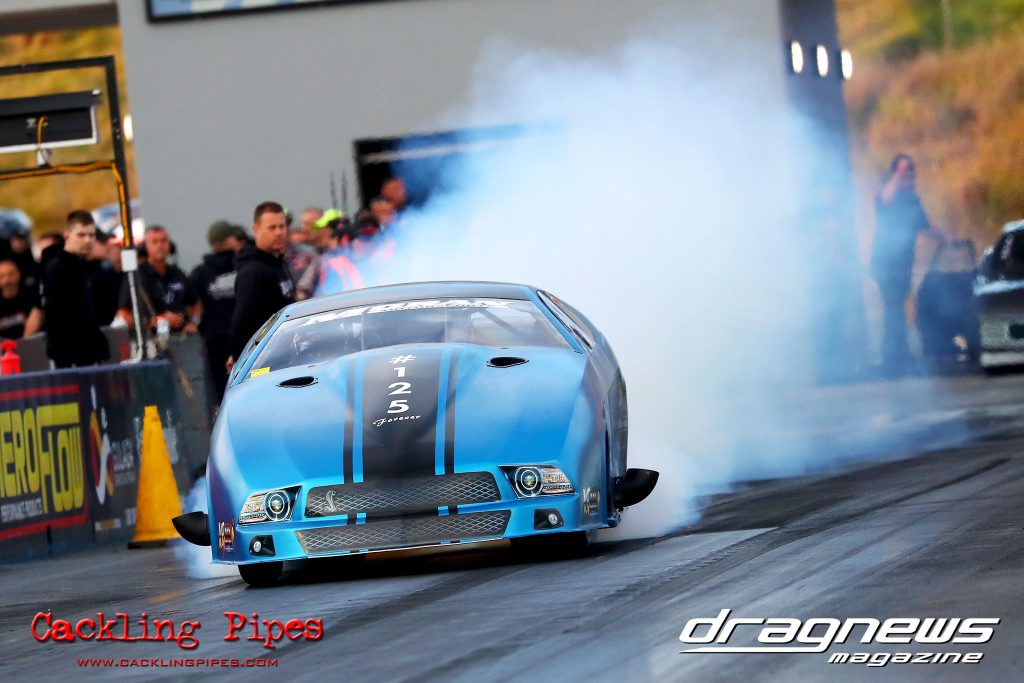 Campisi was another to deliver a five in round two, enjoying a solo pass for a 5.923/401.35kph effort – a delightful pass considering the turbo car racer had been struggling with issues in his previous runs.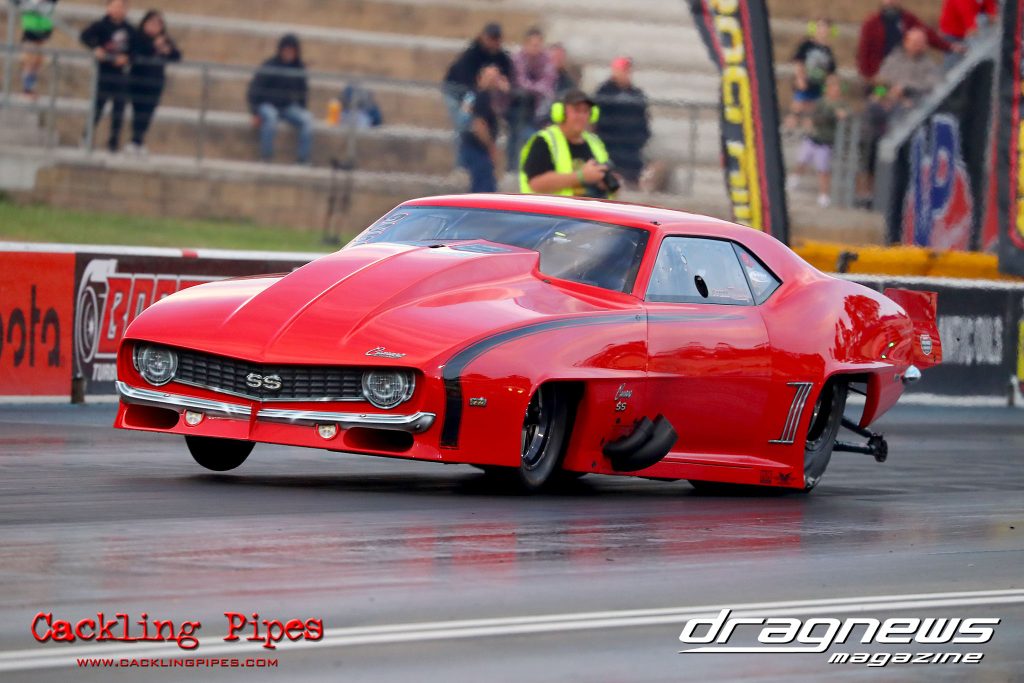 Also in round two, Stew Walsh and Tarabay faced off in a stab and steer dual, with Walshe taking the win with a 6.935/375.56kph result over Tarabay's 7.288/354kph run. Gauci meanwhile enjoyed a solo and backed off early after approaching the center line (7.362), while Geoff Gradden was super aggressive off the line in his own solo pass, getting out of it when it started to get messy.
After two big rounds of racing, all that was left was the final matchups, with Walsh and Gradden to do battle for the C Final, Tarabay and Gauci lining up for the B-Final, and Burns and Campisi destined for the A-Final.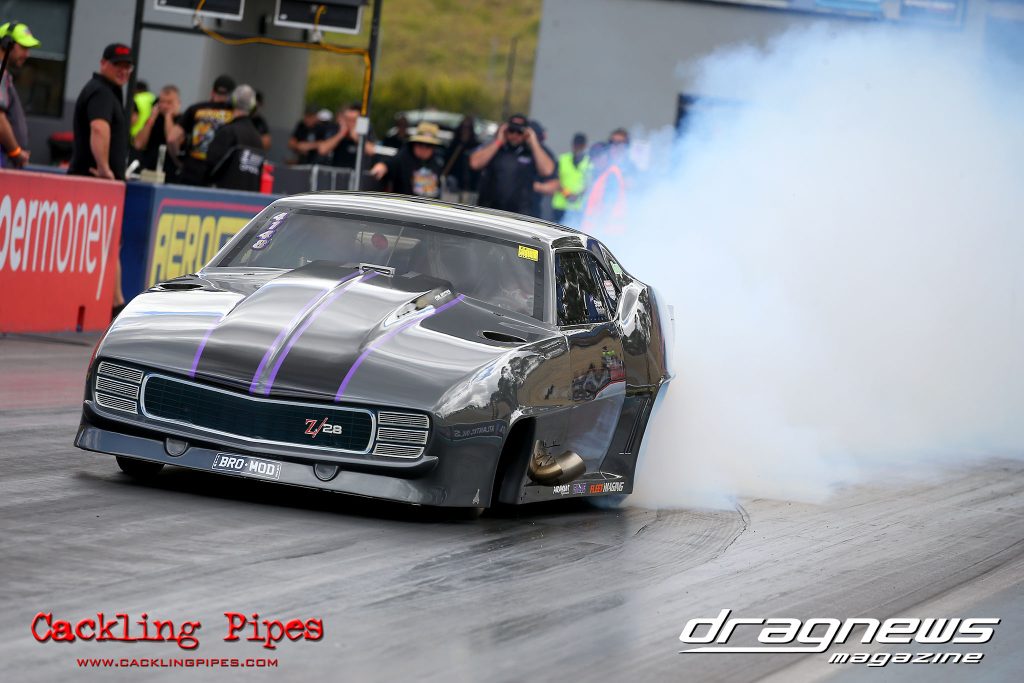 Walsh red lit after rolling through the beams, while Gradden rode a bucking bronco down the track before backing off before the line to turn on the win light with a 7.933; while Tarabay delivered an incredible .002 reaction time and went on to take the win over Gauci with a 6.008/383.78kph performance. Gauci was no slouch on the tree either with a .088 RT, but backed off early after a good start to his run (7.565/207.52). The B-Final win for Tarabay delivered him third place for the round.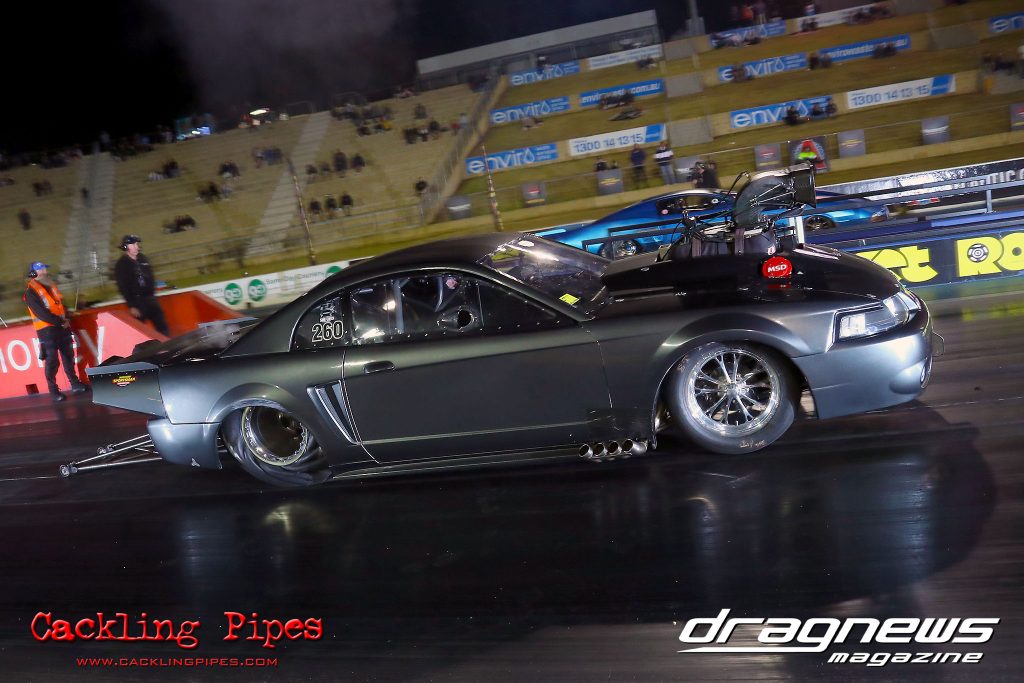 The A-Final was everything a FuelTech Pro Mod final should be – two cars racing door handle to door handle all the way down the quarter mile, with neither Burns or Campisi letting up despite the fact that Campisi had red lit on the tree by -.043 seconds.
Burns laid down an event-winning 5.857 second pass at 382.9kph, while Campisi did all he could to take it up to him with a 5.909/406.47 run regardless of the cherry on the tree.
"Running Campisi in the final was great – he is a great mate and a great customer, we have known each other forever but we have never raced each other, so to face him in the final was really good," Burns said.
"There are so many people I need to thank. Thank you to my family, Shellie, Cory and Joel Burns; and to all of the guys and girls that are with us and come and help – Natalie Bishop, Adam Lennox, John Fenech, Dennis Makko and Jessica Ferdinands; and also Jason Cunliff, Peter Kapiris and all the guys at Kapiris Brothers Racing, Jeff Cutajar (JC Racestuff), Danny at Custom Body Works, Al's Race Glides, Westend Performance, Menscer Motorsports LLC, Fabietti Race Engines and SCF Race Cars."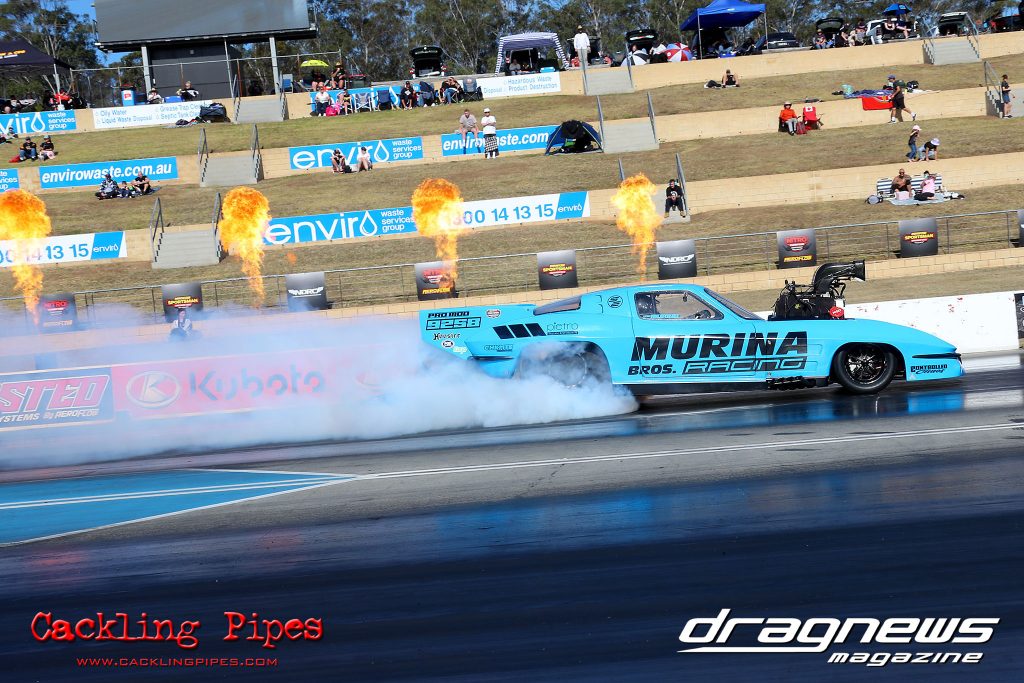 FuelTech Pro Mod will next be on-track at Willowbank Raceway, hitting the Queensland facility alongside Top Fuel, Pro Alcohol and the Aeroflow National Sportsman Championship across December 1-2.
Before it does however, the NDRC Group One show will travel across the country to the Perth Motorplex for the Goldenstates on November 24 and 25, with that event to be headlined by Nitro Funny Car, Pro Alcohol and Top Doorslammer alongside Australia's best sportsman racers.
For more information, visit www.nationaldragracing.com.au