Hydraulink Jim Read Racing has its eye on another hometown win at Sydney Dragway this weekend (May 6/7), when its home track will light up for round four of the Burson Auto Parts Australian Top Fuel Championship.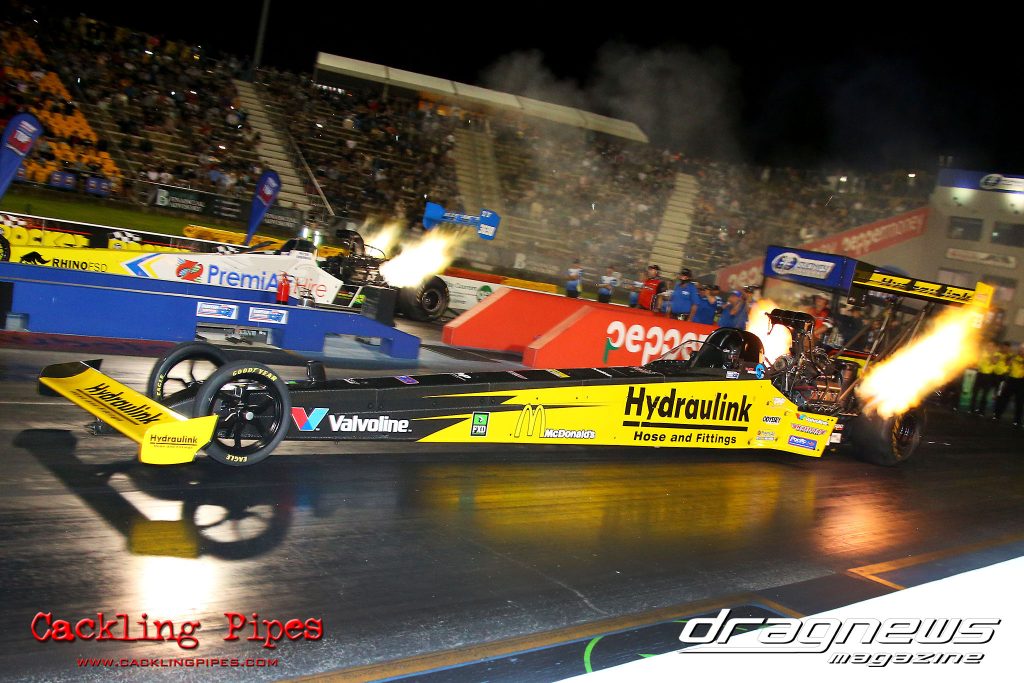 At the season-opener in Sydney back in January, the locally based team took out the victory – a trend that has continued across the season so far with rounds two and three also won by racers who call those tracks home.
With the title chase now returning to Sydney, the Reads are hopeful they can enjoy a return to form to secure another hometown victory.
"Everyone is talking about how the hometown racers are winning their own events so far this season, we took out the win at round one, then Phil Lamattina won in Mildura, and Damien Harris won in Perth," Jim Read Racing Crew Chief, Bruce Read, said.
"So now Peter Xiberras, Shane Olive and Wayne Newby, who are all from Sydney, are hoping that it is their turn at home…well, so are we!
"We will have our eyes on the prize, and also will be continuing to hunt that elusive 3.70 – hopefully we can run well and bring home another victory for our fans, and for our valued sponsors: Hydraulink, McDonalds, Valvoline, PremiAir Hire, Odyssey Batteries, Diamon Pistons, Premium Motorsport Products, FXD Workwear, Oasis Heat Pumps and Sunlover Pool Heating."
Following the opening three rounds, Hydraulink Jim Read Racing and driver Phil Read are third on the title standings on 230 points, behind Lamattina (270) and Xiberras (255).
"We have three rounds of the title chase to go including this weekend, so you better believe we will be doing all we can to gather those important champiosnhip points so we can hopefully advance up the order," Phil Read said.
"We have a brand-new car and we were lucky to break through and win that first event.
"From there we went to Mildura, and it started off well with us resetting the track record, but we just had a horrid time of it on race day.
"In Perth we also struggled to get it down the track, which was disappointing, but we have been working hard to make sure we are in the best position possible to ensure we can have a return to form this weekend in Sydney, and hopefully, another win!"
The Burson Auto Parts Australian Top Fuel Championship is scheduled to be on-track as part of Sydney Dragway's Nitro Champs across Friday May 6 and Saturday May 7. Two shakedown passes will be conducted on Friday at 4.55pm and 7.31pm, while three rounds of racing will be contested on Saturday at 2.29pm, 5.02pm and 7.29pm (all times local).
To learn more about Hydraulink Jim Read Racing, visit https://www.facebook.com/JimReadRacing