It wasn't only record setting on track performances at this year's Garrett Sydney Jamboree, a massive crowd surely broke attendance records as well.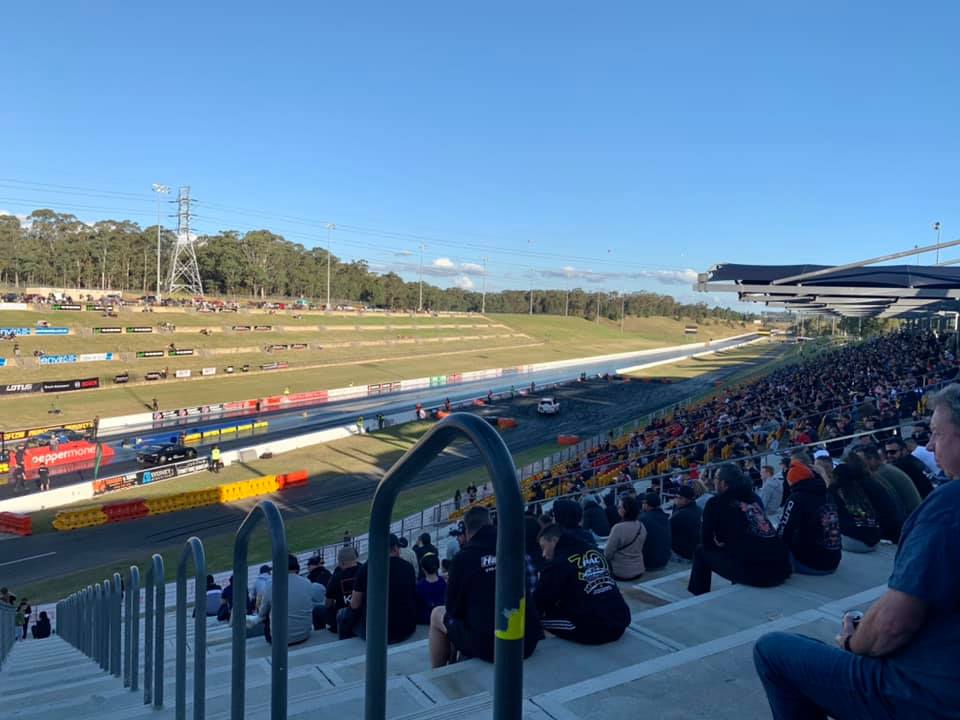 Extensive behind the scenes promotional effort from new Jamboree owner Collin Willshire along with Kelly Bettes' and their Jamboree team, this year's comeback event after COVID certainly delivered and we rank it as the best one yet.
The event didn't quite get finished racing-wise with some delays pushing the racing back to far into the night for racing to be completed safely, though some brackets were completed by then with others decided on countbacks.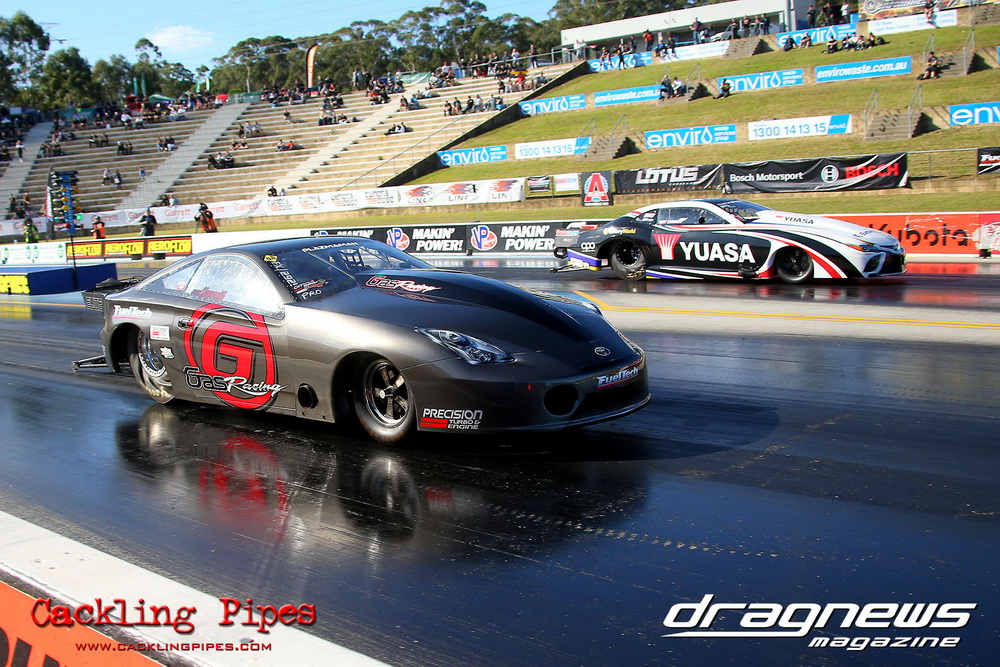 Joe Signorelli in the GAS Racing Celica top qualified after two session of Factory Extreme with a 6.05 ahead of Rod Harvey's 6.12 from the Camry in the 2JZ dominated field. Racing across all the heads up categories was supposed to feature a three round Chicago Shootout format then a final based on points accumulated.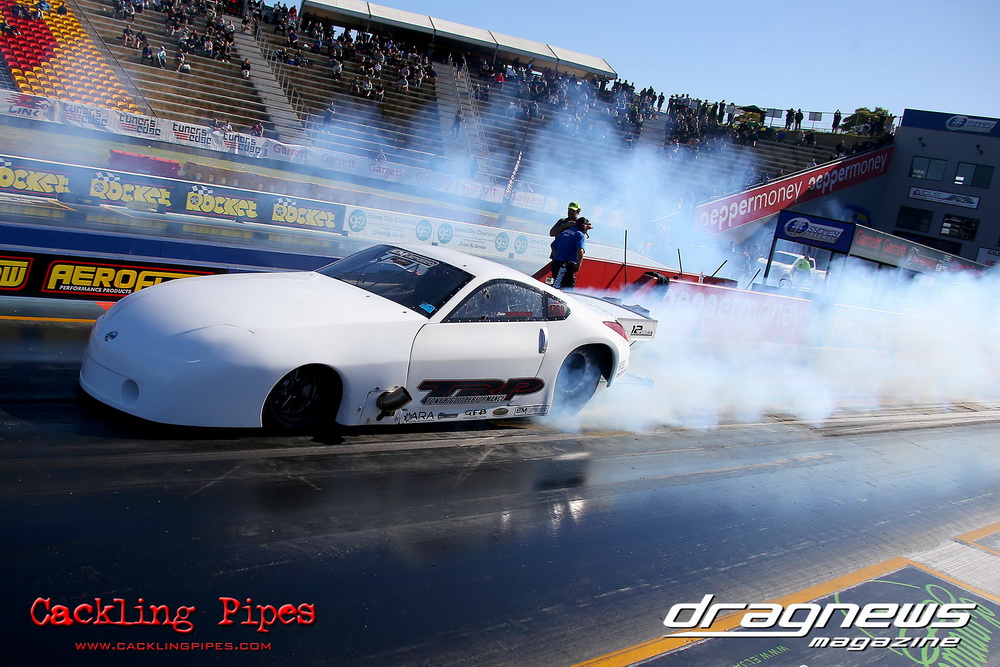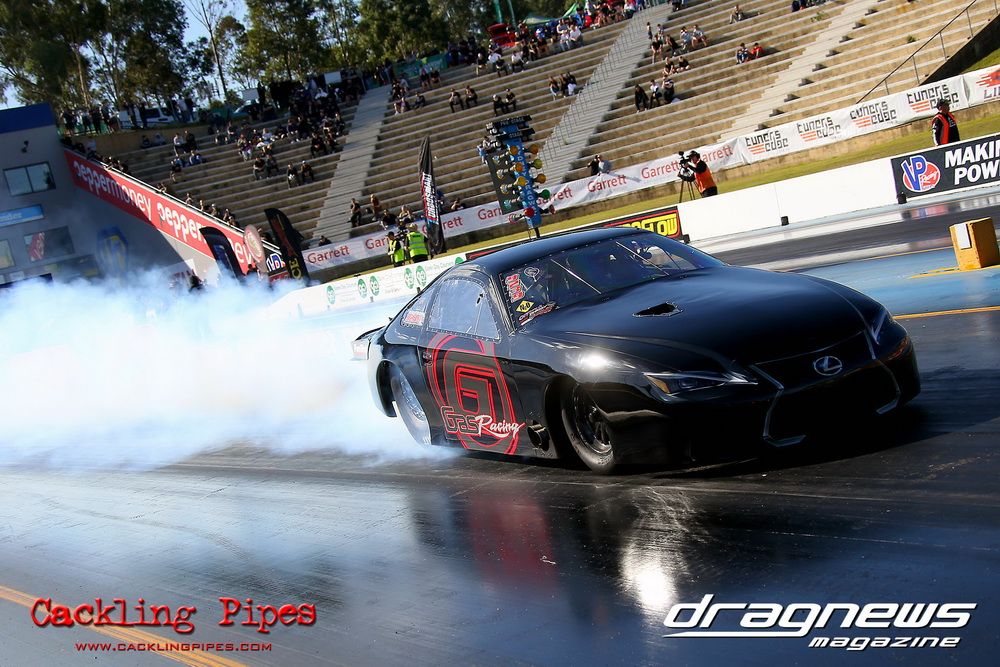 The story of the first round was Domenic Rigoli killing the Australian RB record. More impressive is there is no billet block between the rails, just the standard cast block punching out a 6.093 at 233MPH to take it to the 2Js and defeat Rod Harvey in the round. Frank Tarabay dropped a .003 light in his GAS Racing prepped Scion that morphed into a Lexus over the previous couple of days, nevertheless the world record holder for an automatic import had a 6.11 to take down the gold plated Queen St 20B of Sam Meindanis. While Signorelli soloed to a 6.55 with a few wounded warriors not making the call after qualifying.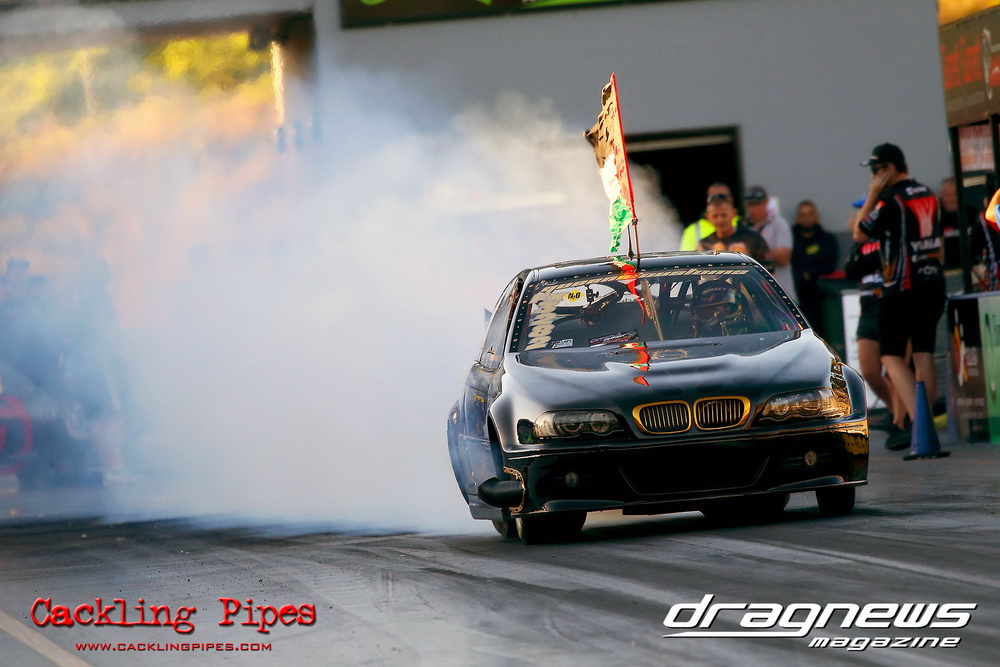 Signorelli dropped the first five for the class of the weekend with a 5.97 to defeat Tarabay in round two. Harvey with the solo went 6.48 as they still tried to find the right setup for the day. Meindanis locked in another PB for the rotary powered BMW with a 6.66 in his win over Gina Bullians who managed to get her RX7 back into racing after some qualifying dramas.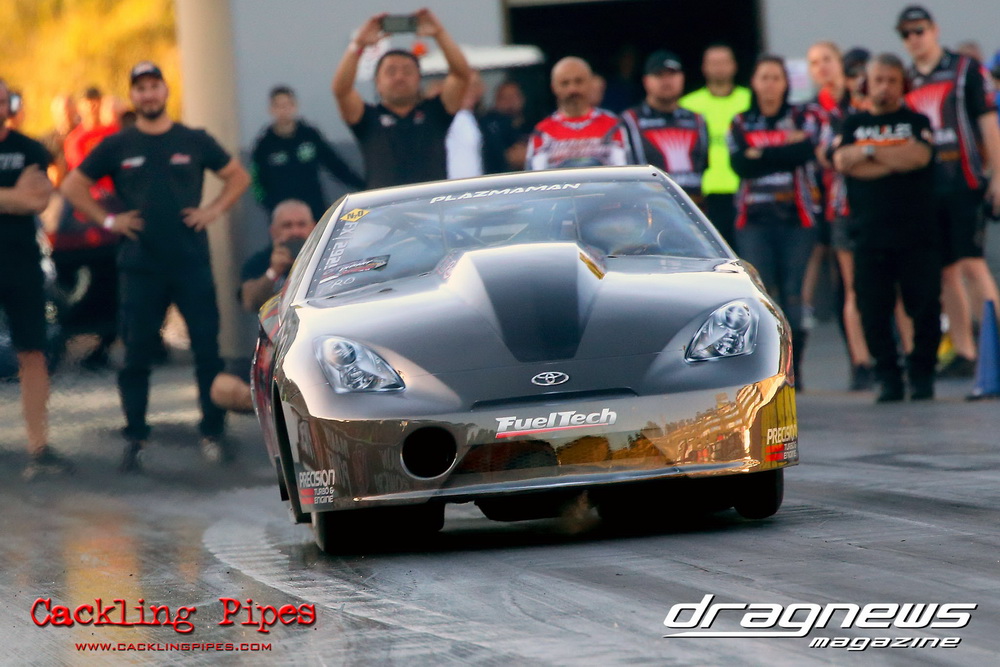 The third round saw Harvey find that setup and rocket to a 5.87 at 232MPH to defeat a red lighting Bullians, while a red light also ended Tarabay's race against Signorelli who dropped a 5.97. That's where racing ended with Signorelli declared the winner on points with Harvey as the runner-up decided on ET over Tarabay.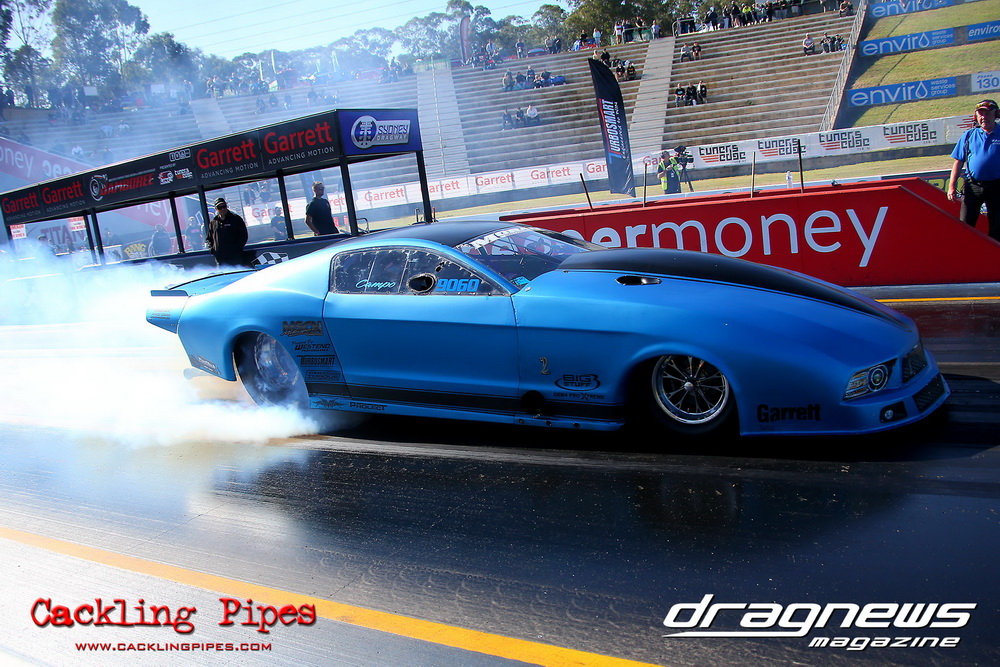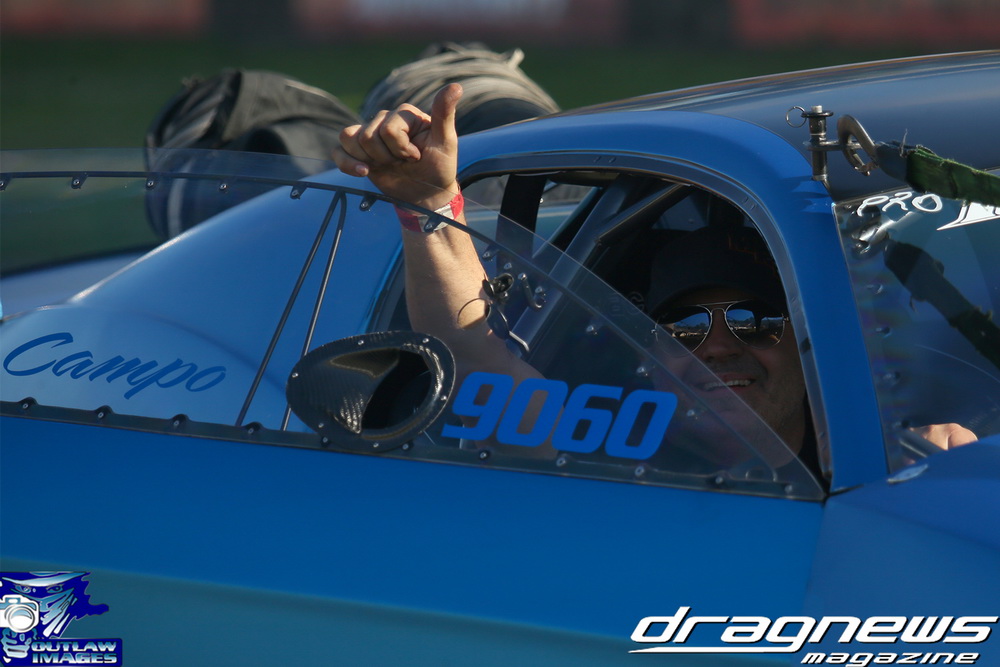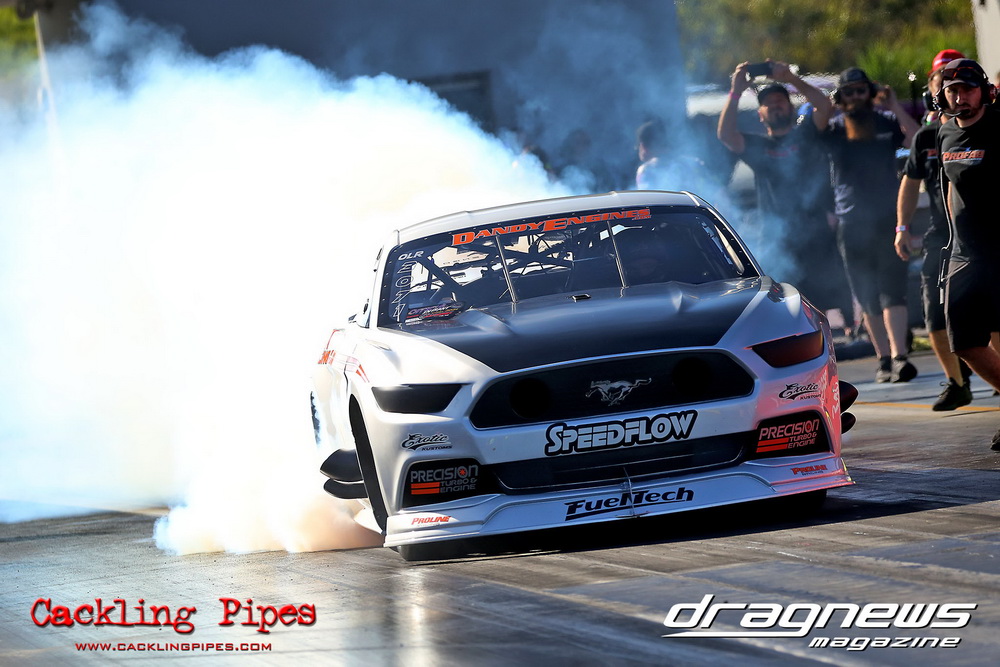 Pro Mod are also part of the Jamboree program, and they turned out a killer line up. Rob Campisi smashed out a 5.69/264MPH in qualifying to be on point over Jeremy Callaghan's 5.84/254MPH in his stunning Camaro. Wrapping up the list of cars in the fives; Gerry Sarafoglou has come to grips with his Mustang delivering a 5.91 qualifying best edging out Joe Gauci who clocked his first five with a 5.94/236MPH and is still on the radial shoes.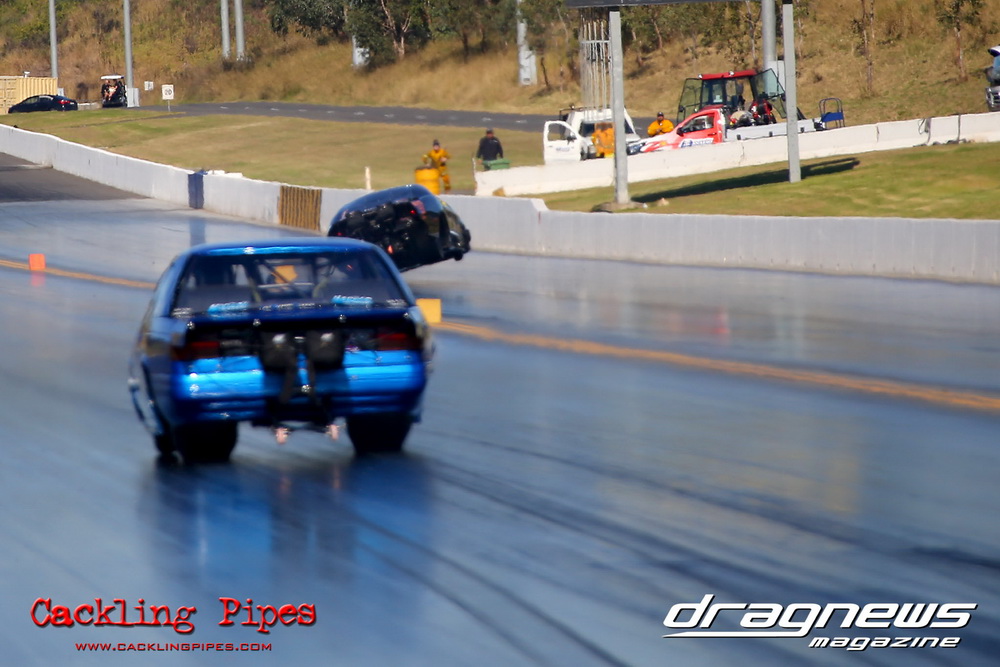 Qualifying wasn't without its drama, Greg 'Mauler' Tsakirdis slapped the wall hard after getting loose at half track in his record holding Mustang.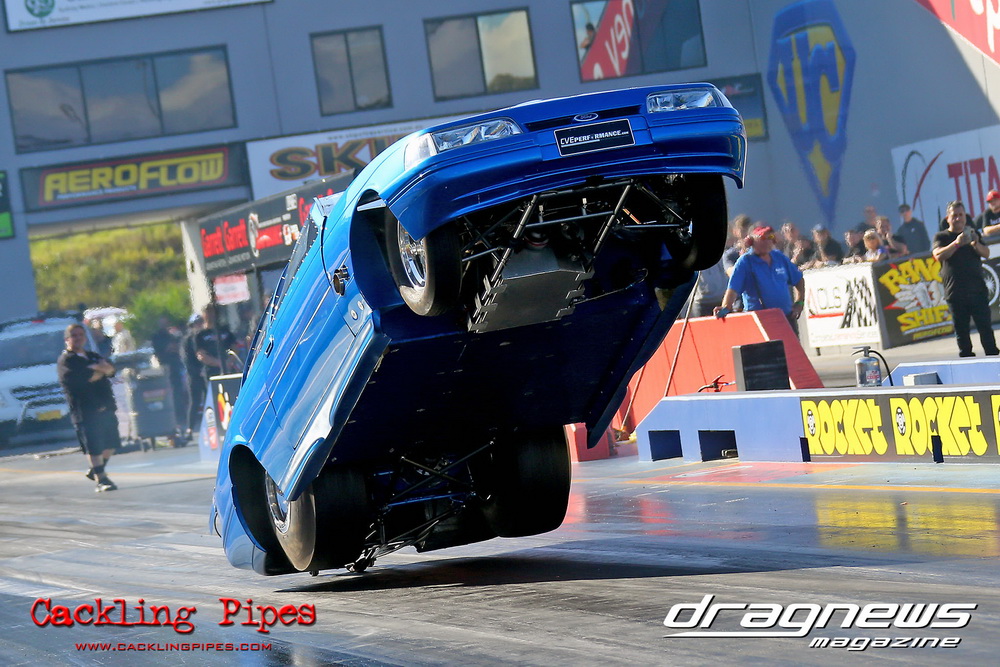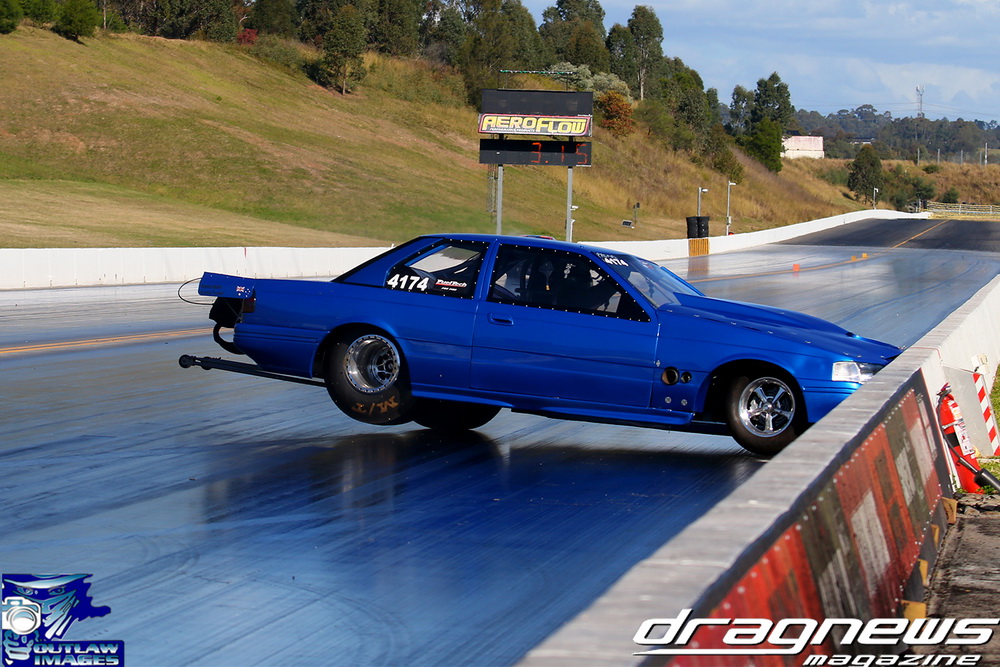 And Paul Cibotto had a debut not to remember with his new EB Falcon when a wheelie bar failure sent him to the moon and back, before knocking the wall on re-entry.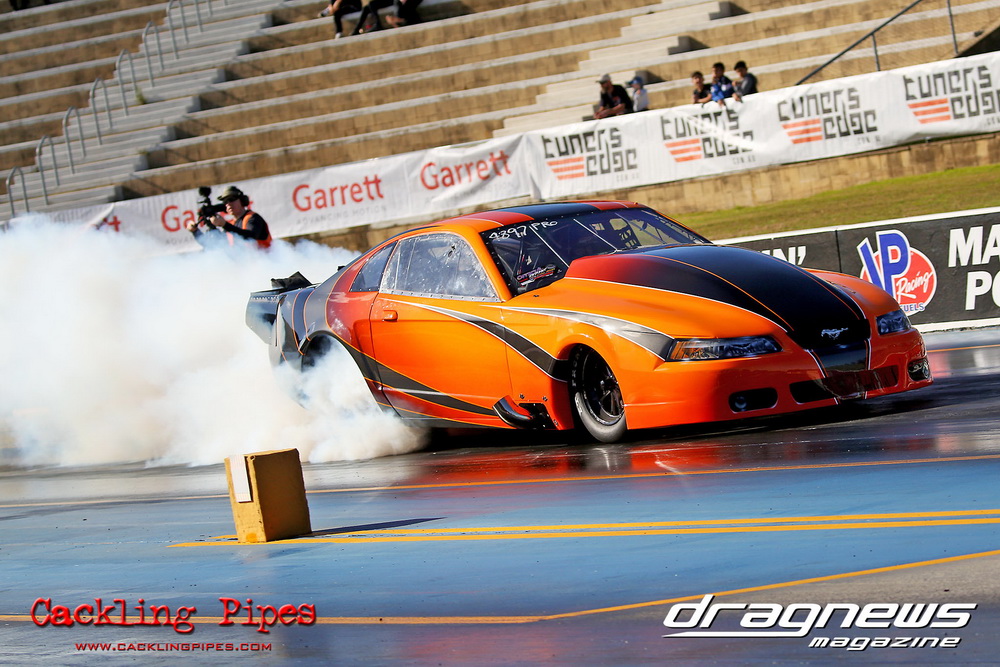 There were plenty of five second highlights in round one, Sarafoglou clocked a 5.95 defeating a transmission hurting Campisi. Callaghan continued to turn up the boost for a 5.78 to defeat Gauci who improved again with a 5.92. Thrashing effort of the event went to Tsakiridis and his team from Moits and CV Performance who managed to not only weld and tape his Mustang back together, but come out and bomb the field with a 5.61 to defeat Michelle Davies' 5.96. Pro Street OG Tristan Ocker's subbed in to drive Mick Duggan's Rif-Raf blown Nova, and have been creeping up on a tune as they ran a personal best 6.17 to defeat a troubled Stuart Bennett GXP.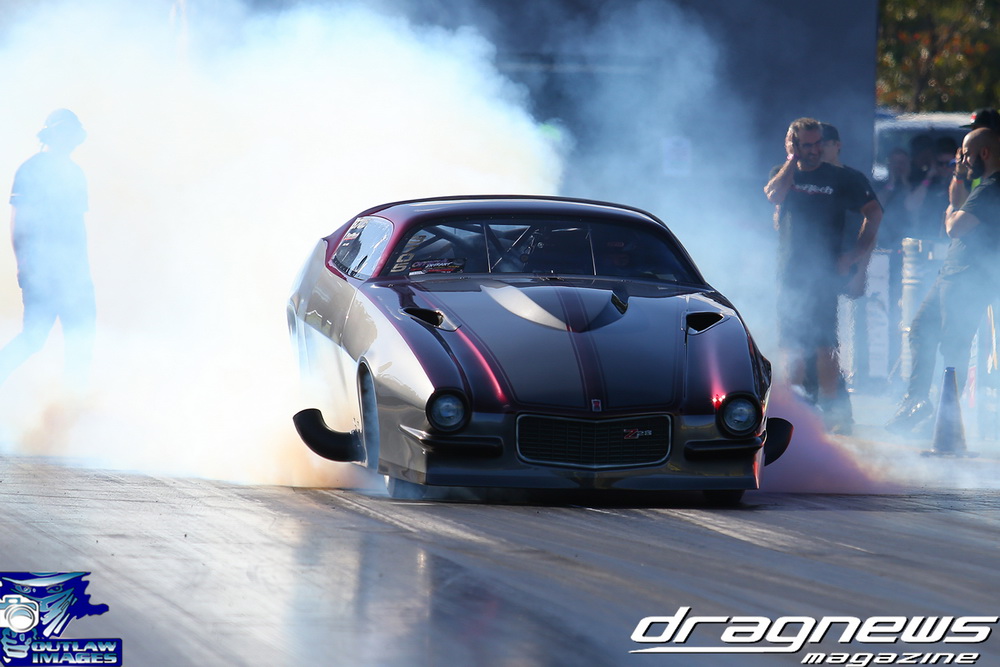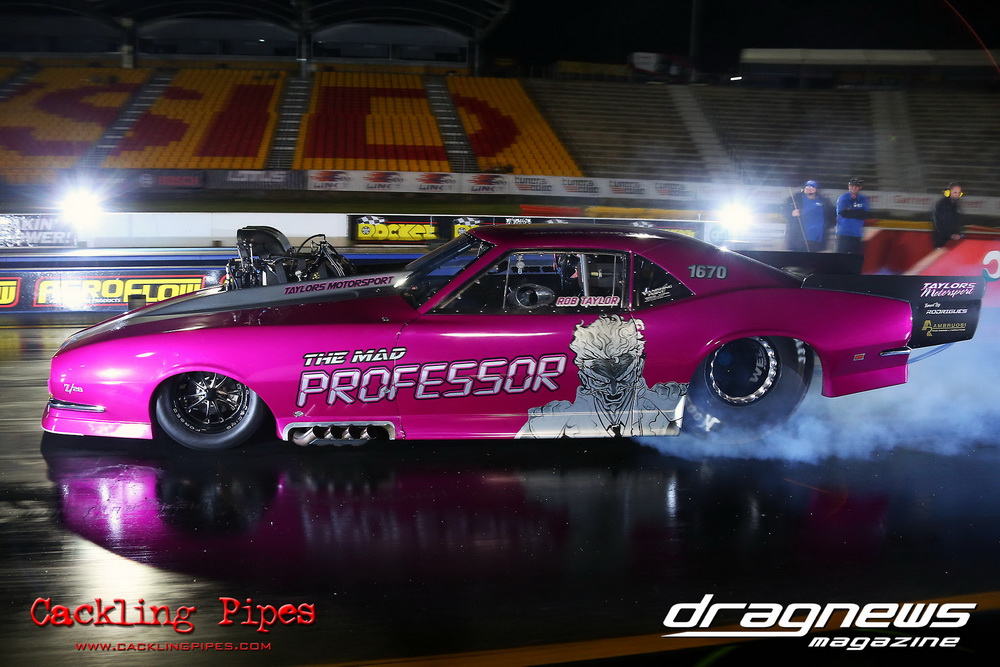 Callaghan threw everything at the tree against Tsakiridis in round two and came up 5 thou short on wrong side, as Tsakiridis rocketed to another 5.61. Bennett was still battling his GXP gremlins allowing Ockers to score another with a 6.22. While attrition was kicking in for the field that saw Gauci solo to a 5.91 and Rob Taylor who missed round one shake to a 6.79 also on a solo.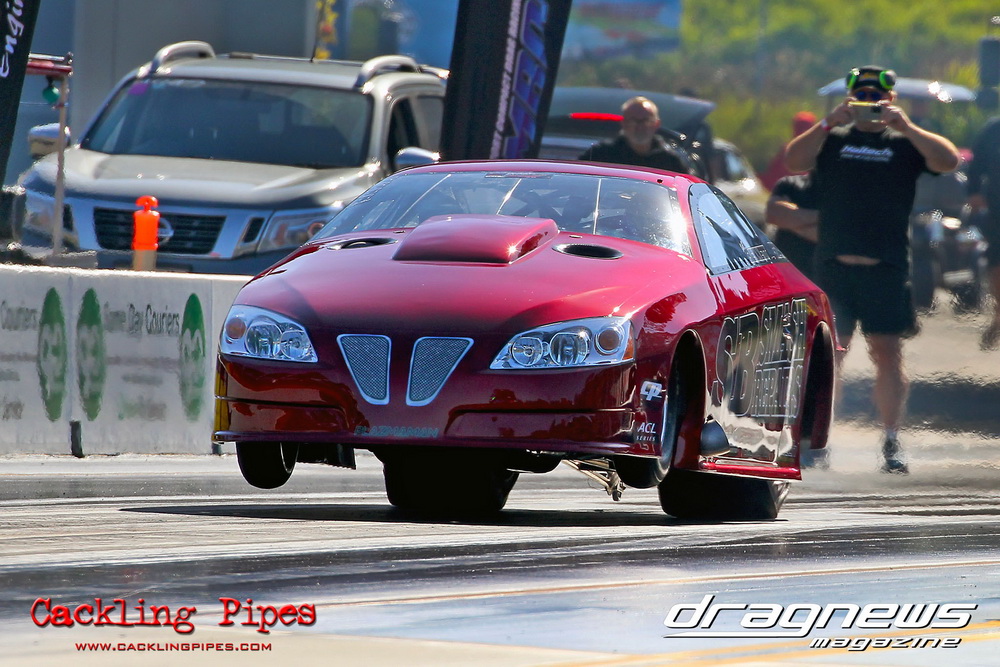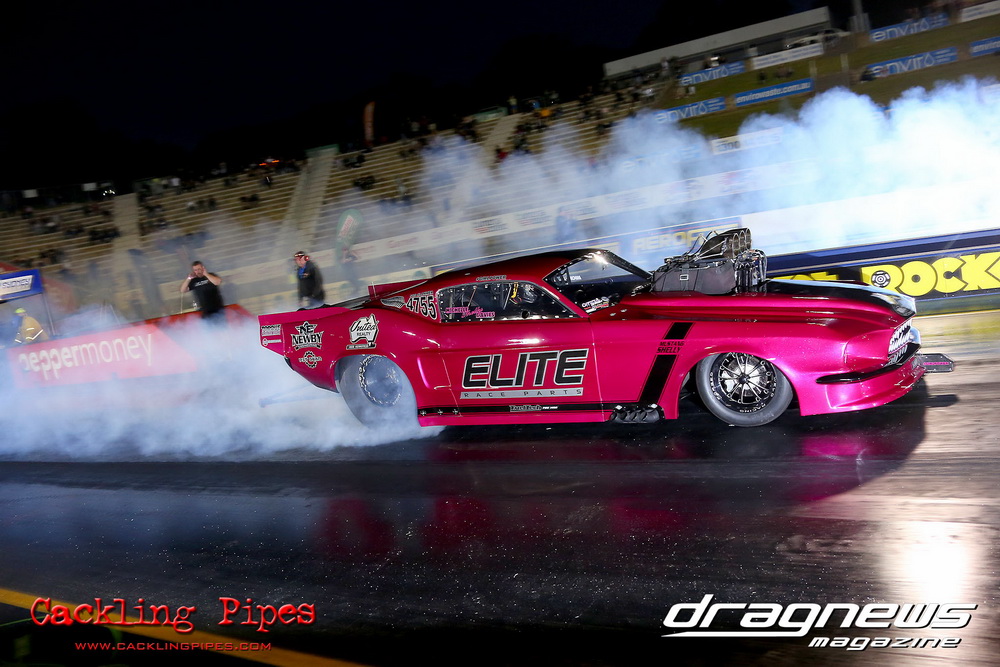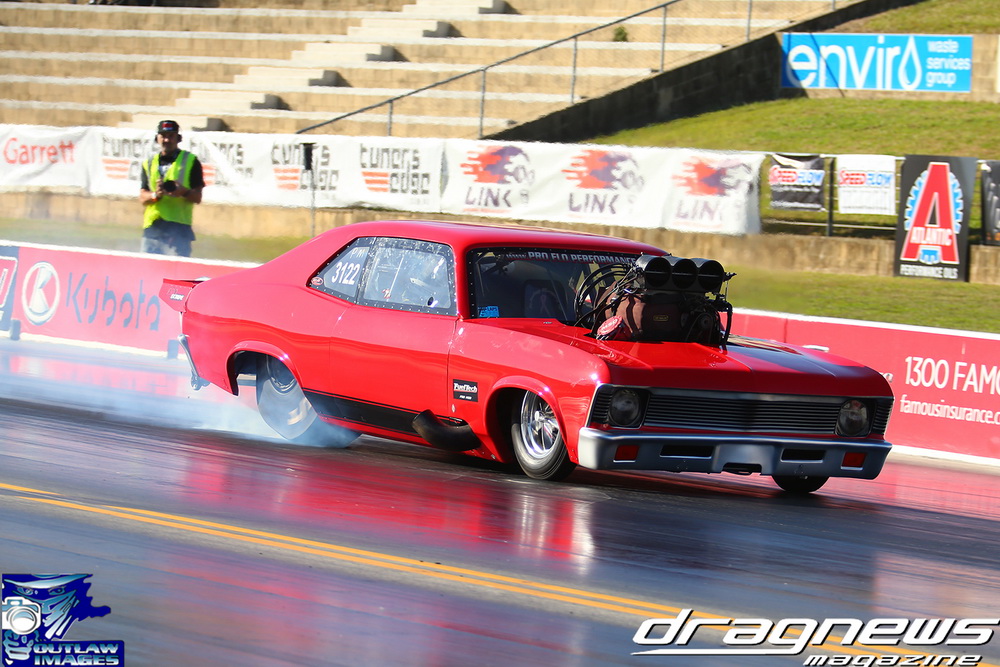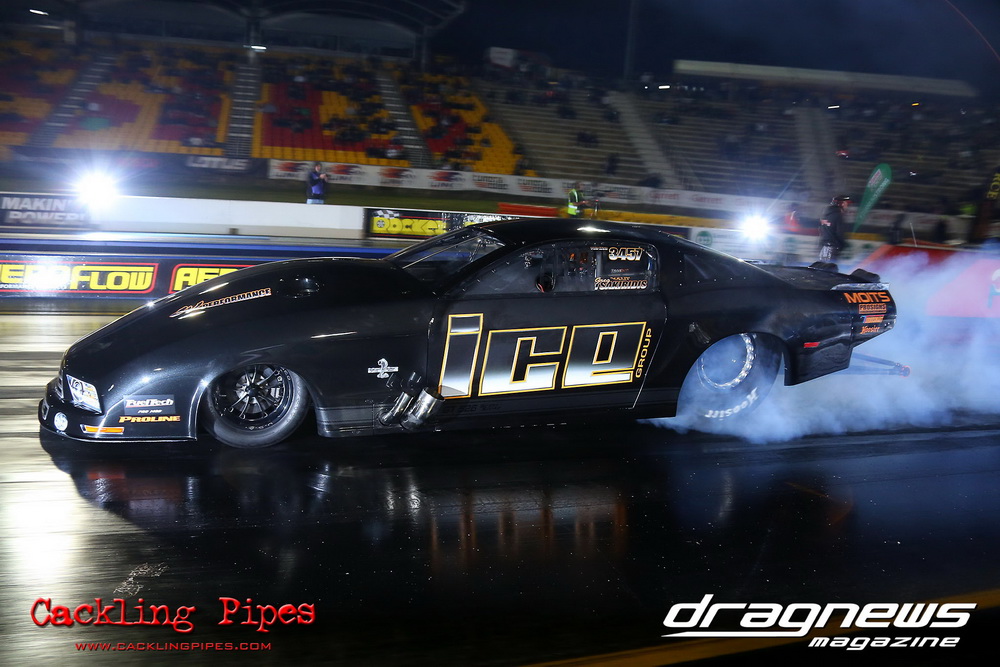 In round three, Bennett finally sorted out his LS powered GXP's issue and blasted a 6.13 PB, a record for and LS powered car in Australia, and in the top couple anywhere in the world. However the win light went to Davies with a fine 5.86 in the other lane. Tsakiridis had a bracket car with his third straight 5.61 to take down Gauci's best ever 5.85/252MPH and landing the ProFab team claims to the quickest and fastest radial car in the country and the quickest 3/4 chassis radial car in the world over the quarter. Unfortunately with oil in the braking area, that's where the night ended. Tsakiridis awarded the event win over Ockers.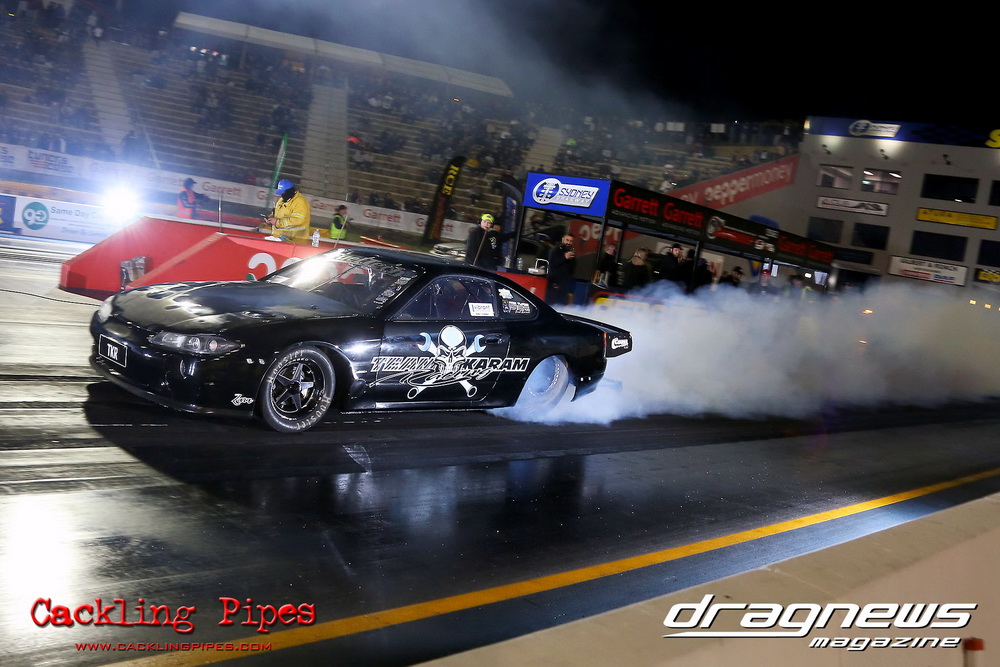 Fred Karam in his RB powered S13 pumped out a 6.72/210MPH to top the sheets in Pro Turbo qualifying ahead of Gioavnni Inturrisi's Lexus (6.73), Anthony Maatouk (6.93) even with half track burnouts, Jay Sadek's little 20B RX3 (6.96) and Daniel Camilleri travelled up from Victoria rounded out the top half of the field with a 7.19 in his RB powered Firebird.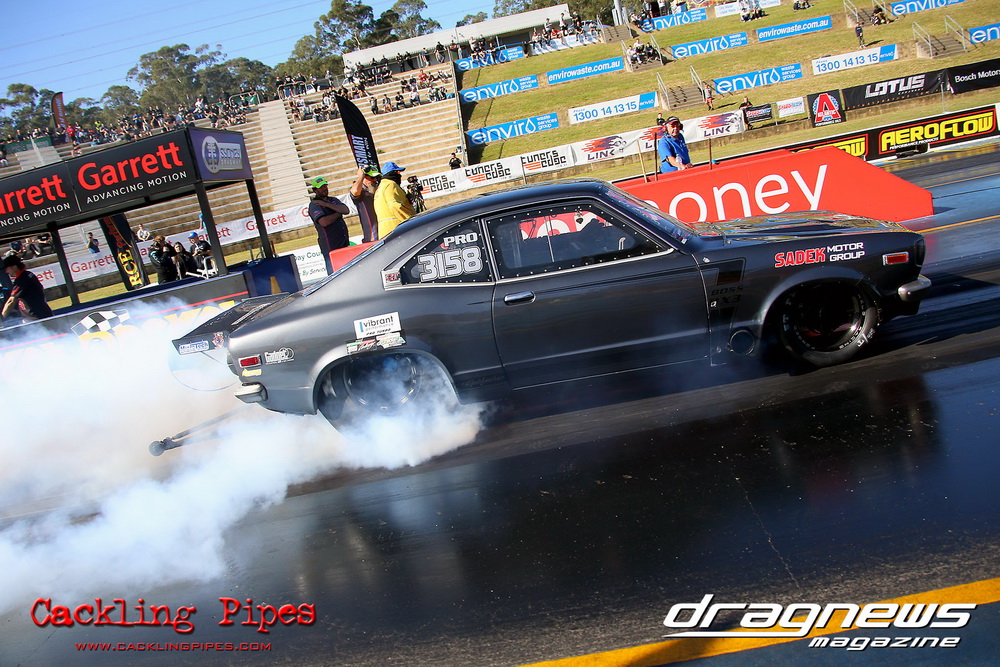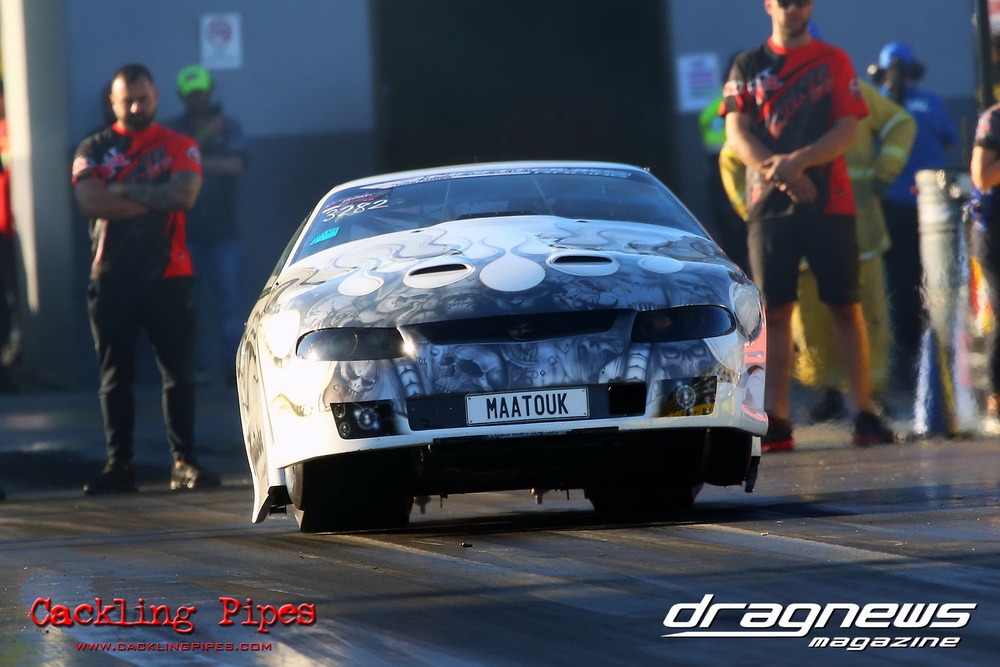 Sadek picked up his game in round one dumping a 6.67 on Inturrisi on the opening pairing, the only other pairing in round one – everyone else had solos – was Justin Gregory in the Blacktrack Performance RX7 powered by a Toyota 2JZ getting the better of Sam Meindanis in the Queen St Monaro – formerly a Tucker Pro Stocker no with RB power – 7.04 to 7.43.
Sadek nailed another with first up in round two in a great race against Karam 6.89 to 6.96. Inturrisi still battled problems in his radial Lexus handing Camilleri an easy win. Gregory also racked up a second win with a 7.05 over Nick Tsoltoudis 20B RX3 and Maatouk closed out round with another solo.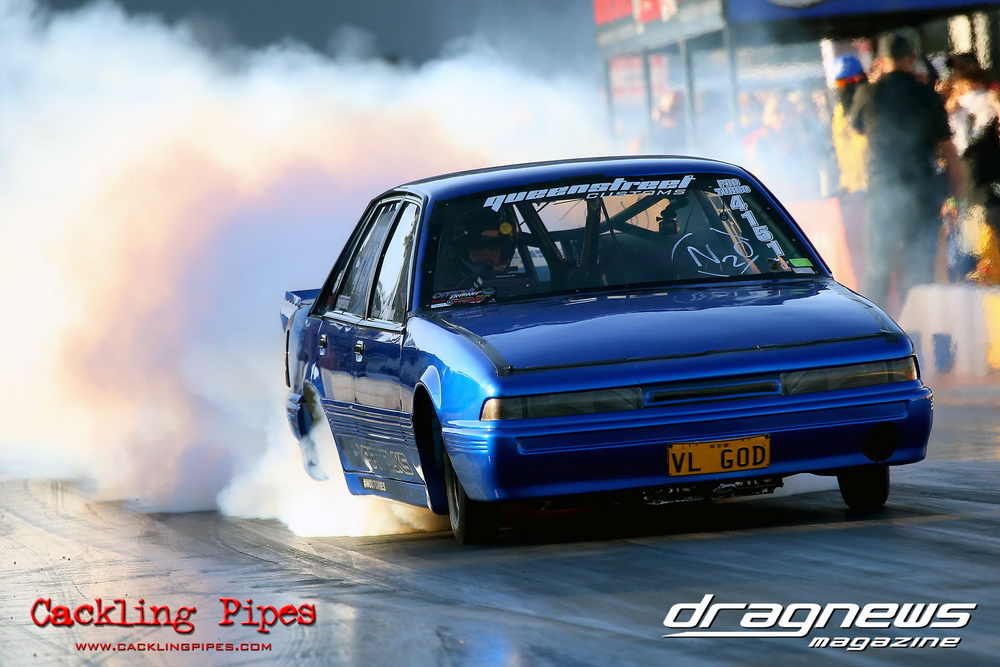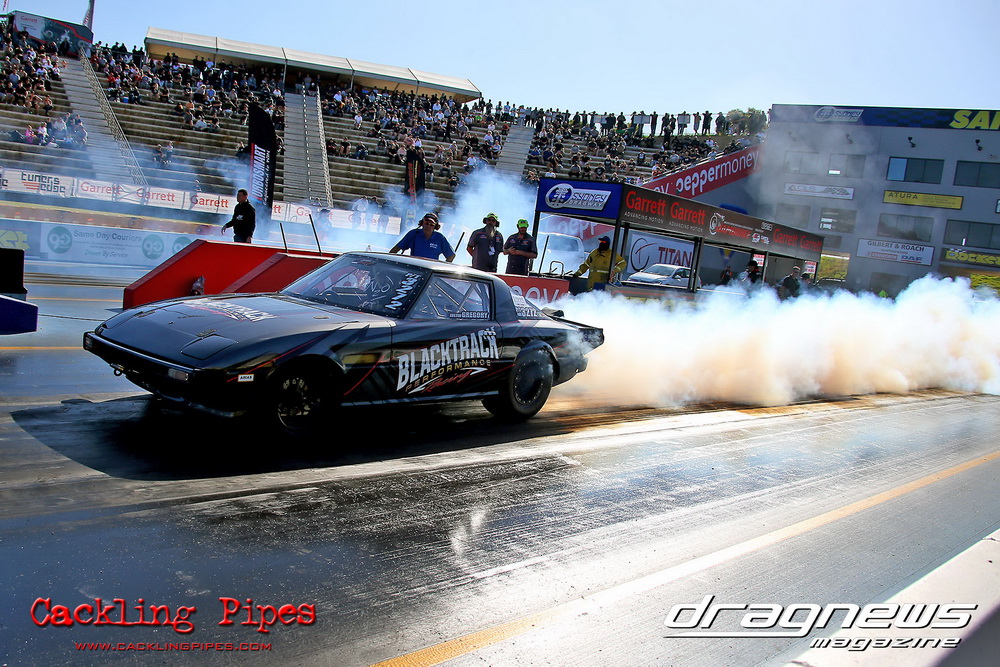 Karam checked off his first win to kick off round three with a 6.99 against a problematic Pontiac for Camilleri. Gregory clean swept the round with another win taking out Tsoltoudis with a 7.16, and Maatouk grabbed an ugly win over a diff breaking Meindanis to finish off the session. With no more racing for the night Gregory was awarded the event over Maatouk.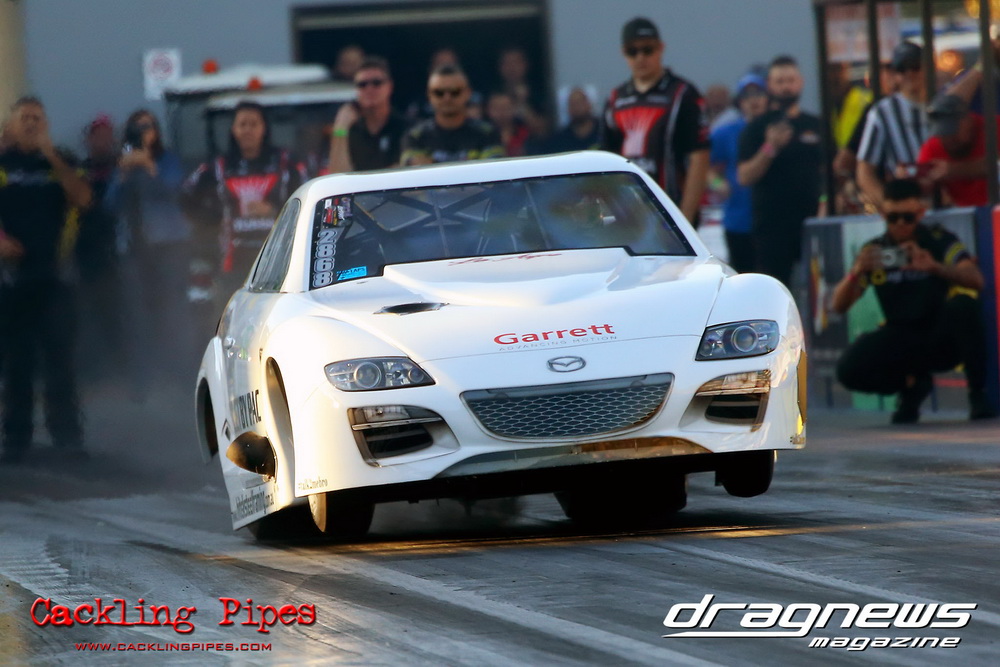 Rodney Rehayem lowered the 13B powered Australian Record to a 6.48 and claiming pole in Pro Compact with his PAC Performance RX8. He outgunned Housam Afchal steering the Mick's Motorsport S15 four banger to a 6.58/217MPH. Tony Grgich, Mazda RX3 (7.18), Mario Rehayem, Toyota Starlet (7.18) and Alan Dodd, RX2 (7.21) closed out the top half of the Pro Compact field.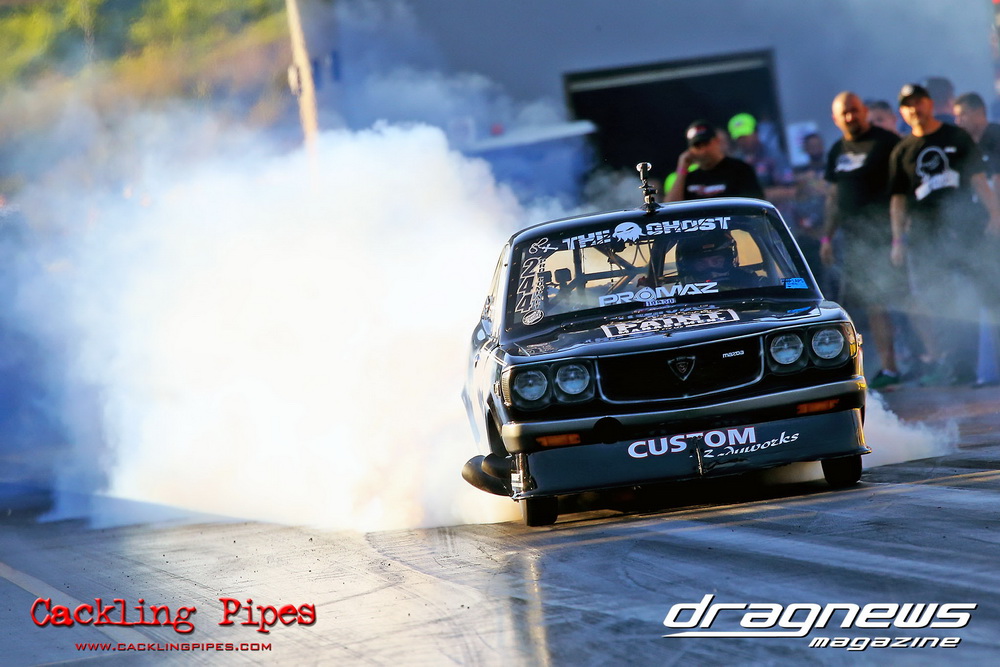 Grgich laid the smackdown on Dodd to snap up his first win at the start of round one with a 7.12. Afchal knocked off the little PAC Performance Starlet of Mario Rehayem 6.94 to 7.43, while Rodney Rehayem and Frank Cannistra soloed to wins in their rotaries.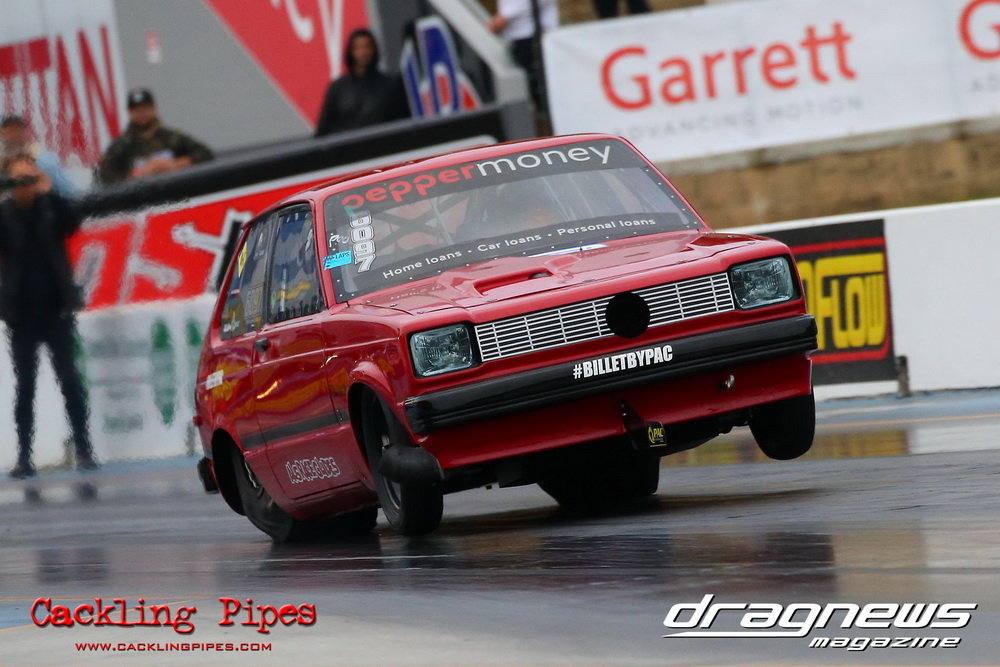 After Rodney Rehayem aborted a solo run to start round two, we came to Mario Rehayem who suffered a devastating crash in his 13B Starlet. With fluid under the rear slicks Rehayem crossed lanes, narrow missing former Olympian Steven Barnett's Mazda6, then impacting the wall and barrel rolling in a violent crash. Fortunately all the safety equipment did its job and Rehayem climbed out relatively unscathed. The round was closed out by a 7.68 solo Cannistra's RX3 coupe.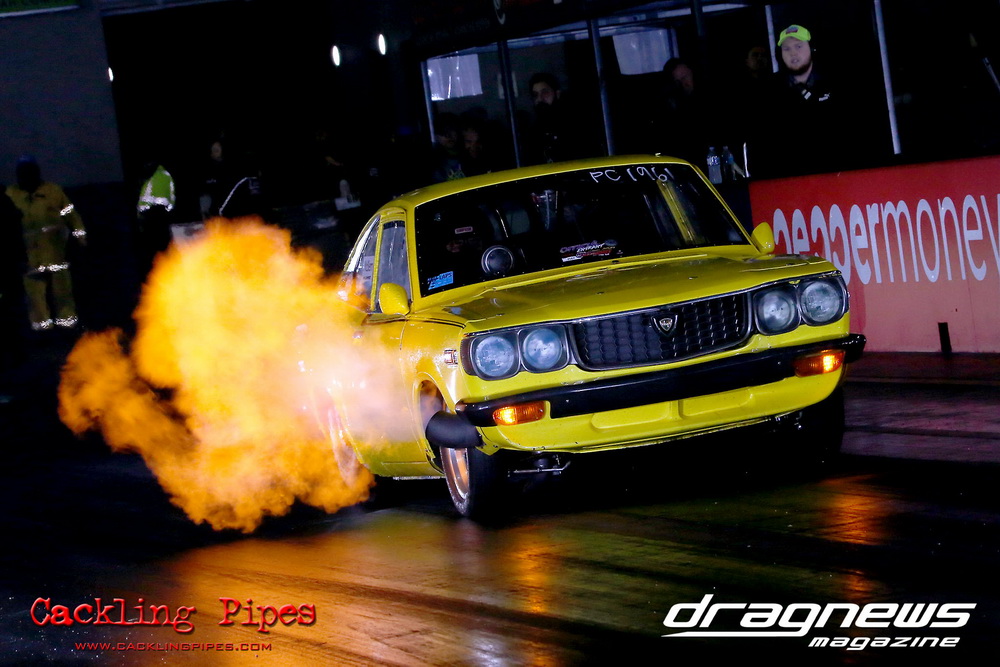 With Cannistra and Rodney Rehayem the only cars left that could possibly make the final now even with a round to go, they paired up in round three to race off for the event. Cannistra's RX3 launched and pulled up by the 60ft timers in the final, his race seemingly over until Rehayem ran over the centreline giving the win back to a bemused Cannistra.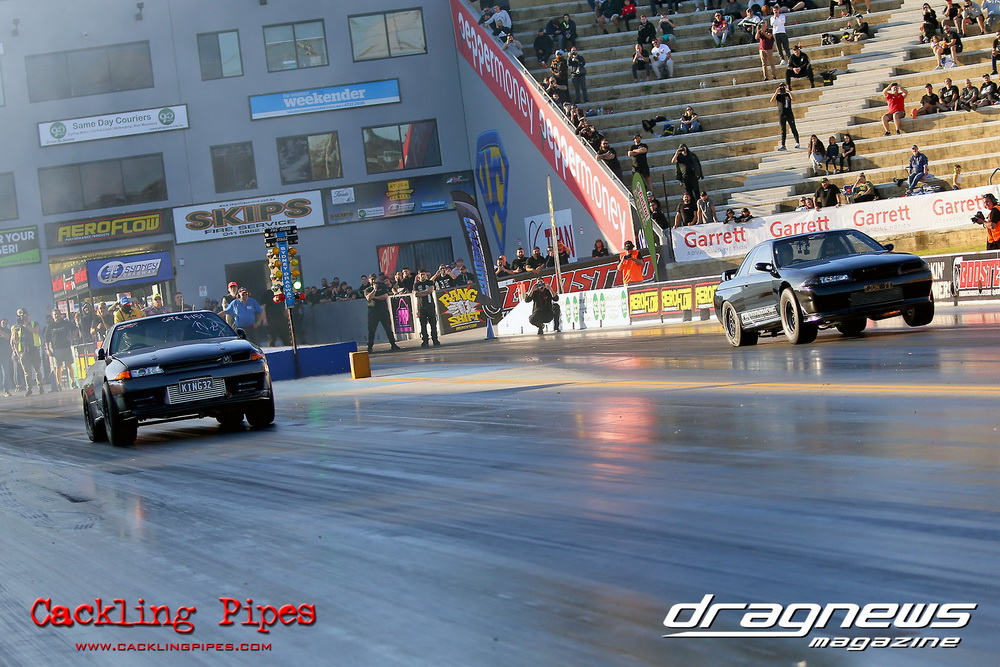 In a special exhibition, the R32 GT-Rs of Antony Maatouk [KING32] and Robert Marjan [JUNII] were paired up over the event in the ultimate match race of the world's quickest and fastest street GT-Rs.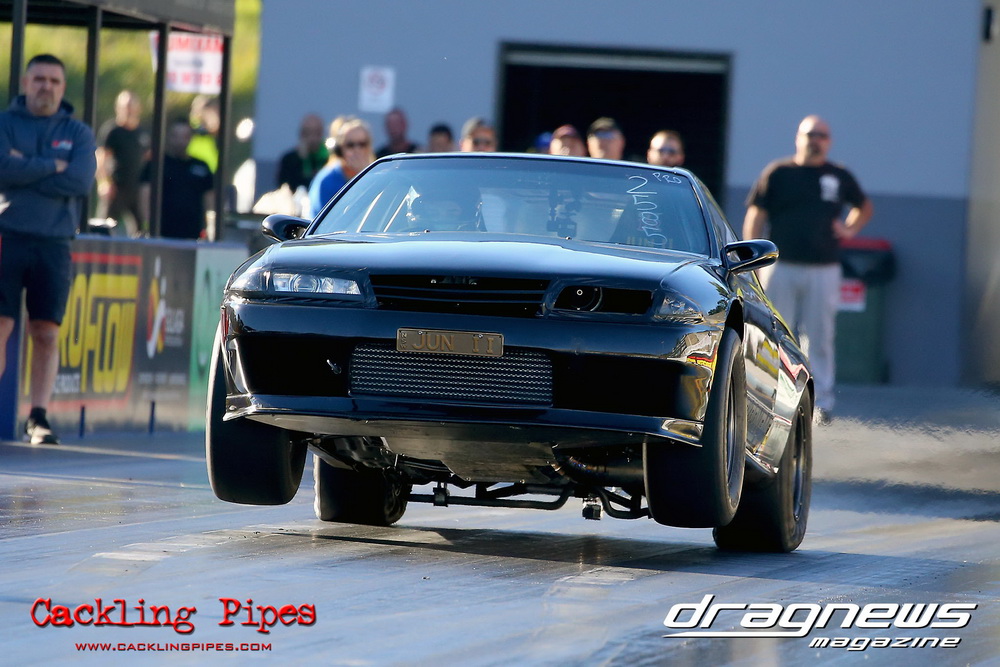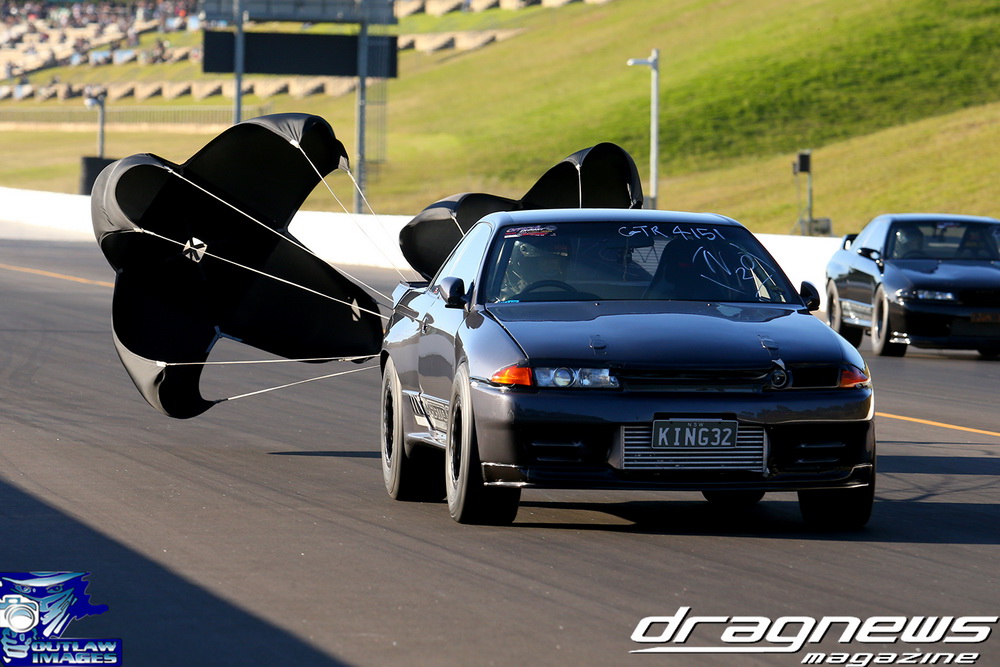 Maatouk taking the overall head to head wins and despite frying radials to the half track in the burnout – taking out best burnout of the event trophy – still ran 6.80 low ET of the pair.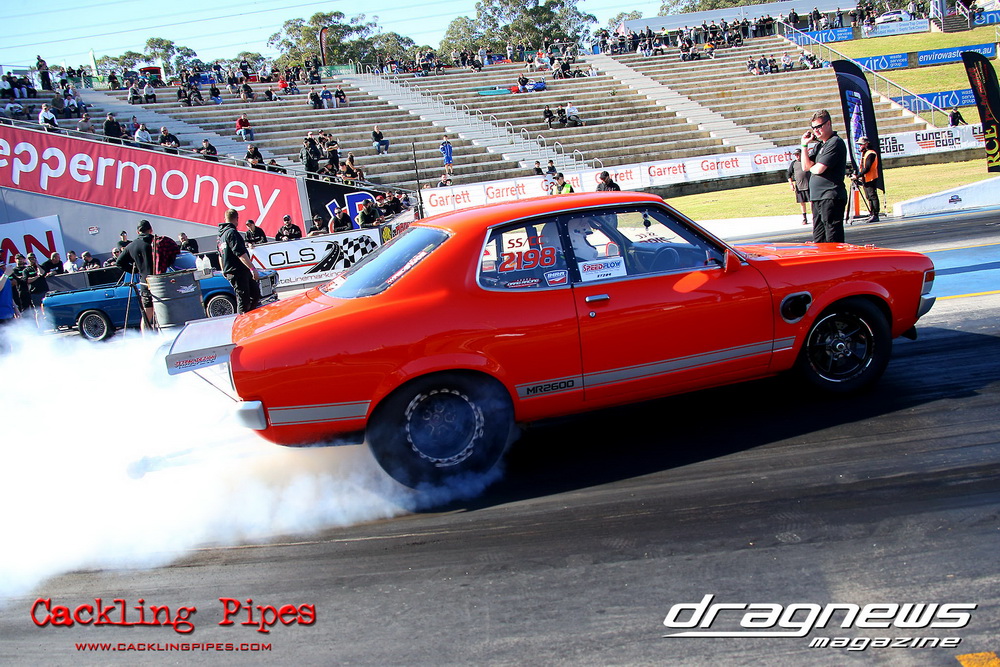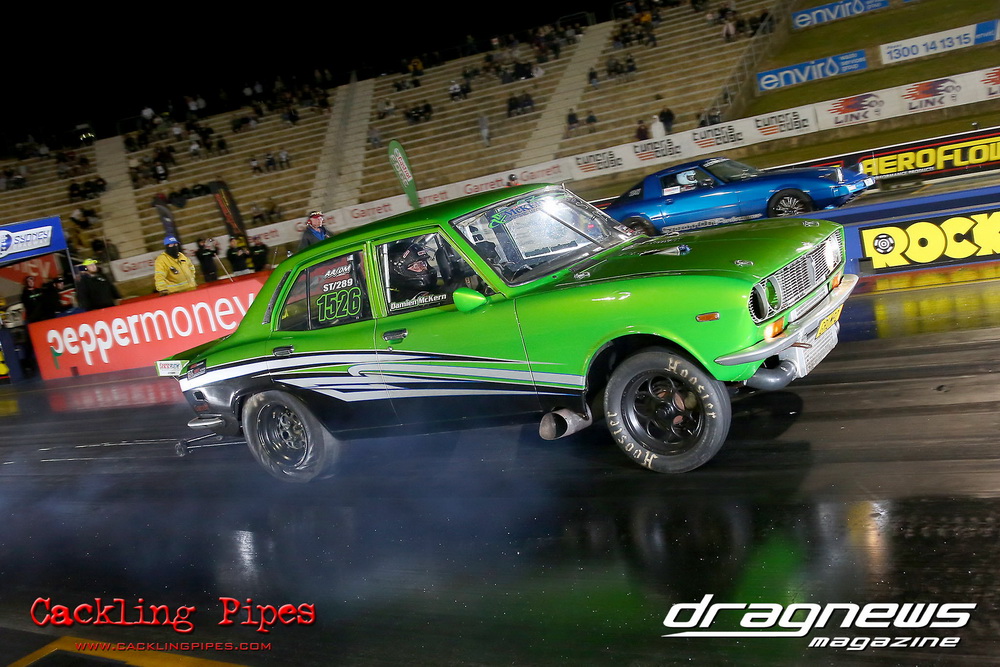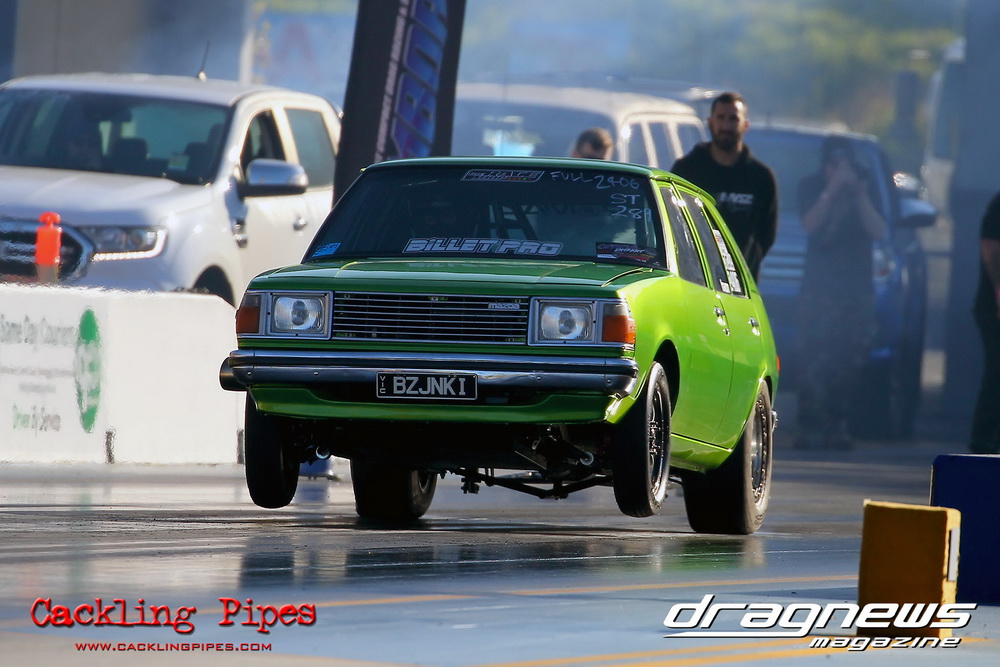 Into the other classes and Street 289 saw Paul Testa's Galant head the field with a 7.68 over a 7.72 from Shane Crichton's Cressida showing just some of the variation of machinery at the Jamboree. Three rounds were completed and Damien McKern and Andrew Meyers had the points to battle out a final. McKern's RX2 has been a staple of Jamboree scene for decades now, but trouble still struck after the burnout with a fuel leak erupting a small methanol fire shutting the car down. So Meyers sent his little Mazda 323 hatch on a 9.11 solo for the event win.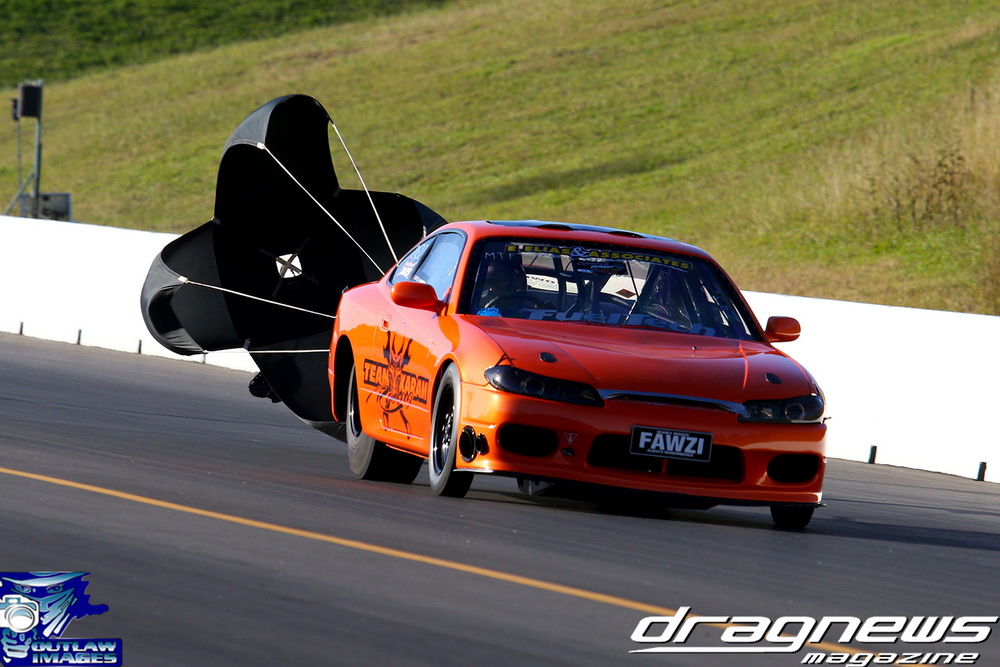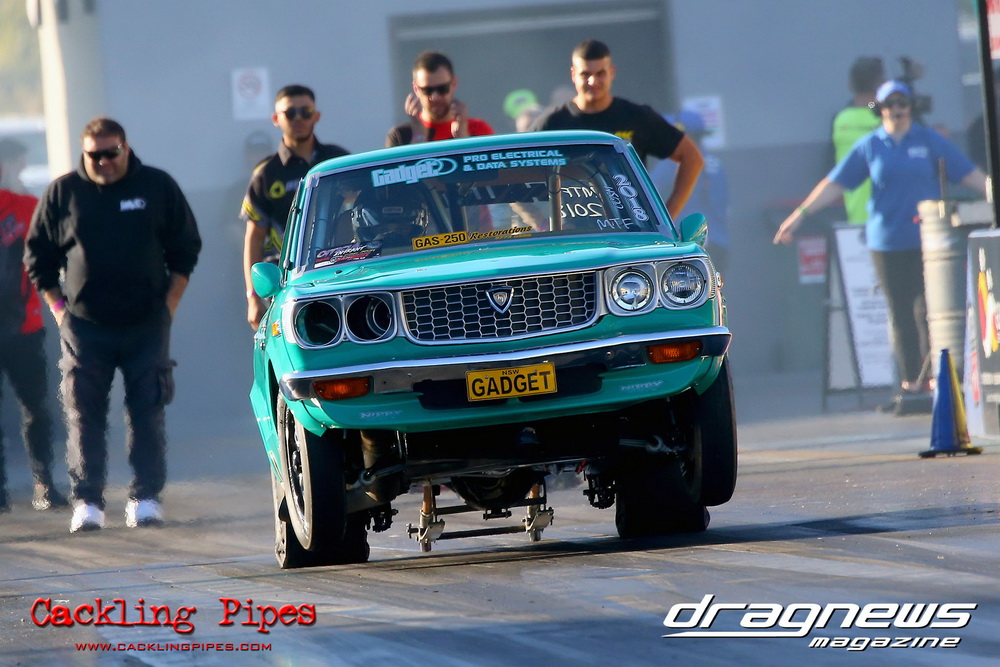 The unique Karam Racing 200SX powered by a Cosworth engine driven by Vince Rigoli top qualified in Modified 10.5 with a 7.57. As the small field panned out, Rigoli would feature in the final against the number two qualifier in Emmanual Mann and his wheelstanding RX3 out of the PAC stable. The race was over at the tree with Mann picking off a big red cherry giving the J trophy to Rigoli and the Karam team.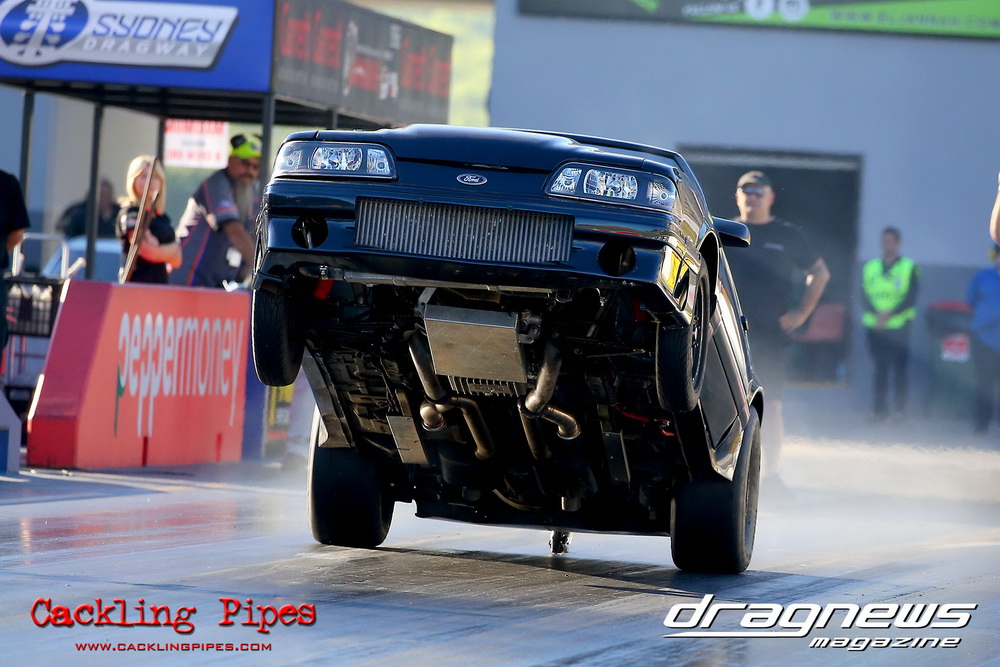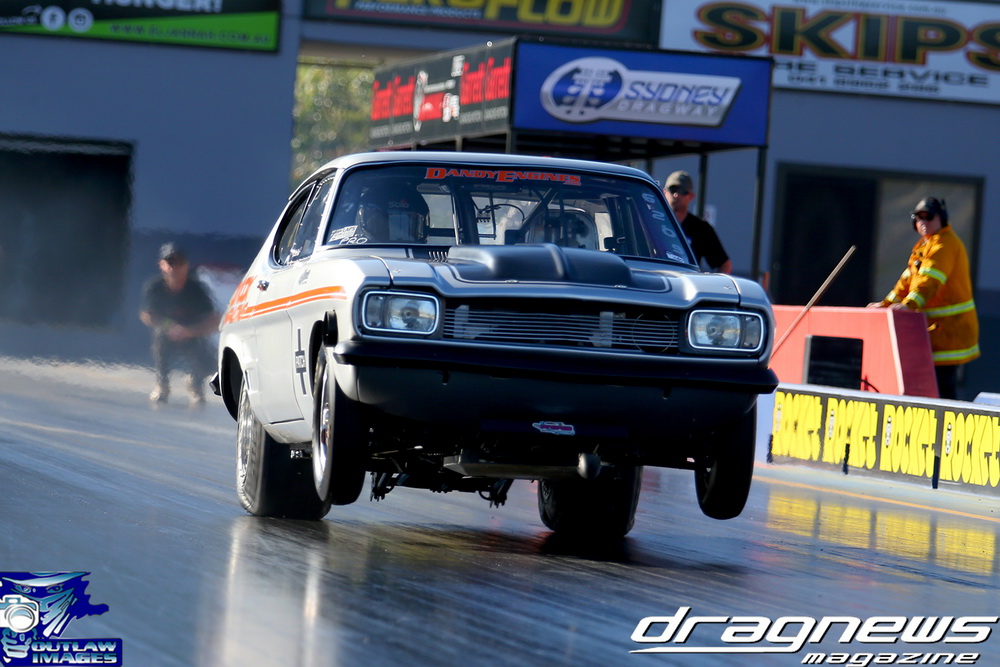 A massive J275 class is a new deal for the radial maniacs and attracts any kind of engine combinations and delivers all the wheelstanding craziness we expect from the radial tyre scene. The DJ maestro himself in Carl Cox put his twin turbo Capri in the top slot with a 6.85, narrowly in front of Danny Busbridge's LJ Torana's 6.86.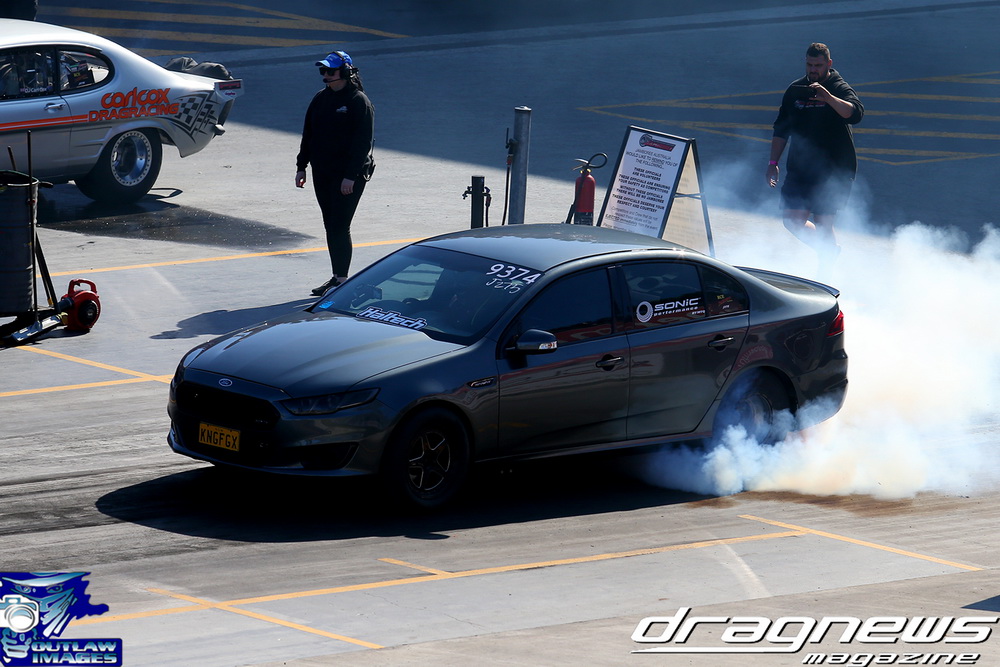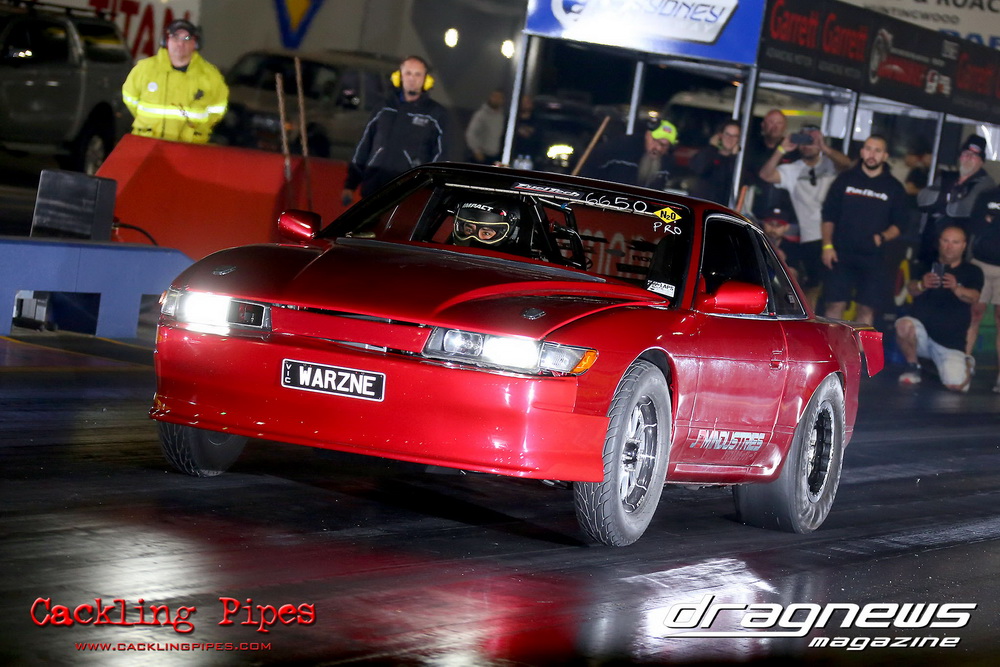 Shout out to Osman Osman who sent it with his Barra powered FGX streeter with a 7.45 – the Empire Mechanical tuned car has since gone even quicker. Also Ender Esenyel with the quickest IRS Nissan Silvia in the world with a 7.003/190MPH.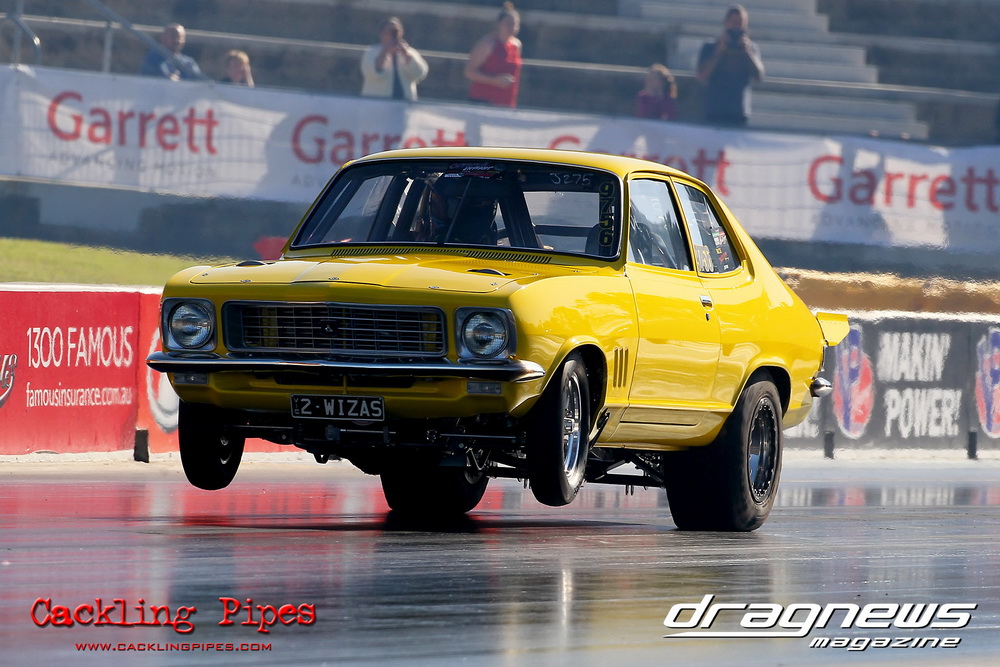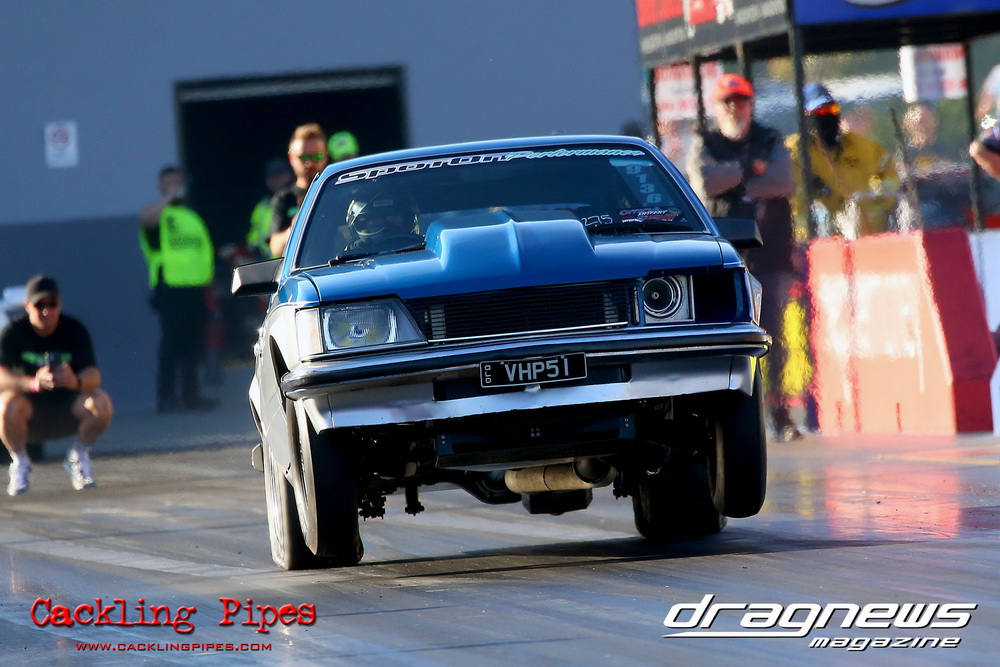 Three rounds were completed with Ben Vlekken and his turbo Commodore wagon and Busbridge undefeated in the Chicago Shootout format due to face each other in the final. Busbridges third round 6.99 out gunned Vlekken's 7.67 win and therefore was declared the event winner.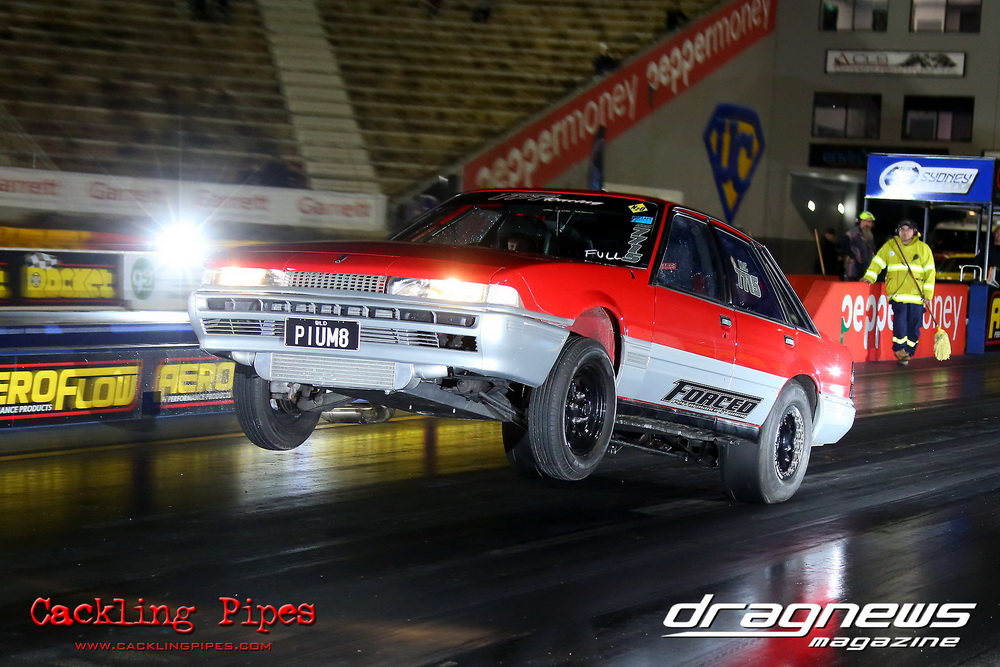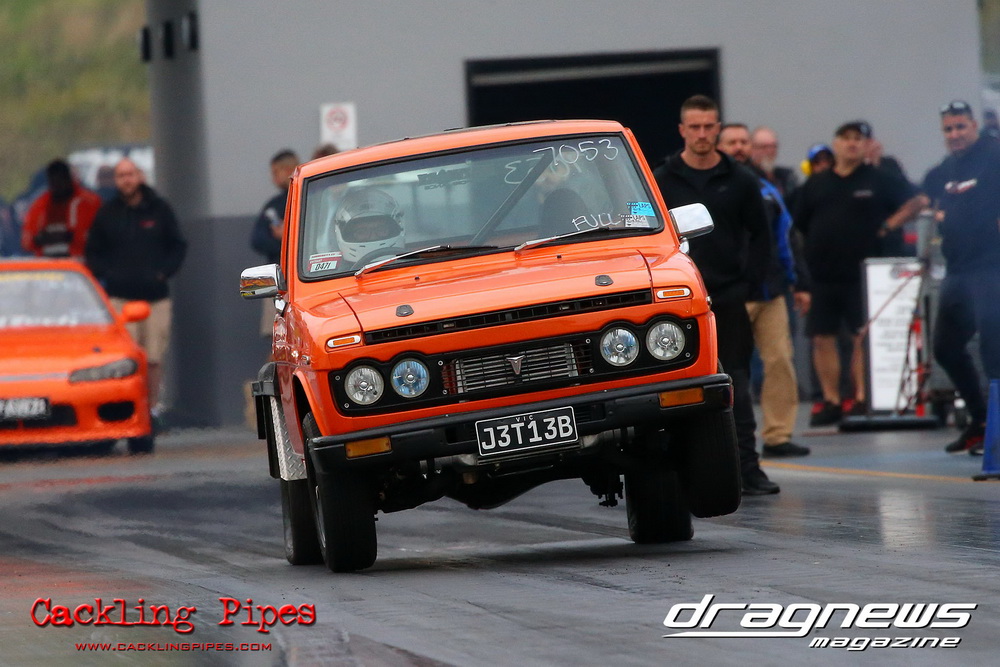 Modified Compact, the first of the DYO classes always attract a strong field of just about anything, and Steve Farrelly's VL headed them all after qualifying with a 7.63. The VL of Farrelly went on to score win over Borserio's 13B tray back Hilux on a countback at the end of the night.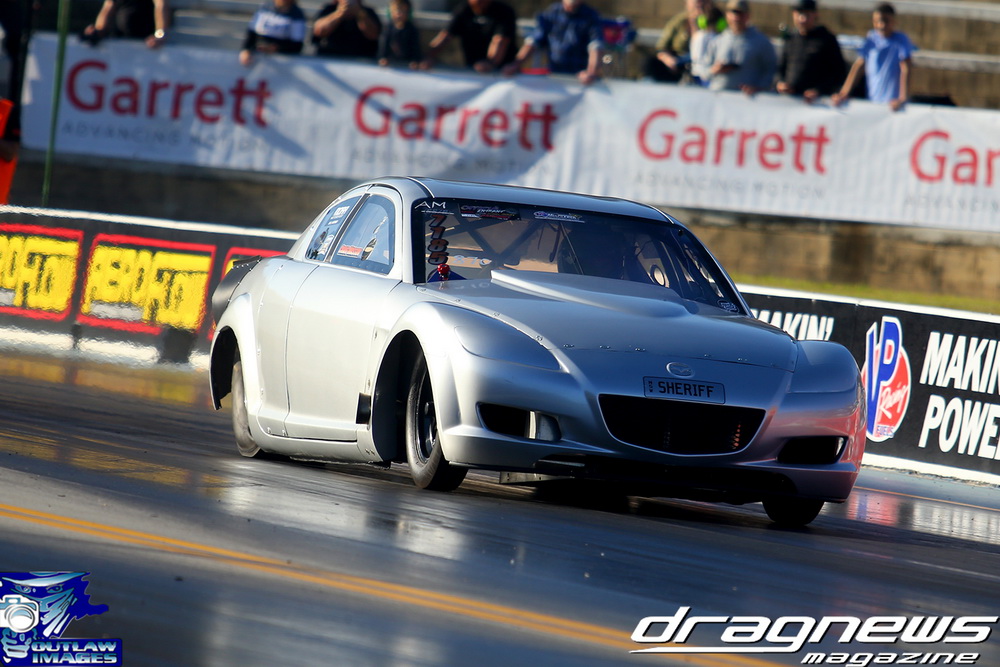 No turbos, nitrous or other kinds of forced induction is allowed in All Motor who have to work with the conditions Mother Nature deal them. Craig Wasson's new RX8 with a naturally aspirated 20B got it done in qualifying with a 8.89 – yes, eight second rotary with no turbo. Wasson was meant to meet Salim Matta's HB Torana in the final but could not make the call leaving Matta to solo for an event win.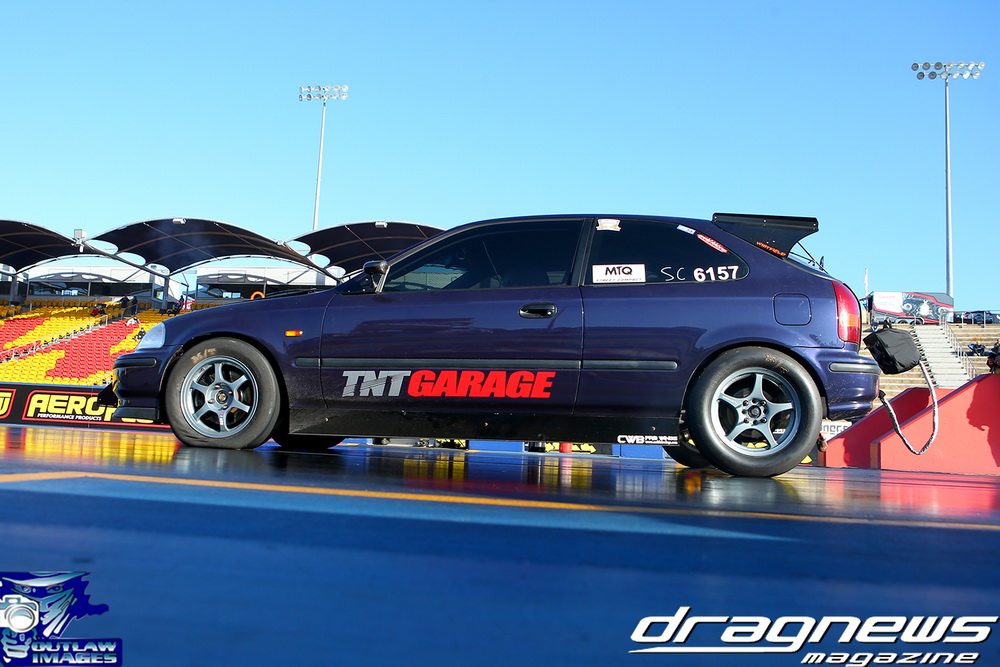 Finally, the Street Compact class reached the semi final stage before racing was called off. Results were based on the semi final results which saw David Atterton's 323 defeat Thomas Saris' Civic 11.87 (11.50DI) to 10.46 (10.50DI) and Bradley Halyburton's Cressida get the win over Ashley Bagdonas' S12 10.69 (10.60DI) to 11.22 (10.95DI). Halyburton was given the J Trophy for the event win based on closest to his dial in the semis.