Hard to believe, but Sydney Dragway somehow dodged the weather La Nina is wreaking on the East Coast of Australia to complete the opening round of the 2022 NSW Championship Series.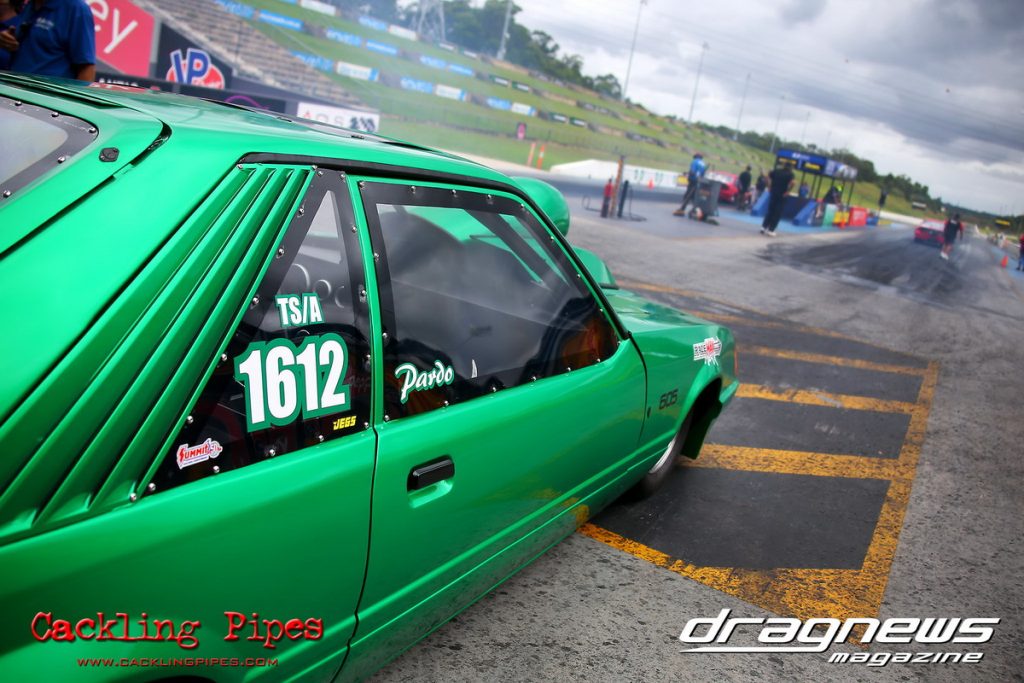 While the track and racers didn't escape completely unscathed, a shower slowed things down around the semi finals stage of the event, but the track was dried and the event saw a result.
For the last two years, the NSW Championship Series had been attempted, but abandoned due to COVID lockdowns, finally though it looks like normality will return to the calendar and competitors can get some bracket racing done.
To racing and the new season was off to a rough start for Matt Clarke in Q1 for Top Sportsman. Clarke's VL Calais turned hard right for no apparent reason in the braking area, and he did a superb job of saving the moment and limiting the damage that looked mostly cosmetic.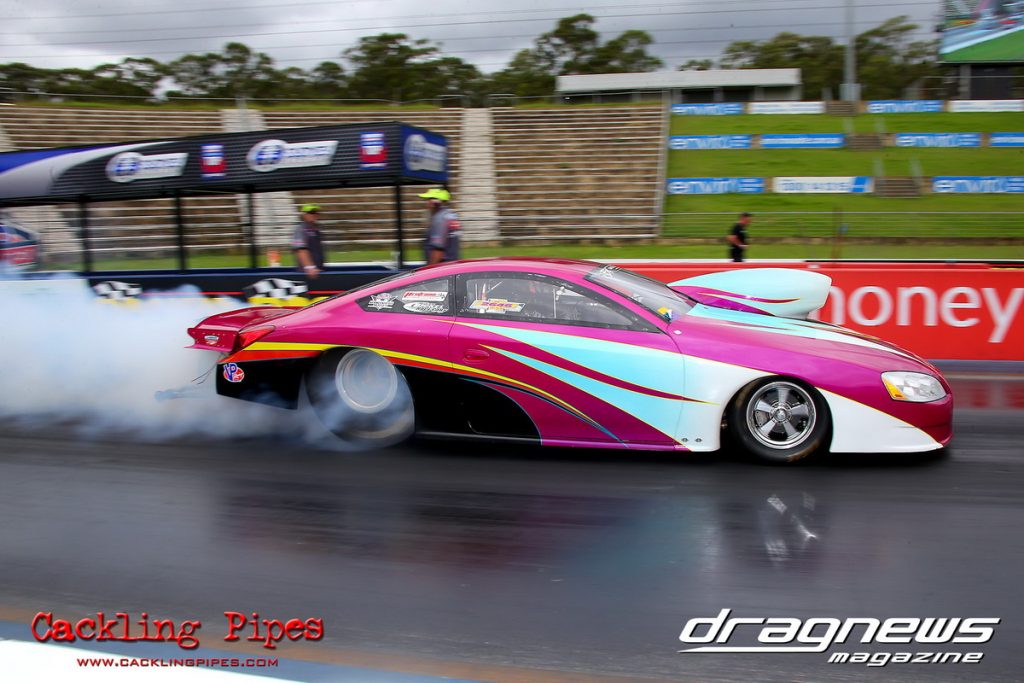 There was plenty of experience on each side of the racetrack once we reached the final with Steven Fowler and Paul Partridge fighting it out for the event win. Partridge's Mustang left first on the back of a solid 0.028 light on a 7.90 dial in the final, but Fowler chased with a cracking 0.003 light to push Partridge to a 7.891 breakout. Fowler came home with a safe 7.053 on a 6.89 in the GXP to take first blood in what will be a brutal tough championship all season.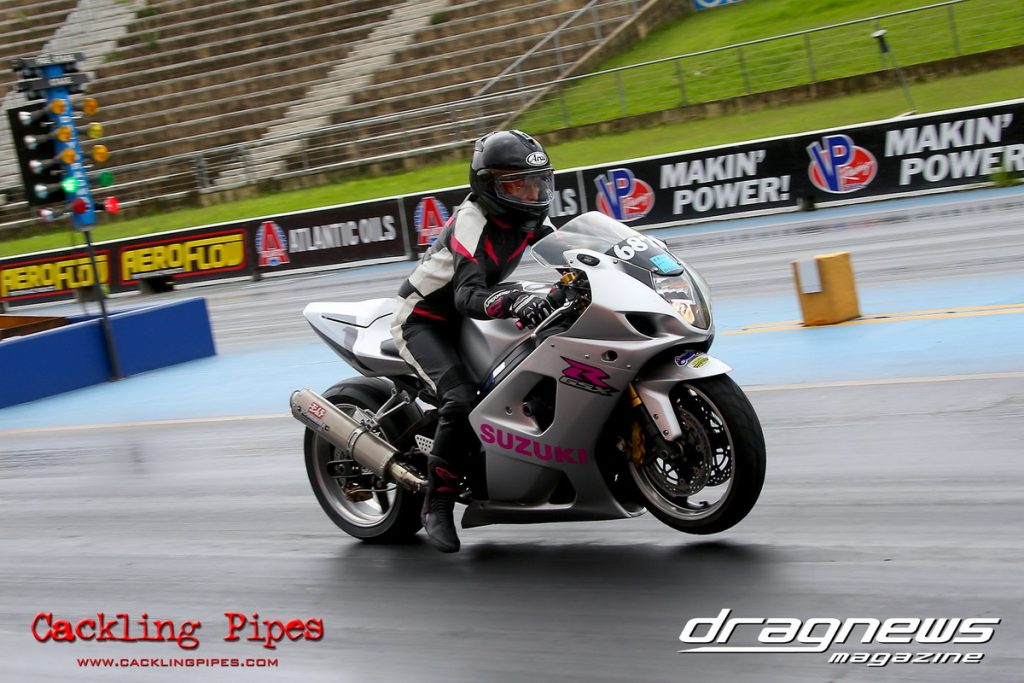 There is saying about it's not the size of the dog in the fight, and this was the case in Extreme Bike, with Deanne Azzopardi triumphing over her much quicker rivals as she knocks up some seat time on her GSXR before getting back aboard the Hayabusa. Extreme Bike running the All-Run format saw Alex Borg win the first round match up over problematic Leonard Azzopardi Hayabusa with a 7.04, and Deanne picked up the win after a red light up in opponent Darren Foley's lane – honourable mention though to Foley who top qualified with a monster 6.905 PB. Foley missed round two leaving Deanne to solo for the win and her husband Leonard stormed to a 6.93 win over Borg. The final for the event win in the third round would he husband and wife, with Leonard having the obvious power advantage. However the striking blue Hayabusa looked to step out at 60ft and develop a problem all the while Deanne raced away to the event win.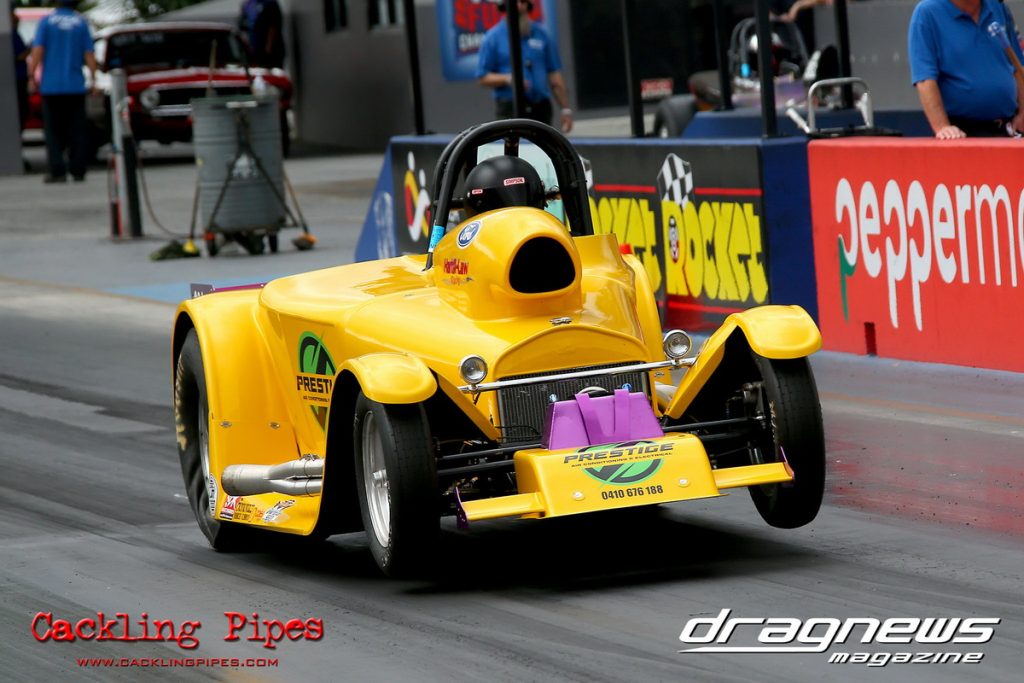 The Modified final was a titanic match up between the roadster of Leigh Hartill-Law and golden rod dragster of Peter Brown, unfortunately it didn't quite live up to the hype with Brown going red by two-tenths giving the easy win to Hartill-Law.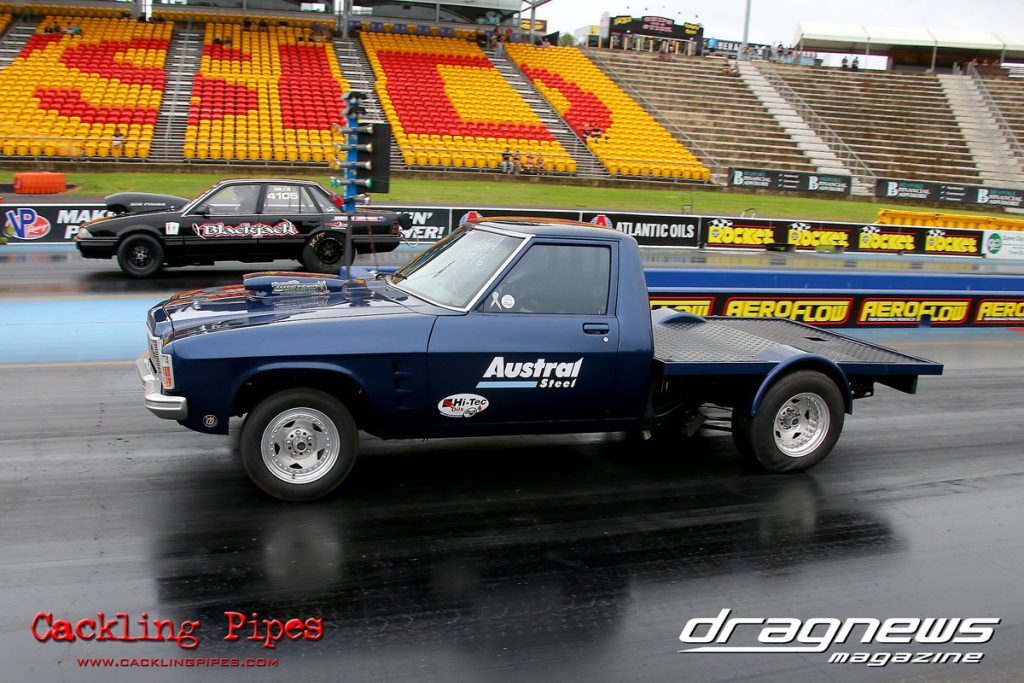 A red light decided the Super Sedan final as well, Bill Ausling off the button 9 thou too early delivering a win to Pat Firriolo in his One Tonner.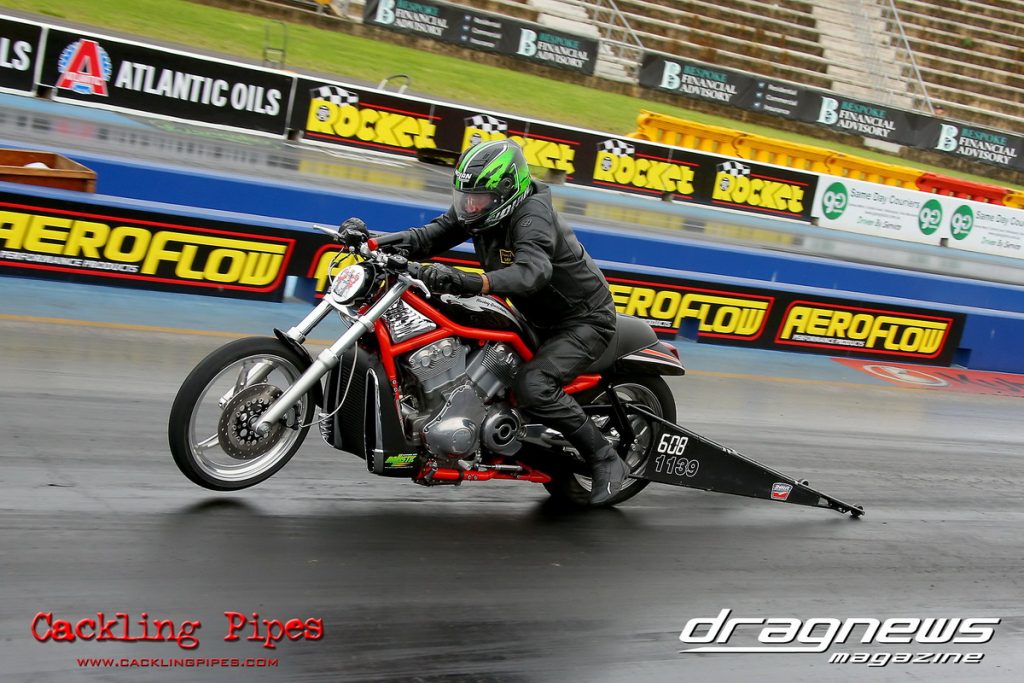 The cherries continued with racers a little to eager for those early season points. In Modified bike Sean Ricketts let the clutch out a heart-breaking one thou too early to hand the win to Peter Strudwick aboard his V-Rod Destroyer.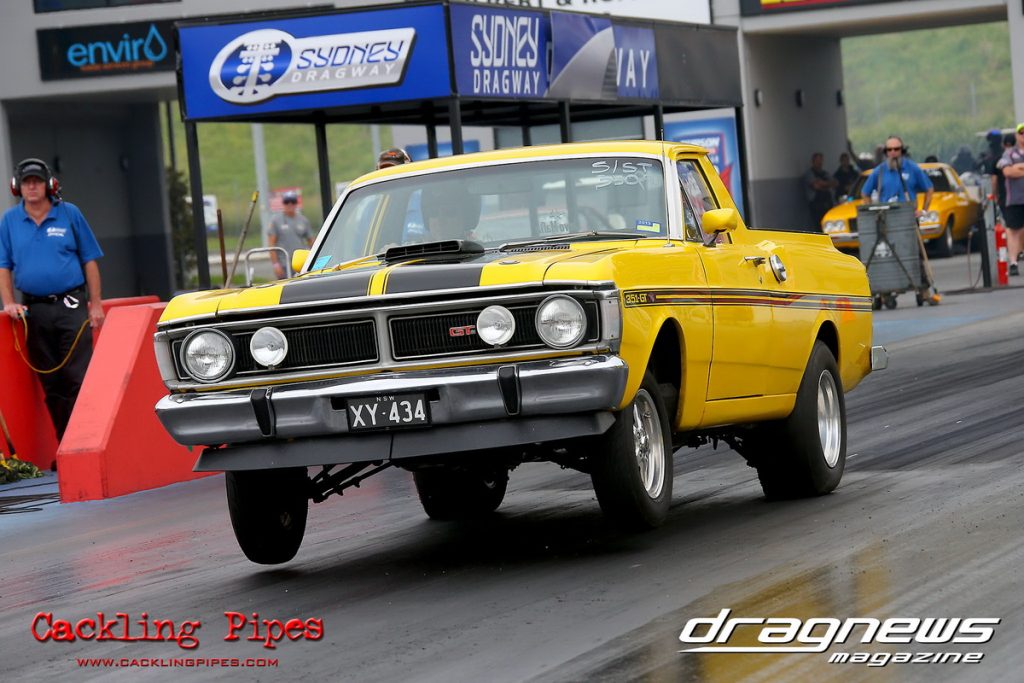 We saw clean greens finally though in the Super Street final, Richard Matosevic had some work in his to do in his XY Falcon ute chasing down a .058 to 0.38 holeshot to opponent Henry Spicak who has traded in his veteran VW Beetle for a late model Holden ute. At the stripe Matosevic drove around Spicak for the win with a 10.576 (10.52DI) to a 12.250 (12.17DI).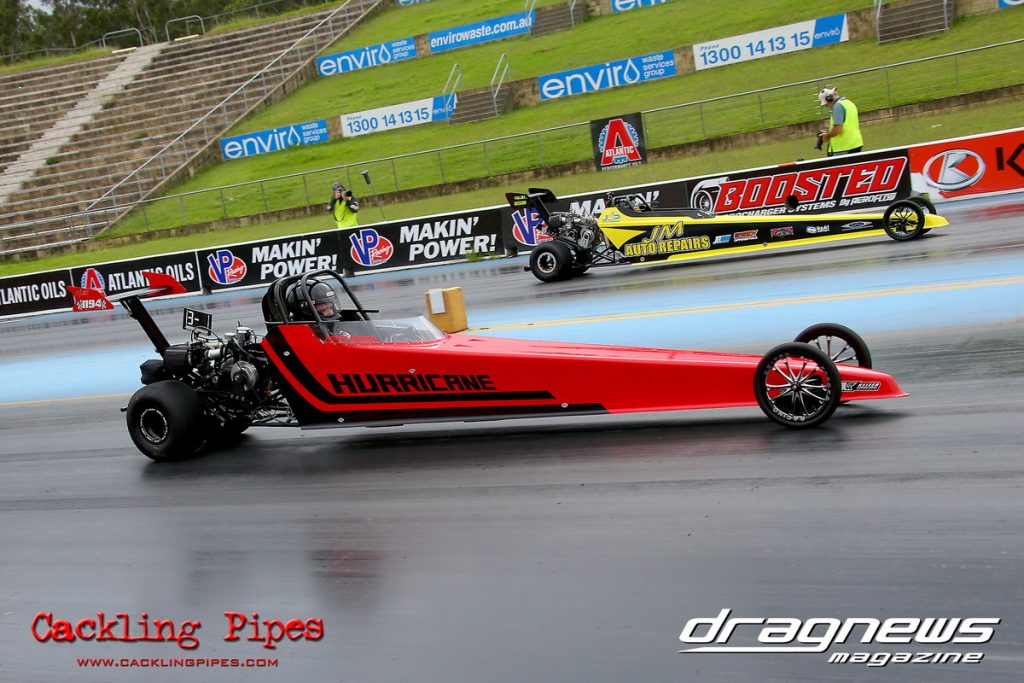 Junior Dragster final was a tight dual with both finalists Tegan Smith and Harri Raikko pushing each other to a double breakout. Raikko's 8.048 (8.05DI) the better run for the win to Smith's 7.950 (7.97DI).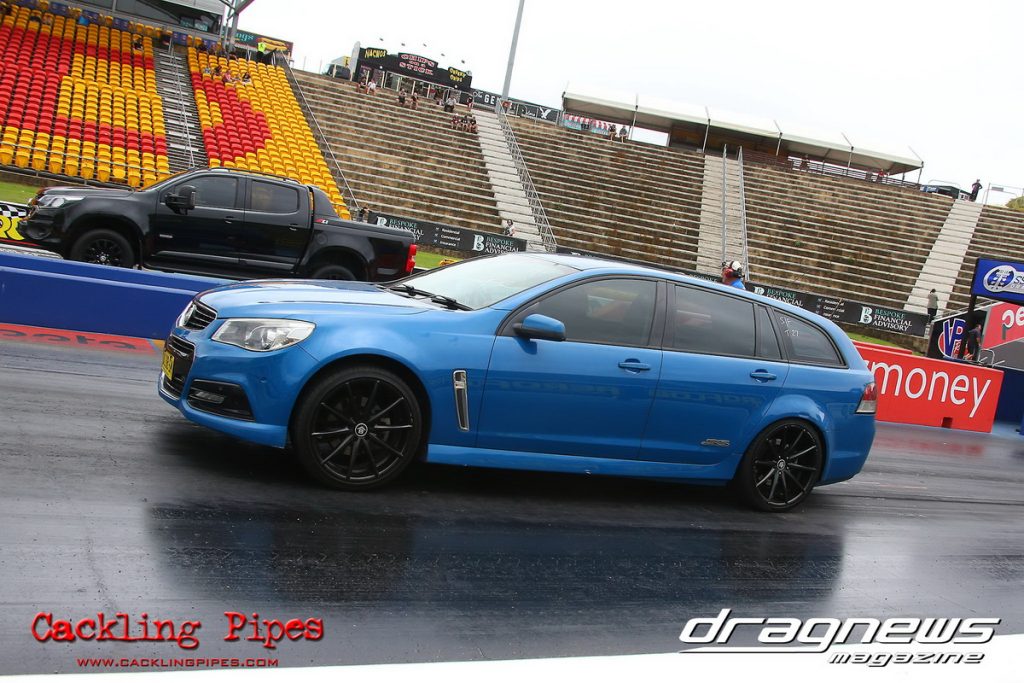 In the Street Fighter final between Don Zammit and Alan Stevenson the reaction times weren't great for either racer, but almost even nevertheless. At the line Commodore of Zammit with a 13.397(13.12DI) edged out Stevenson's HQ ute's 14.537 (14.00DI).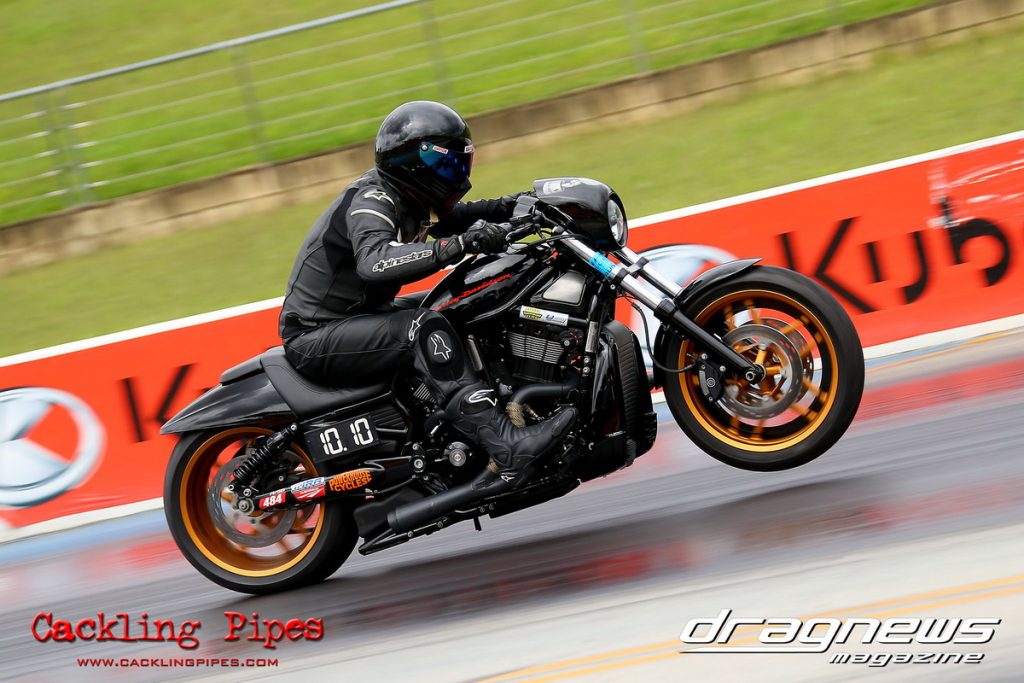 Street Bike only had four bikes running so ran the All Run format. The unique final clash was Stefan Stivala on top of his Harley Nightrod taking on Tristan Anderson's Royal Enfield. Stivala came away with big start line advantage in his chase and rounded up Anderson in a double breakout finish with a 10.156 (10.21DI) to 14.079 (14.20).
Next round of the NSW Championship is on Mar 19.