The Northern Territory's Chris Moore is enjoying his first season of racing and after a number of event wins plus a national runner-up result at the Top End Nationals in July, now has his eyes on the Red CentreNATS.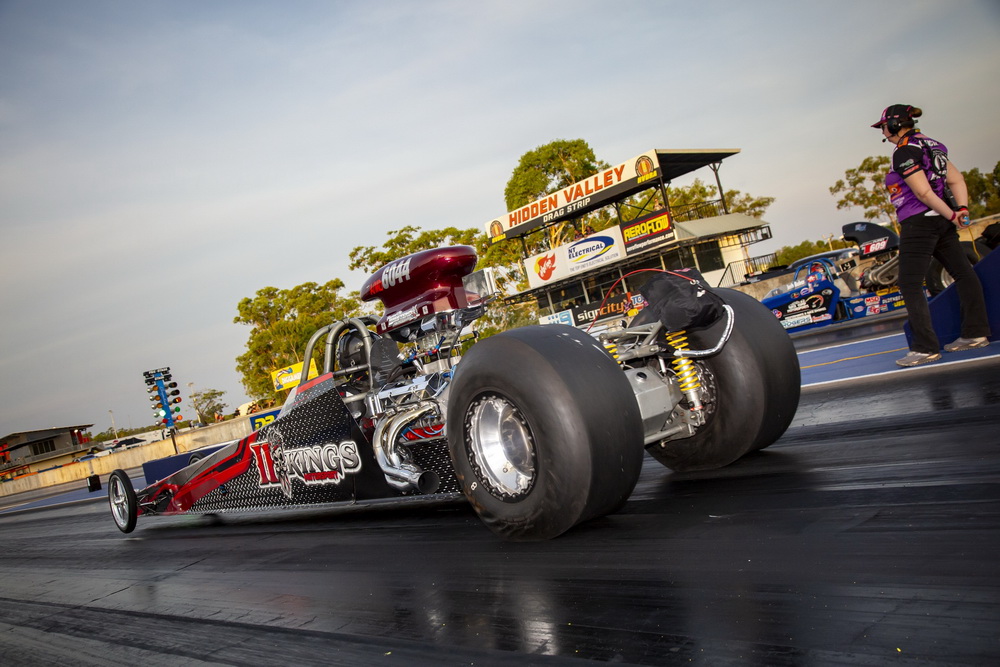 The event will take place in Alice Springs across September 3-5, with Alice Springs Inland Dragway set to host an action-packed Saturday evening of drag racing when the Garrett Advancing Motion Heavy Hitters descend on the venue.
"I have only been to a couple of Red CentreNATS events as a spectator quite a few years ago when I lived in Alice Springs. I was impressed with the whole event and so when I bought my Dragster this was one of the events on my "Must Do' list," Moore explains.
"It probably sounds like a bit of a cliché, but where else are you going to get this sort of action, event variety and street cruising all at one event in the iconic Australian Outback?!
"This will be my first time racing at Alice Springs, although I was involved in some exhibition Street Car events at the track and I have visited as a spectator – I know they have done a lot of work in recent years and I have no doubt it will be a great facility to race at.
"When it comes to my goals for the event, funnily enough, it is just to not pick up a cherry!" he laughed. "I seem to have forged a bit of a relationship with the red light this year! All jokes aside, I am excited to just be part of the action and hopefully we can come home straight and intact."
Moore will be fielding his Undercover Dragster powered by a naturally aspirated 416SBC and powerglide trans at the event, the same car he took to the runner-up spot at the Top End Nationals.
"It is not the typical Drag/Street car that you usually see at the Red CentreNATS but it definitely has its appeal," Moore said.
"The dragster is not a big powerhouse in terms of horsepower but we run consistent 8.2s all night long.
"I bought my Dragster off the Palumbo family down in Sydney at the end of 2019 and with COVID did not get a chance to race in 2020, so this is actually my first season in Drag Racing.
"I have to admit, whilst we are not super quick running low 8s, it definitely gets the adrenaline running.
"I had my first race meeting 'at home' in Darwin at the Hidden Valley Drag Strip back in April and to our surprise, came away with the win.
"Since then I have competed in three local rounds with a win and a runner up, including a runner up result at the opening round of the current Summit Racing Equipment Sportsman Series season. We also had a few runs at the Nitro Up North event as well which was a really great event also.
"Being our first season, we did not really expect to be as consistent as we have been so didn't have real high hopes for the Top End Nationals but to our surprise we didn't go too bad at all! We made the final before unfortunately I had a run in with my old friend, the red light, and handed the win to Craig Baker from Victoria, whilst we got the red light we still ran a 8.230 on a 8.22 dial in.
"Craig really deserved the win, he fought hard all weekend and was very consistent. All in all we experienced all the highs and lows of drag racing at this event and Matt Abel and the team at HVDRA and ANDRA really put on a show – I want to make a special mention too of Ray Treasure and the awesome ladies that looked after our section for the weekend – you know who you are!
"The team and I are stoked to have podium wins at three out of four competition events in our first season so far. Hopefully we can keep that going at Red CentreNATS!
"Looking to the rest of the season, we did not originally have any plans to contest any further Summit Racing Equipment Sportsman Series events this season, however with how our season is going so far and the experience we have gained, the team and I are now looking to go and have a crack at a couple of interstate meets.
"Whatever the results, I'm sure that the people we meet and the experience we will gain will be priceless.
"In the meantime, I would very much like to thank my wife Crystal and my crew Luke Garrett, Karl Briscoe and Cameron Jaenke for all the hard work they put in.
"I also want to send a big thanks to my sponsor Great Northern Airconditioning and Mechanical Services and again send a massive thanks to all the sponsors, the volunteers, the team at HVDRA and Ray Treasure for all the hard work they put in."
The Saturday evening of Red CentreNATS will feature an all-out horsepower showdown with the Garrett Advancing Motion Heavy Hitters taking centre stage at Alice Springs Inland Dragway.
Racers in five car classes from 7-11 seconds and one bike class will be looking to take home a serious chunk of change from the $37,000 prize pool.
Next level drag racing under lights against a background of fireworks with some of Australia's best drag racers battling it out for the title is a fan favourite for anyone who's been to Red CentreNATS before.
For more information, visit www.redcentrenats.com.au
For more from ANDRA, visit www.andra.com.au