Lamattina Top Fuel Racing launched into the new NDRC Australian Top Fuel Championship season with a consistent showing, presenting a solid baseline on which to build a championship assault with Phil Lamattina reaching the B-Final at the grand opening of Dragway At The Bend.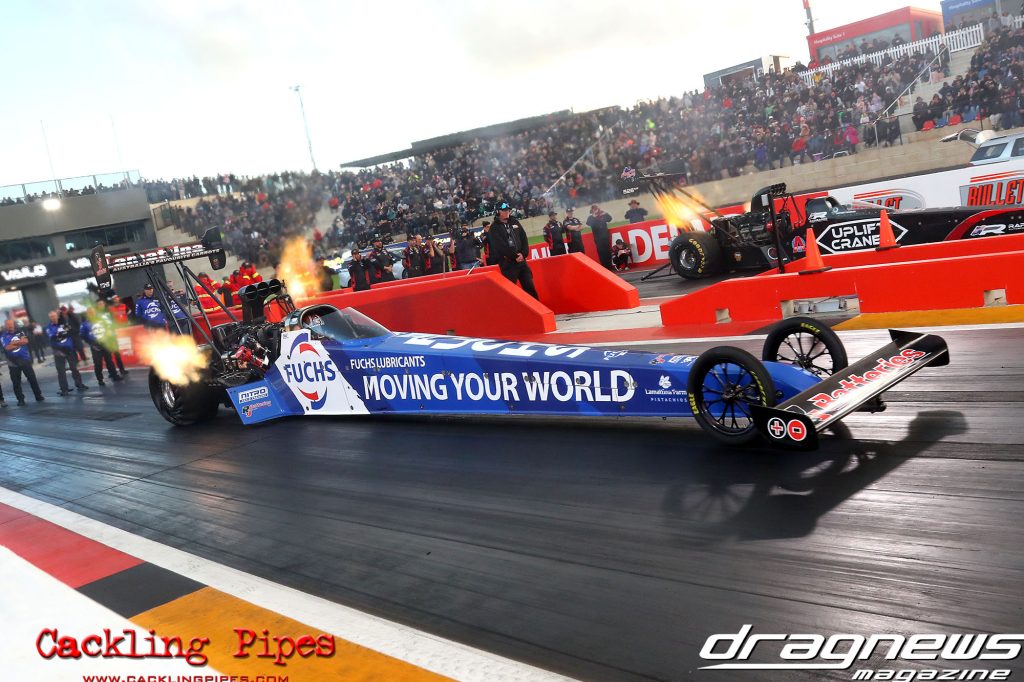 Over 35,000 fans attended the Spring Nationals across the weekend, pumping out an electric atmosphere as championship drag racing returned to South Australia, and LTFR was thrilled to be part of the action.
"It is so good to now be able to go to a world class facility so close to home," said Lamattina. "To have so many fans come out and support us was sensational to see."
A Friday evening test run on the eve of the event was allowed for teams to gather some data on the all-new racing surface. The FUCHS Lubricants Top Fuel dragster dressed in its brand-new FUCHS Lubricants livery dropped strong early incremental numbers to build a tune-up for the event.
On Saturday, in front of a sold out Dragway At The Bend crowd for Q1, Lamattina was again victim of a Christmas Tree glitch – an unfortunate common event last season – that held Lamattina idling for an extraordinary amount which is not healthy for an amped up 11000hp nitro engine. The resultant pass saw the LTFR dragster down on power and the run was aborted.
Weather conditions deteriorated as the day went on with cold temperatures and wind adding to the tricky conditions, consequently Q2 was abandoned in favour of an exhibition launch for the thousands of spectators in attendance. Lamattina was seeded to race Kyle Putland in round one.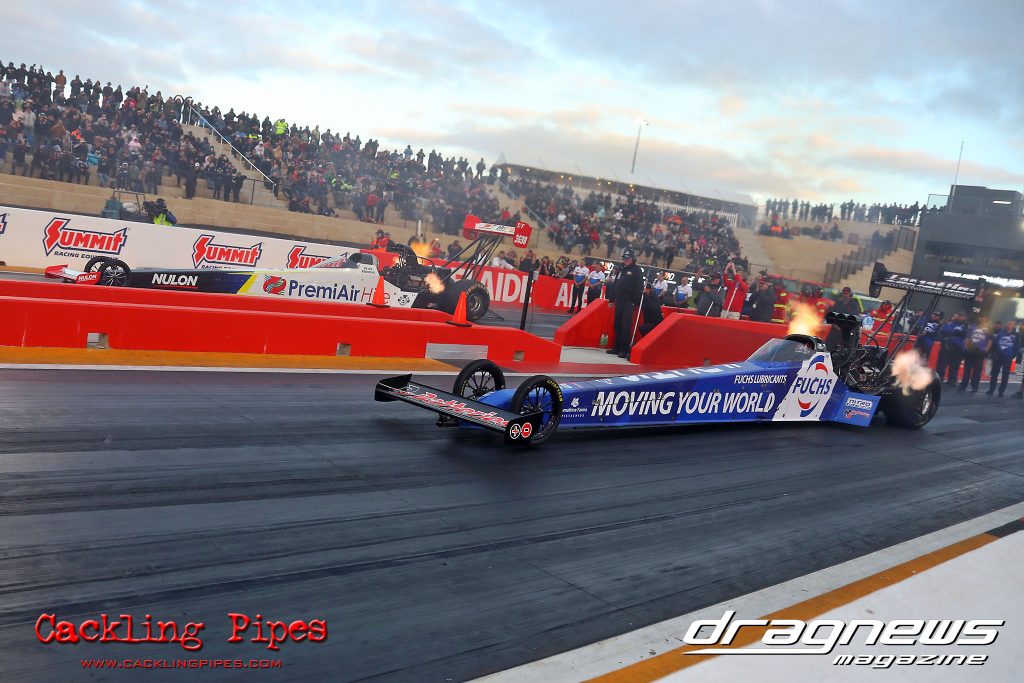 Race day welcomed kinder weather for the first round and Lamattina opened his championship account with a nice 3.874 win. Round two was a cracking race against Peter Xiberras, both drivers were guns on the tree, unfortunately Lamattina's 3.90 in the FUCHS Lubricants machine was just outrun by a 3.82 qualifying LTFR for the B-Final, with a rematch against Xiberras. The B-Final race itself was an almost carbon copy, LTFR and PremiAir Racing delivered another classic side by side Top Fuel duel, however the FUCHS Lubricants Top Fuel Dragster just wasn't quite quick enough this time with Xiberras' 3.83 a nose in front of Lamattina's 3.92.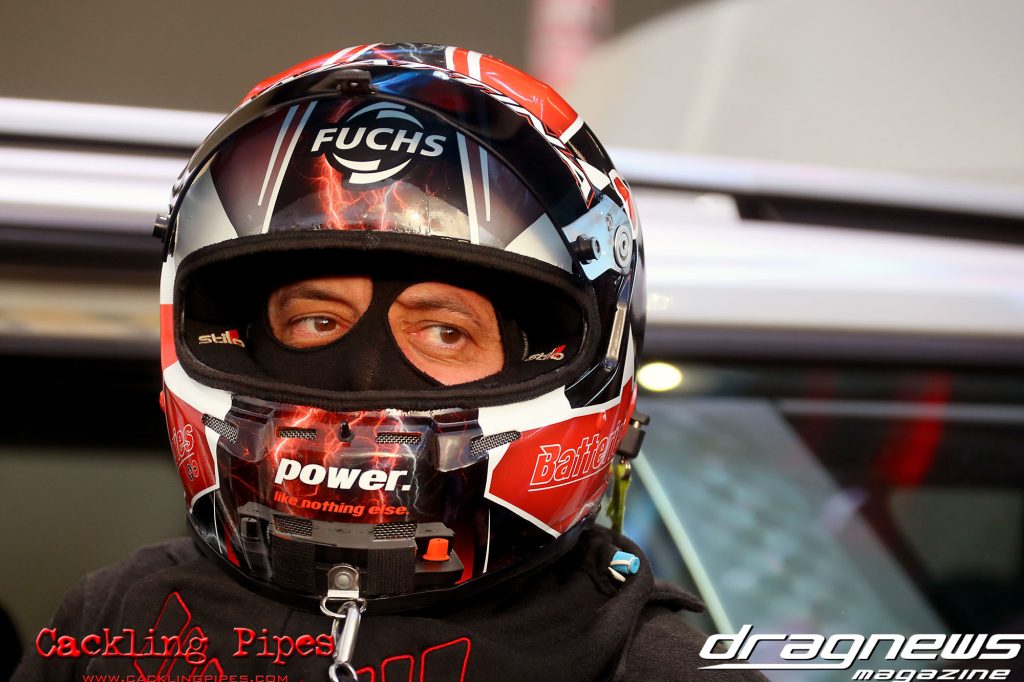 "The event itself presented us with some pretty interesting challenges being a new venue, coupled with some ordinary weather at times," said Lamattina.
"So, what we achieved on race day was commendable in terms of what was thrown at us."
"We are close, it's good to see the car go A to B, we just need to pick up on a performance a little. With FUCHS and R&J on board, everything was on point, and the car looks really outstanding in the new livery."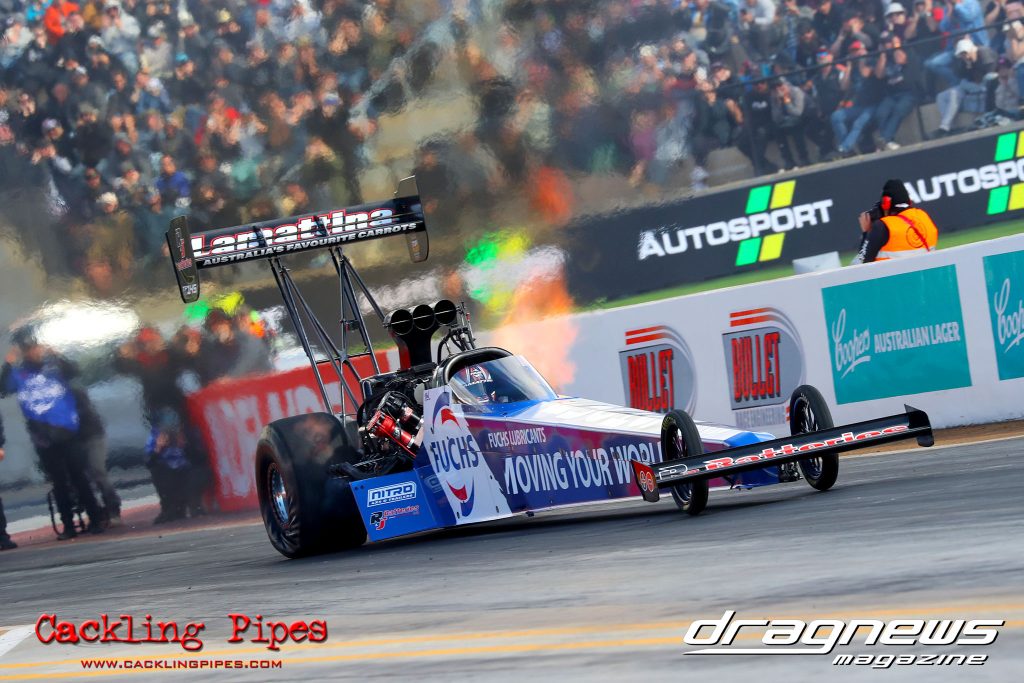 LTFR will look forward and focus on the next round of the NDRC Australia Top Fuel Championship at Willowbank Raceway of December 1-2 where teams will be again faced with a brand-new racing surface after extensive track upgrades at the venue.