Day one of the Sydney Nationals saw 11,000hp Nitro Funny Cars prove just how awesome the sport of drag racing is at Sydney Dragway, as they commenced their new 2023/2024 National Drag Racing Championship (NDRC) Title Chase with qualifying this afternoon ahead of race day Saturday.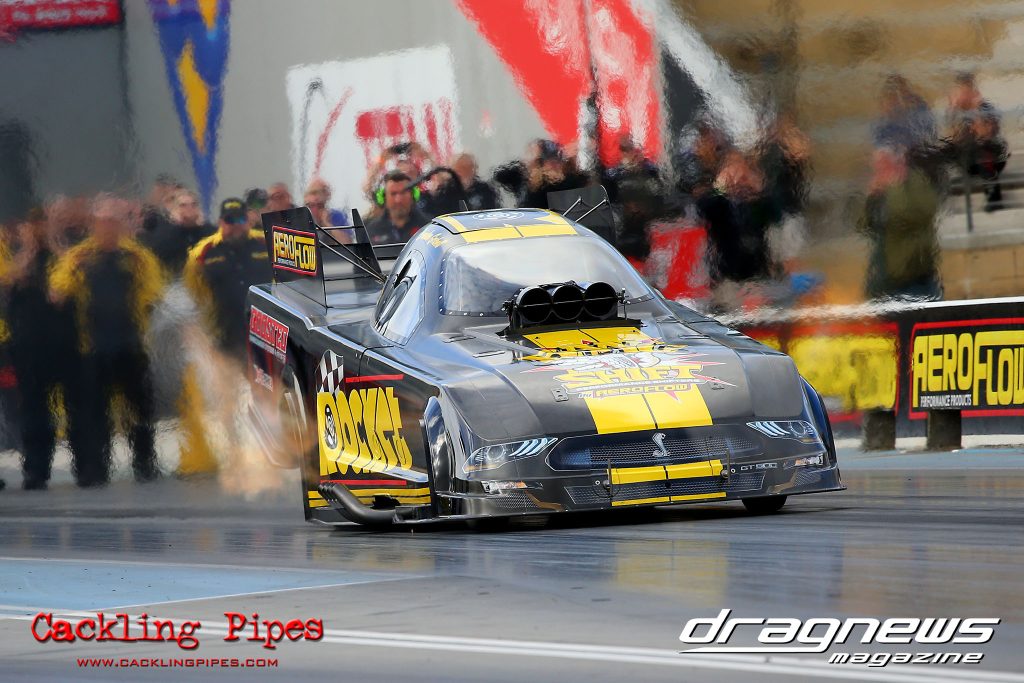 The very first qualifying pass for Nitro Funny Car at the Sydney Nationals event set the tone for the bracket early, with veteran Brandon Gosbell and nitro funny car newcomer Adam Murrihy delivering an incredible side-by-side four second pass to the delight of all watching on.
Making this performance even more impressive was the fact that Murrihy's 4.859s pass was set at 503 kph, while Gosbell's 4.815/426kph effort was an early shut-off, showing there is more to come for this entry.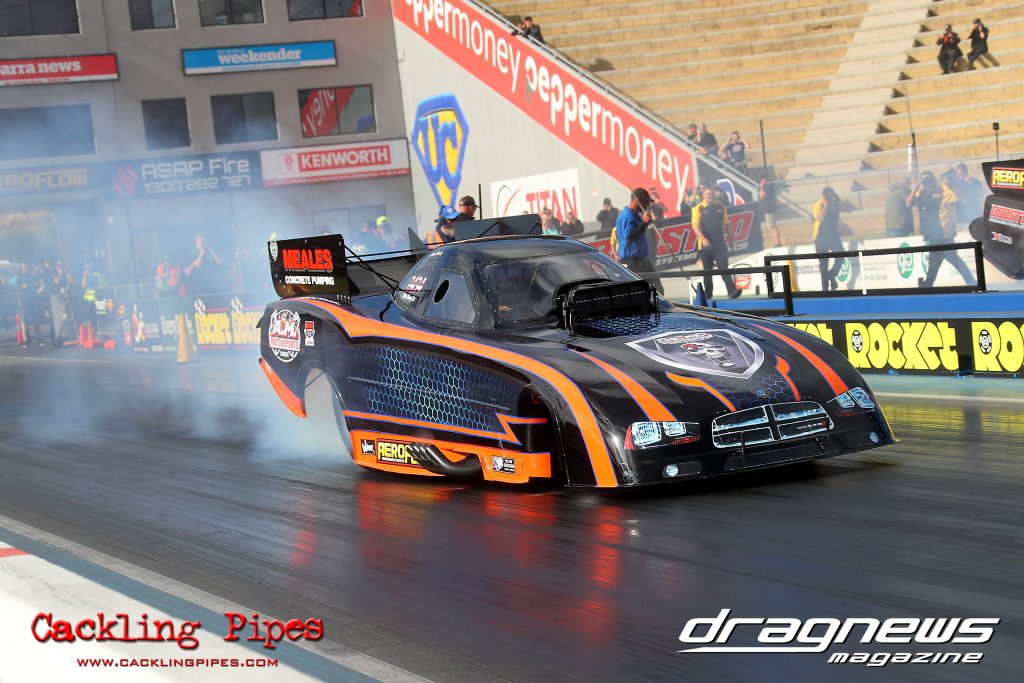 Gosbell and Murrihy lead the field into race day tomorrow as a result, with visiting US star Tommy Johnson Jnr third on the qualifying sheets thanks to a 5.148s pass at 374kph.
"We were lucky enough to go 4.81 with an early shut off – we are going to try and hop her up for the next one and see what we can do," Gosbell said.
"Conditions are only going to get better, so I would say strap yourself in, it is going to be pretty good!"
Justin Walshe (crossed centre line), Anthony Begley (hazed tyres at 330ft) and reigning champ Morice McMillan (problems at the startline) will also have plenty to prove tomorrow, while Tim McCarthy will continue his licensing passes.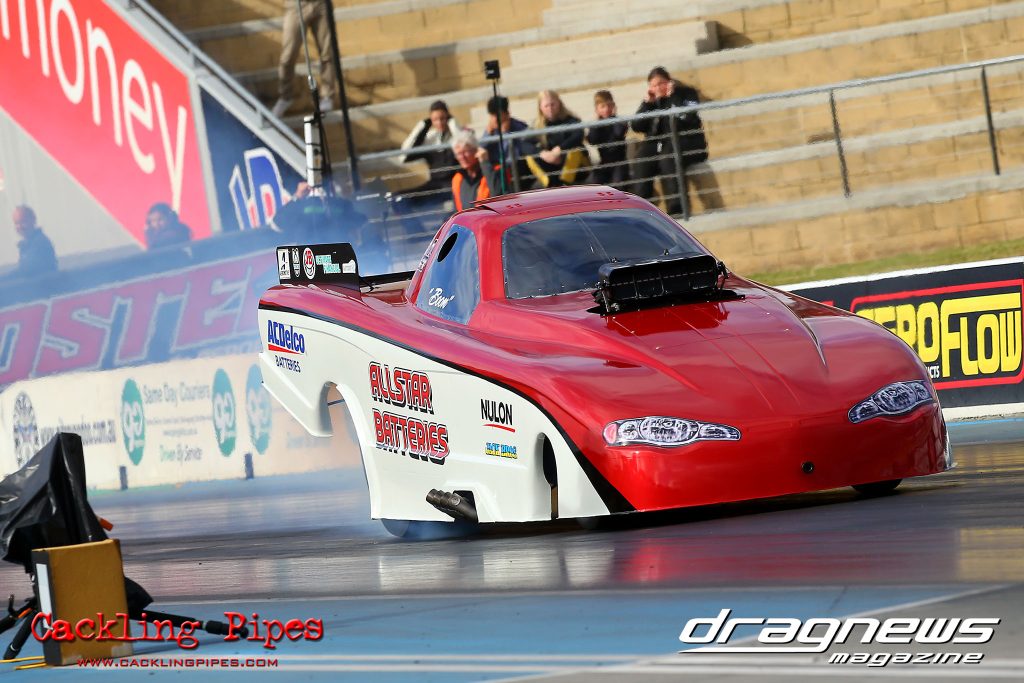 The first qualifier for Pro Alcohol followed the Nitro Funny Cars, with Daniel Reed taking over the Reed Racing Alcohol Funny Car and wrestling it to a 5.574s/362kph pass – which would remain the benchmark throughout the session –while his run-mate Brett White was forced into a pedal fest to keep his entry off the wall.
Adding to the story around the former Supercharged Outlaws racer's session-topping run is the fact that it comes amidst his Pro Alcohol debut, as he takes over the driving duties from his father, well-known Alcohol racer and former champion, Steve Reed.
"We found the track really good for us and the car did everything right – we got the tune up right and the car just cruised on down there," Daniel Reed said.
"The driver needs a bit of work though to keep it in the groove and drive it like a Nitro Funny Car and not a dragster," he grinned. "With a few more laps hopefully I will be able to fix that, and everything else was good."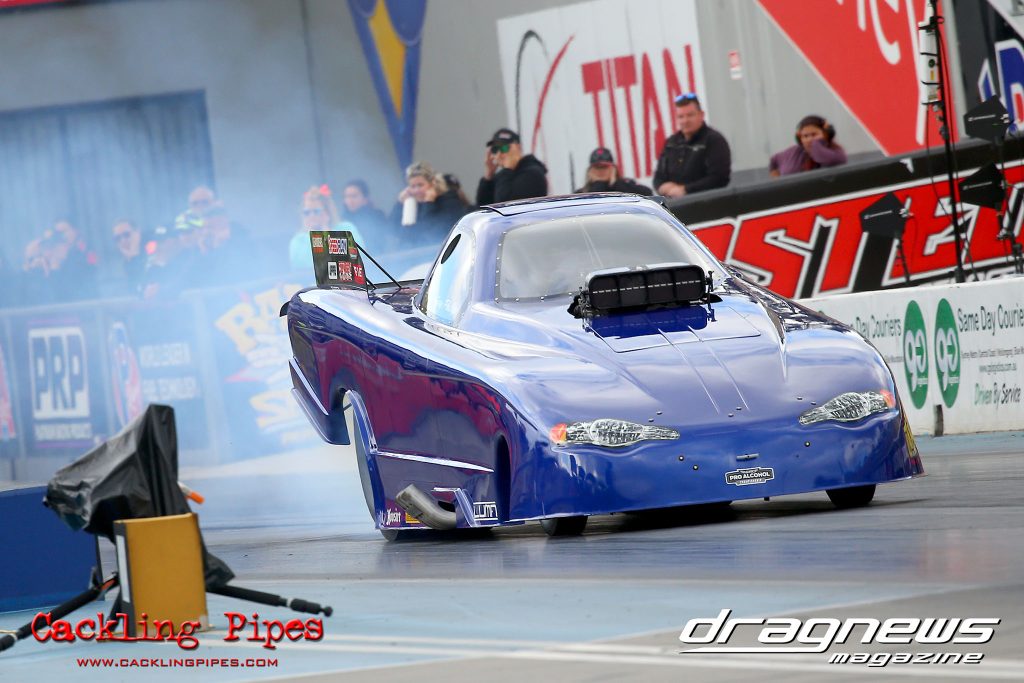 Gary Phillips and Russell Mills were the next Pro Alcohol runners to go down the track, with Mills going up in smoke early and Phillips unfortunately suffering a fire aboard his Alcohol Funny Car at the 1000ft mark before brushing the right-hand side wall and then heading into the sand, while still setting what would be the third quickest pass of the session (5.768/310kph).
Thankfully, the 22-time national champion was able to get out of the car and walk to medical checks where he was declared well, although his car suffered considerable body damage.
Chris Hargrave, Peter Lovering and John Cannuli also all completed passes, with Hargrave being second quickest behind Reed thanks to his 5.704/408kph effort.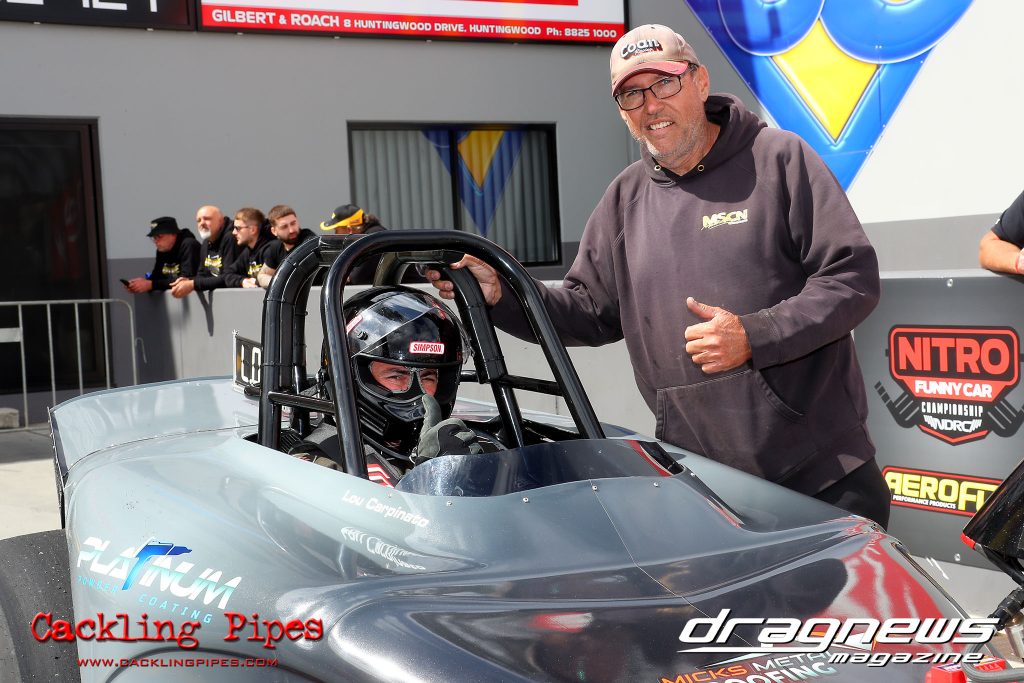 Also taking to the track today in what was a weather-shortened Friday program were racers for the Aeroflow National Sportsman Championship, with Lou Carpinato (Modified), Britney Olive (Supercharged Outlaws), Peter Pisalidis (Super Comp) Leo Georgis (Super Sedan), Nathan McKenna (Super Street), Steve Fowler (Top Sportsman) and John Somoracz (Super Gas) topping the opening qualifiers for their brackets with more to come on Saturday before they turn their hands to racing.
"We are here this weekend to break a national record and so far, we are on course to do that," Carpinato said.
"My car sort of shot off to the left a bit so I had to really drive it, but other than that and a bit of tyre shake it went well.
"As long as all goes well tomorrow, we hopefully look forward to breaking that national record and seeing where we can go from there, hopefully we can run some rounds."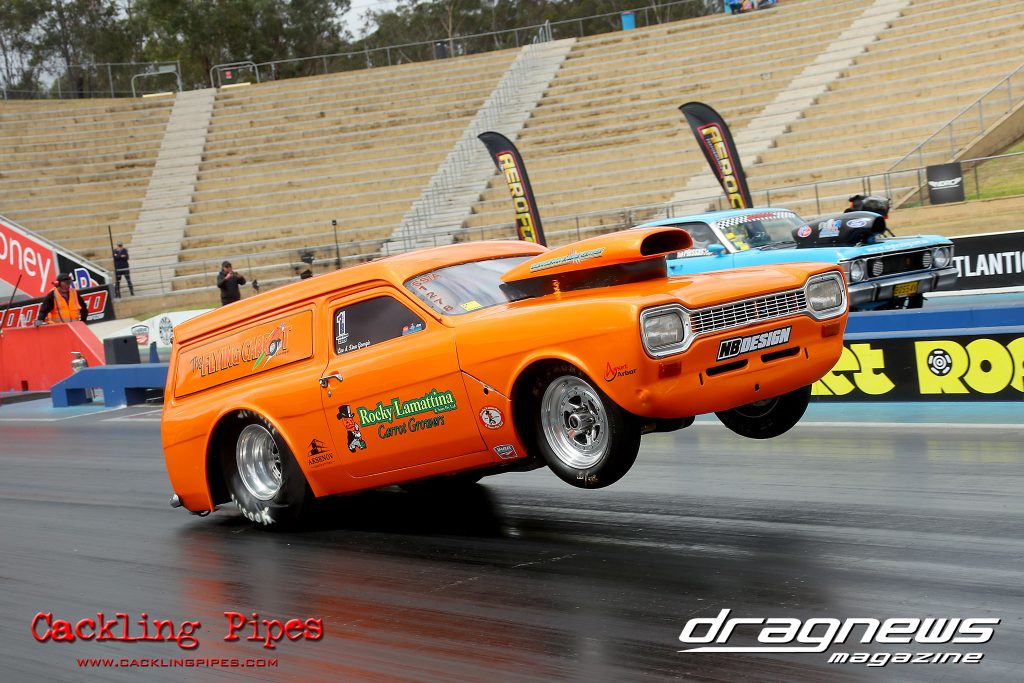 "I am pretty happy with that," said Georgis.
"There are a lot of quality cars here that can run quicker, but I will take it and hopefully tomorrow we can have better conditions and get it all run and have a great day.
"We made the final in our last meeting (in Top Sportsman) so I am hoping we can keep that going and make the finals this weekend. But as they say, we are racing, and that is the main thing!"
"Despite all that Mother Nature was throwing at us today, the Sydney Dragway track crew never gave up and put in a tireless effort to give us as much on-track running as possible, so I would like to thank them as well as all of the racers who remained in good spirits and gave us their patience as we battled the conditions," NDRC Co-Founder, Andy Lopez, said.
"We are looking forward to a much better day tomorrow, where I know each and every one of our racers and track and event staff will be pulling out all the stops to make day two of the Sydney Nationals the best it can be."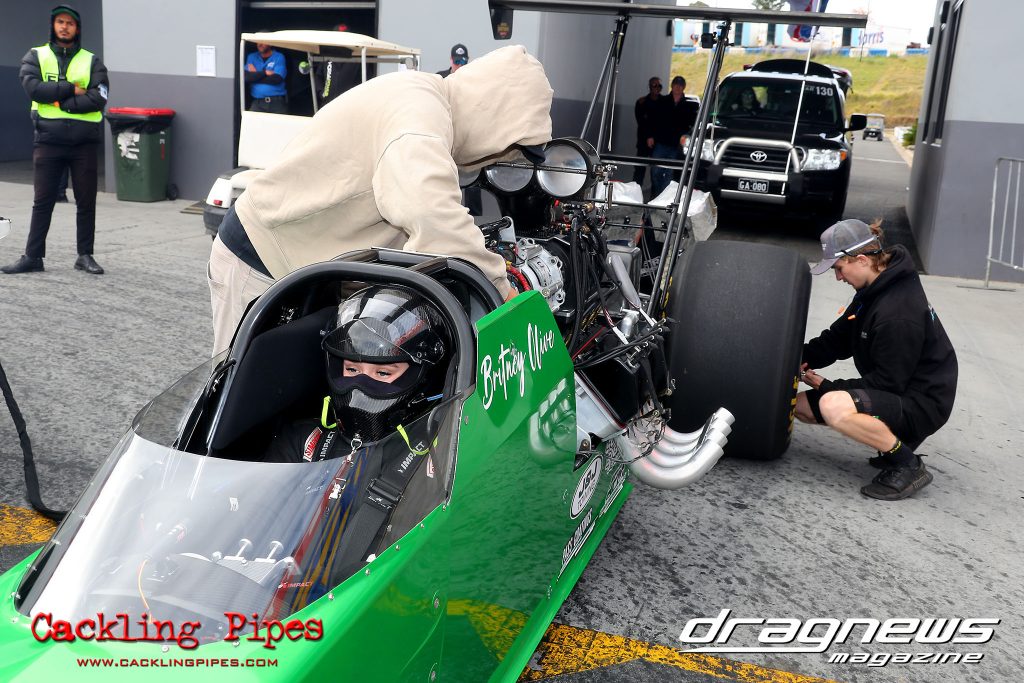 Tomorrow the Nitro Funny Cars, Pro Alcohol and Aeroflow National Sportsman Championship competitors will be joined by those from Pro Stock and FuelTech Pro Mod for more qualifying and then racing, as well as on and off-track entertainment and fireworks to ensure there is no shortage of entertainment at the Eastern Creek facility.
With so much entertainment lined up and a much more favourable weather forecast, event organisers are expecting a large crowd and are encouraging fans to purchase their tickets online via ndrc.tv to ensure they don't miss out.
For more information, visit www.sydneydragway.com.au and www.ndrc.tv