The Enzed Top Fuel Championships at Willowbank Raceway this weekend have seen a change in leadership for the championship in Top Fuel, with Martin Stamatis coming out five points ahead of defending champ Phil Lamattina.
While three-time champ Phil Read took the win in a final against his team-mate Stamatis after Lamattina suffered an uncharacteristic semi-final loss to Read, Stamatis took the points lead with the ET bonus points seeing him edge out Lamattina for the top spot.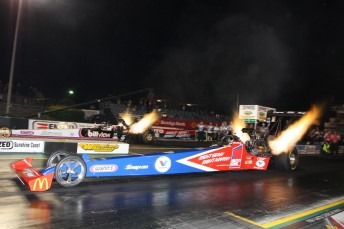 Read's winning result also saw him edge closer, and he has now reduced his gap to the points leader from 70 to just 40 points.
"To draw into the lead of the championship is good, and with two rounds to go and both at killer tracks, it is going to be an exciting rest of the championship," said Stamatis.
While Stamatis took the lead, Read took the win and with it, drew considerably closer in the championship chase.
"It is great to take the win for our sponsors, and as far as the championship goes we aren't giving up yet, we didn't win three championships by giving up and the win today has given us a great start in chasing that back – to be honest I am most worried about catching Marty (Stamatis) as he is running the good gear with me!"
Top qualifier Lamattina, who also secured the top mile per hour for the meeting, is now second in the points, attributing his loss to a broken throttle bracket.
In other ANDRA Pro Series racing this weekend, David Newcombe took the win from John Barbagallo in Pro Stock, with Lee Bektash holding on to the championship lead by just 10 points after a quarter-final loss, with defending champ Aaron Tremayne in second and Barbagallo moving into third courtesy of his runner-up spot and bonus points for both top speed and low ET.
In Pro Stock Bike, Phil Howard surrendered the championship lead when his third qualifying run on Saturday evening which saw him on the bump spot was disallowed, with Andrew Badcock taking the lead, the event win and the high speed for the meeting tonight.  Badcock was to face Pro bike debutant Ross Lemberg in the final however engine damage in the semis saw Lemberg's dream debut fall just short of the fairytale.
The championship chase now heads to Sydney for the Nitro Champs April 30 – May 2 before heading back to Willowbank Raceway for the season-ending Castrol EDGE Winternationals over June 10-13.