Nitro Funny Car's latest contender has a name that is no stranger to the breed and the experience has shown in the smooth way the team has begun their journey.
Sydney's Chris Stipanovich has recently become fully licensed with a series of mid five second passes, realising a long held ambition to go nitro racing, following in the footsteps of father Ed.
"I only remember bits and pieces of the Funny Car," Chris said, discussing his history in the sport.
"After that he (Ed) spoke about buying a Pro Stocker, I said if we ever came back I wanted to drive a Funny Car."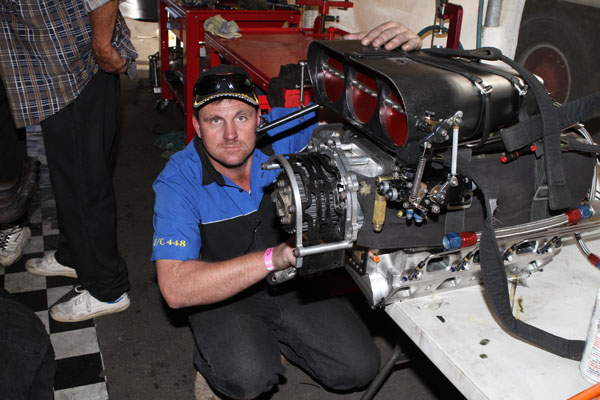 The younger Stipanovich got plenty of opportunities to drive, starting out in Super Sedan and then getting offers up to a Top Fuel dragster ride.
However the lack of racing in Sydney saw attention turned elsewhere for a while.
"I went back to go kart racing and broke a few ribs. I hooked up with a Sprintcar and went racing that for four seasons," Chris said.
"But it was a little bit lame to be racing guys with more money."
The need to drive a Funny Car continued to burn in the heart of Stipanovich.
"I always love more of a challenge. It was a personal thing I wanted to achieve," he said.
"I spoke with Graeme Cowin about it. What I wanted to do was replicate the Syndicate as a pat on the back for the old man.
"The costing was getting a bit heavy and this (a modern Nitro Funny Car) wasn't so bad. There were no heavy hitters in the class here and we figured we could put on a show doing it. But Mark Sheehan and Damien Harris have started punching it pretty hard."
The car Stipanovich has licenced in is a 1994 model built originally for Paul Smith. It swapped hands a few times and sat idle for five years before Stipanovich bought it into Australia.
It runs a 1997 Olds Cutlass body with a 498 cubic incher up front. The current engine from bottom end to heads is out of Aaron Lynch's Top Fuel dragster while the blower is just an "old Rootes" with some "old mags".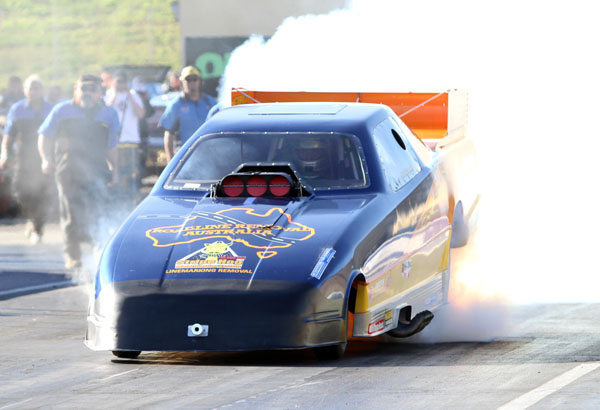 On beginning licensing, Stipanovich was not afraid to admit he was a little apprehensive.
"I was shitting myself to be honest with you," he said.
"I got all this info from Graeme (Cowin) and Santo (Rapisarda) and Jimmy (Read) but I really didn't know what to expect.
"I have driven a few race cars so I knew I would be capable. It wasn't that bad because of the way the whole deal progressed, we had to find a tune up, I didn't get into a car that was running 5.5s straight away. I graduated towards it, running like 6.20s, it wasn't that bad once getting up to speed.
"Firing on all eight it drives like a dream, on seven or less it goes where it wants to go."
Just getting to the licensing stage proved to be a difficult process following the extensive pre-requisites brought in for nitro drivers several years ago.
"I wasn't aware of the licensing deal they bought in. It was a massive drama and if it wasn't for my wife I would have given up," he said.
"It was very expensive to go to the States and all that, I didn't feel we had to go through it. We lost a good eight months from organising the school and Ken Lowe getting his cars ready.
"It was a dragged out headache. I think they have to look at the driver's skill and where they come from. Certain officials were aware I could drive the car, but the rule was in place.
"Assess the person individually. If it was my son I would put him through Frank Hawley straight away."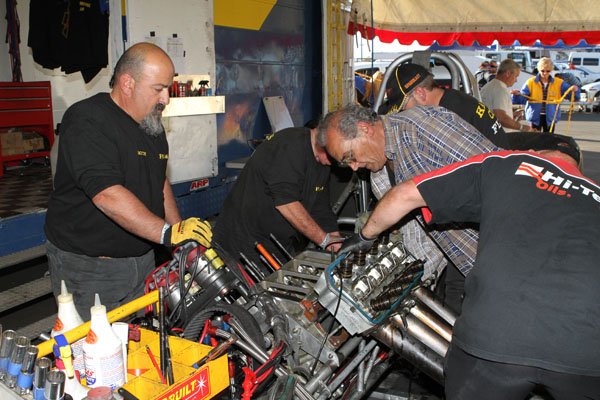 Now that the hard part is out of the way, Stipanovich has some plans afoot. A new car is first on the agenda.
"The new car is a 2004 model originally built for and raced by Tim Wilkerson, David Gallegos bought the car and was going to run IHRA but then they pulled the pin so the car became available," he said.
"When we came back from Queensland (after licensing) I needed a blower, this guy asked if I wanted to buy the whole car. If we're going to run with the boys we're going to need the gear.
"We're running for the future. It's a Pontiac Firebird body, very similar to Rod Bailey's Nitro Freak car."
Funny Car is a class in constant limbo with match racing generally being the only opportunity available.
Stipanovich said that is something he would rather for the moment.
"One of the problems we have is the guys on the crew volunteer so we have to work around their schedules," he said.
"My business is covering all the financial aspects of it. We have to watch what we do. We would like to match race on a few country tracks.
"Most of the teams haven't got much financial backing so match racing at the moment is preferred. A championship will be the go eventually, a couple of guys could afford to run around but at the moment the guys haven't got the money to do it."
For the future, Stipanovich would love to see a four point something on the read out boards, but the main aim is to have fun doing it.
"We're learning how hard it is to get this running on all eight and I need to improve on my driving skills off the mark," he said.
"I just want to enjoy my hot rod in one of the highest levels of motorsports in the world."