There's a new team in town and they're ready to bring fun mixed with old-school nostalgia back to the quarter mile. However, their connection to Drag Racing runs a lot deeper than everyone thinks.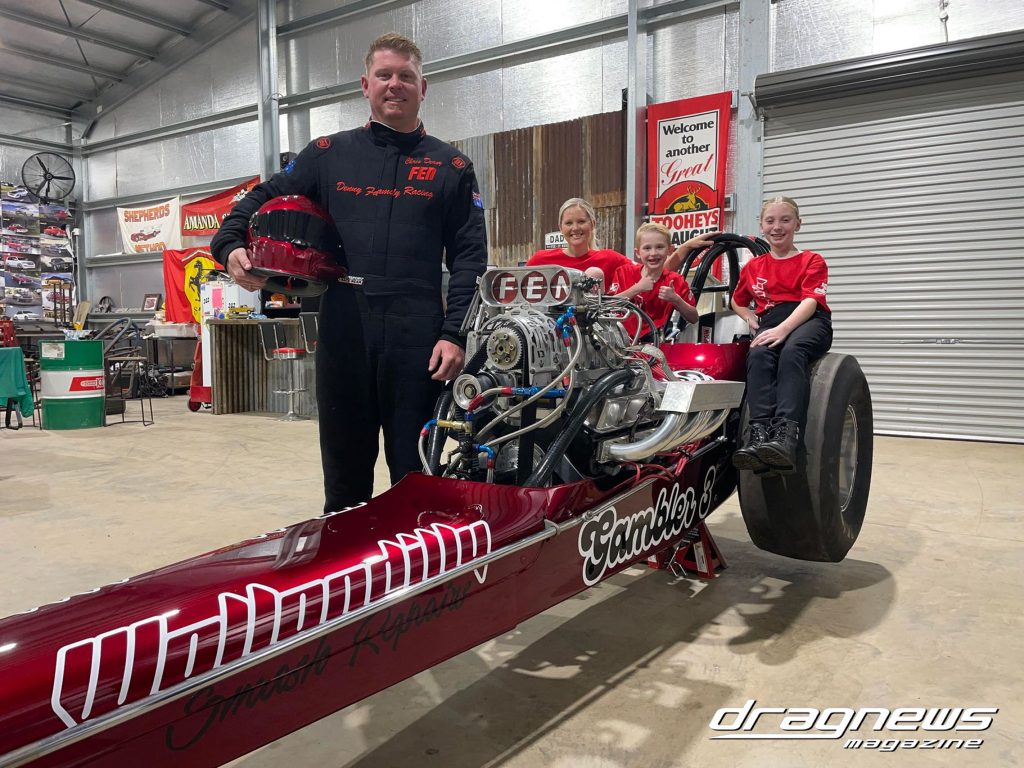 Drag News Magazine is proud to introduce the Denny Family Racing's 'Gambler 3'.
The new race team with a long history have unveiled their new front engine dragster driven by 35-year-old Chris Denny (everyone calls him Fen) from The Oaks on Sydney's outskirts.
Denny might be a rookie to the quarter mile, but his passion runs deep – not only is he accustomed to competing in burnout competitions with his supercharged Holden VS V6 ute that he's had since he was 16, he is also married to the Quarter Mile Smile Bob Shepherd's daughter, Amanda Shepherd.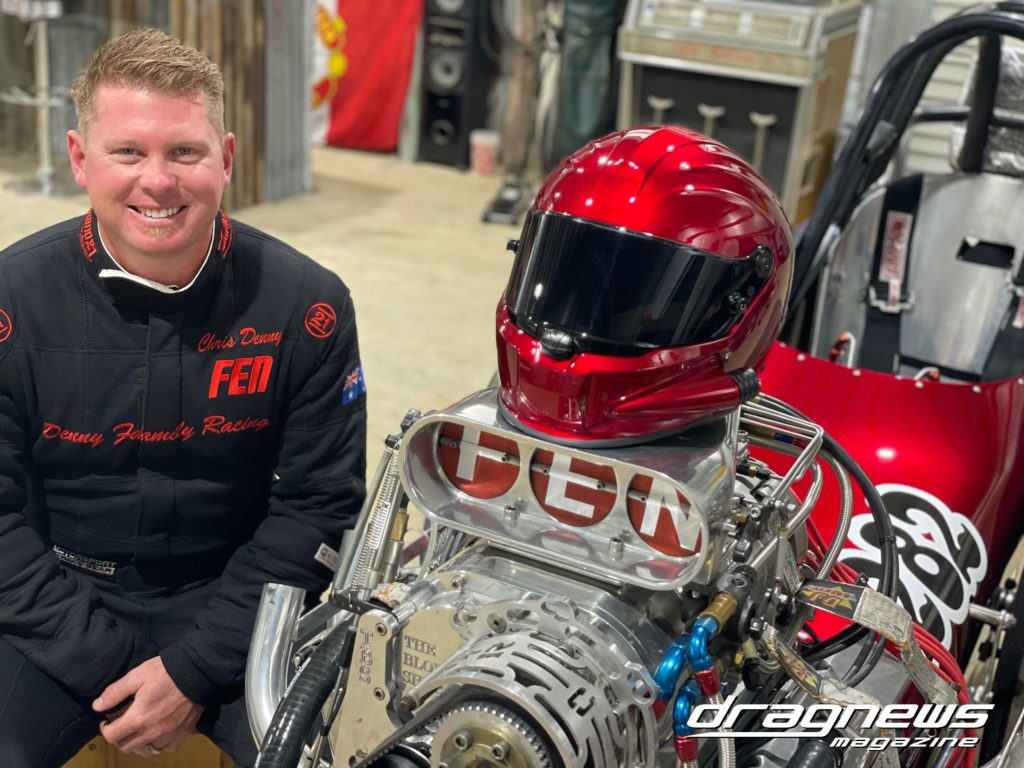 "I fell in love with FEDs when I went to Geoff & Graham Blakes house one day and I sat in their front engine dragster," starts Denny. "Then I went to Sydney Dragway for Bob's awarding of his Quarter Mile Legends Pioneer Award, where they started a cackle car, and from then on, I was hooked.
"The Blake boys dad, Darron also used to drive back in day with Bob, so it's almost like the next generation are stepping up to take the reins. We're also proud members of the Marigold Drag Racing Club that was established a long time ago, and plenty of racers that are retired now we're members.
"Back when I was 17 I would go and watch Bob compete in Top Fuel, and we would walk down to the pits after a run and he would hand out all of his blown up parts he'd just caught on fire – Two years later I started dating his daughter Amanda after meeting her at a party, and had no idea that Bob was her father until one day I saw what was in the shed, then the penny dropped!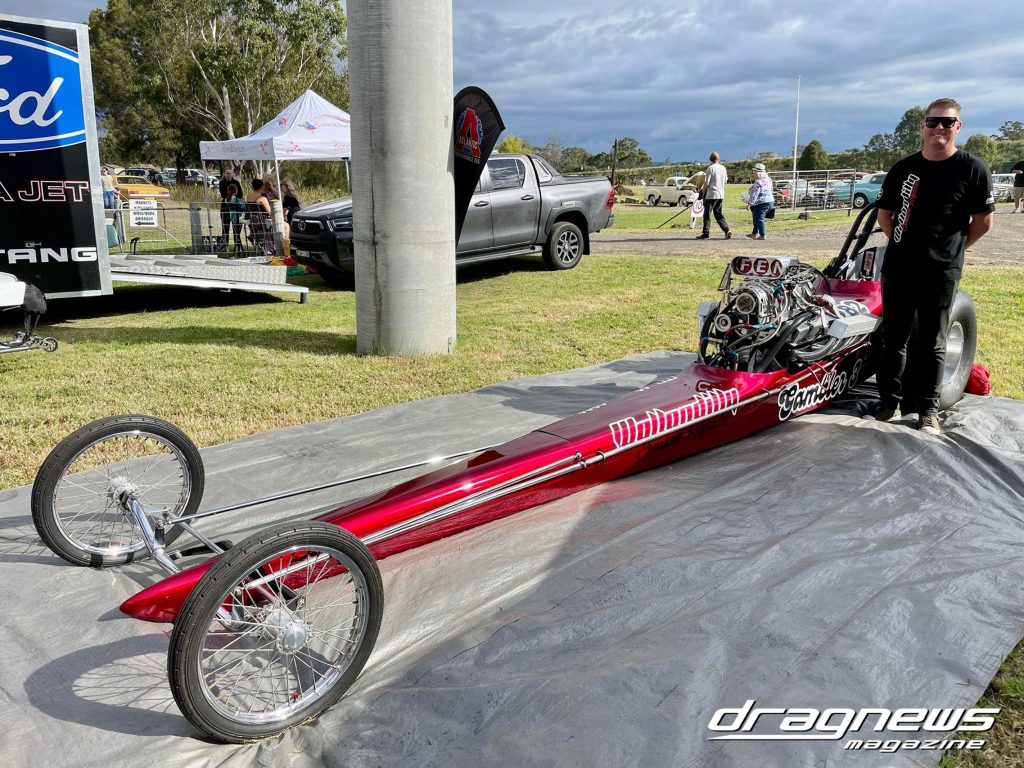 Fast forward a number of years, and Denny had that itch to go fast in a straight line.
"The stars aligned for this new race car – I saw it on Facebook for sale from an extremely reputable family, The Leahys," said. "We left it a week, didn't say anything to anyone. Bob rang out of the blue and said 'Fen did you see that FED for sale? It's a good buy. If you fit, wanna go racing?' Amanda and I jumped on a plane to the Gold Coast the very next day not telling a soul, caught an Uber to Greg's house, sat in the car and … Bob's your uncle! Flew home that same day and the deal was done. The Leahys made us feel very welcoming. and we are honoured to have purchased such a magnificent race car.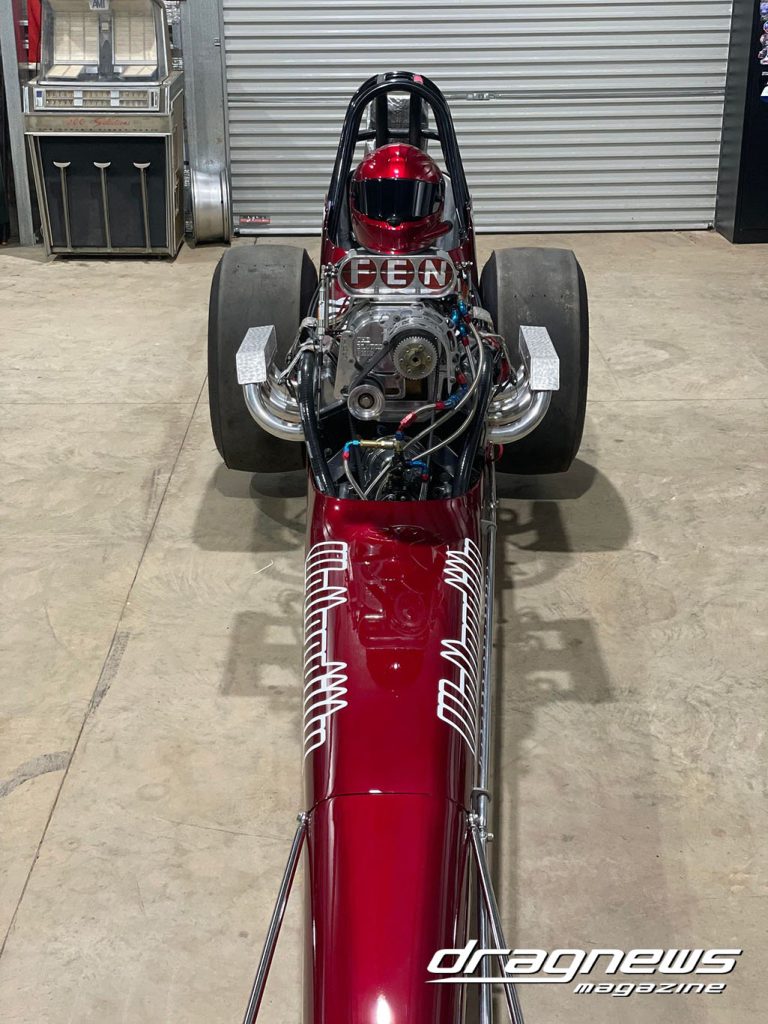 The FED was driven by Chelsea Leahy and is in pristine condition. The chrome-moly chassis houses a 350ci Dart little M block with a 6/71 blower. Gambler 3 as it is now known, has just had a complete fresh paint job by the crew at Wollondilly Smash Repairs – she's now Candy Apple Red, and the workmanship the crew executed is exceptional.
"We chose red because it's fast, but the Candy Apple also encapsulates that nostalgic feeling. From every angle, the paint will grab a different facet of light and shimmer in a different aspect, it's remarkable up close," said Denny.
"The Dragster is called Gambler 3 after Bobs Funny Cars. He's driven every race car you can think of, and we thought it only fitting to continue the tradition in honour of a man who's headline act was to always entertain the crowd, never stopped smiling and always had fun doing it.
"I am also honoured to have been given Bob's racing number #282. Bob's had this number allocated to him back when he raced his chariot in Rome in his past life – that's how long he's had it for – and as he's a retired drag racer now he has passed it down.
"You will see #282 in every sideways funny car burnout photo, that iconic Top Fuel four second pass footage, even all the way back to his days of driving a twin-engine dragster. This race number means a lot to our whole family, so when you see it around just know that it holds much sentimental value.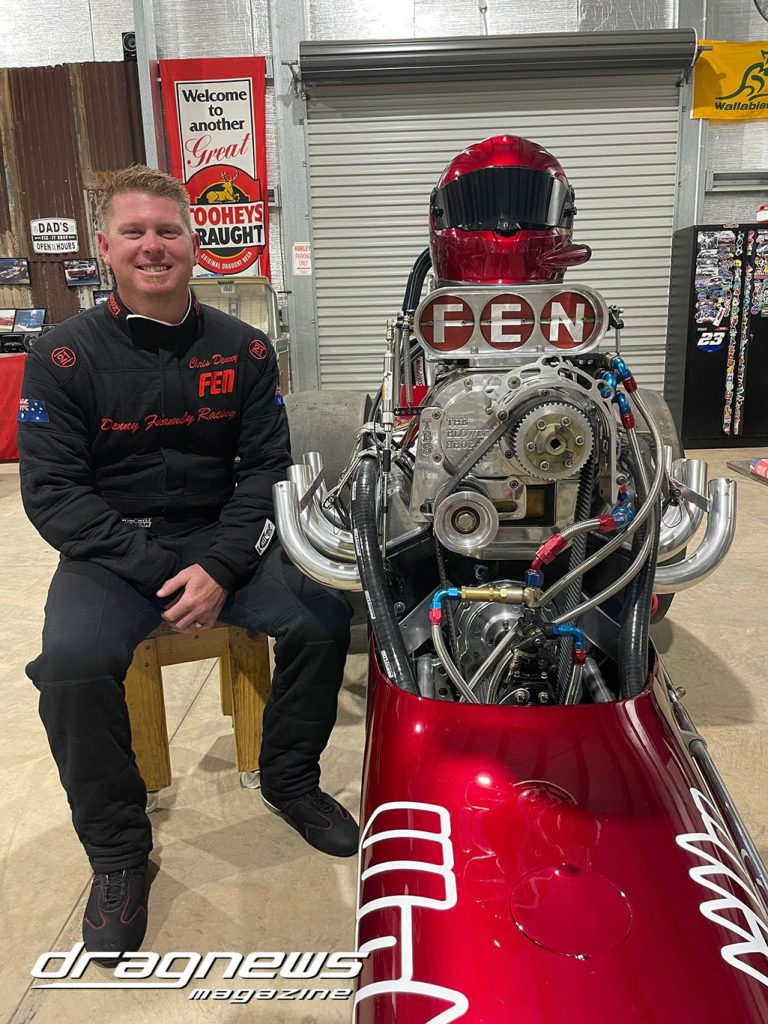 Unlike Bob and Amanda, Denny who is used to going round and round in a cloud of smoke, has no practical experience as yet in driving blown dragsters.
"I'm equally nervous and excited about driving because I honestly have no idea what the cars going to do or what it will feel like," he said. "Who can say they've had such an aggressive motor sitting in front of them that their in charge of, an absolute animal. It's so unnatural to sit on a diff and have two Micky Thompsons either side of your head ready to smoke up. Not many people can say they've been nearly 300kph in 1320feet, so to be able to say I'm actually going to be doing it in a piece of front-engine nostalgia is great.
"It's about getting used to everything – a hand brake, trans brake, even having to wear the fire safety protective gear – HANs device, fire suit etc. I am completely covered from head to toe, with extras, and have to learn how to do everything with gloves on because the feeling is so different. It's time to step out of the comfort zone."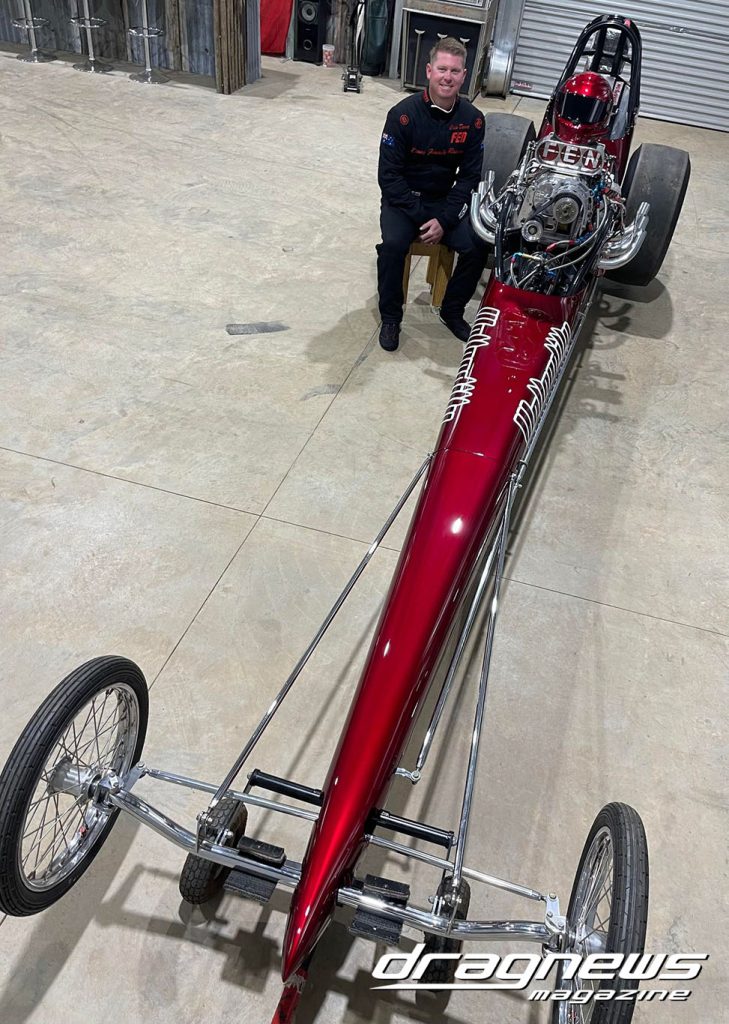 The car's best time is 7.60 at 197mph. The team just want a clean, consistent car that Denny can jump in and do run after run, head back to the pits and have some fun with their family and friends in the Supercharged Outlaws bracket.
"If we have learnt anything over the last few years it's that life is too short!" said Denny. "Racing isn't just about getting to the finish line the quickest. It's about the adventure you have along the way, the people you meet that end up family and the memories you make that will last a lifetime.
"Our niece Hannah will be helping out on the crew, my best mates will be there, my Mum and Dad, my Mother-In-Law Lee and Bob will be back at the track too."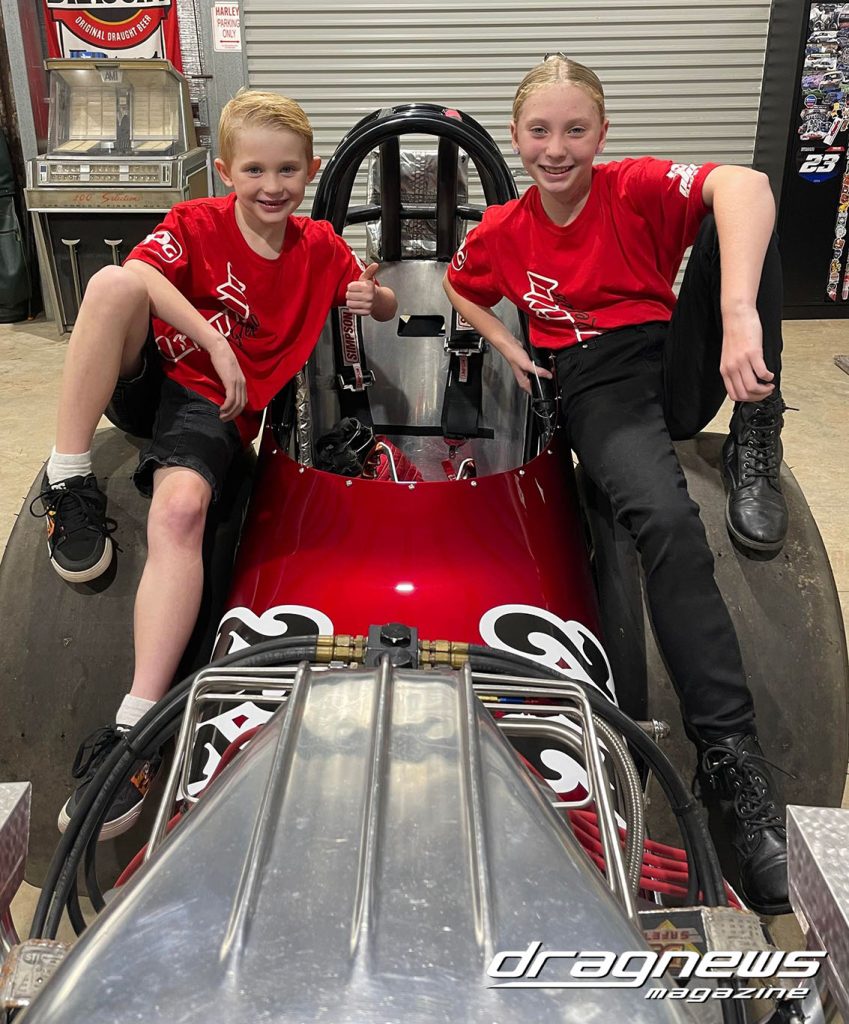 While Amanda also would love to get back behind the wheel, the practicality of that may be too difficult in this FED, so for now Amanda is just excited to be back at the track.
"I was going to have a drive, but I'm far too short and can't see over the injector hat! Who knows what the future holds, but for now I'm focused on bringing Fen into stage and seeing his face down the bottom end," said Amanda.
"This is a whole new ball game for us. We're training up our mates and family members to do the jobs that I used to watch Dad's crew do on the fuel car. We are so excited to know that our family will be back trackside, where we belong. The last 14 years – after dad sold the Top Fuel car – without racing have been interesting and plenty has happened in all of our lives. Chris and I now have a family, and our two kids Emma and Ryan are the team's first allocated pit crew members. You will see them at every race meeting, doing their special jobs and loving the energy that drag racing fills your heart with. Give it time and you'll probably see them steering it one day! Our girl Emma is eager to learn every aspect of this race car from top to bottom, how everything works and why it works and says she will one day go faster than me! Our fearless 7-year-old revhead Ryan was born a royal Hoonigan, and definitely inherited his Grandad Bob's need for speed.
"It's also incredible to know that Mum is keen for this – being a drag racers wife for 30+ years, she knows what is involved from the side that many don't see. I'm older now and a wife/mum of my own, so she will be giving me plenty of tips on how to handle, well basically everything about being a racers wife, while also enjoying herself back at the track. Dad has always said that FEDs are probably the most fun to drive. Only a crazy person would be game enough to drive with a diff between their legs.
"Drag racing is a league of its own – it takes courage, determination, no fear and a solid right foot. I know that my husband has all of these things – and then some! And to know that my dad, the legend himself, the Quarter Mile Smile will teach him everything he needs to know about how to drive the beast, really makes me content.
"I've watched my brother Mathew, my Uncle Mark, my cousin Luke and my dad Bob drive. I'm so ready to send my husband Fen down that quarter mile for the rides of his life. He'll know he's alive when she starts moving around after half-track, or on the runs when he has to use both hands on the wheel. Nothing – and I mean nothing! – makes you feel more alive than a quick run down the quarter mile. It's time to have some fun – fast fun!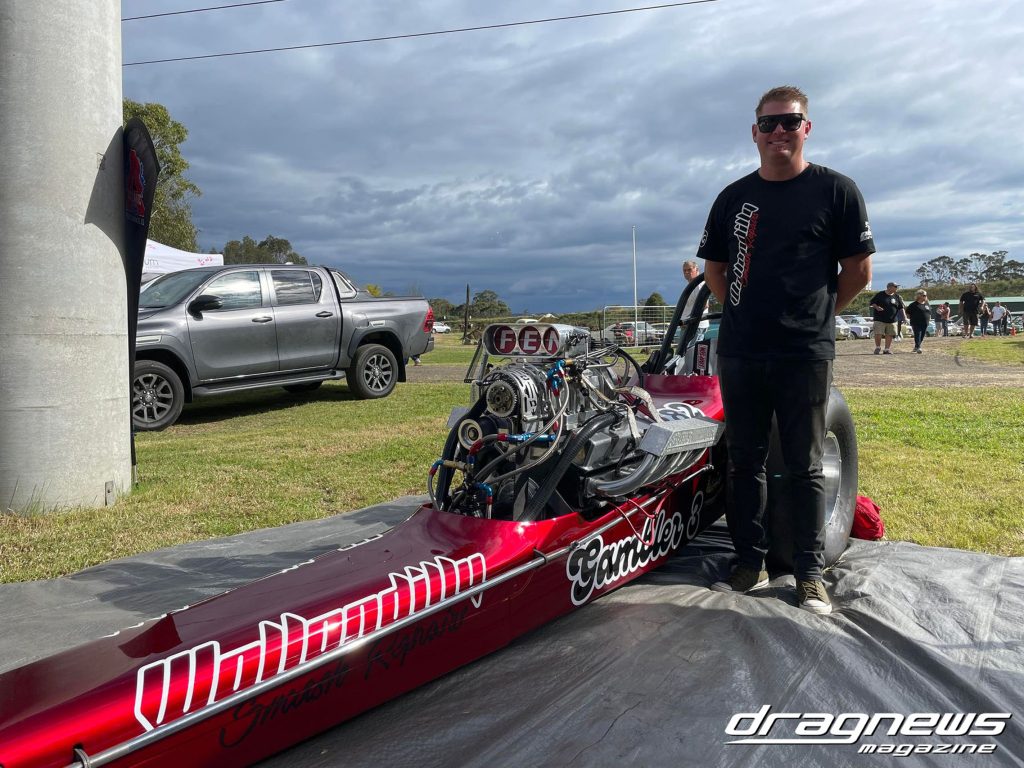 "Chris has wanted to drive a FED for years, we just never thought it would happen, yet here we are. This is why you should never say never! We are the future driving for the past generation. It's time to have some fun, and fun is what we are good at.