Australia lost a stalwart of the drag racing scene with the passing of legendary Queensland racer Gentleman Jim Reed on August 22. The pioneer of the sport was 87. Put simply, drag racing in Australia would not have been the same without the participation and influence of Gentleman Jim.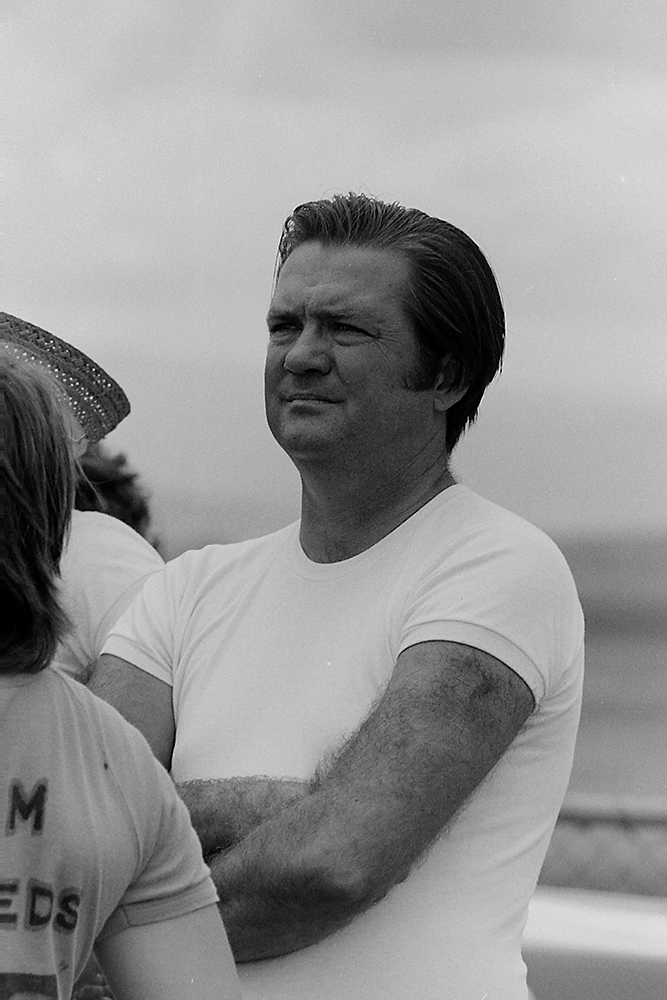 Jim's 70-year involvement in Australian drag racing established him, his family and his cars as an institution in the quarter-mile sport. While Queensland had fewer people than NSW and Victoria, the state proved to be a powerhouse in drag racing, particularly in the 1970s and 1980s. This helped strengthen the sport overall and was the result largely from the efforts of men such as Dennis Syrmis, John Winterburn and Jim Reed.
As a teenager, Jim was interested in cars, modifying a 1928 Essex, including upping the compression for a significant power increase.
He first competed in a 1935 flathead V8 Ford Coupe in the early 1950s, running 18.9sec on the former World War II airstrip at Strathpine in Brisbane's north. From that time, Jim's vehicles have always been up with the best and more often than not, well in front of the opposition.
Jim told this writer years ago that the key to his success was meticulous preparation. "Nothing gets through without it being perfect," he said.
His attention to detail was exemplified by a fact sheet which contained an account of the settings and the result of every pass by all of his vehicles from 1971.
"After the war my step-dad used to take me to Strathpine to see the races," Jim said in an early 1980s interview. "When I got a car, I used to go to all the circuit races," he said. Competing in sprint events (it wasn't called drag racing then), his side-valve Ford, fitted with one of the first Waggott cams in Queensland, proved to be a consistent winner. "We'd take the exhausts off and put on pipes that would come out and over the guards. It sounded like an aircraft taking off, but in those days the more noise you made, the better.  I used to try it out down Stafford Road (at Everton Park, the northern Brisbane suburb where he lived), there was hardly any traffic back then."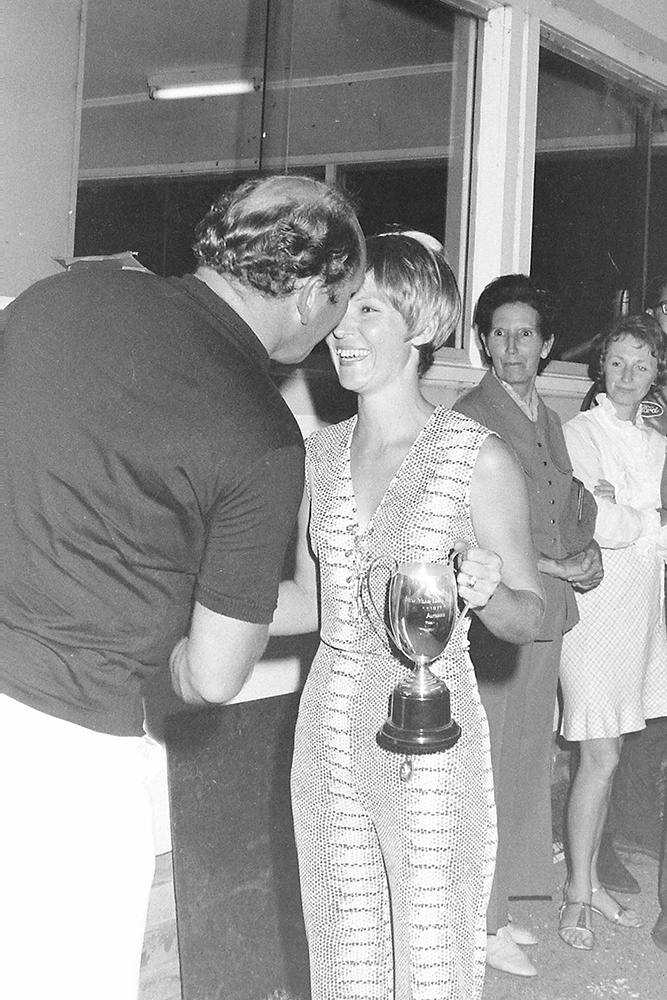 In 1957, Jim married Nelma, the woman who would stand beside him for all of his career and drive some of his cars. In the early 1960s, both Jim and Nelma competed in go kart racing. Jim even raced against Keith Williams (later to operate Surfers Paradise International Raceway and many other ventures) in a championship go kart event at the Surfers Paradise Ski Gardens (Williams won).
"We used to win chickens in the go kart races," Nelma said in an early 1980s interview. "They said if they paid us money, we'd become professional, but it was handy for tea when we got home, and we had a lot of fun."
In 1965, Jim attended a meeting with CAMS representatives about the holding of a drag race meeting at Lowood, west of Brisbane. Jim and Nelma were spectators at that first official drag racing event in Queensland, in November 1965, and Jim built his own dragster in a month, in order to be at the second Lowood race.
"We built the chassis in a weekend,'' Jim remembered. "My uncle narrowed a Ford diff and shortened the axles for me and I ran that car for about 18 months.''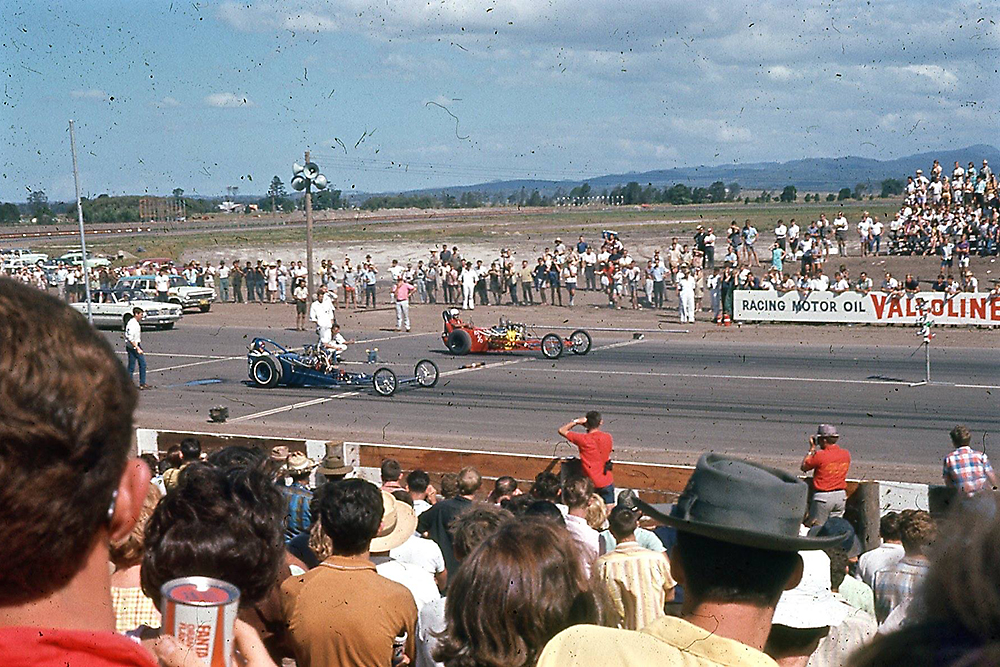 When Jim heard that Surfers Paradise International Raceway was to open with a drag racing event on April 10, 1966, he was one of the first to enter the meeting with his home-built dragster.
Jim says the 272 Y block Ford-powered dragster ran 13sec for the quarter mile around the time of the 1966 Dragfest. After that he built an Anglia and he and Nelma raced both cars for a time.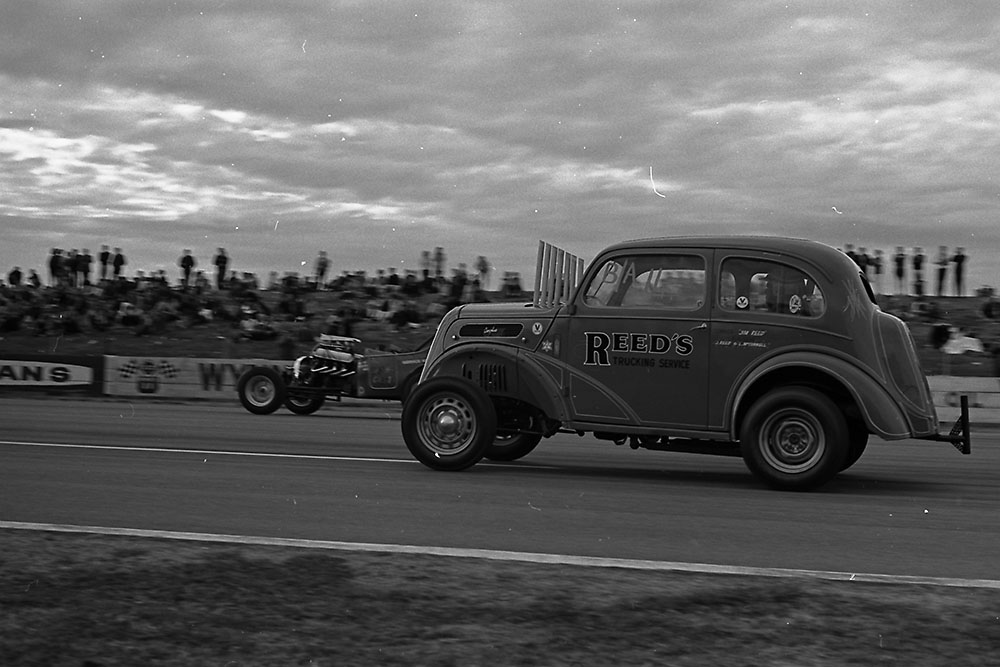 Jim changed to a 332 Tank Fairlane motor in the dragster and won a few meetings in Middle Eliminator, but the Anglia was the most successful car, running a best elapsed time of 12.89, which was then about a second ahead of the opposition. "The Anglia's times were not bad when you consider it was running a two-speed Customline gearbox, road racing tyres, home-made manifold constructed out of pipe and exhaust stacks which went up through the bonnet," Jim said in an early interview.
The Reeds began travelling to other Queensland tracks and Jim recalled their first northern trip in the late sixties. "We went to Mackay with the Anglia and the T bucket. From Rockhampton onwards, the roads were just dirt detours. They were starting to put the highway down, but the dirt tracks were just murder."
In 1968 the dragster was cut up and made into the first of the Reed family's famous line of Altereds. Jim recalled that the car was an "ugly looking thing", but more work was done to the 332 and the 11-second vehicle ran successfully in the heads-up Altered Eliminator.
"We imported a 427 Ford motor from the States and we ran 10.55 at 138mph when no one else had even run a ten," Jim said.
This was the era of the Altered and crowds around the country were entertained by the contests between drivers such as Graeme Cowin, Bob Dunn and Jim.
Nelma continued to drive the Altered, recording times only marginally slower than her husband, but when nitro was put into the car, she recalled in an interview "Jim kept saying 'you can drive next time', but next time never came and that was the end of my drag racing career".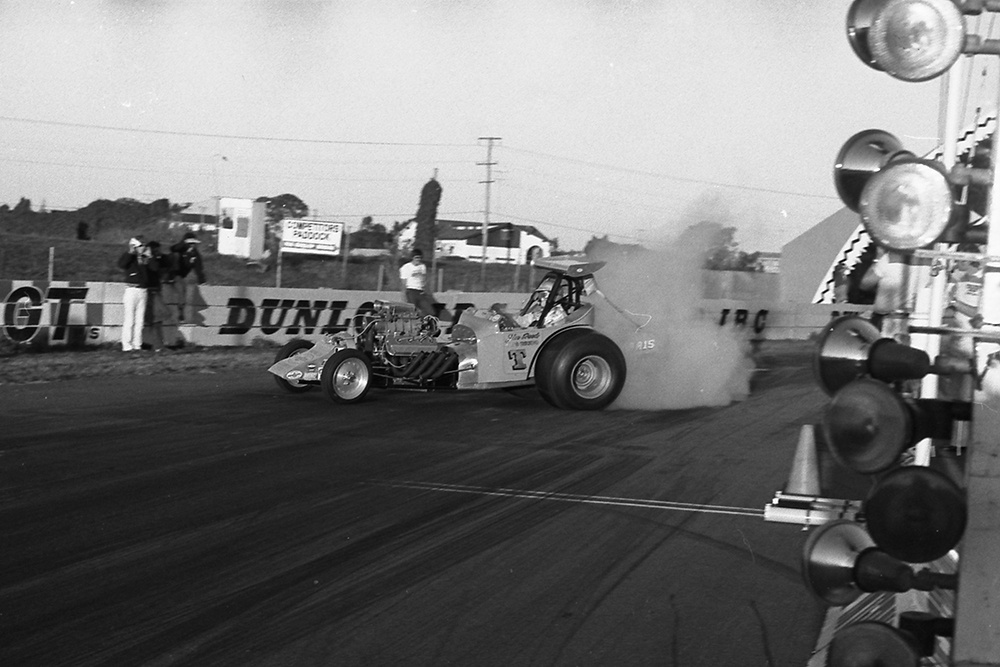 In 1971 the Reeds bought an iron block Hemi and built a new chassis. The Altered ran direct drive in AA/Altered until 1974, running a 9.08 on methanol and low eights with a 30 percent dose of nitro. The same Hemi block was run until 1978, clocking up 391 individual passes during that time. The engine was honed a number of times, but it retained its 30-over 392 bore throughout and the first set of rings lasted 107 runs and the main bearings for 104 passes, a record that would be hard to match with a Hemi.
In 1977-78 Jim built a new Altered and moved up to a Donovan aluminium motor. Steve began driving the Altered in time trials in March, 1978 and gradually took over the driving chores. Jim recalled that the most enjoyment he ever had in drag racing was watching his son successfully campaign their car and later on, seeing his grandson Daniel and other family members compete.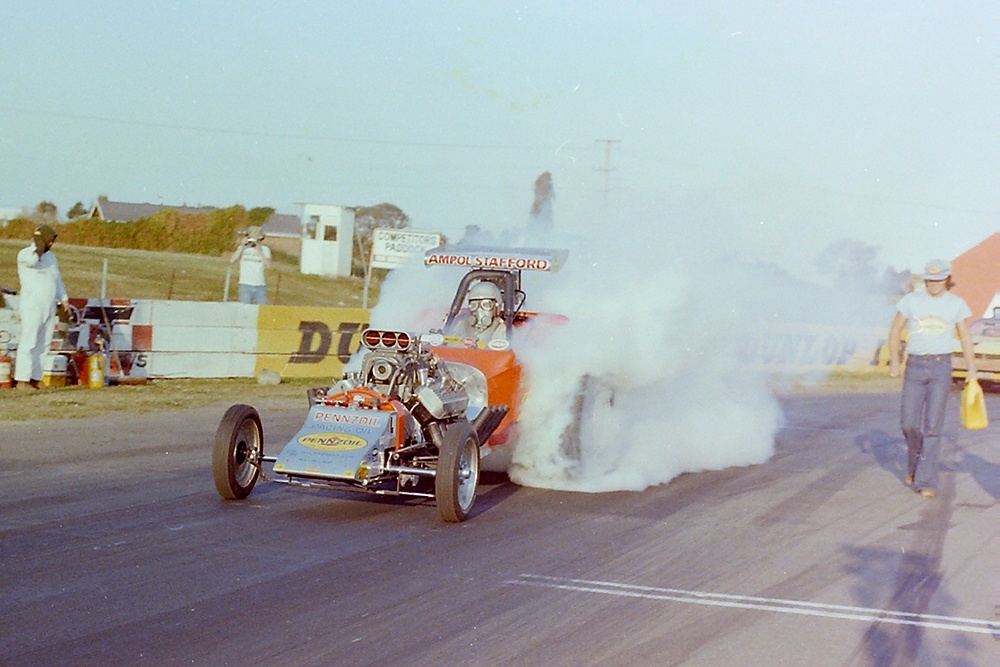 Steven and Jim changed to a Funny Car (the former Gary Densham Datsun 280ZX) in December 1982. When the car debuted, it ran almost a second under the 8.17 BB/FC record.
With other Competition racers, Jim was instrumental in the formation of the Top Alcohol category (initially named Pro Comp) in 1991.
David Cook, who edited a number of drag racing magazines during the time Jim drove and tuned a string of cars, said he was saddened to hear of Jim's passing.
"Drag racing, like most human endeavours, depends on the quality of the person behind the effort," David said. "In the case of 'Gentleman Jim' Reed, his success seemed therefore to have been preordained. There has been no other racer in the near 70-year history of the sport in Australia who was so widely respected or more deserving of that regard.
"Jim came from humble beginnings and found in the new motorsport and its first ventures in South Queensland an outlet for his genius in making cars go that little bit faster than anyone else over the quarter mile. His class-leading performances in the wild days of the blown fuel Altereds in the 1970s will forever remain a classic example of his ability to succeed on the race track. But while others were skittishly swerving from lock to lock, or riding out nasty fires, Jim did it all without fuss, as a tribute to his impeccable preparation.
"Jim took those skills to the ranks of Alcohol Funny Cars in the 1980s, with son Steve driving, and proved as successful.
"In the 40-plus years I had the honour to know Jim as a friend, I never heard him express a bad opinion about any other racer; he truly deserved his nickname as Gentleman Jim. For over 20 years, at the end of major race events, I always made it a point to drop around to the Reed pit area where Jim and I would retreat to the interior of the race car trailer and share a couple of quiet whiskeys while sitting on the floor leaning against the wall. I will be downing a couple tonight in his memory."
The key to Jim's impact on the sport was his tuning, fabrication and innovative skills and the mentoring of younger racers, particularly in regard to superchargers, as well as his successful partnership with Jack Bros for engine work. For decades, he provided tuning advice, engine, supercharging and transmission building services to drag racers Australia wide. Servicing blowers and assisting teams to obtain them led to huge growth in the sport.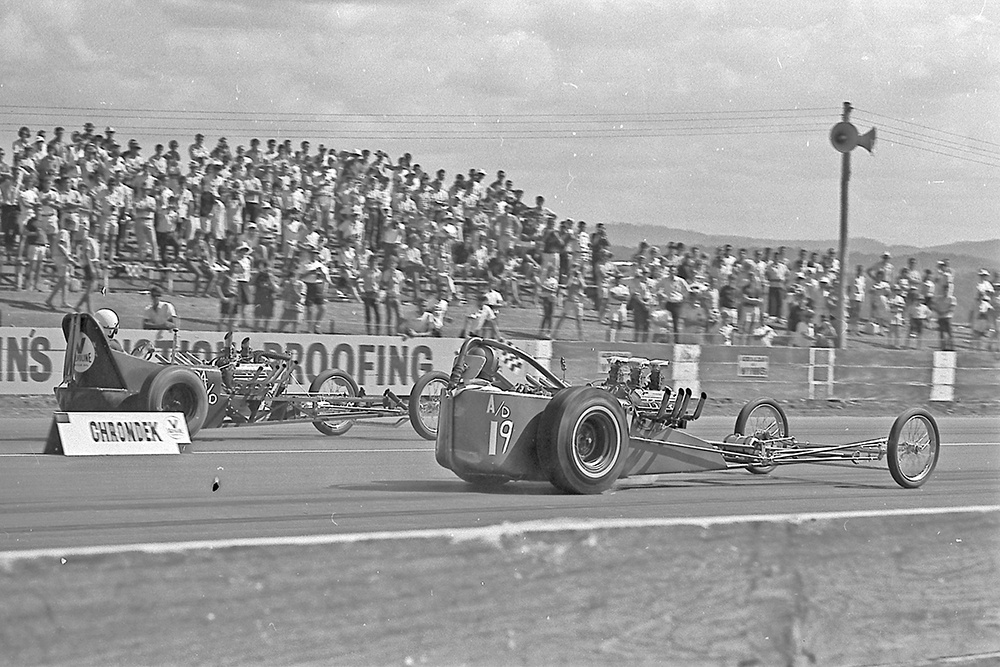 Jim was a founding member of the Queensland Drag Racing Association, which became Australia's largest drag racing club and for most of his career, Jim ran a successful transport business.
Jim won Altered eliminator at the 1972 Nationals, at a time when winning the Nationals was considered the equivalent of earning an Australian title. He won Australian Competition championships in 1974 and 1976, and with Steve at the wheel, in 1981 and 1986. The Reed Funny Car won Top Alcohol/Pro Alcohol in 1994, 2018 and 2023. Along the way were Nationals, Grand Final and Winternationals wins.
Third-generation Reed family members have also succeeded. Grandson Daniel won the Australian Supercharged Outlaws 2007 championship, and granddaughter Sally's husband Matt Watts won the Supercharged Outlaws championship in 2011 and 2012.
Added to that are multiple Willowbank Raceway Track Championships by Steve and his wife Debbie, and grandson Daniel and his wife Fiona. Nelma and Jim's daughter Kerri-Lee and her husband Mark Lougheed also competed in drag racing.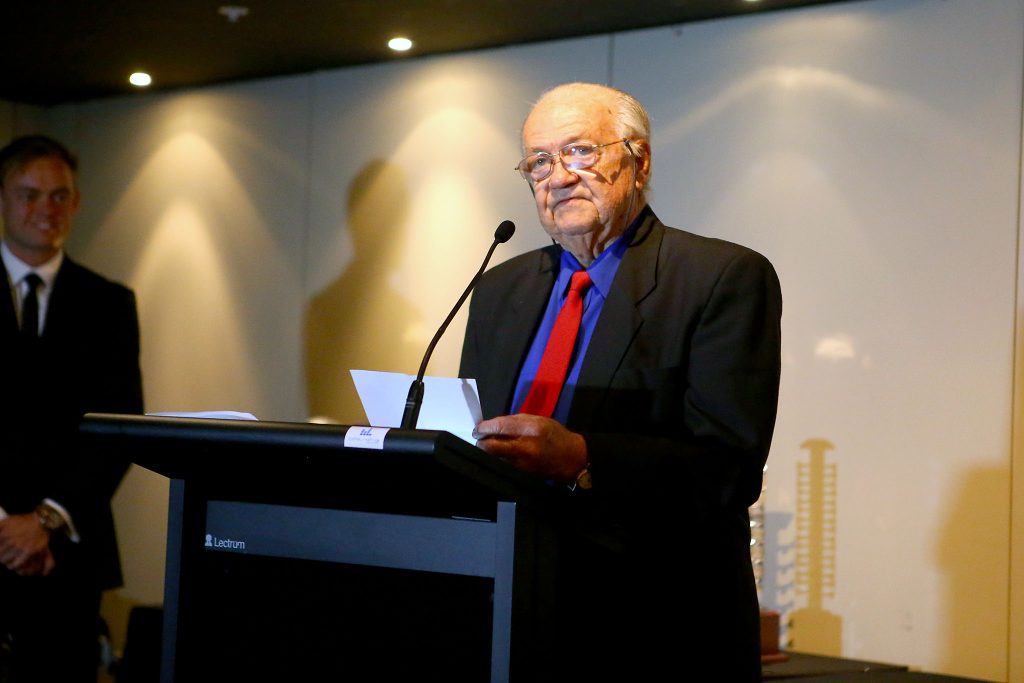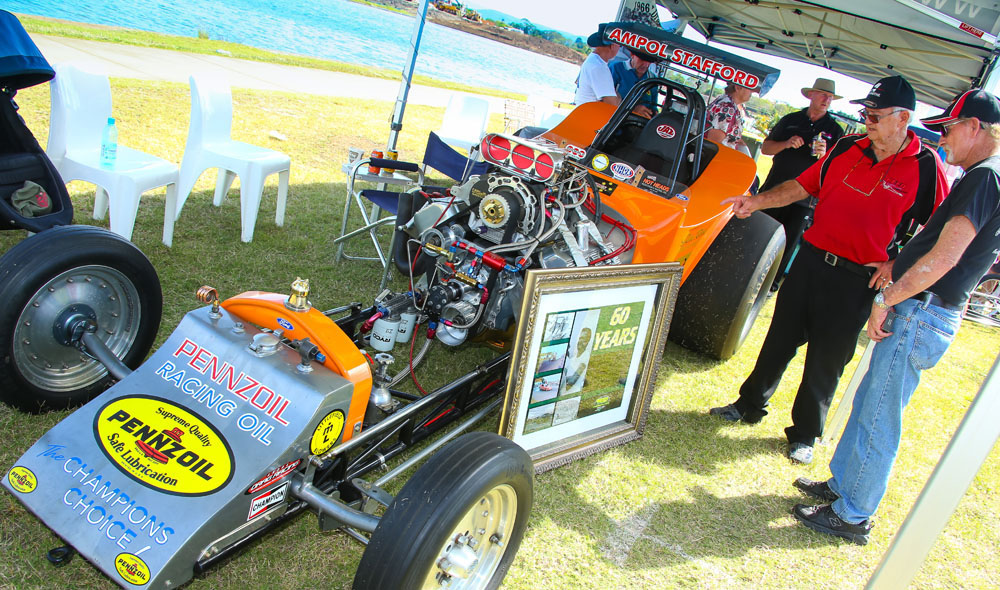 In 2012 Jim and Nelma were honoured with Pioneer Awards by the Australian Nostalgia Fuel Association, in 2014 Jim was inducted into the ANDRA Hall of Fame and in 2016 at the 50th anniversary of the opening of Surfers Raceway, he was honoured with a plaque commemorating his 60 years of participation in the sport.
Jim leaves behind son Steven and daughter-in-law Debbie, grandchildren Daniel and his wife Fiona and Sally and her husband Matt Watts, as well as great granddaughters Leila, Macee, Makayla and Abigail. Jim's beloved wife Nelma and much-loved daughter Kerri-Lee predeceased him.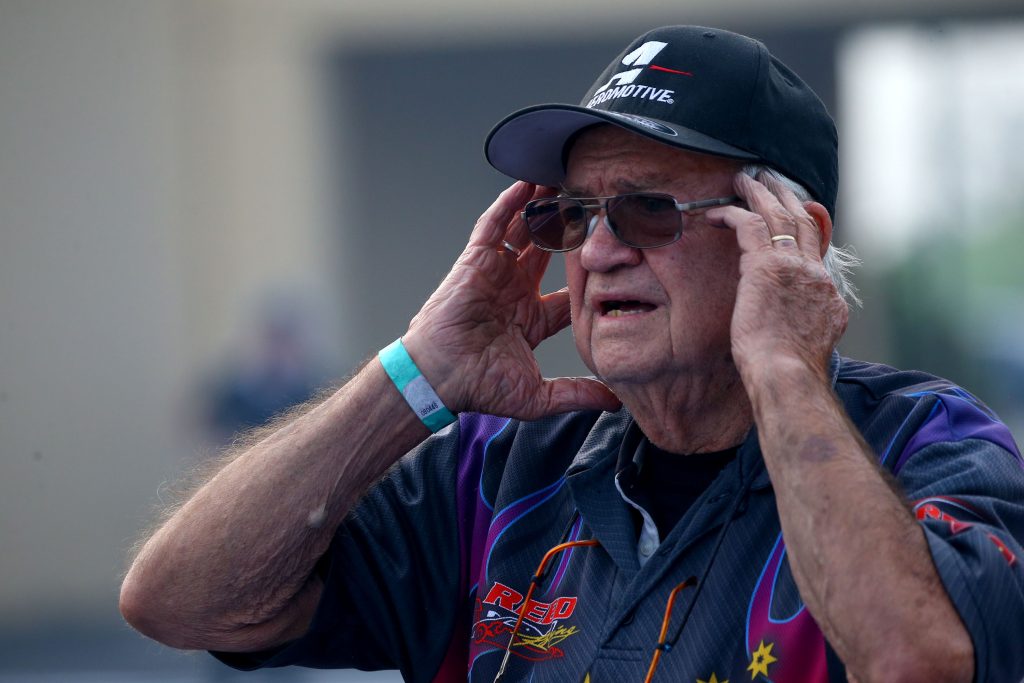 Despite ill health in recent years, Jim still made it to race events whenever the Funny Car was racing, a familiar face that race fans had seen at Queensland tracks and many interstate events since the 1960s.
Jim was at the first event at Surfers and raced at almost every meeting until that track closed in 1987 and he never missed a Winternationals at either Surfers or Willowbank.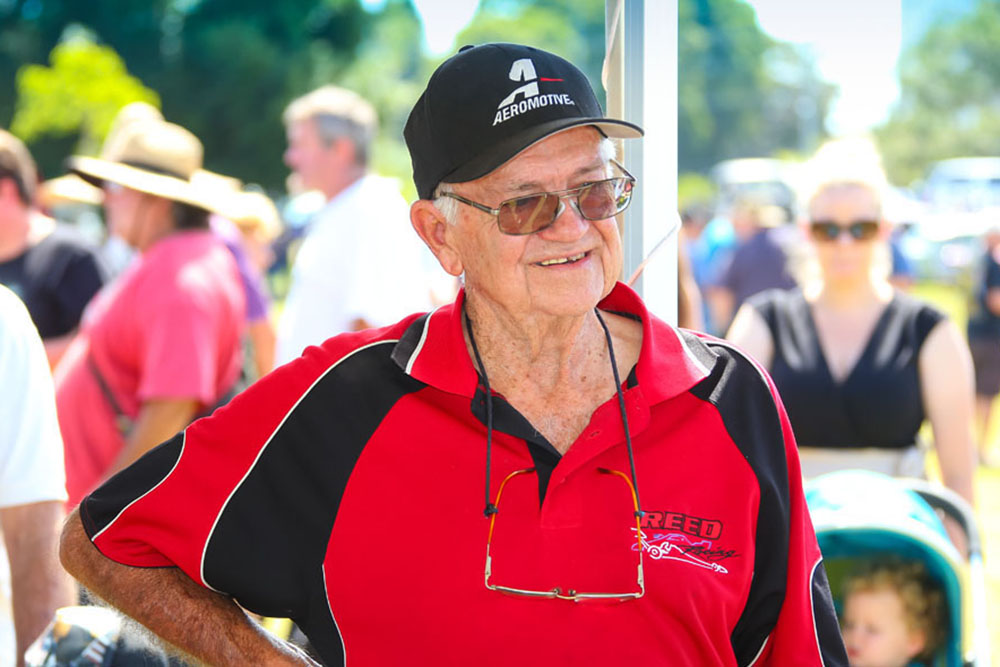 When I asked him how he gained his nickname of Gentleman Jim, he told me it resulted from "the rotten way I treat people", but it is believed to have started in the 1960s when onlookers were amazed at Jim's mild reaction to another driver's protest on his Altered after it had won a meeting. (The protest was subsequently thrown out.)
Photos courtesy of Brier Thomas, Nick Nicholas, Greg Thomsen, Drag Photos, Cackling Pipes.