35,000-plus race fans were treated to incredible Top Fuel performances at the bracket's NDRC season opening Spring Nationals at the weekend, including 13 three second passes and five side-by-side 'threes', with six of those three second passes run at more than 500kph.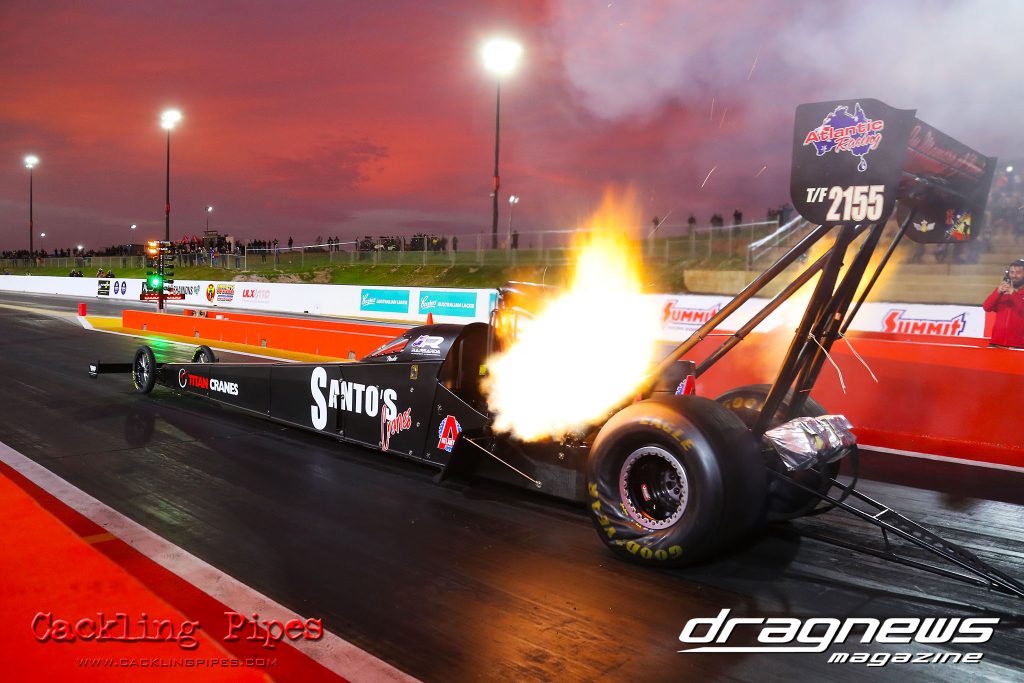 These blistering performances saw the championship ledger for Top Fuel in the new National Drag Racing Championship (NDRC) blown wide open during what was also a monumental weekend for the sport of drag racing in Australia and in particular, South Australia.
The grand opening of Dragway at The Bend not only saw elite-level drag racing come back to SA for the first time in years, but also countless incredible performances – in particular from the six 11,000 horsepower Top Fuel dragsters which delivered pass after impressive pass for the fans at Tailem Bend.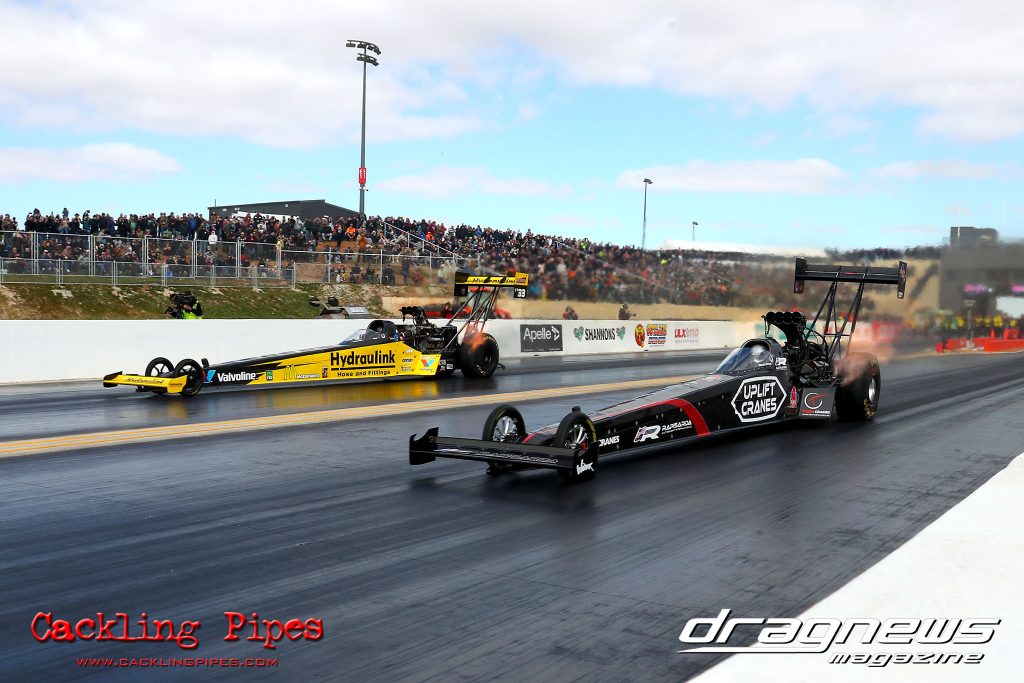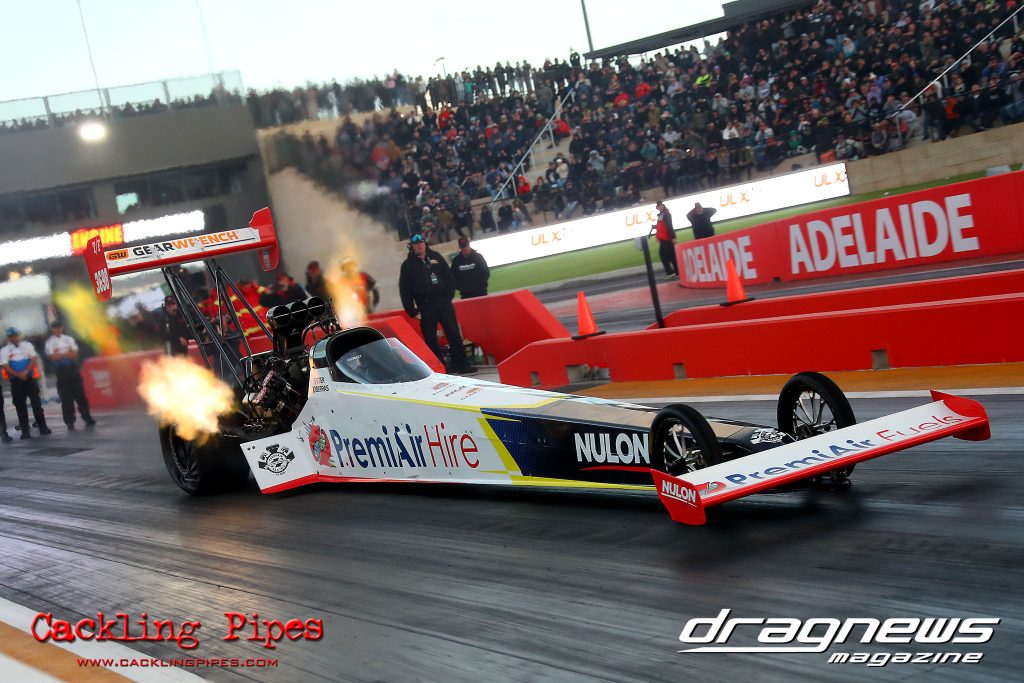 "Top Fuel well and truly delivered at Dragway at The Bend this weekend," NDRC Co-Owner, Andy Lopez, said.
"Newby's 3.7 second run in round two at a brand-new track was insane and so close to the national record, we had a tonne of three second passes and even better, side-by-side three second passes, plus a heap of 500+kph passes, and breakthrough runs across the board.
"The new track here in South Australia is clearly blindingly fast and our Top Fuel racers took advantage of that fact to the delight of 35,000 spectators who couldn't get enough – it is safe to say, history was made this weekend."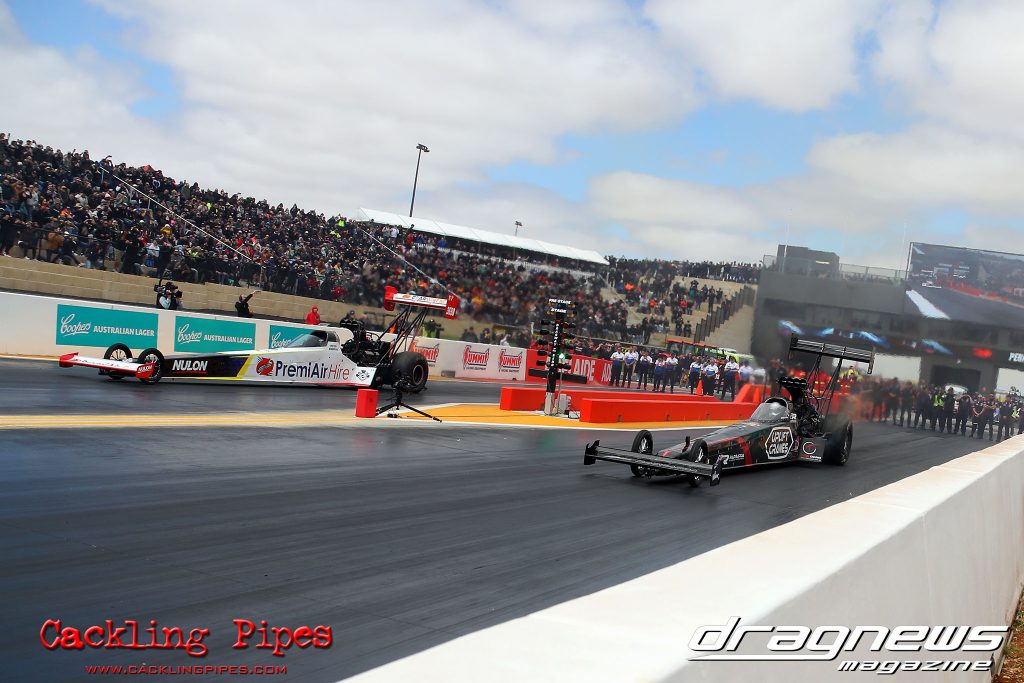 The first ever Top Fuel race at the venue had the crowd immediately on their feet, with reigning champion Damien Harris and former champ Peter Xiberras bursting out of the gate with side-by-side 3.8 second passes at more than 500 kilometres per hour.
Harris' 3.804 second pass at 523.42kph saw him take the win from Supercars team owner Xiberras' 3.831s/510.61kph effort, with the pair separated by just 48 thousandths of a second at the finish line.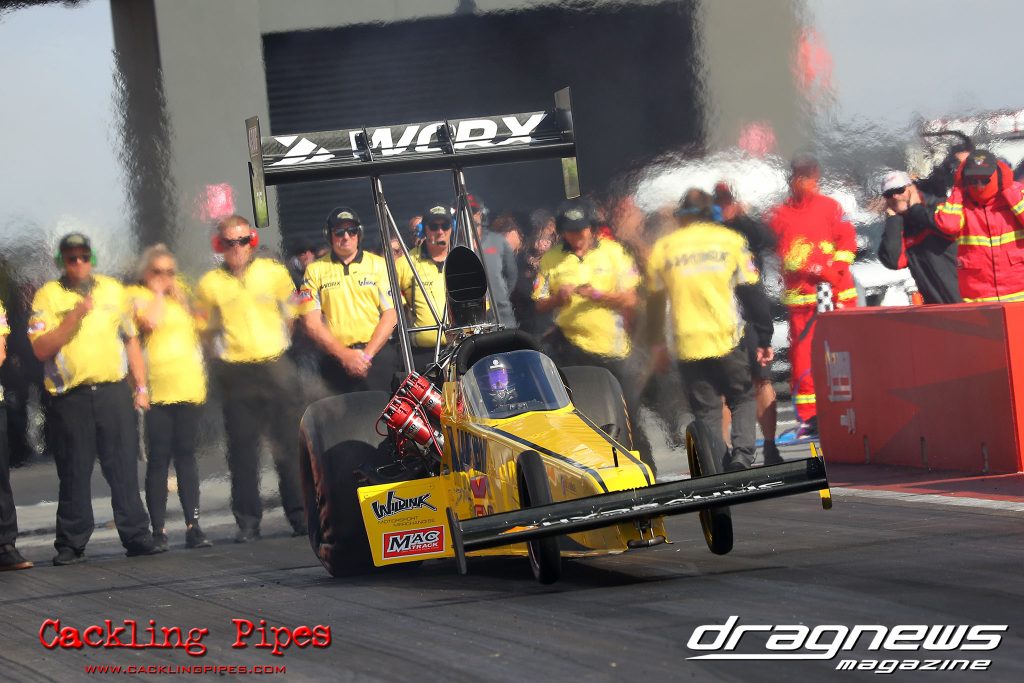 And the crowd pleasing runs continued thick and fast from there, with another side-by-side three second pass following immediately after with former champ Phil Lamattina (3.874s/463.20kph) and series newcomer Kyle Putland (3.98s/371.06kph) again drawing cheers from the crowd – especially when it was revealed that this was the first three second pass for WA's Putland.
Yet another three second/500+kph run was just around the corner to close out round one, with Wayne Newby throwing down a 3.811 second pass at 500.01kph, while his opponent Phil Read delivered a 4.065s pass at 429.21kph.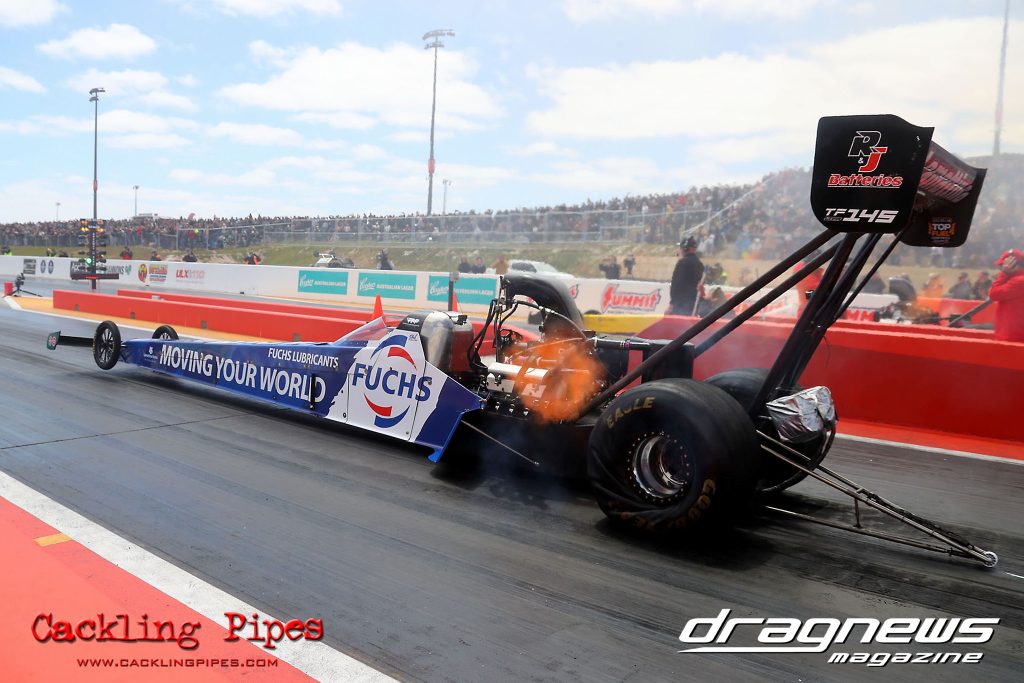 In round two, five of the six runs were once again in the three second zone, with two of those also hitting speeds in excess of 500kph.
Xiberras and Lamattina opened the round two books with a 3.829s/514kph win for Xiberras over Lamattina's 3.906s/476.54kph effort, which was swiftly followed by Damien Harris taking the win from Phil Read with a 3.87 second pass in the very next run.
It was the final pass for round two though that really took the atmosphere to the next level, not only with another side-by-side three second pass, but with Newby also delivering a jaw-dropping 3.765 second pass at more than 519 kilometres per hour.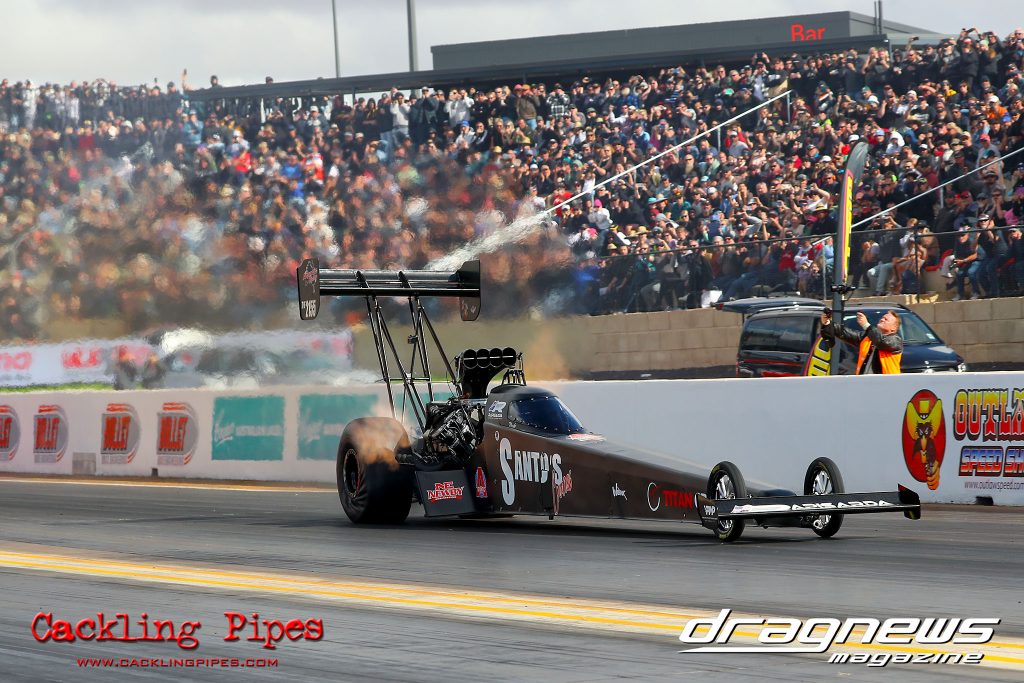 Newby's first sub-3.8s ET saw him just 0.02 seconds shy of rewriting the national record books (Xiberras holds the record currently at 3.742s) and gave him the win over another three second pass for Putland (3.932s/405kph) – sending him to the A-Final against his Rapisarda Autosport International team-mate, Damien Harris.
As the afternoon drew to a close, the Top Fuel finals approached, and the fans were on tenterhooks. As they had all day, the field pulled out all the stops and once again delivered results which saw the crowd blown away by their Top Fuel experience.
While all the racers put in valiant performances to close out their event running, the top performances of the finals were witnessed in the A and B match-ups.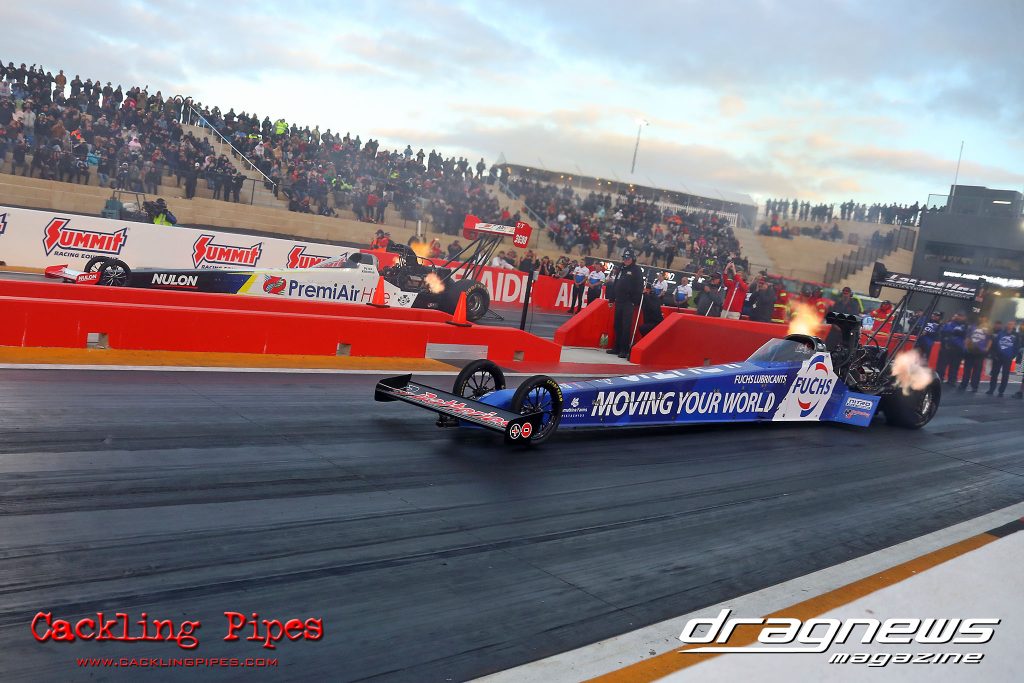 The B-Final to decide third place brought the fans yet another side-by-side three second pass for winner Xiberras (3.837s/499.93kph) and Lamattina (3.923s/449.84kph), while in A-Final, Harris faced off against his team-mate Newby, blazing through for the victory with a 3.77 second pass at 517.47kph. While Newby sadly ran into issues soon after his launch, he left the event claiming the low ET of the event and celebrating a prestigious 1-2 with his team.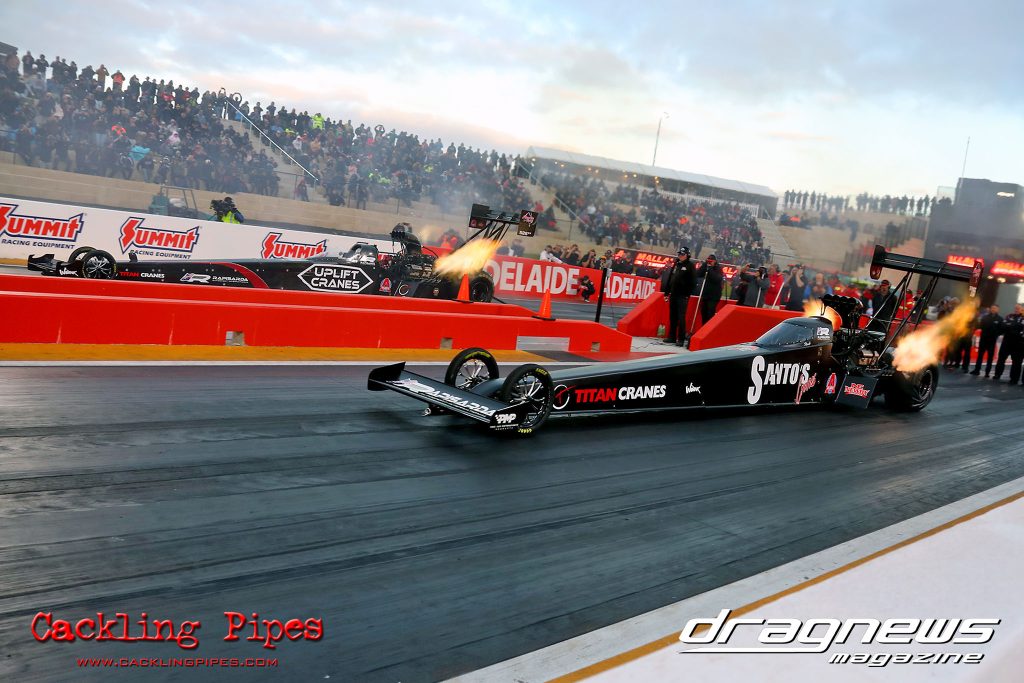 Also on-track at the Spring Nationals were the opening round of the NDRC titles for Top Doorslammer, Top Fuel Motorcycle and Pro Stock Motorcycle (click here for more info on their results), while more than 300 sportsman racers also claimed valuable points in the Aeroflow National Sportsman Championship.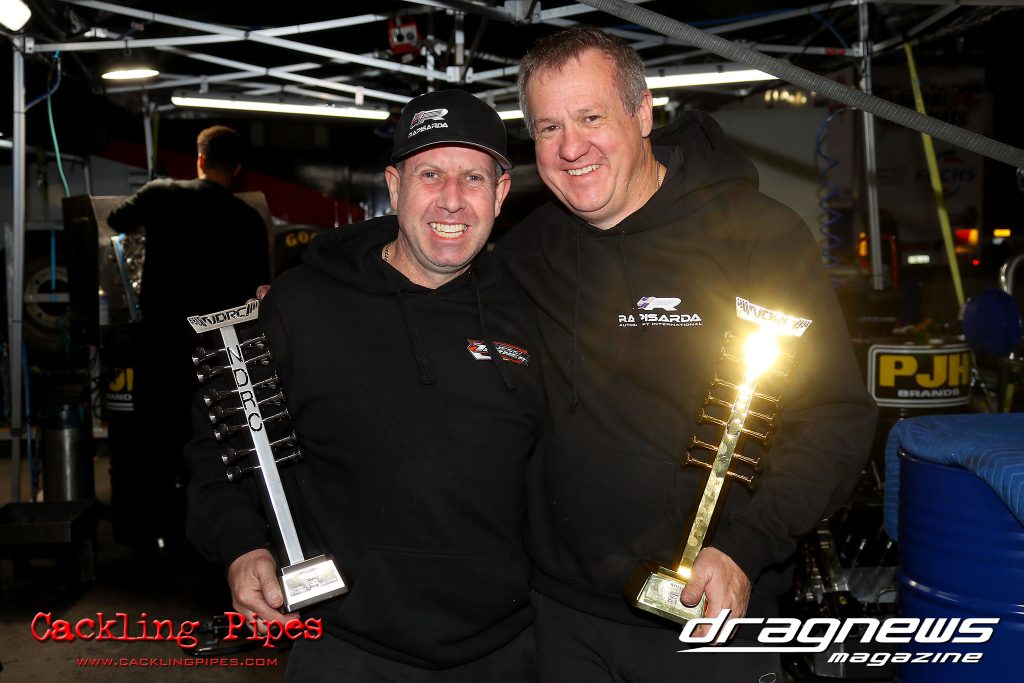 The National Drag Racing Championship now continues to Sydney Dragway, where the Sydney Nationals will fire up over Friday October 27 and Saturday October 28, led by Nitro Funny Car, Pro Alcohol, Pro Stock and FuelTech Pro Mod as well as continued racing for the Aeroflow National Sportsman Championship. For event information, visit www.sydneydragway.com.au
To learn more about the NDRC, visit www.ndrc.tv