The number plate says "Tuff" and it is. But nowhere near as tough as the rider.
Ducati owners are a little, how should we say, different. They fall in love with the brand early in life and only have eyes for Ducati in the future. Chris Morgan is one of those people. "I wanted to buy a Ducati when I was 13," he says but had a bit of a wait until his dream could be realized. 
Whilst working on Barrow Island off the WA coast it was recommended to him that he take time to visit Wayne Patterson Motorcycle Centre in Bunbury.  Wayne Patterson Motorcycle Centre is a sort of Ducati matchmaking service, for riders that will accept no other. It is there that Ducati is lived and breathed every day.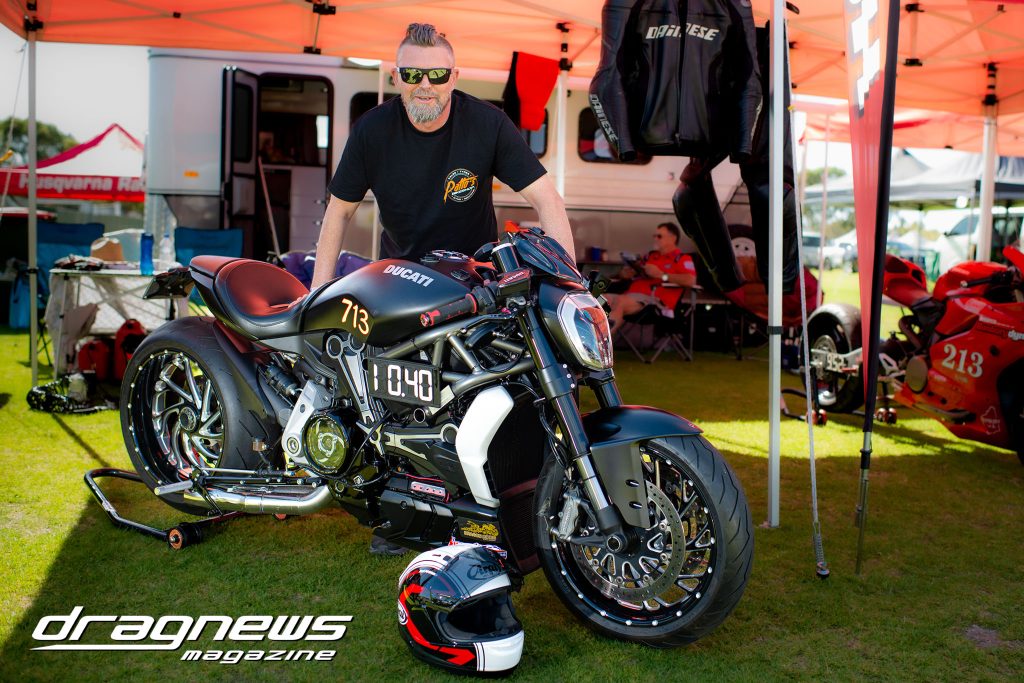 Starting out with a 659 Monster and then moving up to a 955 Panigale, life was good and there was little that Chris wanted for. However, in 2016 Chris would receive a life changing diagnosis and was told he had Multiple Sclerosis (MS). MS is an auto immune disease where the immune system attacks the central nervous system. The condition progresses gradually Chris explains, "The human body has amazing redundancy systems built into it which allows other systems to cut in as others are failing." He described the condition with this analogy; it is like rodents chewing into the electrical wiring of a building.
So as the saying goes, when the going gets tough the tough get going. Chris would move from being a specialist welder to a trainer in health and safety. He would also take up an offer from Wayne Patterson to crew on his drag racing team, and lastly, he was going to buy the bike of his dreams the Ducati X-Diavel 1260.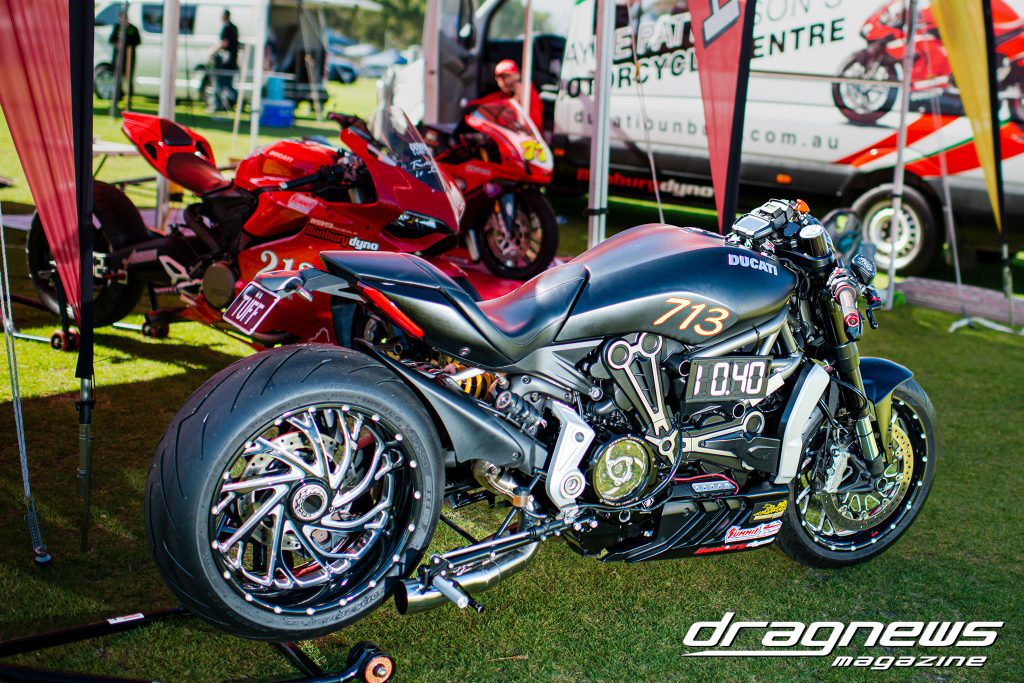 The X-Diavel was originally a concept bike by Ducati. Chris' bike has had some very minor cosmetic changes that are eye catching and effective without sacrificing anything that Ducati had already achieved. The X-Diavel looks like a brute and completely at home on the track. Just a little about this slick Italian masterpiece. A unique thing about a Ducati engine is the Ducati Desmo Valve System. There are no valve springs because the valves are activated by cams and lifter arms so you get no valve bounce.  Ducati's engines have a huge amount of low-down torque so it's almost like instant power and this makes it very suitable for drag racing. The maximum HP is 156 and max torque is 100.6 ft-lbs. These numbers improved on a recent trip back on the dyno where a power commander had been fitted. Not huge but a gain of 5 HP and max torque now at 102 it's going in the right direction.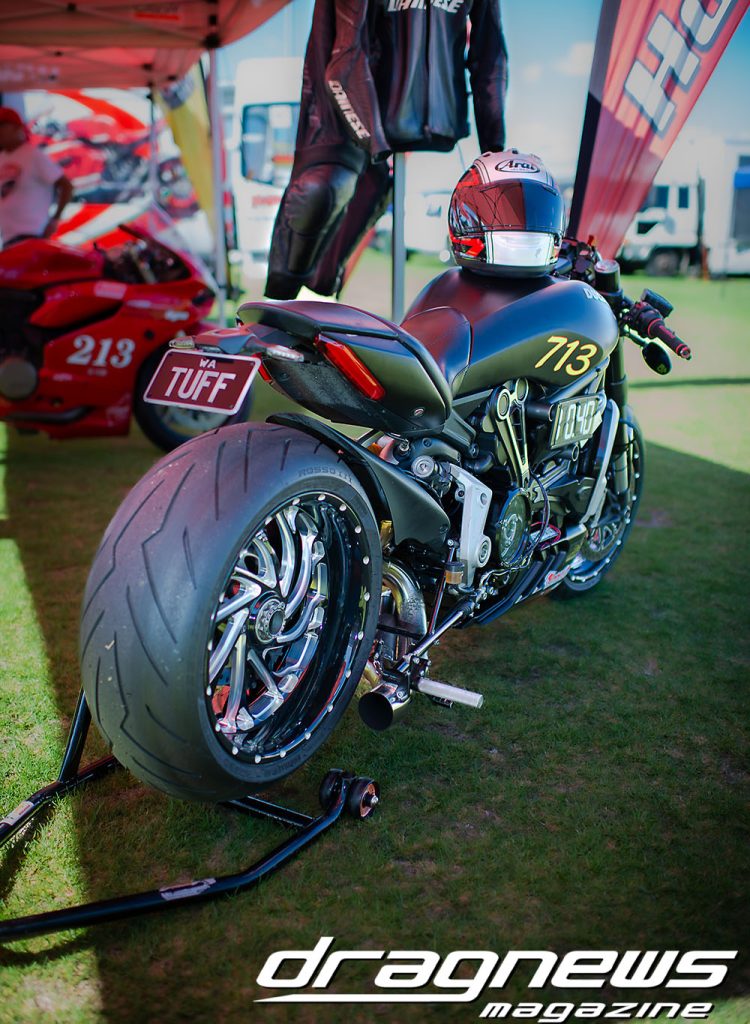 By 2018 Chris had been around the drag racing scene for around two years when he had his epiphany. I can do this; I can go out there onto that track and go toe to toe with the best of them. And what's more I'm going to do it on the X-Diavel.  It was important to him that his disability wasn't going to be the focus of his involvement. "ANDRA Drag Racing is truly inclusive and what that means to me is that I'm just seen as another racer," he said. 
Like all new racers Chris would approach his first National Open meeting with some trepidation. But it was not about how his condition would affect him out there on the track because he has always maintained a good attitude about it. It was mixing it with the many hardened and experienced racers who took no prisoners. Chris was mindful that it was these same people who had been his encouragement to give it a go. Also, he had not forgotten what they had told him and what he observed as a spectator. ANDRA Group Three racing was not about being the quickest but being consistent, being sharp on the lights and going rounds. "Every time I go out there I'm trying to refine those principles," he said.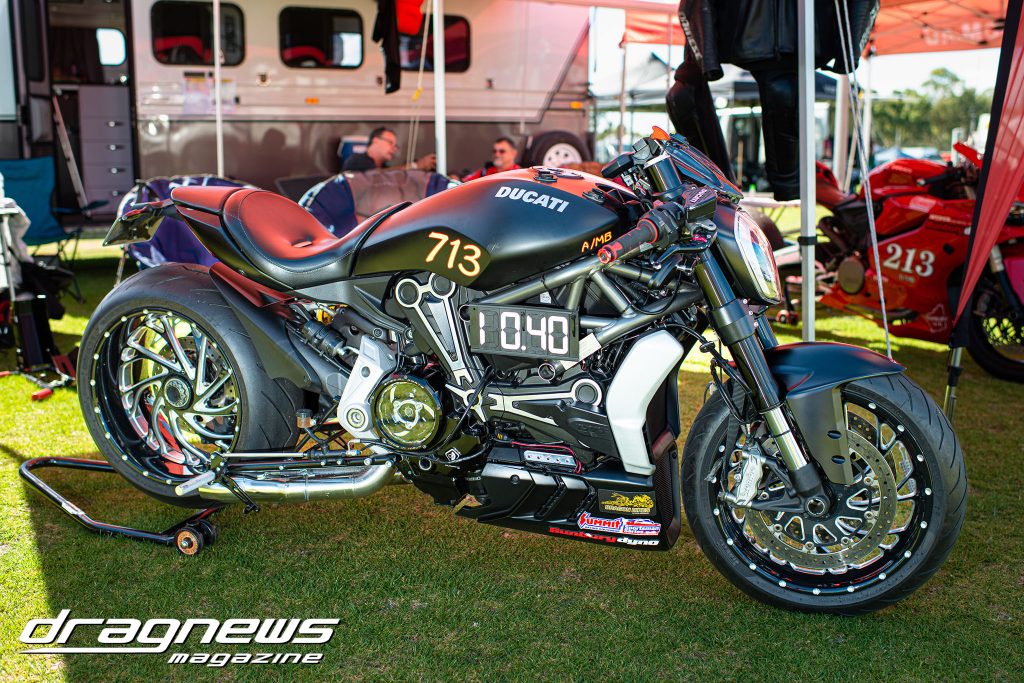 Chris has been a strong regular at the Motorplex and no longer seen as the rookie.  It was a tough initiation but soon Chris was starting to go through rounds. Making the semifinals was a great boost for him and a clear indicator that he was not just there making up the numbers. "I focused on calming down and becoming more poised," said Morgan.
"When I race my world comes down to a very specific group of actions that I try to refine and perfect. Nothing can distract me. It is a world of looking for the perfect run and a world where I no longer have MS.
Chris' first appearance in a final round was at the Perth Motorplex Power Palooza event.  Racing one of Perth's more experienced racers and ex-national champion, Ian Read, Chris was unfortunate to lose on a double breakout. "I left too much on the tree but it didn't matter because I had gotten to the finals," he recalled.  "I now have much more experience that allows me to know when to back off and exploit a reaction time advantage or to keep it on the throttle and make my opposition work for it."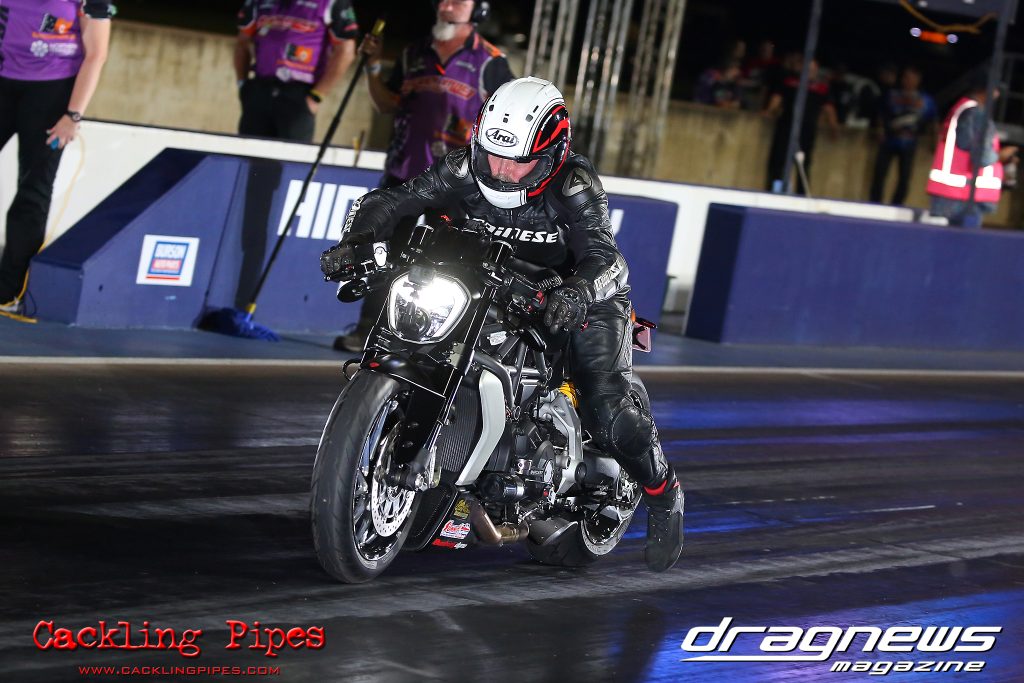 In July, Chris joined Wayne Patterson and headed to Darwin and the Nitro Up North event.  This would be his third trip to Hidden Valley.
"Unfortunately, I had some health problems before the event, but this was Darwin and nothing, not even MS, was going to stop me. My reactions were consistently in the .04 zone and the bike was running strong," Chris recounted.
The event ran the eliminations on a Chicago shootout format and Chris' consistency now had him in the finals.
"I'm thinking don't get distracted and concentrate on your run. Stage, lights, action, and I am away.  Then as I'm nearing the end of the track this guy sails past me like I'm standing still", Chris explains, reliving that momentary disappointment.  "I could only think, well back to the pits, have a drink and pack up for the journey home. Bugger he had beaten me." he said.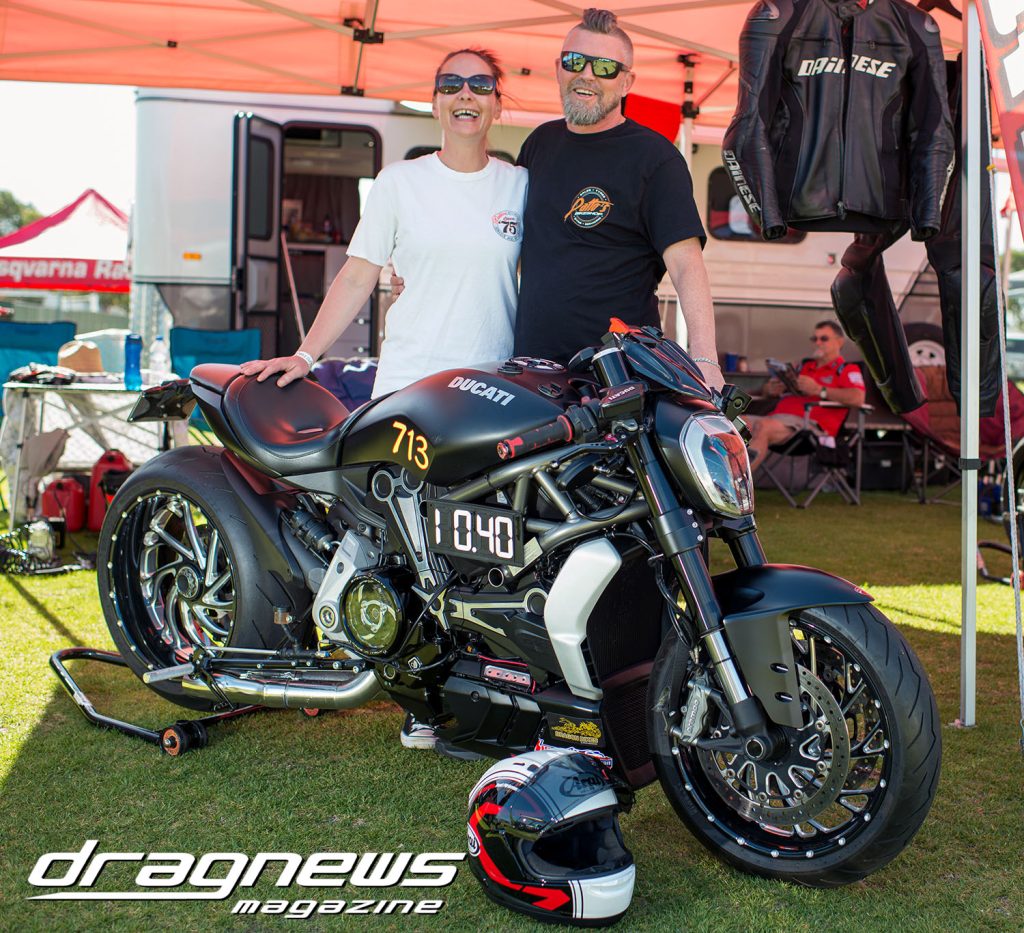 It's a long lonely ride back when you've come so close and missed out. So it made little sense at first that Chris' partner Ebony was going absolutely ballistic as she waited for him on the return road.  What he wasn't aware of until that point was that his opponent had red lit the start. There are many different terms for this type of infraction but if you leave before the green light comes on, you lose.  Not only that but Chris had cut a .031 light and was just .02 of a second over his nominated dial in. In drag racing that's a hard package to beat.
"At Darwin, everyone only saw me on the bike with my helmet on; no one knew that I had MS, walked with a massive limp, and used a walking stick.  So when I went to collect my trophy everyone's jaw dropped." said Morgan.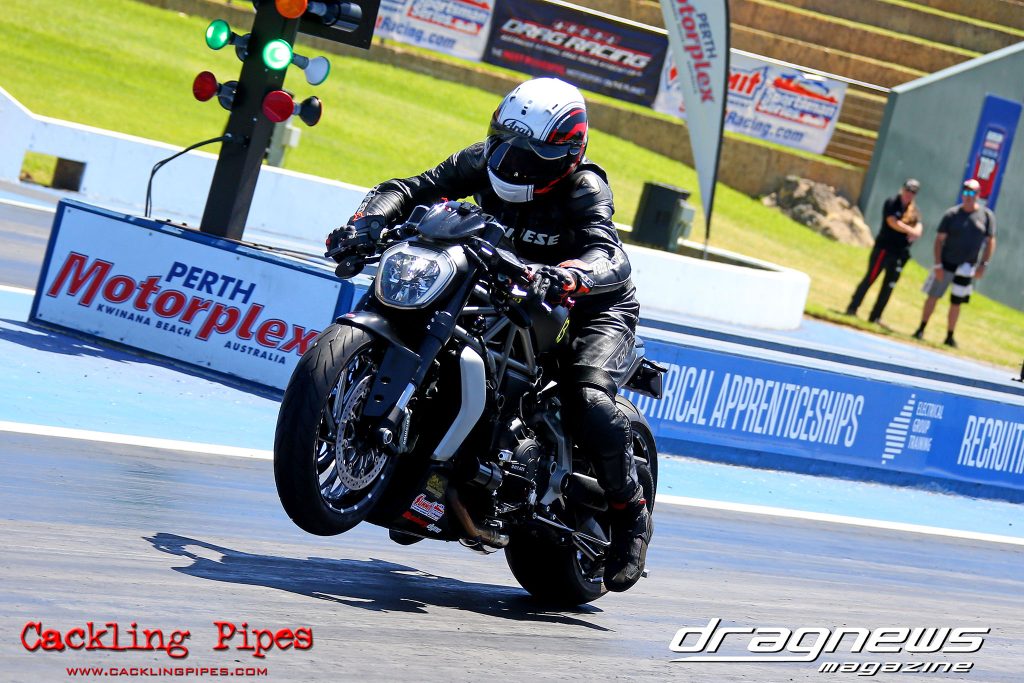 When asked about some of the more memorable things to happen to him whilst racing with MS, he recounts a recent incident. "The funniest moment I've ever had drag racing would have to be this one. I had an issue on the start line causing the bike to stall and then I dropped the bike on its side. I needed to do the chasing in that round but the guy in the other lane red lit so I actually won the race. We took the bike back to the pits, checked it over and it was all good. Some people might have packed up and gone home at that point but I looked at it as an opportunity to come back out. I made my way through the next three rounds and into the finals, leaving with a second place trophy," he recounted.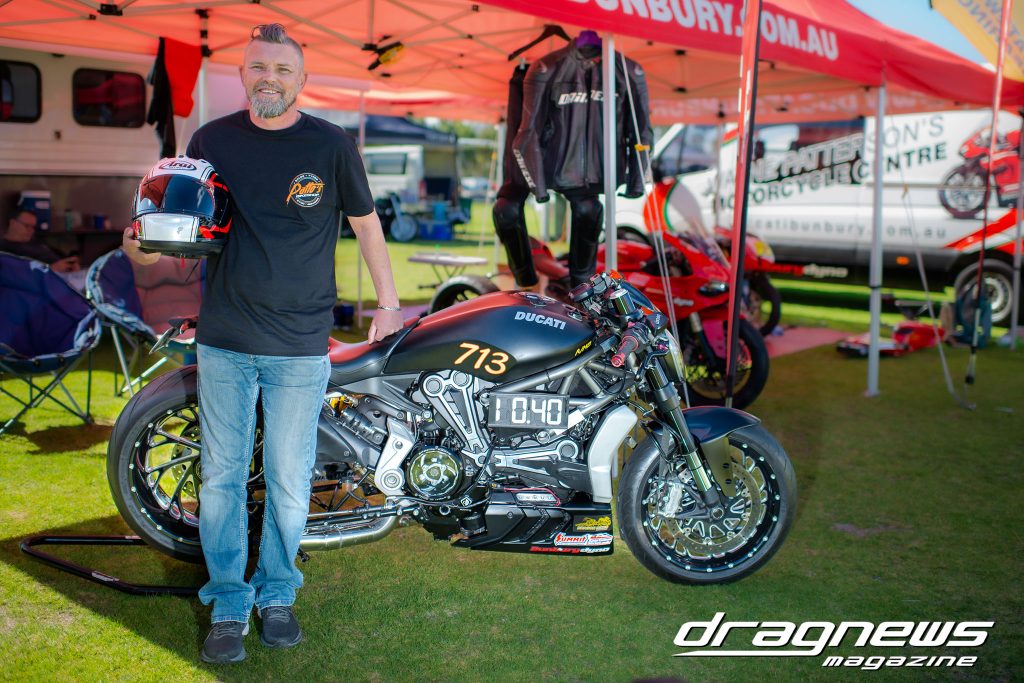 So what is next for Chris?  He tells us that he wants to continue in the sport, maybe win a championship, keep motivated and win as many races as possible.  "I drag race because it keeps me motivated," Chris says. "It keeps me in the gym doing all my workouts so that I can maintain my fitness and strength to ride. I have a strict regime of specific physio training to help me better manage my MS.
"Racing gives me something to look forward to and something that I can excel at, even with my MS.  I have so much fun racing and of course I love winning a few races like any other racer. So, if there is one person out there who also got the 'shit end of the stick', I hope I can inspire them to get out there and do what makes them happy, push the boundaries and themselves because it's worth it".
Chris thanks the people who make this all possible for him to do and in particular Wayne Patterson, Todd Patterson and Brian Hotker. Also, and not forgetting his greatest supporter and partner Ebony Briggs who is there with him at every meeting. 
– By Paul Nieuwhof