The Direct Mining & Industrial Summer Slam reaches its dramatic Grand Final today at Perth Motorplex, with the road to the championship spiced up by 50% bonus points.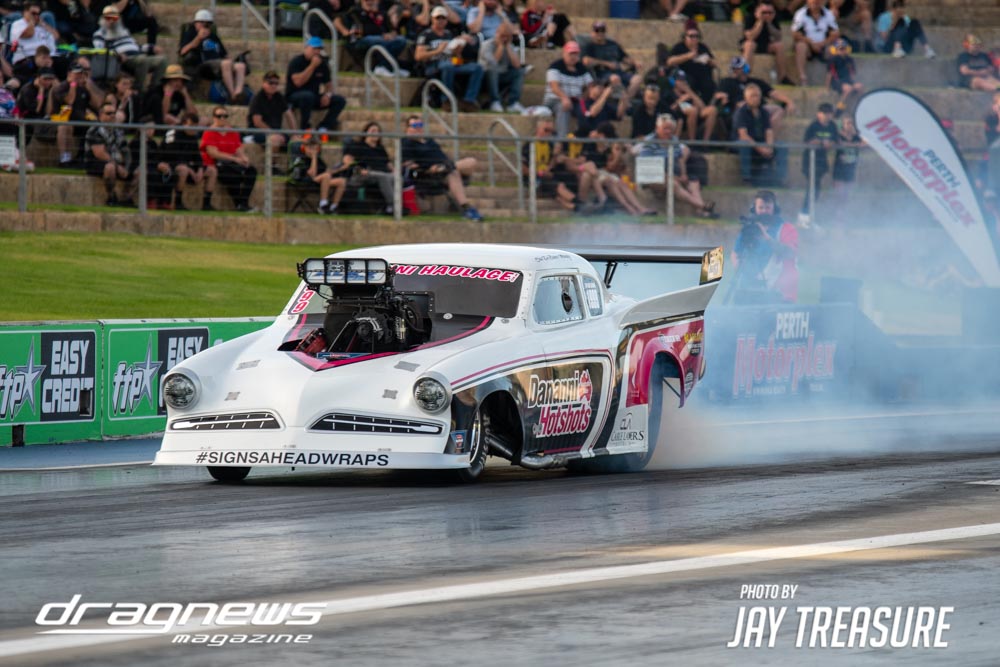 John Zappia and the Dananni Hotshots/Tony's Auto Wreckers Monaro are the current leaders with 455 points, while Dananni Hotshots Studebaker driver Stu Moresby and the Direct Mining & Industrial Ford Mustang of Kelvin Lyle sit equal second with 370 points.
Given that all he has to do is roll into stage for eliminations, it might appear that Zappia has the championship wrapped up. But the bonus points add a little bit of extra pressure, as it means Moresby and Lyle still have a mathematical chance at the title should Zappia have to withdraw for any reason after qualifying.
While the odds are definitely in Zappia's favour for the championship, the real battle is happening for the remaining podium spots. The five drivers from second to sixth are separated by just 50 points. Daniel Gregorini's Scratch & Match Motorsport Camaro is on 360 points, Ryan Moresby's Dananni Hotshots Ford Falcon is on 350 and Mark Chapman's Penrite Plymouth Fury is on 320. All could finish as high as second in the championship if results go their way.
Frank Taylor and Steve Aldridge will also be in attendance at the final event. Taylor's DDH1 Chevelle has been flying in recent events and he will be searching for his first five second pass. Meanwhile, Aldridge's Crown Security Plymouth Cuda could break into the 5.7s once again and play a championship spoiler!
Weather conditions look set to provide interesting track conditions, with cloud cover for most of the day predicted. This will allow teams to hit the track hard in qualifying, and a cooling track in the evening could lead to more than a few wild runs!
Make sure you are at Perth Motorplex today to catch the WA Drag Racing Final and see who will be the Direct Mining & Industrial Summer Slam champion.