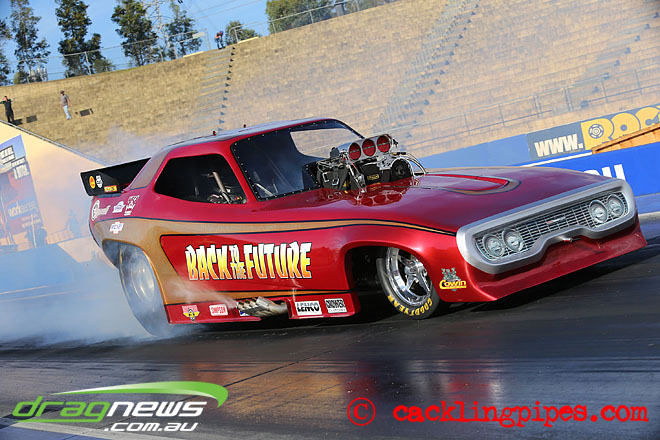 New Zealand's quickest and fastest drag racer – Willy White – will be heading to Sydney to take on the best Australian and American racers at the Outlaw Nitro Funny Car Extravaganza, at Sydney Dragway November 23, 2013.
White, who runs a Nitro Funny Car in his native New Zealand, is keen to get to Sydney and add some more international flavour to what is shaping up as one of Australia's most diverse and engaging racing events.
"Sydney Dragway is one of the world's best drag racing venues and I think this event is going to be one of the best events ever and I can't wait to part of, it's as much about entertainment as it is racing. But make no mistake we want to kick some Aussie and US butt! When we're on the startline, it's go time."
The Outlaw Nitro Funny Car Extravaganza sees a departure from drag racing tradition, with the cars as the stars and White will be piloting one of the best in his ride, 'Back to the Future'.
"This is a great car," explained the laconic New Zealander "and we are hoping that like 'Marty and The Doc', we can come out on top before they roll the credits."
Outlaw Nitro Funny Car exponent, Graeme Cowin was pleased to have White racing an Outlaw Nitro Funny Car.
"Willy is driving a very quick car and it's great that he will be here to take on the US and Australian-based drivers. Having another international component plus our program of non-stop entertainment between the racing is going to be fantastic. It's about entertainment and now the Kiwis will have someone to cheer for."
Cowin hinted that there would be more news to come but would only answer questions with a smile.
"We have some more irons in the fire but you'll have to stay tuned," concluded the Rocket Industries boss.
The inaugural event will be held at Sydney Dragway November 23, 2013.