A Spring Nationals Top Doorslammer final that was to feature Lisa Gregorini against Ronnie Palumbo has been rescheduled for November after a truly bizarre set of circumstances.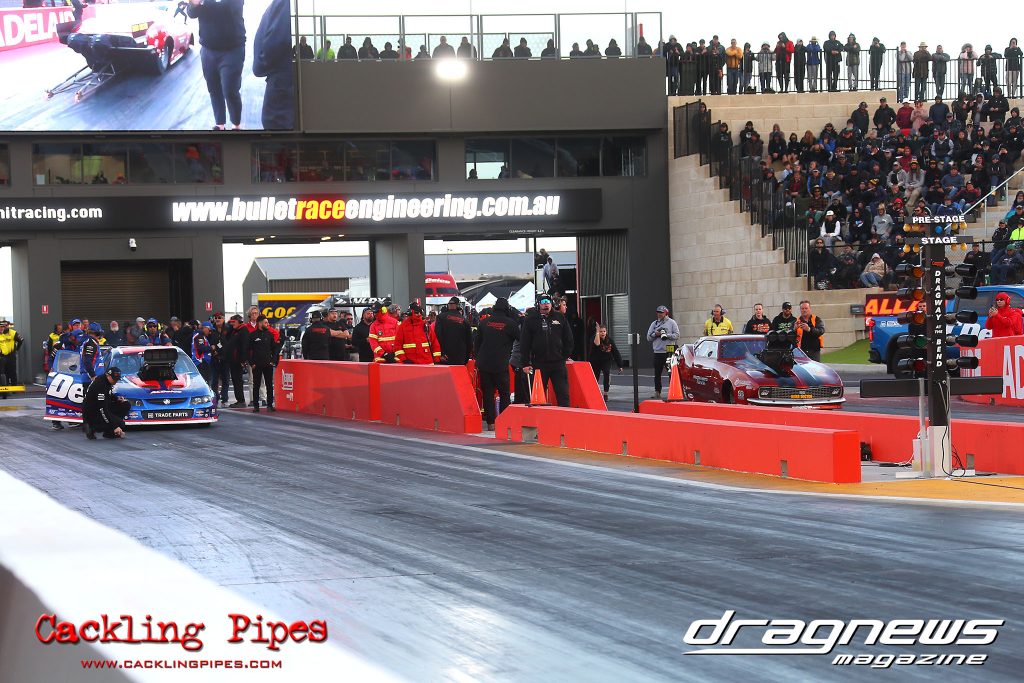 The opening round of the Australian Top Doorslammer Championship at The Bend Motorsport Park in South Australia attracted a sellout crowd of 35,694 over three days, all of whom were keen to see who could leave the brand new track with the season's points lead.
When Ronnie had problems during the burnout in Maurice Fabietti's ACDelco Monaro, a first victory looked a sure thing for Lisa, until engine problems of her own in the Camaro.
"When we were given the signal that it was going to be a solo pass I couldn't help but smile under the helmet," she said. "It wasn't the way I would have liked to get my first win but we had worked hard all weekend and ran consistently. But that all changed when two of my crew were telling me to shut the car down.
"After I had shut the car down I realised I should have just rolled through to accept the tree but it is what it is we have learned what to do if we ever experience this again."
With neither racer having staged, no winner was produced from the final. Rather than leave this unsatisfactory result, both teams decided to re-run the final at the Goldenstates at Perth Motorplex in November.
"We are so excited to be able to re-run the final, especially in front of our home crowd," Lisa said. "Both Ronnie and I worked hard all weekend and earned our spots in the final, so to be able to be given an opportunity to run for the win is a great outcome. I'm sure it's going to be a nail-biter of a final with the consistency and close ETs we were both running at the Spring Nationals."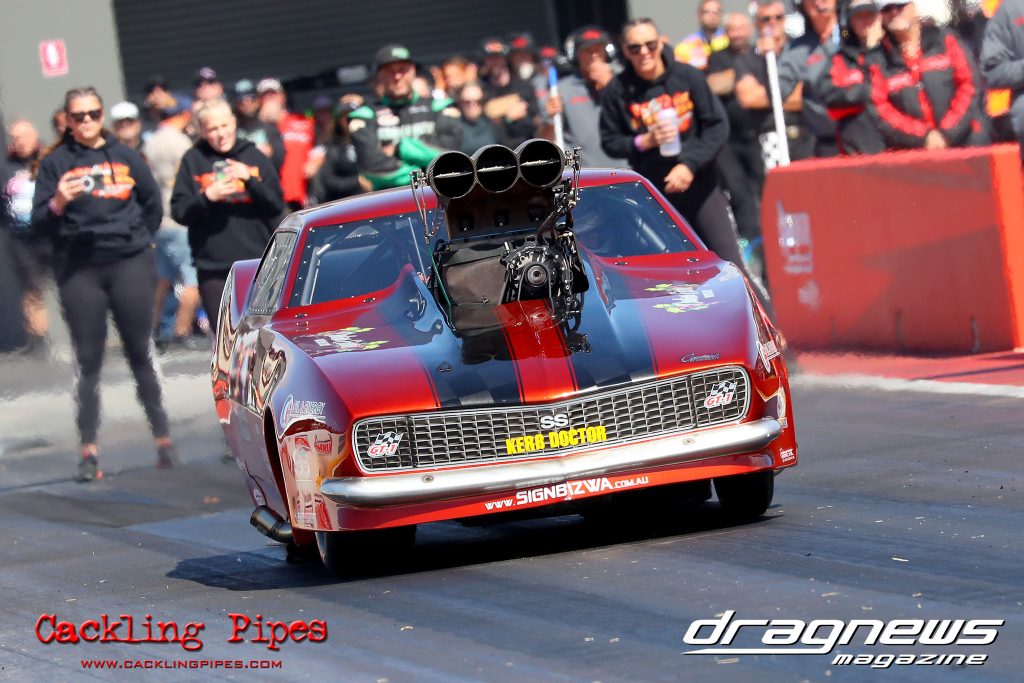 Lisa's path to the finals saw her qualify fifth with a 5.91, before she delivered a 5.88 to win the opening round of racing against Adam Tassone. Five-second runs seemed to be on tap as a 5.84 win over Peter Lovering delivered Lisa her ticket to the A Final.
For Lisa's husband Daniel, his Camaro was one of the favorites to reach the final round until another strange gremlin climbed aboard.
"Strong winds, dust and rain all meant conditions were constantly changing, so the ATDA (Australian Top Doorslammer Association) agreed to change a scheduled test session to qualifying," Daniel said. "We were careful as the winds were playing havoc but still went 5.79, which was the first five-second doorslammer run at The Bend as we crossed the finish line first ahead of Paul Cannuli's 5.71!"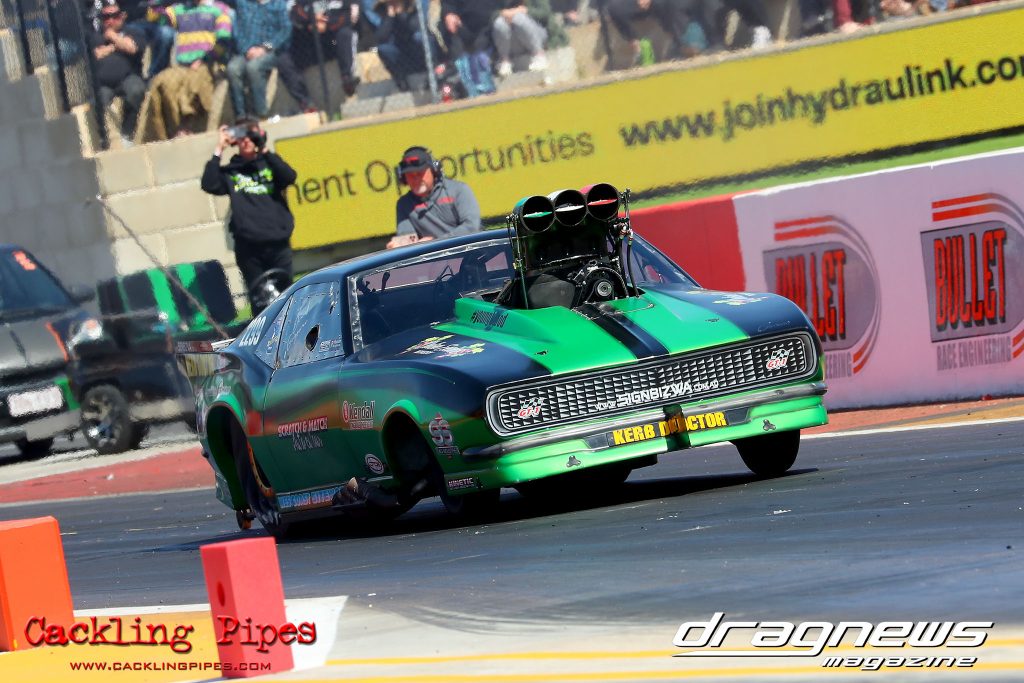 When it came to racing, Daniel drew John Zappia in a tough first round match, where a 5.74/255mph took the win light. Zap had a chance for revenge in the second round, with the seeding system once again pairing up the two West Aussies.
"Everything was going like clockwork until I went to put it into gear to bring up the stage lights and my oil pressure dropped to below 20psi," said Daniel. "My first thought was that it was the check valve in the oil pump, so I tried to rev it up a few times to unjam the check valve but it didn't work. Then I noticed Zap had two lights up so I had to accept the tree and realised that my weekend wasn't to be and our last hope was the girls."
Daniel was able to return for the C Final against Adam Tassone where a quick 5.684 at a huge 260.04mph got the team excited.
"We are making power and our engine is super safe and happy. It's a good thing to run fast and keep the rods in!"
The Scratch & Match Motorsport team will be back out at the Perth Motorplex on the 11th November for the Quarter Mile Masters followed by the 24/25 November for the 49th running of the Goldenstates
Major sponsors : Scratch & Match Autocolour, Kerb Doctor, Westcoast Siteworks, Kendall oils, Oil & Energy PTY LTD, S & S Industries, Consolidated Group, Dalisa Estate Winery
Supporting sponsors : Signbiz WA, SP Tools, Go print, Dirty detailing, Final Drive Engineering, Gforce race cars, Resolution racing services, DMPE, Applied Automotive, Kinetic Engineering, A1 Hi Performance