The opening round of the NDRC Pro Alcohol Championship was opened with a bang at Sydney Dragway, with fans already hotly anticipating the bracket's next showing at the Perth Motorplex's Goldenstates across November 24 and 25.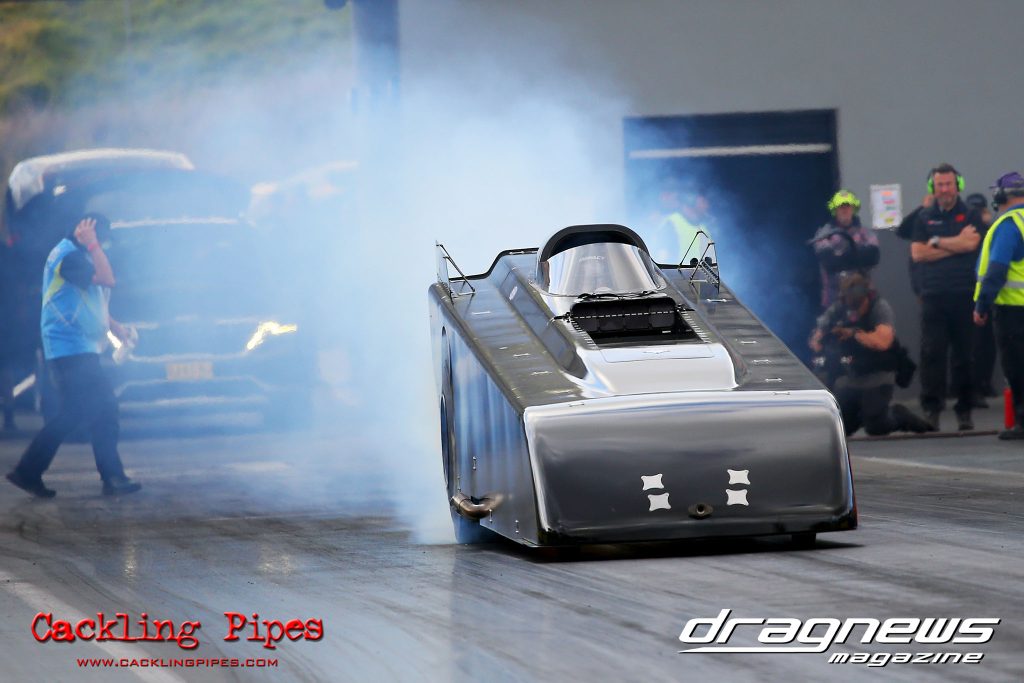 At that event, Pro Alcohol will once again line-up alongside the Nitro Funny Cars and Aeroflow National Sportsman Championship, as well as round two of the NDRC Top Doorslammer title chase.
Ensuring the championship ledgers were opened with much fanfare this weekend was a seven-strong field of Pro Alcohol competitors, with no end of entertaining performances delivered across qualifying and three rounds of 'all in' racing.
While all racers put in a fantastic effort across the weekend, there was no doubting that two racers in particular were leading the way: Pro Alcohol debutant Daniel Reed, and bracket pioneer, Russell Mills.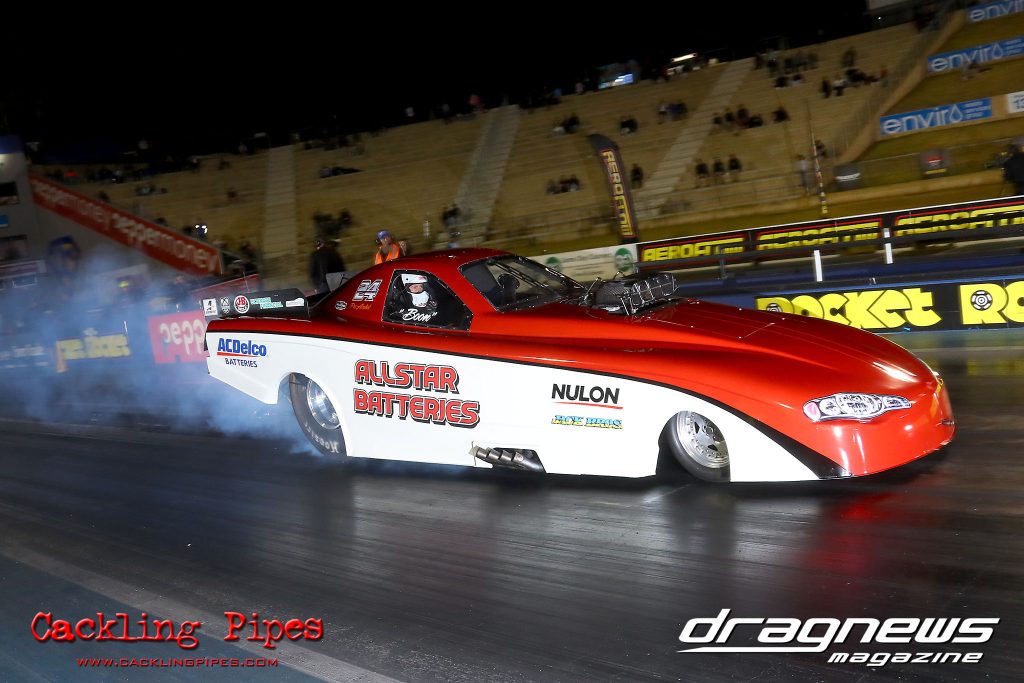 Reed – who has taken over the driving duties of the storied Reed Racing Funny Car previously steered by his father, Pro Alcohol legend Steve Reed – was one to impress right out of the gate, top qualifying straight off the trailer with a 5.574 second pass at 363.37kph.
Mills and his exceptionally unique Pro Alcohol machine, which is classified as a dragster due to its wheelbase dimensions despite being encased in bodywork, had trouble getting down the track in his qualifier, but it was the only time we would see him falter across the weekend.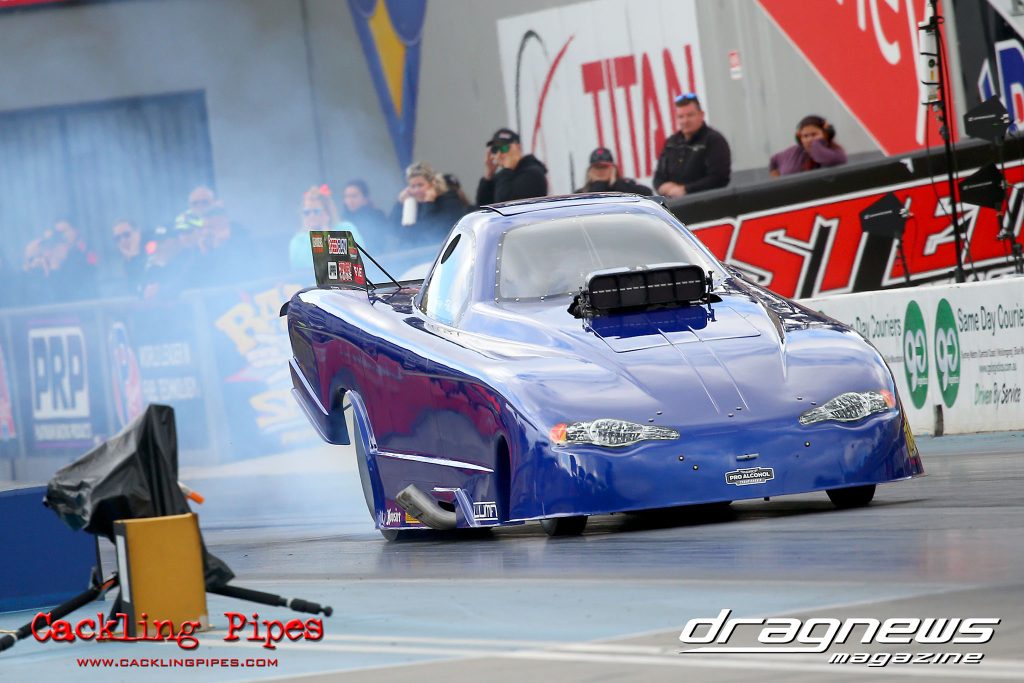 Chris Hargrave was second quickest with a 5.705/409.30kph effort, while Gary Phillips was third quickest despite suffering a large fire during his run which, while leaving him unhurt, would preclude him from any further running at the event due to damage to his Funny Car's bodywork.
In the opening round on Saturday, Reed laid down another 5.45 pass with a 6 (5.456), this time at 424kph to take the win from Wayne Price, while Mills blasted down the track at 5.458 at an incredible 431.83kph – a new national speed record. Also running in the fives in round one were Chris Hargrave (5.611/421.11kph for the win over a broken Andrew Searle) and Brett White (5.625/377.71) who enjoy a solo pass.
In round two, it was time for more 5.4 passes, with Reed laying down a 5.490/427.76 pass to take the win over John Cannuli, while Mills followed his earlier run up with a 5.433/428.60 performance to win over Chris Hargrave. Peter Lovering took to the track for a solo, recording a 6.288 at 354.47kph.
With two wins a piece, the low ETs and top speeds of the meeting to that point and a top qualifier result between them, it was no surprise that Reed and Mills would face off in the A-Final.
With both cars having gapped the field and well and truly impressed, it was a popular match-up, and one that had everyone casting their predictions.
With the crowd enthralled and amid drastically cooler conditions, the pair left the line aggressively with Mills wrestling his entry all the way down the track as it tried to move to the centre line while still recording a fantastic result of 5.540 at 393.58kph.
Reed meanwhile blazed straight down the track for a 5.45 second pass at 424.41, but the debutant had lost it on the startline – red lighting by -.004 seconds.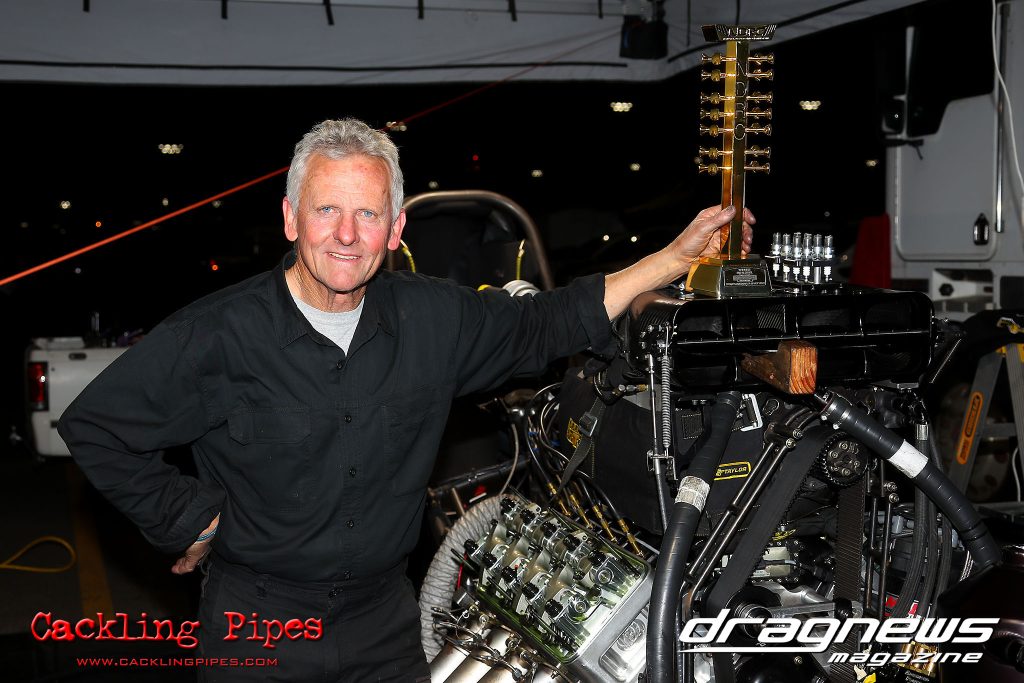 "I am elated really," Mills said.
"You do well at testing and then you do something else to the car and then it all goes bad," he laughed. "As Gary (Phillips – who presented the trophies to Mills and Reed) has said many times before – it might look easy, but it is not! This is very, very hard with so much work behind the scenes.
"To have it come together is really great, I am ecstatic to run these really good speeds and to get the win, it is just excellent. Thank you very much for this," he said while brandishing his Gold NDRC Christmas Tree with a huge grin.
While disappointed with his red light, Reed was quick to congratulate Mills at the finish line.
"We might have to slow the car down a bit because I saw the Ambers!" Reed exclaimed.
"We will work on that. Of course, it is disappointing (to red light), but the crew did such a good job – the car has been going sweet all weekend and so I have to thank them as well as all of our sponsors, Nulon Oils, AC Delco Batteries and Jack Brothers for their support. Thank you to everyone!"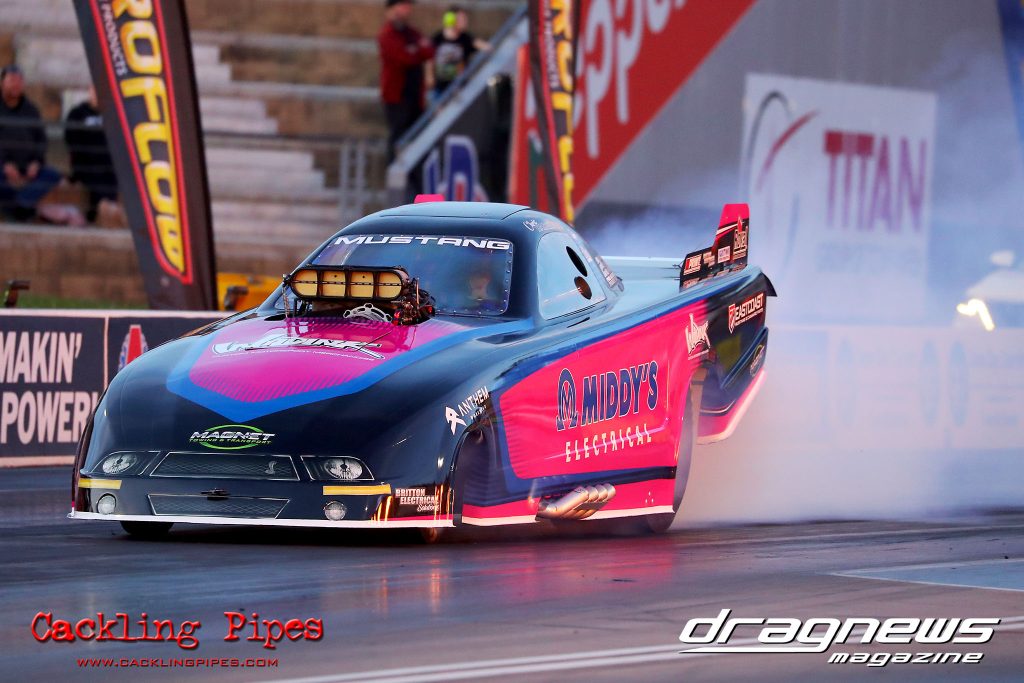 In the Pro Alcohol B Final, Lovering faced off against Hargrave, backing off early after an aggressive launch to give Hargrave the win with his 5.629/416.68kph run. The C Final hosted a solo Cannuli, who with a broken header had lots of sparks flying at the finish line.
The NDRC Group One Championship now heads to the Perth Motorplex for the Goldenstates across November 24 and 25, featuring Nitro Funny Car, Pro Alcohol and Top Doorslammer alongside the Aeroflow National Sportsman Championship, followed by Willowbank Raceway with Top Fuel, Pro Alcohol and Pro Mod alongside Australia's best sportsman racers across December 1-2. For more information, visit www.nationaldragracing.com.au