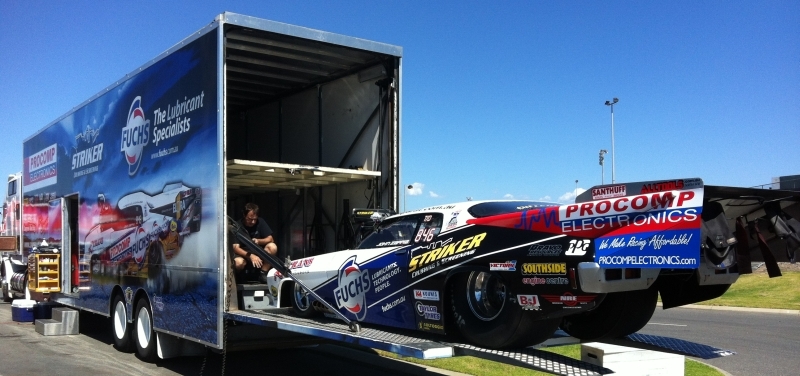 John Zappia showed who was boss in qualifying here at the 41st Goldenstates at the Perth Motorplex by top qualifying his Fuchs Lubricants / Striker Crushing and Screening Monaro in a tough field of Doorslammers.
"Were back!" said a jubilant Zappia straight after the run, "I used the entire track on that last pass, but great to top qualify on our home track."
Zappia led the first round of qualifying at 6.30pm with a 5.869 @ 247.93mph on what the team knew was a five eight tune-up. 
Qualifier two for Zappia Racing took everybody's breath away as Zap turned left at the top of first gear and headed for the wall in the other lane, before turning sharply and narrowly missing the wall. That was just after rookie Shane Catalano did a similar thing and crashed his Studebaker into the wall badly a few passes before.
 The final qualifier Zap thrilled his local crowd with a 5.828 @ 248.61mph that put him at the top of the list. The 0.993 sixty foot time was a noticeable jump for the team who traditionally were conservative in that part of the track. Kapiris was not too far away with a 5.876 and Fabietti make a great comeback 5.889 pass to make third.
"The engine is still softened up to get us down the track compared to last meeting, so if we can massage the car a little in the tune-up race day is looking pretty good. The car is running well with no damage, and the crew will complete normal maintenance overnight to get ready for round one tomorrow".