John Zappia was able to blast back into the 5.70s and take a runner-up in Top Comp during testing at the Nitro Max event at Perth Motorplex on Saturday.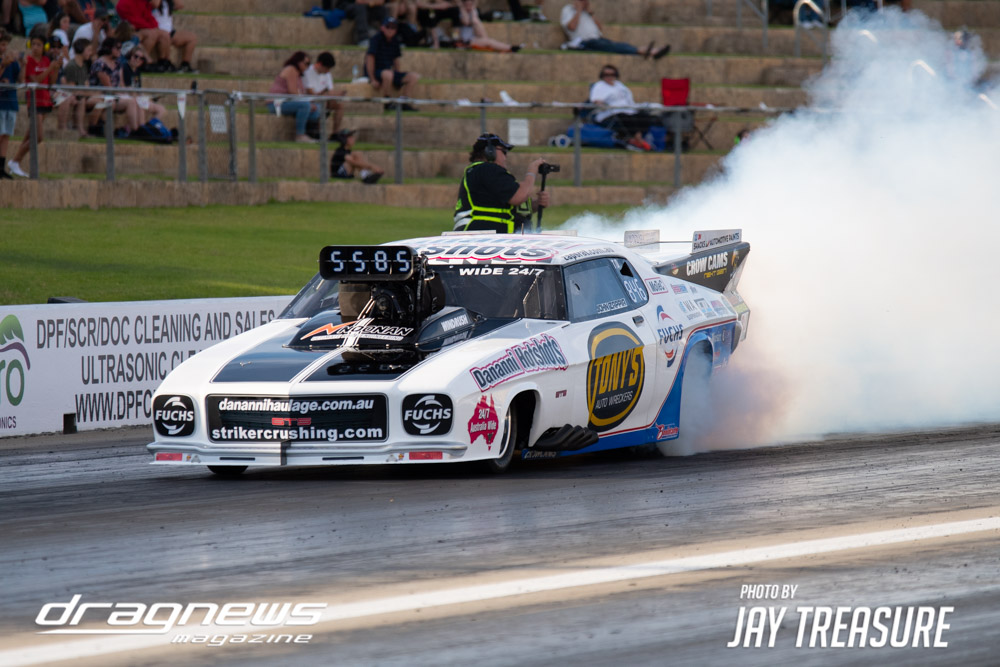 After a bunch of tyre-shaking runs at the recent Goldenstates Championship in the Dananni Hotshots/Tony's Auto Wreckers Monaro Top Doorslammer, Zappia went back to basics and came away with the results. "It was clear that we had begun to wander away from our safe tuning zone in recent events," Zappia said. "Before getting too far off track, we find it is best to go back to what we know and then build up once again".
Qualifying began with some work to do for the Zappia Racing team, when the motor leaned out on one cylinder and backfired the supercharger off the manifold. "We weren't pushing the motor hard or anything, but in third gear we found the boom. After looking at the Motec data, we could see that one cylinder had got too hot, and we needed to put a new Cp-Carrillo piston in and change a valve. Then we worked on our nozzling to get the fuel distribution in better shape".
"Fortunately the next pass saw a quality 5.725 run that lifted Zappia to top qualifying honours in Top Comp, a division made up of both supercharged and turbocharged dragsters, altereds, funny cars and, of course, doorslammers. It was a great run and the best way to say our goodbyes and spread the ashes of long-time fan and supporter Frank Earnshaw who sadly passed away at the track recently".
"We like to test in race conditions, so when the Direct Mining & Industrial Summer Slam is not taking place Top Comp is a great place for us to get runs in. The indexes mean that we are at a disadvantage against most of the competitors, but we still try our hardest to turn on win lights." Zappia had a bye run in the elimination round, giving him a chance to prove the consistency of the new tune-up with a 5.748. "I thought the run actually felt better than that," he said.
"The track was a bit tighter and so the 60 foot was a little slower. But I was hitting the shift points and our speed was up, so the signs were pointing in the right direction".
"The A Final would take place against Moreno Gullotto's CC/API class Toyota Soarer, running a twin-turbocharged Toyota V8. Gullotto's handicap meant he would leave a full second ahead of Zappia. "It's always a little strange watching another car leave the start line while you wait. My reaction time was pretty good and the chase began. The tyres started to rattle a little and then the Dananni Hotshots/Tony's Auto Wreckers Monaro turned right, so I needed to shift into second early to settle the car down. I could see I was miles away, and that there wasn't going to be quite enough distance to catch him. Our 5.790 on a 5.68 index gave it a good shot against his 6.563 on his 6.76 index, which was a great run for Moreno. We would have needed a Top Doorslammer record pass to win!" While there would be no winner's trophy on this night (with the exception of nephew Brodie Zappia once again taking a Junior Dragster victory), Zappia was happy with the data he learned ahead of the Nitro Slam on January 8.
"We managed to get a good tune-up on the second NRE engine and to get the car consistently down the track. We are ready for the Direct Mining & Industrial Summer Slam and we will service everything up and make sure it is all where it needs to be."
"To all our Sponsors, fans and supporters, have a Merry Christmas and a Happy, prosperous and safe New Year and we look forward to seeing you all at the next event on January 8th2022.
Also the Zapsrat store is stocked with the latest merchandise and only 4 Biante model cars left. And can be found on the zapsrat.com.au then hit the STORE Tab. Do your Xmas shopping now".