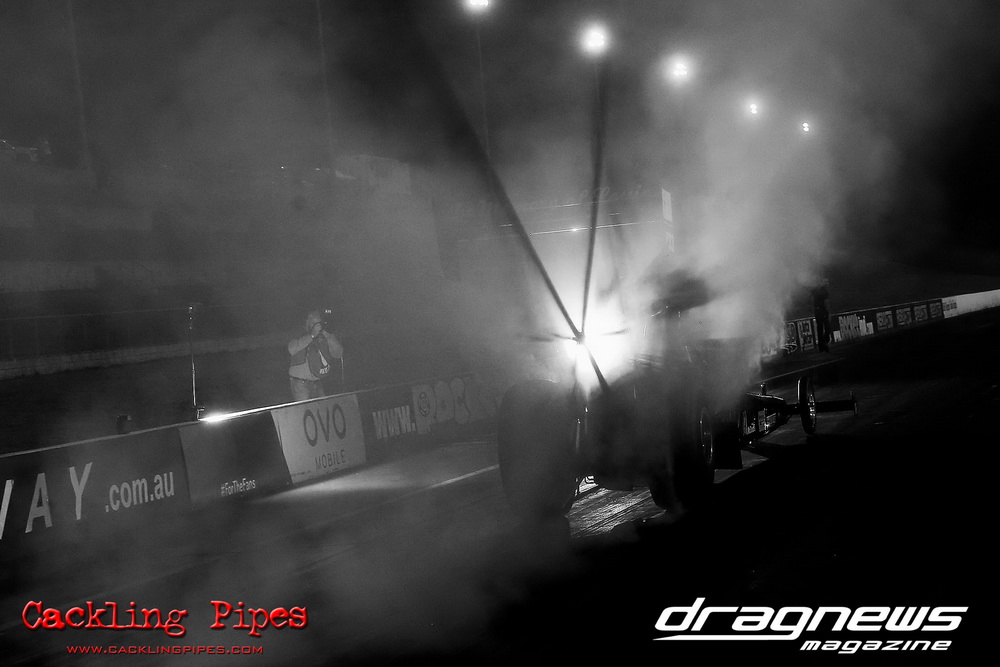 A milestone recently passed us here at Drag News Magazine as we celebrated ten years of operation. As we launch into our second decade, we are ensuring that our website stays strong and our print magazine continues to deliver quality stories from the sport.
dragnews.com.au was launched in April 2010 by Luke Nieuwhof, Grant Stephens and Rob Sparkes with this post as we sought to provide a better online news source for Australian drag racing. We worked on the online side to deliver stronger features as well as 'live coverage' of events using text based updates (remembering this was before live streaming was viable).
In 2014 we decided to launch an e-magazine, filling a void left in the Australian drag racing industry. After nine issues in an electronic medium we took the plunge and started printing magazines, and we are now almost at our half century, with our 50th issue due in September.
There has been lots of changes over the time in both the sport and the world, with the rise of social media no doubt the biggest adjustment for those of us in the media industry. It brought us some new readers, but with social media sites often designed to keep people within their ecosystem, it has also been challenging.
Alongside us have been our valued advertisers. Our biggest shoutouts need to go to Rocket Industries, Aeroflow and Speedflow who have been with us since the earliest days. But we are also proud to have businesses such as the Jamboree, Premium Motorsport Products, Decoglaze, 89s Garage Doors, Macarthur Garages and Powerplus Racing Fuels on the team.
The truth is we need more advertisers. One thing we notice in USA magazines is that there is a lot of advertising support from within the industry and we would love to see the same thing here in Australia. Even if you own a business that doesn't directly rely on drag racing, consider tipping some advertising our way as it helps enormously with our running costs. We have packages from as low as $300 that include subscriptions, so send us an email and we will hook you up.
Ten years has given us the chance to see what works and what doesn't, and we are keen to keep telling the unique stories of Australian drag racing.
You may have noticed some changes to the visual design of our website, as we have switched to a new content management system. This will provide us with more stable updates and better features into the future, as well as improving loading time and our search engine optimisation. The new site includes a way better search function so you can go back into the archives, and we are working on bringing back the forums and classifieds too.
On the magazine side, we have settled on a fairly consistent design for now, which we think looks pretty dang good. We have moved the focus to feature stories more than event coverage as we think that style of content is better suited when you take into consideration print and mail times. Editor Luke Nieuwhof writes most of the content as well as designing the whole magazine, while photos come from a huge range of correspondents including Cackling Pipes, Outlaw Images, Drag Photos, High Octane Photos, John Bosher, Joe Maday, Craig Radcliffe and more.
While we started as an e-mag, we have now shifted fully to print. We were surprised to discover that print was the preferred option for most people, even if it cost a little more. And we have to agree that there is something special about getting the magazine in the post, something tactile. It's actually nice to take some time away from a screen, grab a cold beverage of your choice and spend some time relaxing and properly reading. To our subscribers, especially those who have been there since the start – we thank you.
Producing a magazine and running a website is a full time gig, but it might surprise you to know it is still a side hustle for us. We do this out of love for the sport. There's some big costs, with our own server required for the website while the printing and postage bills naturally come every six weeks. Some months we get paid, some months we don't. To be honest, it's a hard slog, but we look back on what we have given the sport and we are proud.
Thanks for ten great years, and now we turn to you. You can support us in many ways. You can make sure to visit dragnews.com.au regularly and support our advertisers by visiting their websites, you can comment on our social media posts and you can share our articles. But subscribing to our magazine is the single most beneficial thing you can do. It helps us cover the raw costs of producing stories for the Australian drag racing industry and you get a great magazine in return. If you feel you have ever received value from what we do, please subscribe using one of the options below.
From Luke, Grant and Rob – thank you.
Drag News Magazine Issue by Issue Subscription ($14.95 every six weeks)
Drag News Magazine Eight Issue (One Year) Subscription – $119