While Kyle Hopf couldn't have the first 200mph run on radial tyres in Australia, he did manage to claim the honour of having the first steel-bodied car to score a double-tonne pass.
His twin turbocharged, Noonan Hemi-powered Camaro, driven by Terry Seng, delivered up a 4.02 run at 200.05mph during the Kenda 660 Drag Radial Series Expression Session at Willowbank Raceway on Saturday.
Hopf has been on the cusp of 200mph ever since he and Seng made a 199.58mph pass at the Kenda Radial Riot back in September, which almost made them the first in the country to take the historic marker.
Queensland's Hopf is searching for pace that will ultimately take him somewhere into the 3.7s at over 210mph, with plenty of power left in reserve. He and the team made a bunch of changes before the Expression Session to get the chassis balance right.
"After changing the converter, the four link and shocks it has been a process finding our way back," Hopf said. "But in doing so the car is 10 times what it was on our last three-second passes which 'rode the curve', be it traction or wheelie to get down, and that was on a better track than the weekend."
There are some people who think the traction control available on radial vehicles makes them easy to tune, but Hopf dismissed that notion.
"For those who may scoff at the controls these vehicles have, to give you an idea, they have so much power they can easily spin the tire at 200mph and power wheelie through the mid 100s; things go pear shaped real fast at those speeds," he said. "What you essentially fight with is applying as much power early without spinning, so that the car is moving fast enough that as you pile the power in, it doesn't want to power-wheelie through the middle. It's a cat and mouse game and has so many factors going on, like converter pressure and actual converter drive, front shock extension speed, front travel, front weight, tyre pressure, four link IC length and height, rear shock settings, then all your power management and development.
"We added 1psi of tire pressure and two clicks on the shocks and went from spinning every pass Thursday to going down almost every other pass for two days after."
Heng praised Seng for his driving, which gave the team a consistent base to tune on.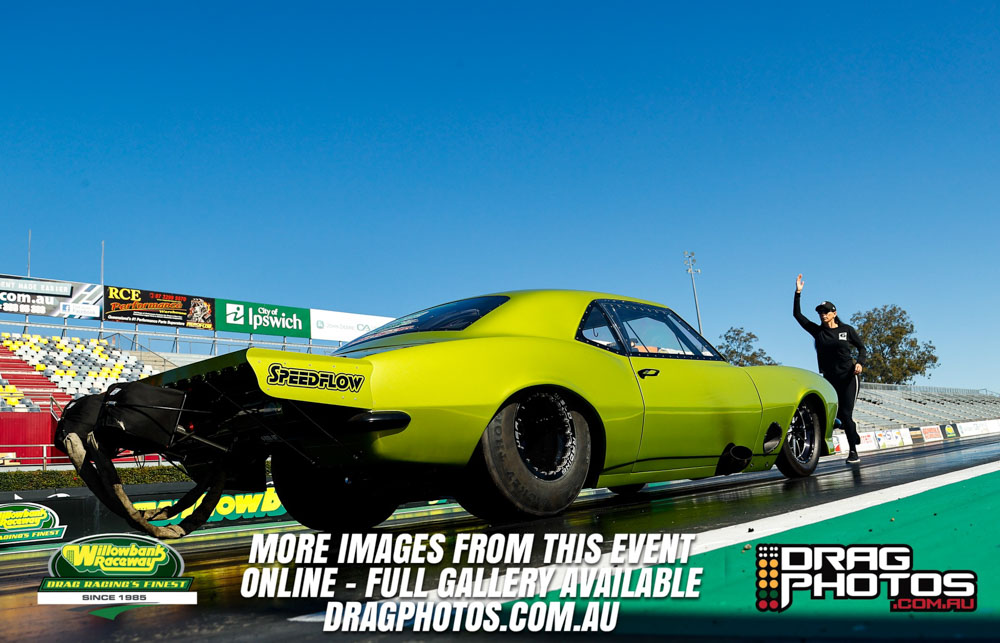 "Thank you to my amazing crew, this was the best we've ever worked together and everything went like clockwork. Terry was on fire and I don't think he ran slower than 0.030 on the tree for all but two passes, with a best of 0.004. Thanks so much to yourself and Anita for giving up three days of your time to be there for us, I know you're as busy as hell.
"Michael has the tune up so fine tuned now we are making the smallest of changes all over the car and seeing every single step. The motor has to be about the happiest 4000hp engine in the world, it still has the same bearing shells it was built with two years ago and the hottest EGTs were in the mid 500s.
"Thank you Shane and Brad for not only driving all the way to Queensland to help, sneaking through the border, but working your butts off for three days turning the car around. You made it possible for me to spend more time thinking about how to get the car down than rushing around working on it.
"Thanks to Scott Harker and Justin Simpson and the Willowbank team for one of the most enjoyable 3 days of racing I've ever had. The track was amazing with cars going 3.80s in the middle of the day, you knocked it out of the park. What you do for us all doesn't go unnoticed or unappreciated.
"To Terry and Justin Wilkinson for getting the trans and converter sorted, it was the most faultless it's ever been, ran cool, performed faultlessly, just like everything you've ever done on the car. Extra thanks for sacrificing Mick's time when I know you are so busy.
"Aaron Tremayne for your time, experience, knowledge and cracking LAT Oils, I don't know what we do different to anyone else but our stuff sure is reliable on LAT.
"And finally thanks to my 6boost team Scott, Dale and Matt for getting the car together, treating it like your own, and holding down the fort without me."