The dream of owning a Nitro Funny Car is one had by many a drag racing tragic, but it has taken the advent of nostalgia racing and more recently Graeme Cowin's Aeroflow Outlaw Nitro Funny Car Series to make this dream a reality for more Australians.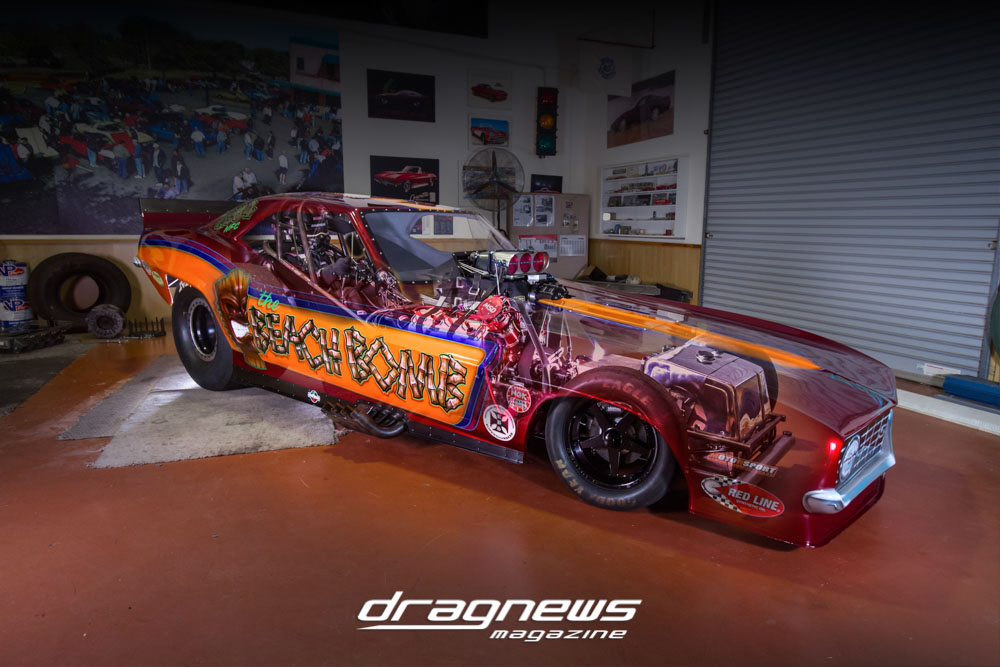 Tony Katavatis was among those who had visions of fast times and nitro some 45 years ago. He was accumulating all the gear he needed but unfortunately never got to turn a wheel in anger. Fast forward past growing a successful business and raising a family and the Katavatis name got its opportunity to be on the side of one of drag racing's wildest rides.
Tony's son Andrew had been racing in Modified and Super Comp in Western Australia for many years and experienced plenty of success, with a State championship in his name for each bracket. But the team wanted new opportunities and maybe a chance to go faster.
LIKE READING STORIES LIKE THIS? TRY DRAG NEWS MAGAZINE IN PRINT FOR FREE!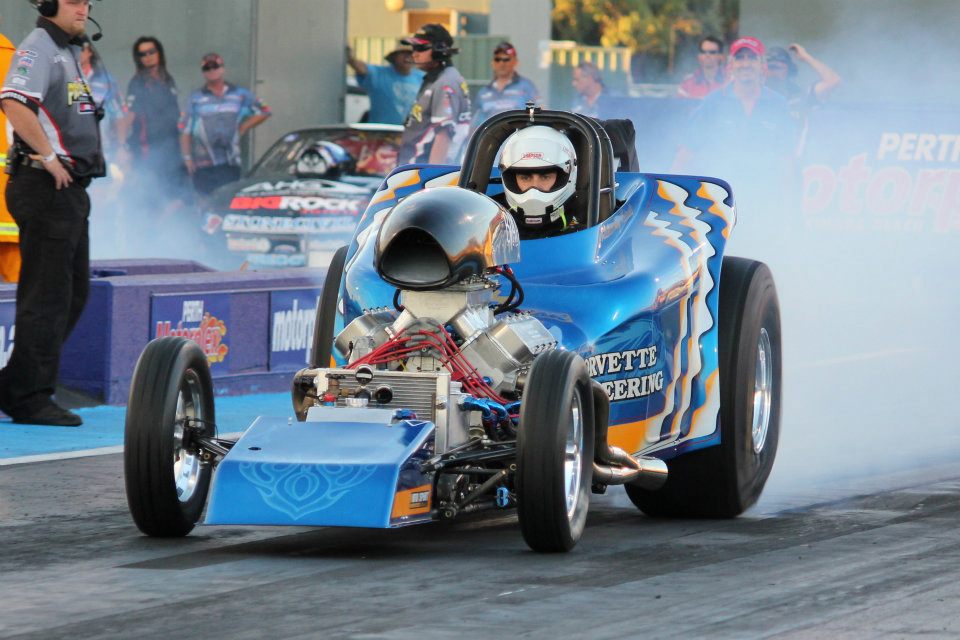 "We had pretty much planned to take a year off and assess our options," Andrew said. "We weren't 100% happy with the way everything went down with the Super Comp indexing rules (the WA State championship version) and that put a dampener on us going back to Group Two.
"I love Nitro Funny Cars, I have forever. I hung around with James Rowland and Corey Marriott who had worked on some of the Aeroflow Outlaw Nitro Funny Cars and they were probably the biggest influences because they had experienced it and could tell us what we were in for.
"We liked the fact it was exhibition racing and there were good rules to run on a budget. What we were spending on a Super Comp car was phenomenal dollars and we worked out we could do 20 runs in a Nitro Funny Car for what we were paying to make 60 runs in the altered."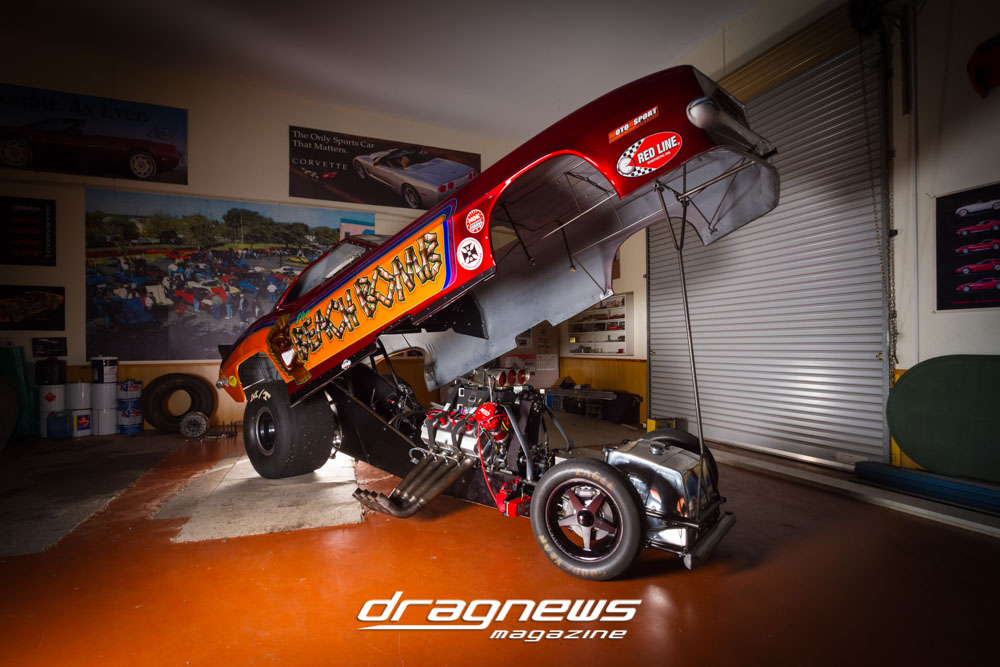 To the Katavatis family, that sounded like a bargain. The team initially went in one direction by picking up a bare chassis and a Corvette body, fitting in with Tony's Corvette Engineering business, but then decided they needed something more complete, being new to the game.
"We saw the Beach Bomb on Racing Junk and it had been up many times before, they just couldn't move it," Andrew said.
"I asked what we could do with the price and what they had and started chatting. We got him down to a price where neither of us lost out. We didn't get the bargain of the century but we didn't get ripped off and neither did he.
"We contemplated sending one of us to the States but then decided we were pretty happy with it all. We got Greg Leahy to bring the car in. We transferred all the money and he got a racer over there to take the money and a transporter to Sacramento where the car is from. He ticked off everything on the inventory list and we were able to make phone calls to him while he was there.
"It's very stressful still handing over that amount of money, but it is a bit more reassuring dealing with an Australian guy who runs one of these cars (Leahy). We did the insurance through Peter Peirano, two guys who race in the same series!"
The Camaro-bodied Beach Bomb began its journey to Australia alongside a dragster being imported by Chelsea Leahy, Greg's daughter.
"Knowing her car was in there too was quite resassuring!" Katavatis laughed.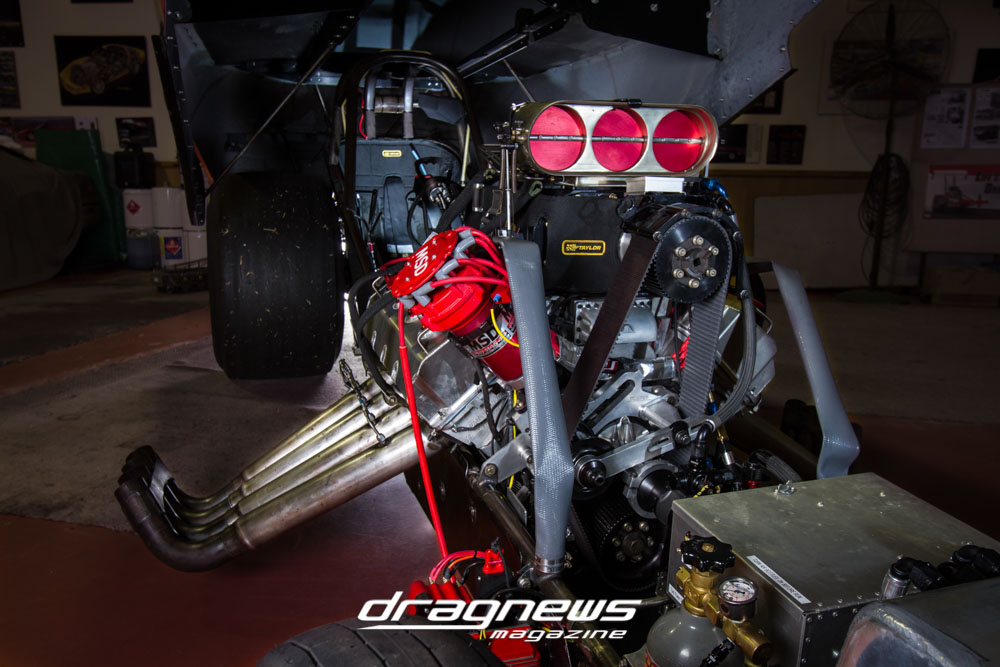 The container arrived with their new purchase inside on December 8, 2014, and the team were relieved to find not just what they had ordered, but more.
"It was a lot better than we had thought to be honest. It had a little mark in transit but that was it. Don't get me wrong, the thing was filthy, there was still oil and aluminium in the diaper from when he had last blew it up but he had thrown in some extra bits and pieces we didn't know were coming.
"I jumped in for the first time to get a mandatory photo and for the first couple of nights we just ogled the thing and said this is actually happening."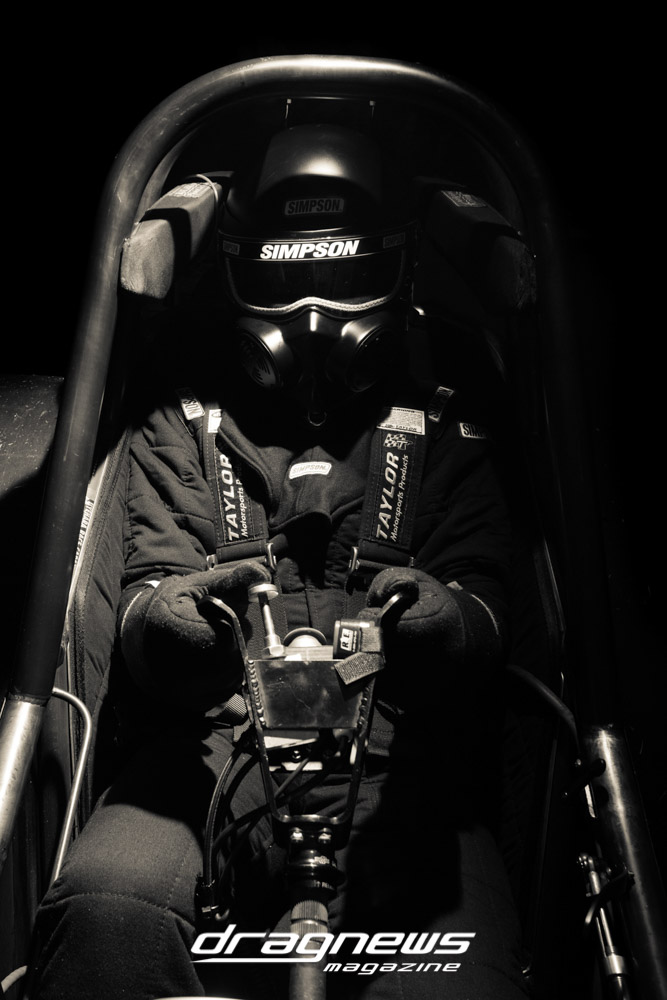 The team had been in contact with long time nitro campaigner Paul Shackleton about getting some parts. Katavatis said they knew Shackleton was not the quickest, but he was consistent with little parts breakage and that's what they wanted.
"He (Shackleton) had two blocks for sale so I contacted him about them and one thing led to another," Andrew explained. "He asked what we were actually doing with the thing and all of a sudden it was a short motor, then short with head, then a used motor, then all of a sudden it was used block but new rotating stuff, a brand new fuel and ignition system, new blower.
"We had never run a supercharged car let alone a nitro car so this was probably the best way to go. Paul said he had run 5.90 with that exact combo in reasonable weather conditions. We thought it was a good starting point. We had enough stuff to do our own motors, but we thought because we don't know anything about it, let's give it to a guy who knows what he is doing.
"We were very happy with what he gave us, he gave us more than we thought he would like some spare pistons he wasn't going to use anymore. It was a complete hat to pan with spares, gaskets and tune up advice, blower starter and cables and quite a few tools to work on the engine as well which we didn't have as we have only run small block Chevs before."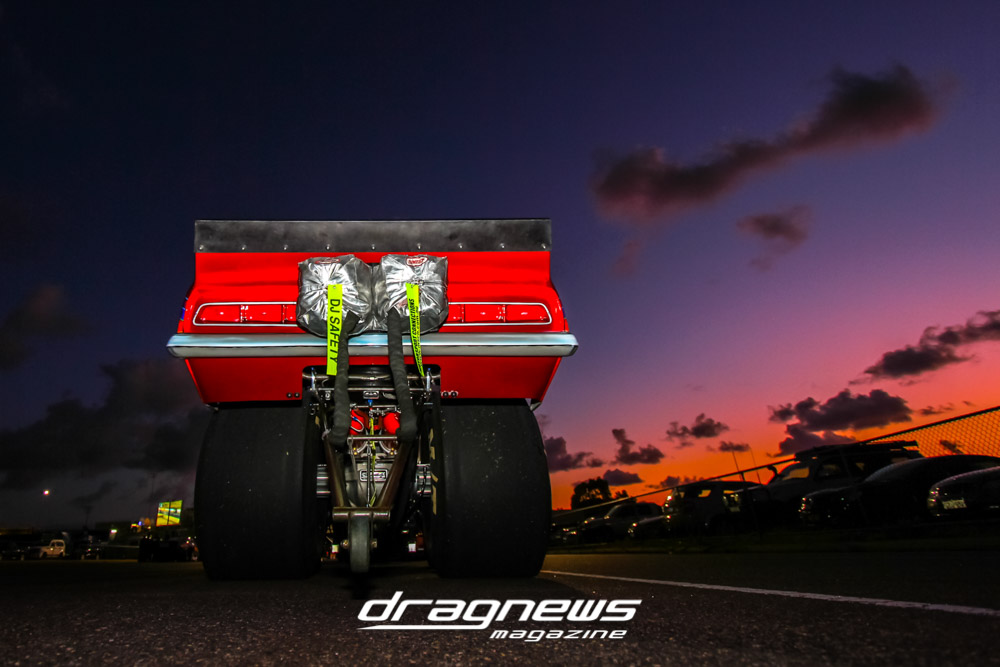 The build process continued and eventually the team were ready to fire up for the first time.
"We got (fellow nostalgia nitro runner) Rory Taylor to come down and generously help us to start it for the first time. He gave us guidance through the whole deal, like questions on where things go or how other people do what. He let us look at his car and see how it all fit together.
"At this point this is where Michael Marriott was getting more involved as well. With the build of the car Michael doesn't have much to do but he assists with the tuning and procedure kind of things.
"We learned how to mix nitro and do the timing and going through the start up procedure. Paul gave me a massive write up on how to start an engine, set the timing and get the idle right.
"The wheels turned so we were pretty happy. We drained the oil and fuel and let it sit on the stands for three or four weeks until our first pass."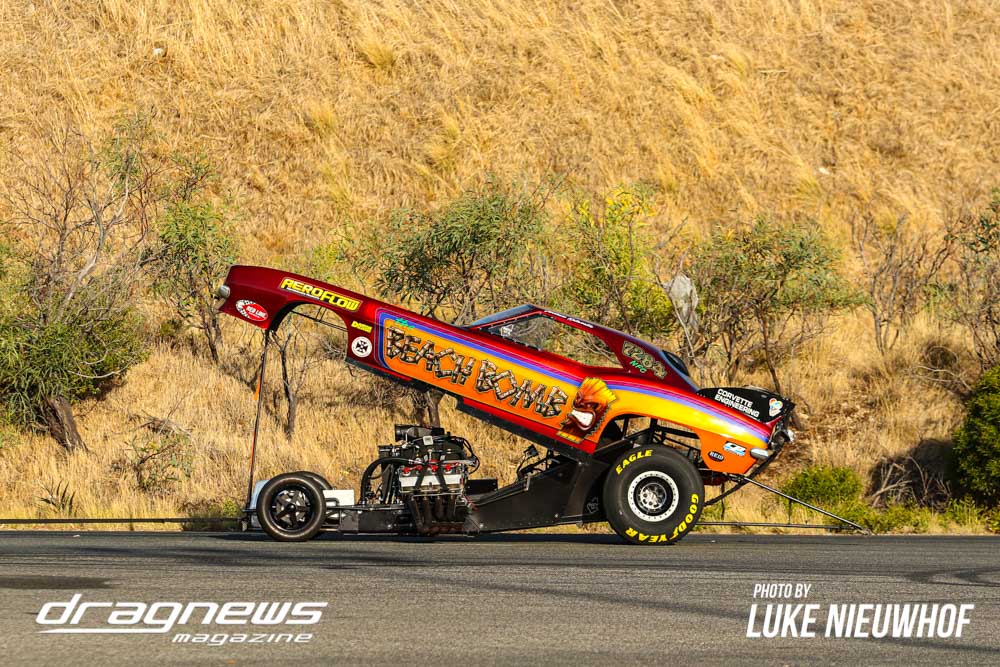 Katavatis took inspiration for the supporting infrastructure for his team from top line operations like Rapisarda Autosport International, looking at how they structured their pit areas to make life easier.
"We look at who is going quick and then what processes they go through. How is their pit area set up? Well everything is in arm's reach and everything is designed to be pulled apart. It's no use running a wire across a supercharger if it has to come off every pass."
Soon enough the team were ready to make a first run and Katavatis said he took the advice of Marriott and broke each part of the run down into segments he could concentrate on one at a time, rather than letting the whole thing overwhelm him.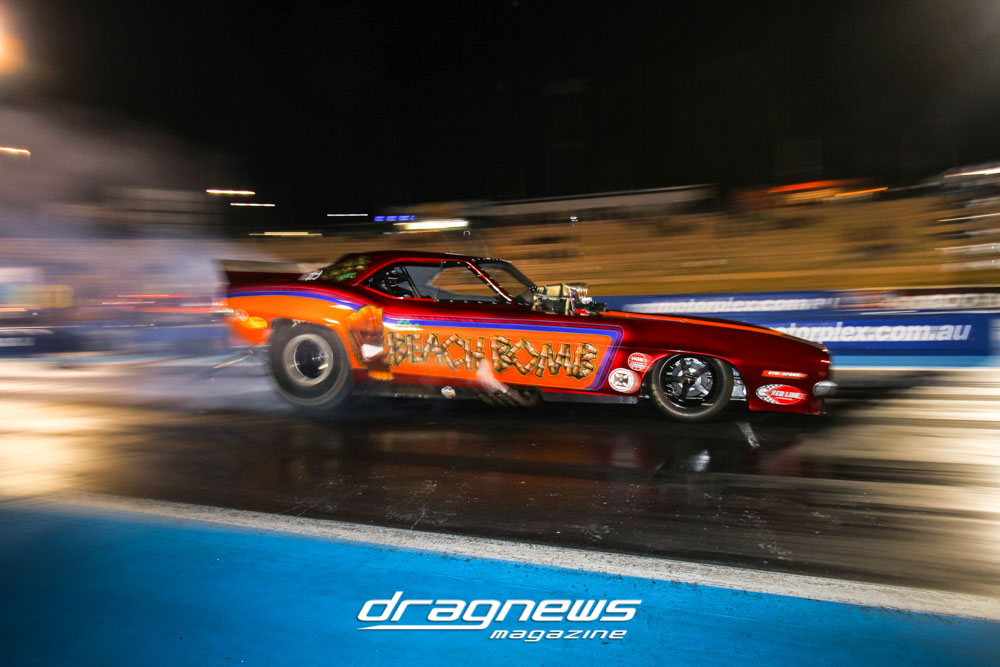 "The first thing everyone asks is if you are nervous, but there is physically not enough time to be nervous," he said. "The one thing I have always been told is don't think about launching the car while you still have it starting up in the pits, because you have so much to do before you even get there.
"As a driver there are a lot of things to do and I would tick through the mental list. I tried to break the race down into little pieces. The burnout wasn't great but after it was done I didn't let myself think how bad it was else you are not concentrating when you are going into stage. Thinking about all those little bits of the puzzle gets the nerves out of the window. The driver's job is to get the car down the track.
"The first launch was a bit sluggish but we turned the car around and came back again and it blew the tyres off at 60 foot on the second one. Michael had told me if it blew the tyres off my bum will come into the air and I would see the track and he was right. You have to take all this information on board, feel the car and know where it is."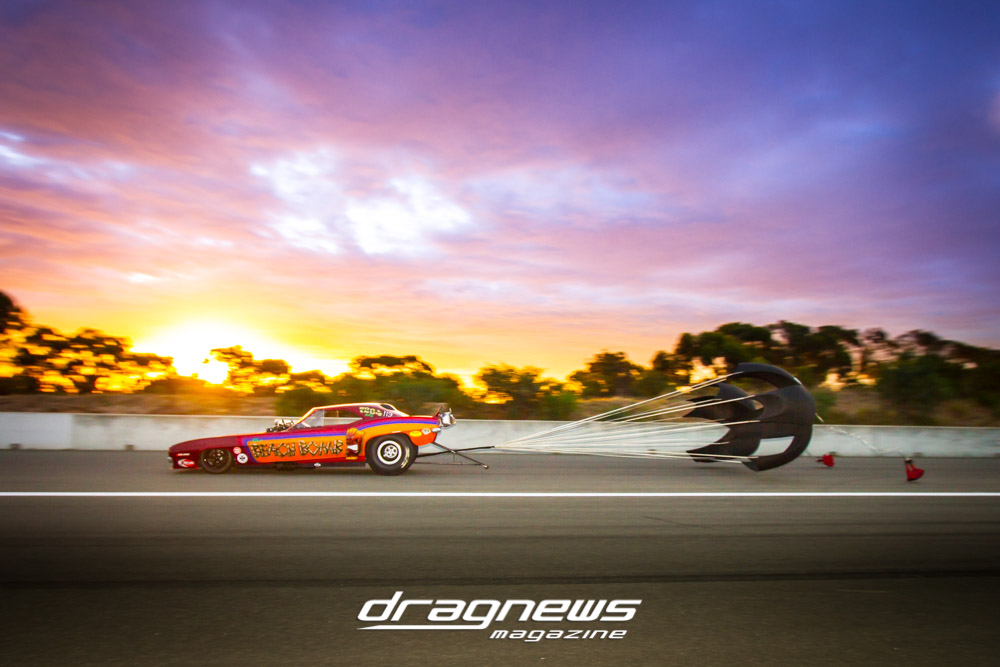 The experience of driving a Nitro Funny Car is one Katavatis had always wondered about. Was the feeling that other drivers described accurate? He felt like the violence lived up to its reputation.
"When that body comes down it is incredible, the whole car is moving, you can see the body shaking opposite to the car, it is like the body is not even attached.
"Some people say you are along for the ride but I don't agree with that, you need to be the one in control of it."