I could never do what race car builders do. They are talented people who create a crossover between engineering and fine art. They're all carbon fibre meets Da Vinci – I'd be more like duct tape meets Dali.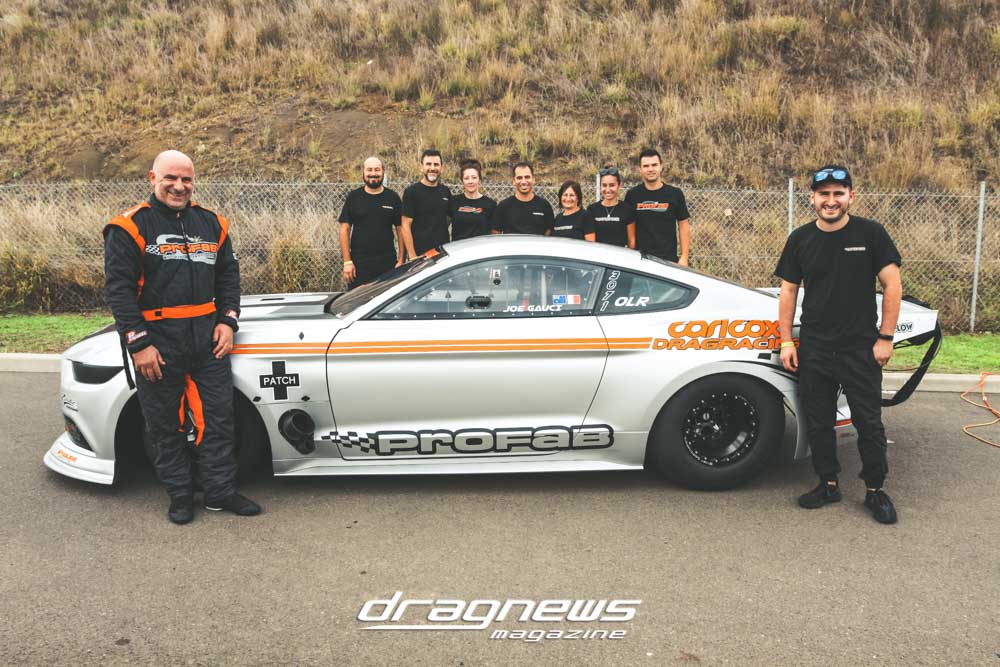 As the proprietor of Profab Motorsport Fabrications in Wollongong, New South Wales, Joe Gauci has a reputation for delivering stunning vehicles that can produce the goods on the track. He formerly raced a very quick Ford TD Cortina (which we featured way back in issue 18 of Drag News Magazine), also driving on radial tyres. It was a cool car, but Gauci said the old girl was reaching the limits of what he wanted to do, like a painter reaching the edge of his canvas.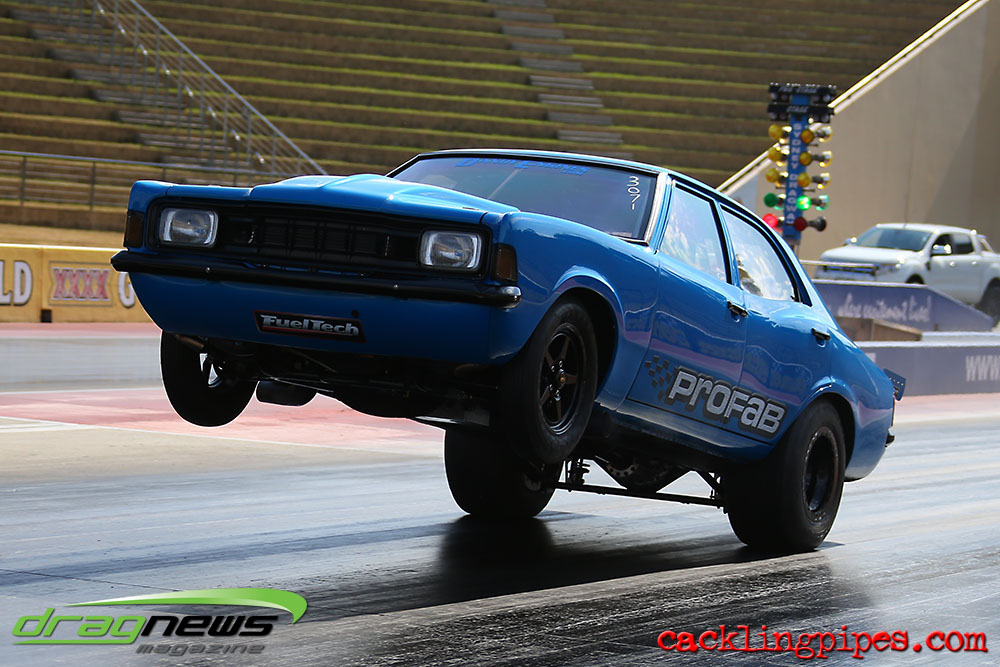 "It got to the stage where I needed to step up as the car needed a revamp, and I didn't think the Cortina was going to do what I wanted it to do," he said. "I made the decision to sell the car and a buyer came through."
THIS ARTICLE ORIGINALLY APPEARED IN DRAG NEWS MAGAZINE ISSUE 46. PLEASE GET A SUBSCRIPTION TODAY TO HELP US CONTINUE TO SUPPORT AUSTRALIAN DRAG RACING.
That gave Gauci the green light for his next project. He wanted to keep some factory roots in his next car, but also to give it all the help it needed to be a three-second eighth-mile contender. His son Jonathan found a 2016 Ford Mustang that was a statutory write-off, a brilliant option to turn into a drag car.
"We purchased the write-off and it turned out it was actually a running car," Gauci laughed. "We stripped it all out, got rid of all the bits we didn't need and then Jonathan and I built it from scratch."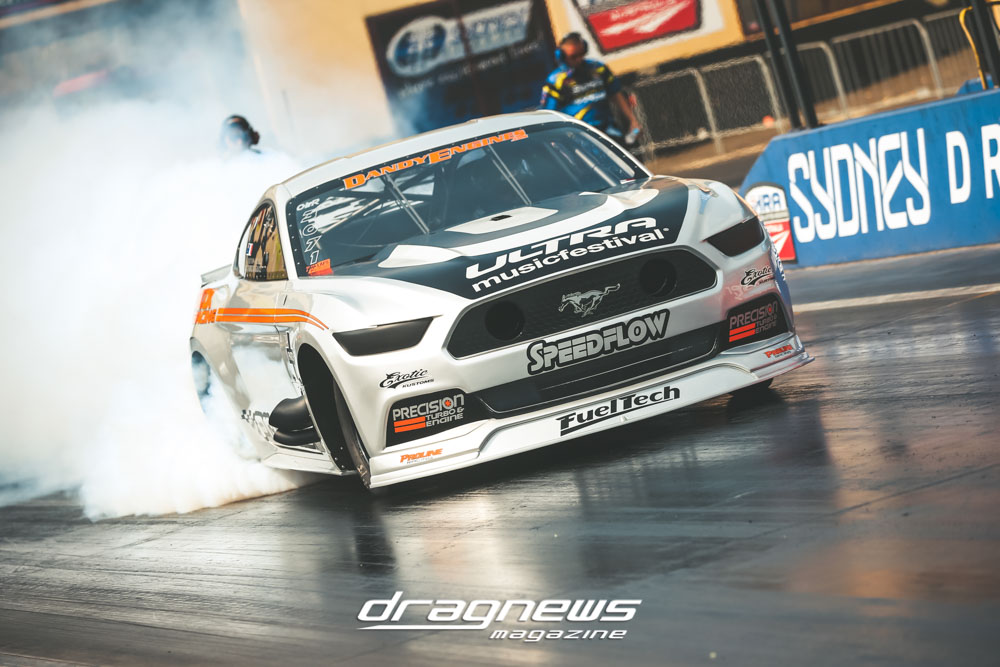 Radial racing in Australia is still in its infancy, however there are several different formulas available. The Kenda Series offers different levels of rules including a full outlaw class, while the 400 Thunder Pro Radial class requires front chassis rails and standard suspension points. Gauci wanted his new car to be legal for both series so he kept the chassis rails and suspension points in tact, making the Mustang a 108 inch wheelbase, three-quarter chassis car.
"It was built to suit the 400 Thunder rules," he said. "We used a Pro Mod platform because our goal is to run fives on the quarter mile and threes on the eighth. We had a lot of help from the guys at Pro Line and their tuners in the build."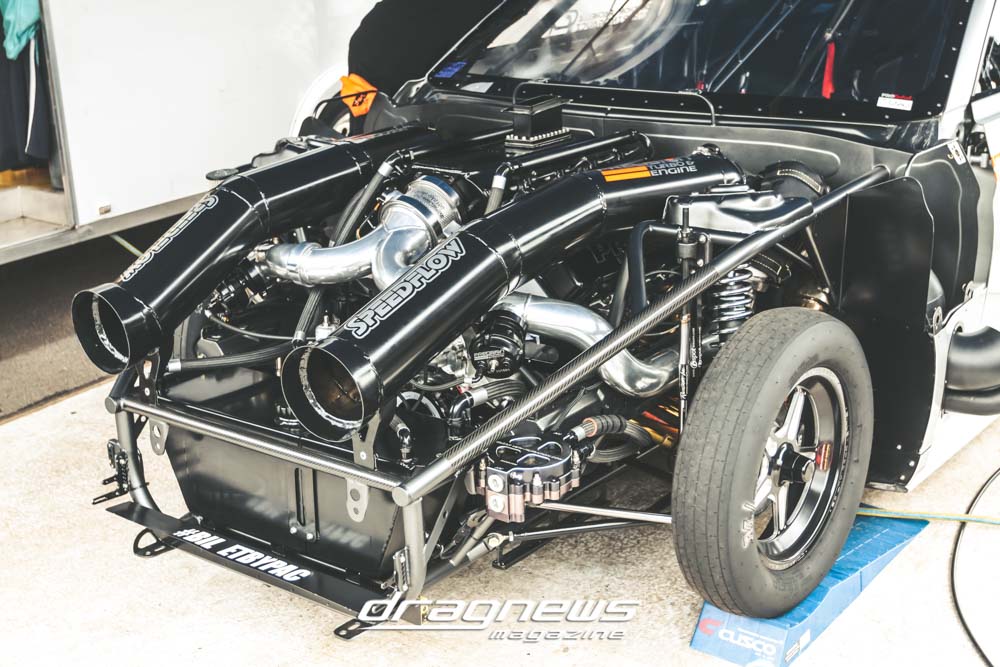 Gauci used a Pro Line Racing small block in his Cortina but has shifted gears to a Pro Line 540ci 481X motor for the Mustang. The engine was actually a used purchase from the USA, which Australia's Frank Marchese (of Dandy Engines) then checked out before handing over to Gauci.
Twin 98mm Precision turbochargers are responsible for flowing the 85 pounds of boost necessary to get the Mustang moving and the whole shebang is controlled by a FuelTech ECU. Marchese, Jamie Miller and Steve Petty have all had input on the tune, so there is little doubt this thing will be quick.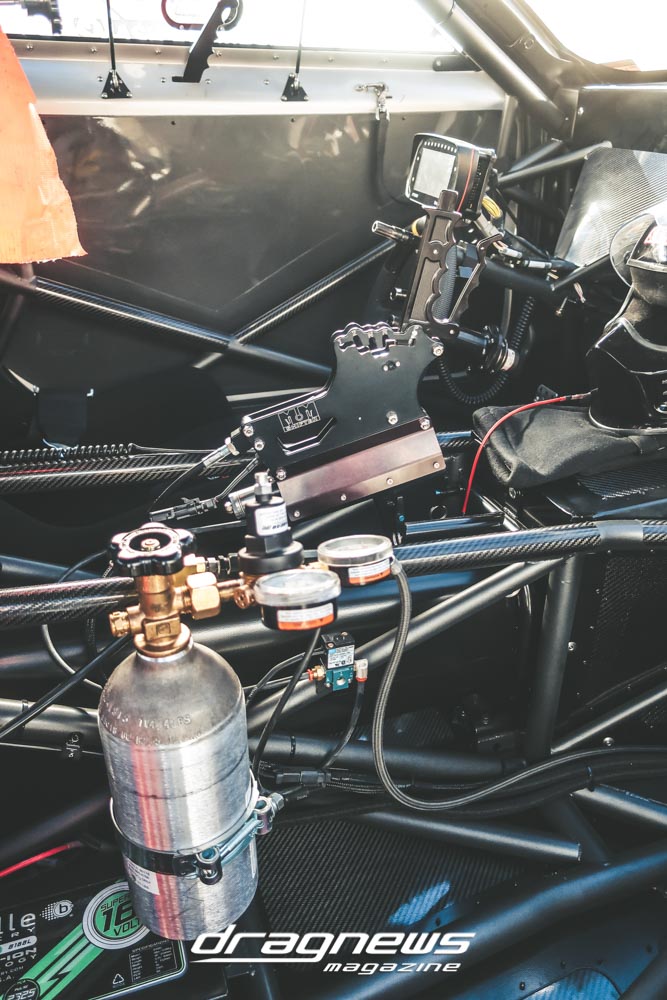 From there it's a shopping list of bits you need to go fast in radial tyre racing. There's a Mark Micke torque convertor attached to the Powerglide transmission, a carbon fibre tailshaft, Mark Menscer shocks all around, an adjustable four link set up, a full floater diff and carbon fibre brakes.
When Gauci made his first laps in the car down Sydney Dragway, he instantly felt the difference; all the power was now under control.
"This car feels a lot more stable than the Cortina and I adapted pretty quickly," he said. "Everything just felt right straight off the bat. I think on our first outing we went 4.08 on the eighth."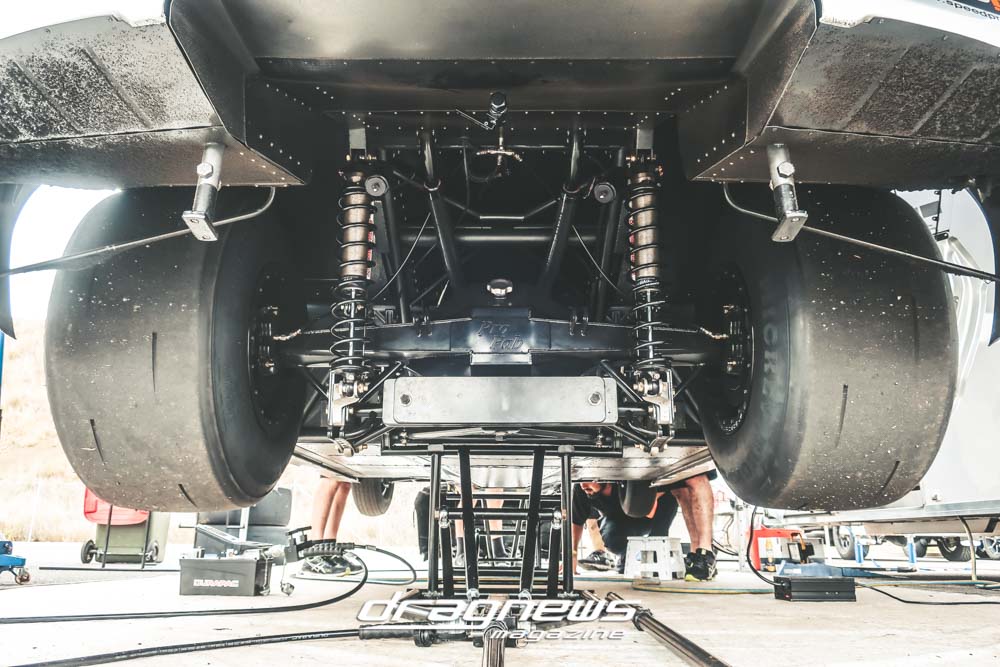 From there the team worked to sort out the suspension and get the balance right, though their development copped a setback at a Kenda Series event in Sydney earlier this year when the motor dropped a valve.
"It was a mechanical failure basically, you can never predict these kind of things," Gauci said. "You do all the preventative maintenance you can but it can still happen. Jonathan, Enzo and I spend two to three nights a week maintaining and servicing the car between events."
The Mustang is a stunning race car, and one for both Joe and Jonathan to be proud of. Jonathan works at Profab with his father, and the pair put in many nights and weekends to complete the car, which naturally had to take second place to the paying work.
"Jonathan and I built this car after hours and he took a lot of time out in helping me build this over a year and a half. He has a lot of involvement in all the builds we do, and at his age I could not do what he does. He is lucky he has a lot of great people around him to learn from and he gets to work on a lot of other cars.
"Working with any family member always has its challenges but the great thing is we both have input. He is still young, so he is always learning – not that you ever stop learning in drag racing.
"We debuted it last year at Motorex, where it won Best Competition Vehicle, then we raced three events and made the final three times, winning two."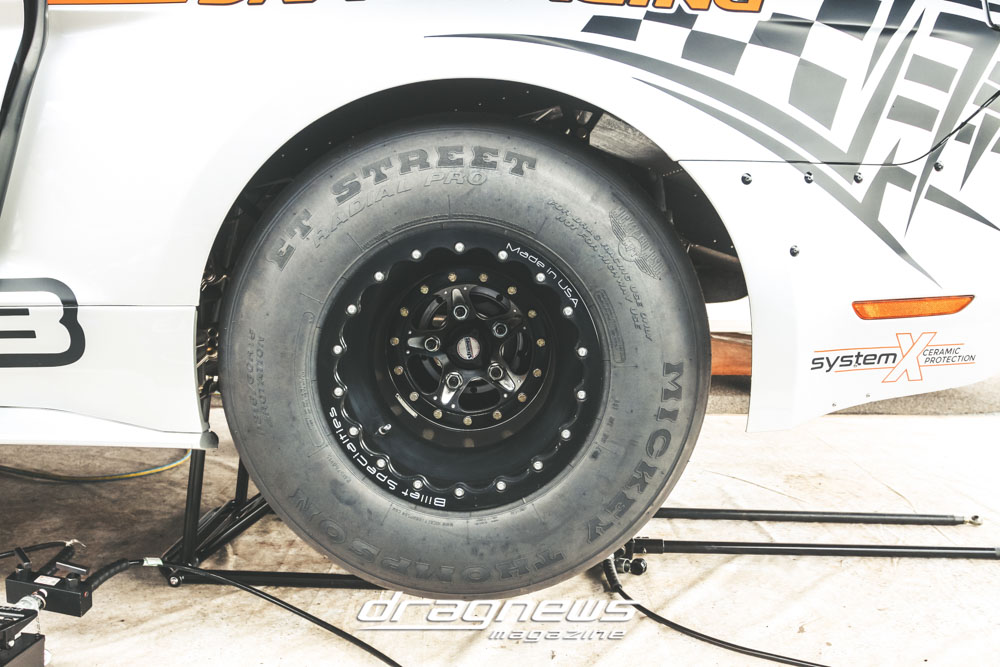 Gauci has some performance targets in mind, but he is quick to remember that the competition doesn't stop moving.
"A 5.80 on the quarter should be possible and 3.7s on the eighth, but the goalposts are always being shifted. I have a number in my head that could be tomorrow, but next week that all changes because it is constant development work on the car. You don't just build it and race it, you are always looking for improvements, sometimes thousandths here or one mile per hour there. With the Cortina there was a goal at each stage, but then you reach that goal and there was another one – you don't ever finish unless you retire."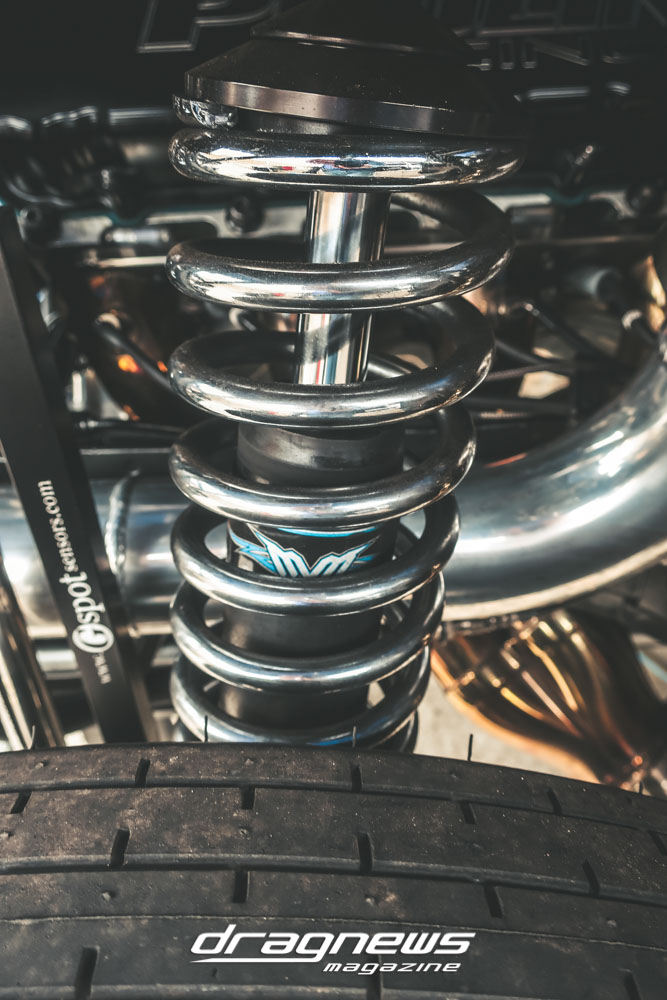 The key for any radial car to move fast is power management; if you can apply all the power from the hit you aren't making enough. Gauci has the added challenge of the track surface variation in Australian drag racing, where radial-prepped tracks are rare.
"We are always racing against the track conditions," he said. "A 400 Thunder race track versus a Kenda radial prep track is completely different, so you care changing suspension settings, changing the power management, moving the weight balance, changing the ride height, you are always moving.
"Ideally what you are trying to do is get the rear end to drive over the front end, but you need enough separation to transfer the weight to the rear."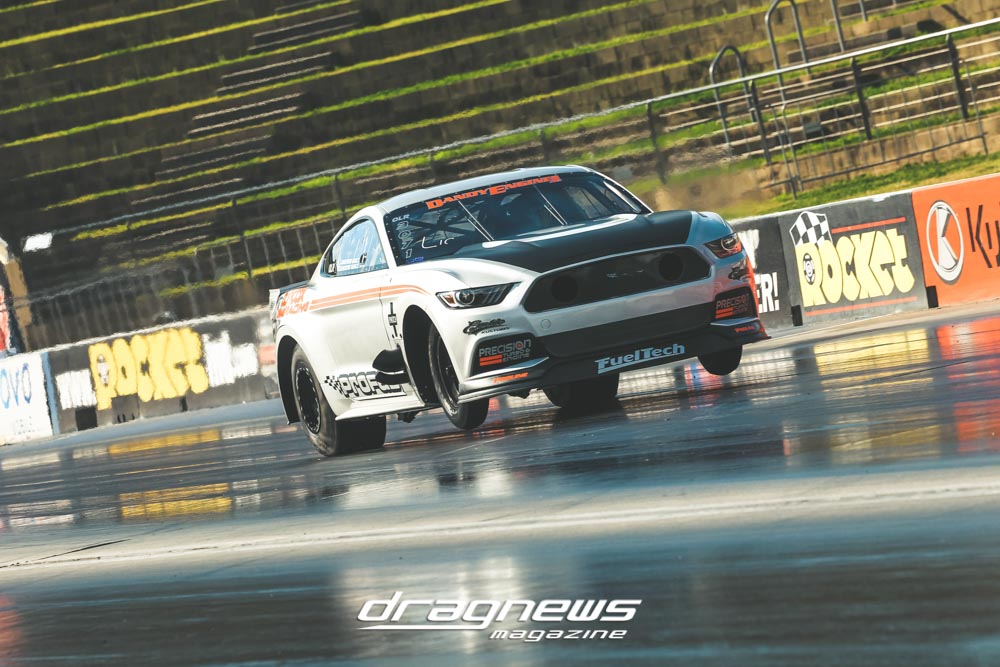 Gauci's Mustang carries the team colours of DJ Carl Cox and the Ultra Music Festival, reflecting a long term friendship between the pair. Profab built Cox's Ford Capri back in 2015 when he was making the transition into fast race cars for the first time, and Gauci has since been a part of Carl's crew.
"We spend a lot of time with Carl and his crew working on his cars and helping him achieve his goals," he said. "Carl has been doing a fantastic job behind the wheel. He takes things very conservatively because he is not trying to prove anything to anyone, he takes steps to where he feels comfortable."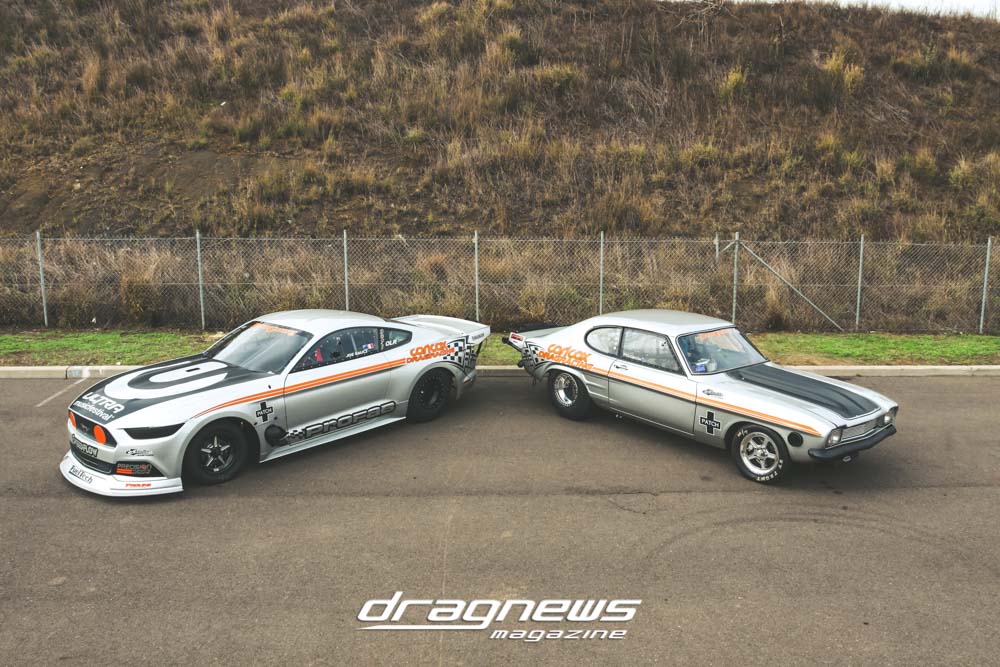 The Mustang also carries support from Dandy Engines, Regional Auto Electrics and Tony's Prestige Smash. They're getting plenty of exposure right now in the burgeoning radial tyre scene, which is being driven by racer-supported events.
"Justin Simpson and Scott Harker are doing an awesome job at promoting and pushing the Kenda Series. There are a lot of cars in the build, and I think Outlaw Radial had 15 or 16 entries in Sydney which is one of the biggest fields we have had to date.
"The prizemoney is good for Australia which helps, as these cars are not cheap to run – especially when you drop a valve!"
Since we wrote this article for Drag News Magazine Issue #46, Gauci's performances have come along radically. At the Kenda 660 Drag Radial Series Expression Session in July, Gauci ran 3.939 at 199.35mph, making him the fourth quickest driver on radials in the country.