The 2022 Kenda Tires 660 Drag Radial Series is now in full swing with a big field from the radial tyre army taking on round two of the series, and their first point scoring opportunity now there are no border restrictions.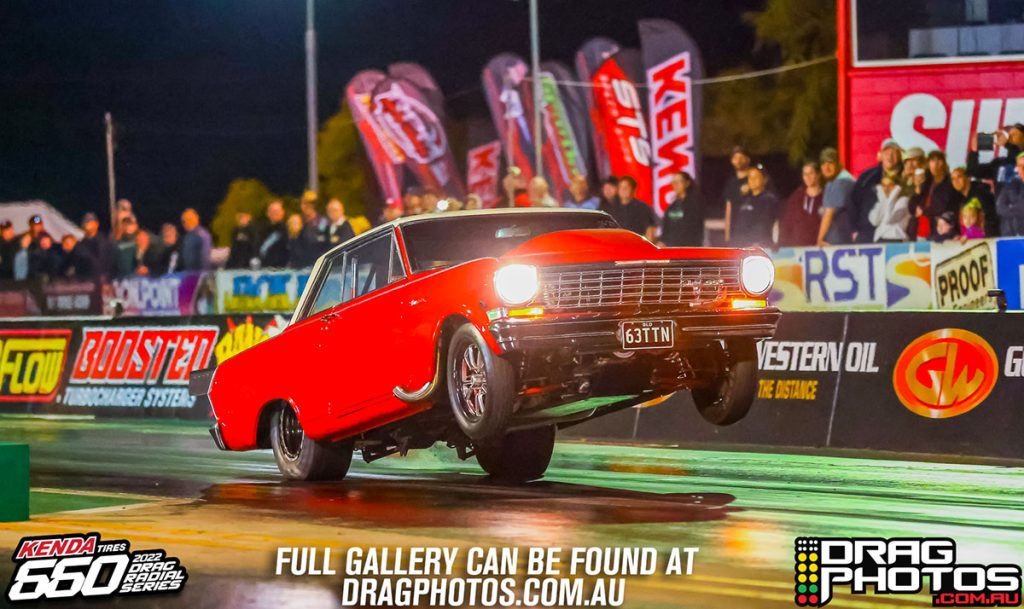 After three days of testing – which you can read about in the links below – it was time to get serious and go to "bump city, baby!"

Day 1: https://dragnews.com.au/video-gallery-records-broken-at-kenda-660-day-1/
Day 2: https://dragnews.com.au/video-gallery-kenda-tires-660-drag-radial-series-day-2/
Day 3: https://dragnews.com.au/video-gallery-radial-record-smashed-on-day-3-of-kenda-tires-660-drag-radial-series/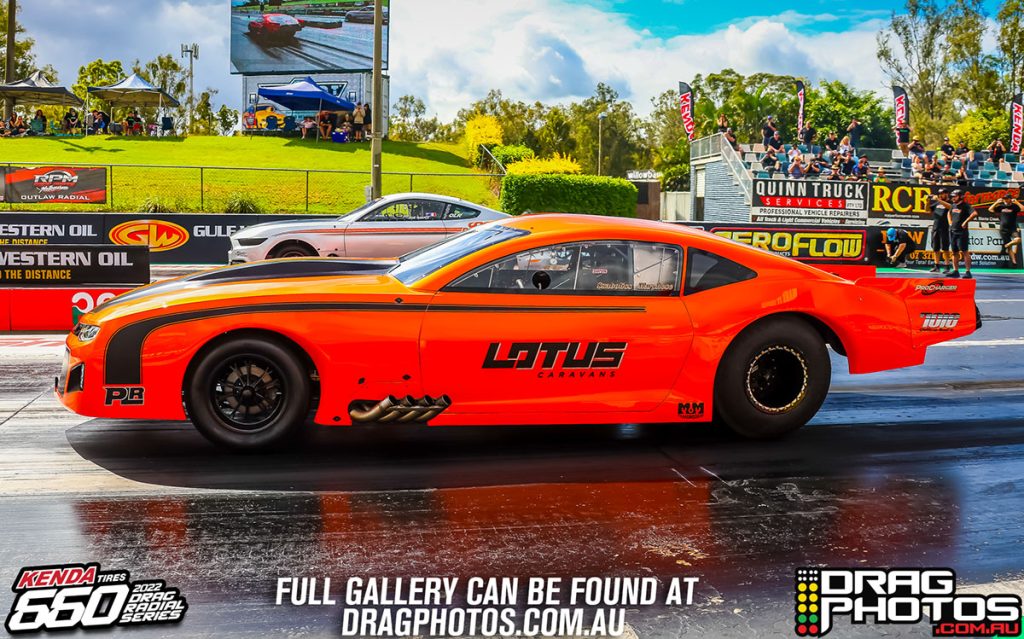 The headline Fueltech USA/Race Parts Melbourne Outlaw Radial class fronted with eight entries on race day, and Wade Wagstaff kept blowers to the front with a record 3.68 in testing. After qualifying Wagstaff in the "Grinch" '57 Chev still had the field on notice with a 3.72. The pack were closing though, Daniel Szabolics in his first outing with the new Dandy Procharged Camaro dropped a 3.84/202mph best, Jonny Ricca is getting on top of his Camaro with a 3.96 and newcomer Andrew Zada joined the Procharged ranks with his 'Boogeyman' Camaro and unloaded his first three second pass with a 3.97.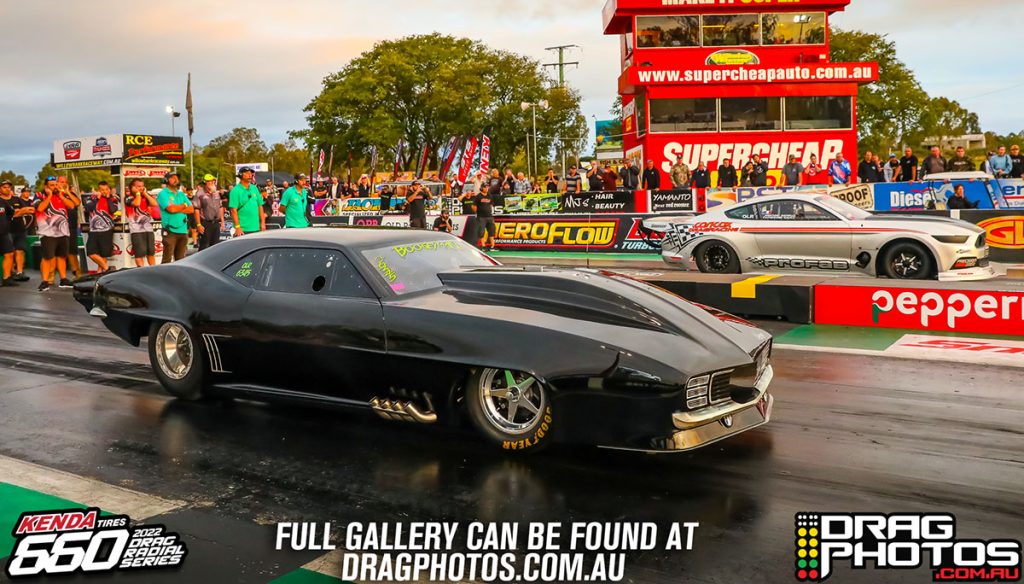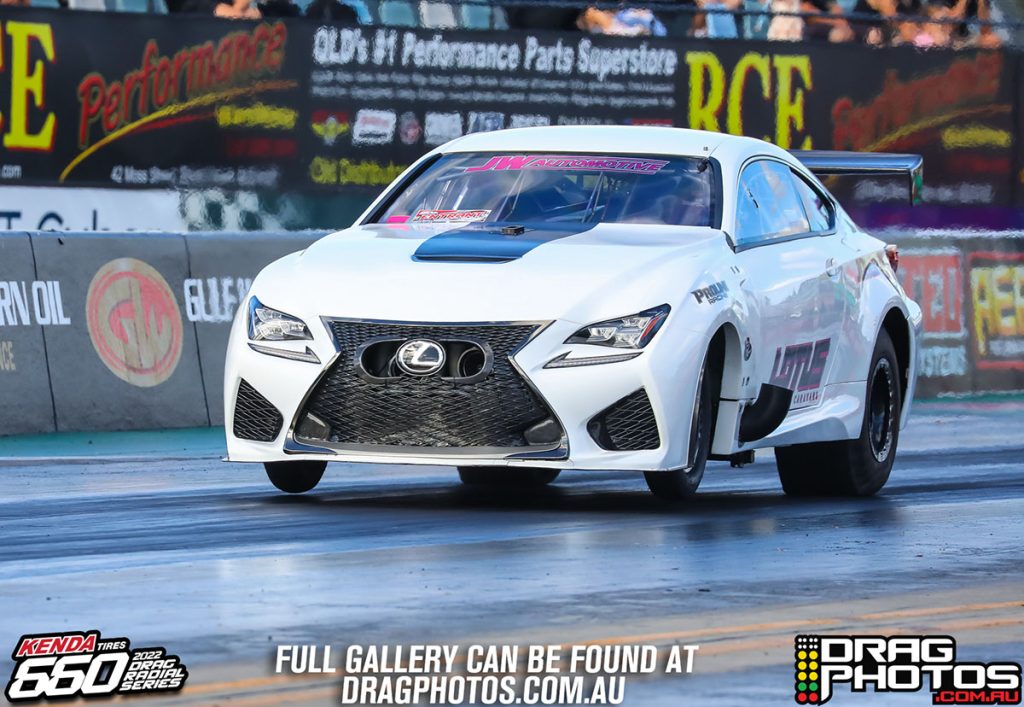 All racing is over 3 rounds and then finals based on wins. Wagstaff opened racing in round one where it rained threes, with a 3.70 win over a Paul Merry's 4.06. It was an debut for the Merry's rebuilt twin turbo 481X powered Nova. Ricca delivered a 3.87 over Geoff Campbell-Brown's Malibu. Joe Gauci won a cracker of a race 3.98 to 3.94 on a holeshot against Zada, and George Josevski nearly cracked his first three with a 4.01 against Szabolics in the formerly infamous Ekanoo Racing Lexus.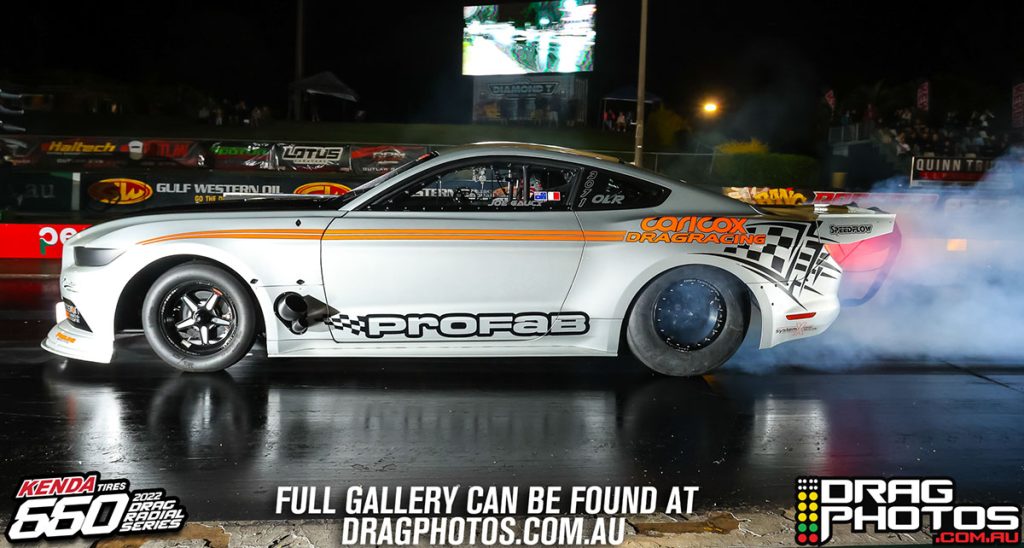 Wagstaff faulted against Zada in round two, while Ricca, Szabolics and Gauci all lit up win lights with three second laps. The final round of racing saw Gauci grab his third straight win with a 4.03 against Josevski, Zada ran a personal best and won on a holeshot 3.86 to 3.82 to finish with two wins. But it was Ricca who secured the other final slot with a 3.80 win over Wagstaff to remain undefeated.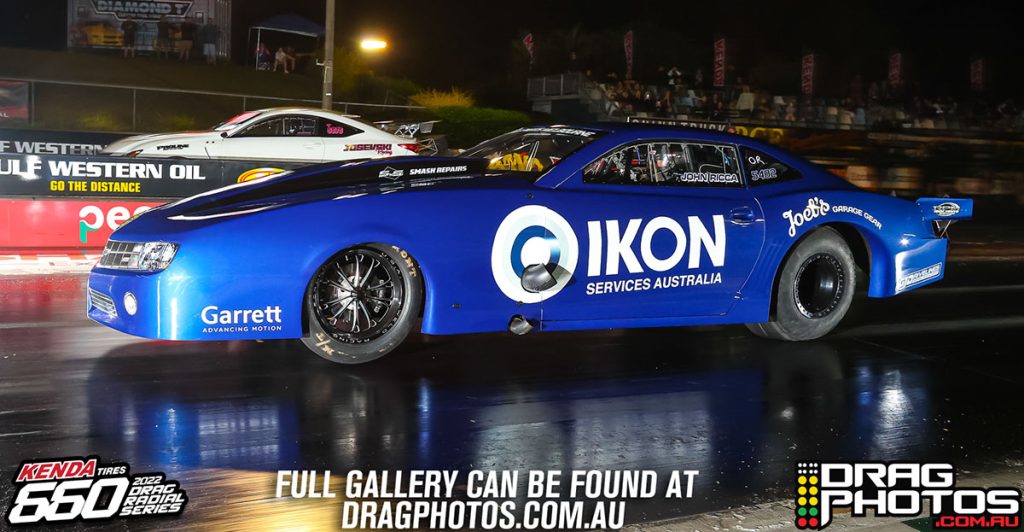 In the final, Ricca dropped a radial bomb on Gauci with a 3.83 at record setting 208mph for win, as the ProFab Mustang couldn't stayed glued to the track.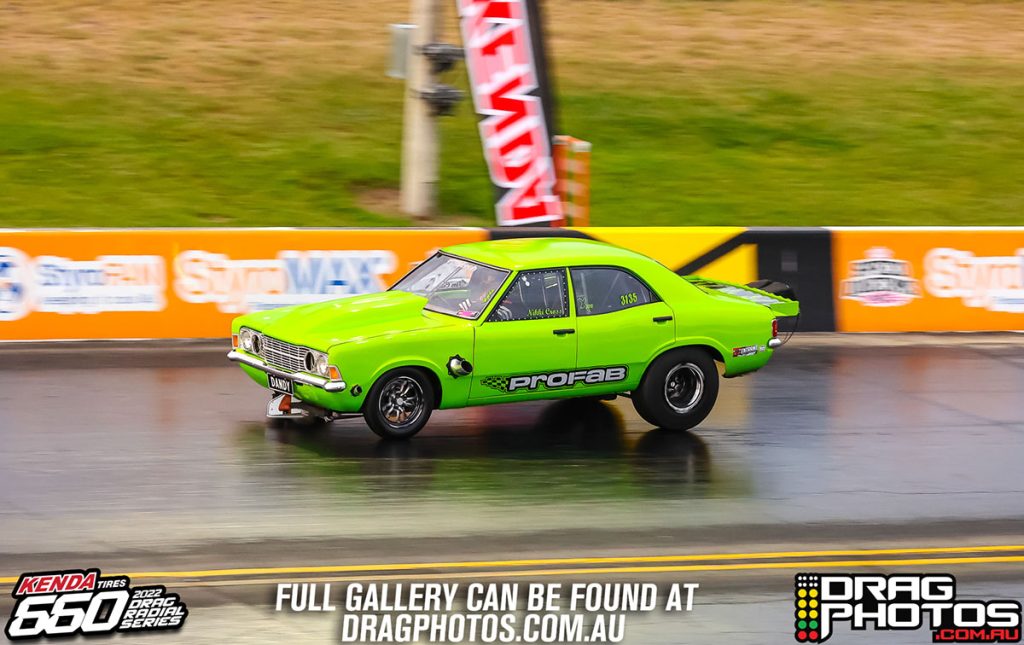 The Spot On Performance & Fabrications Outlaw 275 final was no question the race of the night. The all twin turbo battle between Tim Cross' Cortina and Tony Webb's Torana was decided at the tree, because at the stripe they were identical with both machines running 4.329 at 176mph. Cross' .061 reaction trumped Webb's .113 to bring on the win light.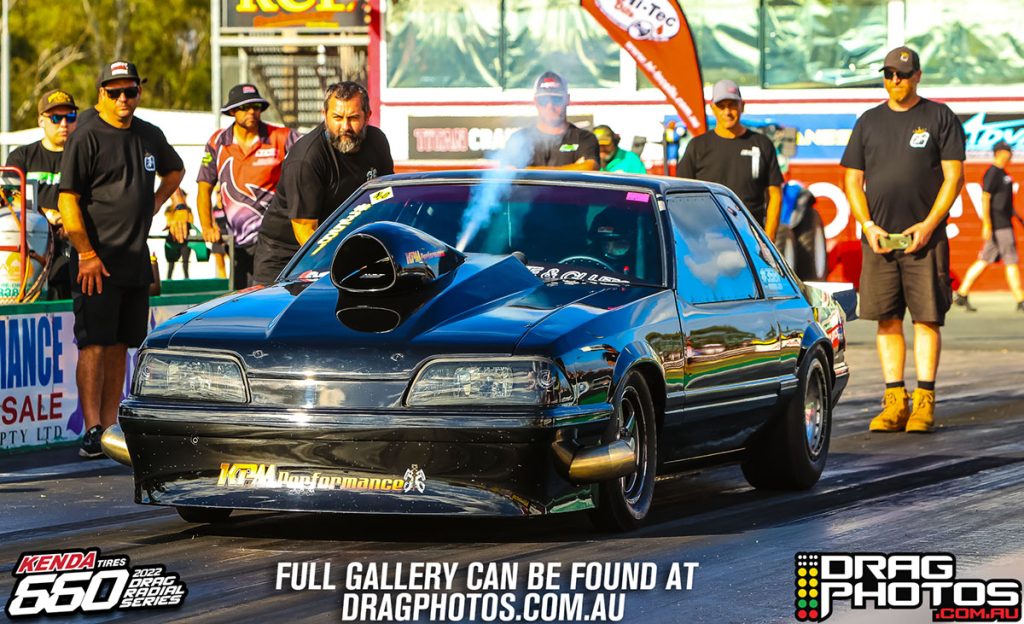 Haltech Outlaw 235 was a good mix of aspirated and boosted machines, the final came down to Scott Cortina's nitrous snorting Fox body Mustang against Alex Bamford's HQ. It was Cortina though who blasted away into the night with a 4.75 to the trailing 5.96 from the HQ.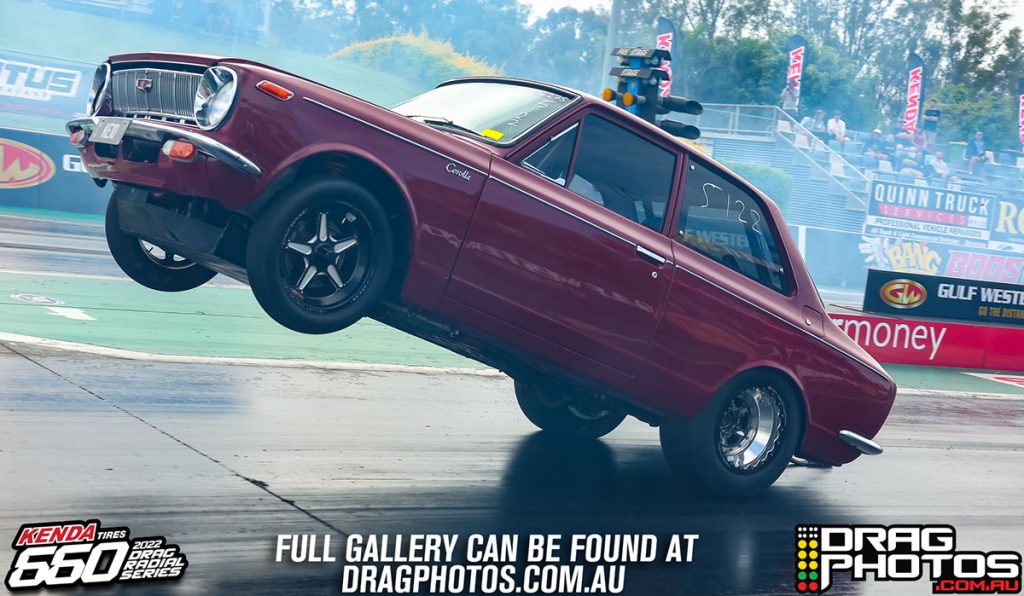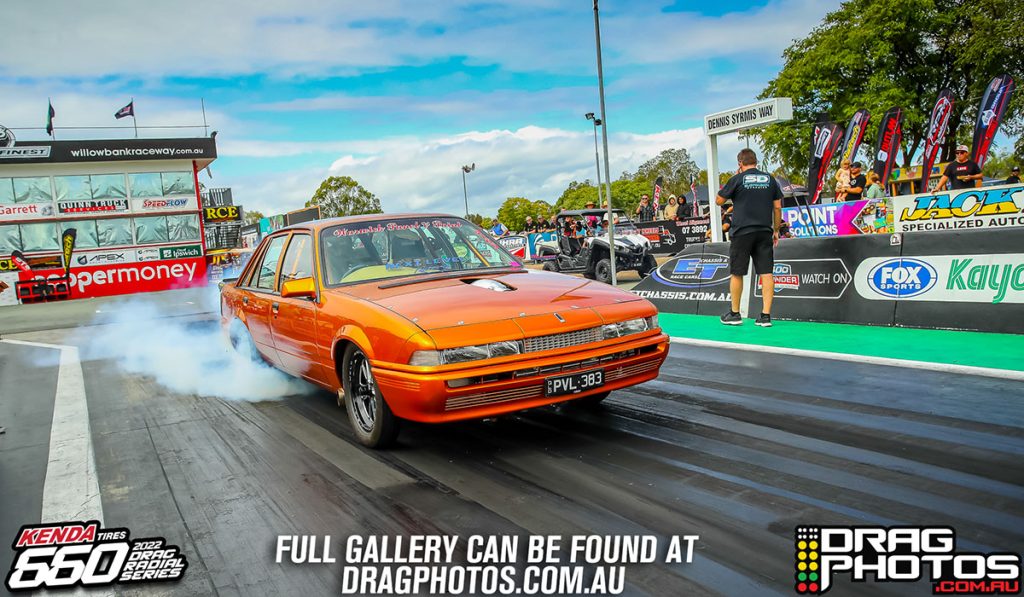 Into the OG classes where cars retain their street appeal, and in Outlaw Performance Exhaust OG275 Scott Hoffman starred with some crazy wheelstand from his KE10 Corolla, but living on the bumper didn't get him into the final. Instead it was Brett Benz's turbo small block VL taking on John Elfes up from CV Performance in Sydney with his turbo VT Commodore. Elfes hit the tree better but the VL of Benz closed the gap to hit the stripe for a narrow 4.76 to 4.86 win.

Stepping up to the bigger tyre in Lotus Caravans OG315 and James Horan's "f'n black ute" was back with vengeance after a 2 year break, taking no prisoners all event, and smashing out a 4.29 in the final to win over Michael Nicholls VL.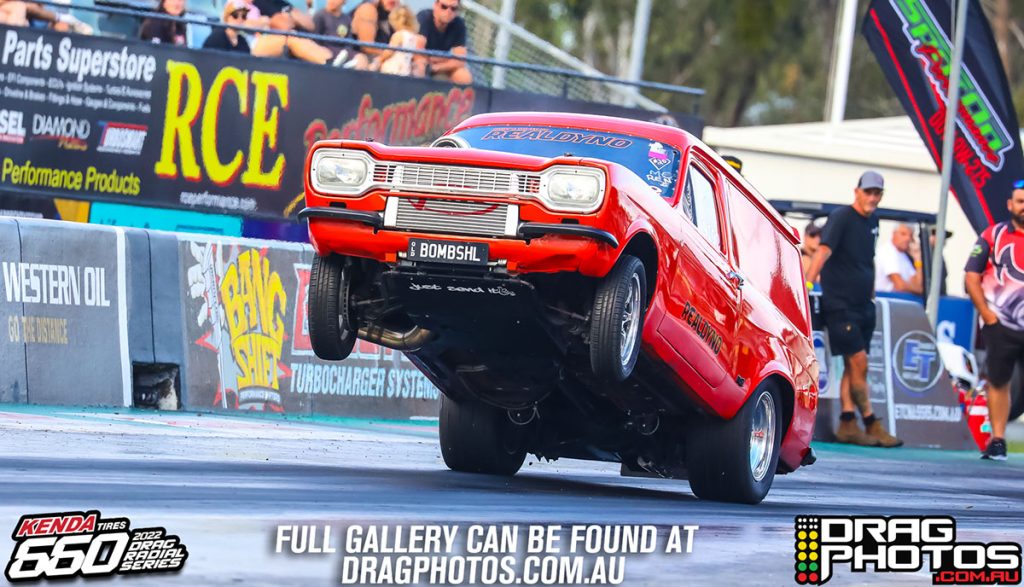 Now on to the index classes and the 5.50 Simon O'Carroll Swimming Pools Radial Renegade final exemplified the variety of race car with Dean Ferris' Barra powered Escort panel van fighting Jason Chizzotti's blown HQ. Ferris managed to control the wheelstand (sort of by his standards) and bring to the wheels down to hang on for the win 5.58 to 7.69 with the big HQ getting out of shape.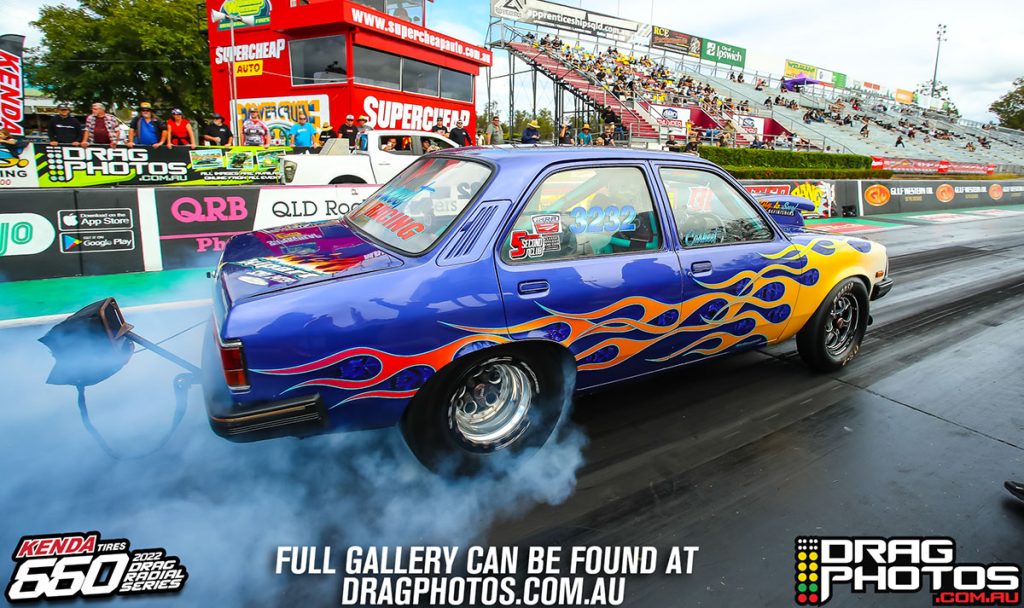 Reece Carkeet kept the wheels on the deck with his Gemini to end up taking an easy win in the 5.80 RC Metalcraft Radial Ruckus with a 5.92 when opponent Nick Baxter was stranded on the start line with a broken Lexus.
Justin Gall pushed his Commodore too hard in the 6.40 All Over Group Radial Rumble, breaking out with a 6.39 throwing the win to Shane Locke's ute in the other lane.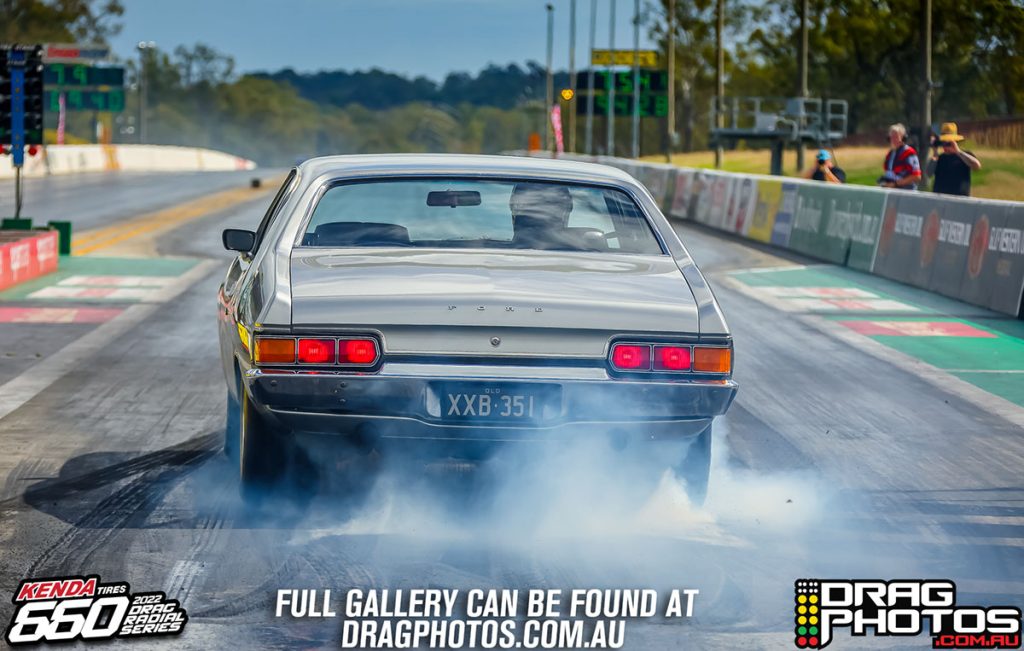 The 7.0 Kenda Tires Radial Rebel class was run for the first time and Filip Petrovic in the big Falcon took the cash in the final with a 7.12 to 7.33 from the VN Commodore of Murray Flay.
All the finals and event highlights here below.
It is looking positive for the next round of the Kenda Tires 660 Drag Radial Series to head to Sydney on July 28-30 with Radial Riot closing out the year at Willowbank Raceway on Oct 6-8.
Stay up to date with the series via their Facebook page: https://www.facebook.com/KENDATIRES660DRAGRADIALSERIES