For some drag racers, all that matters is the win, not the environment it comes in. Steve Ham is not that kind of guy; he is only interested in going racing if the competition is present and capable. There's an honour in that, a true pride that can be taken in the achievements. Hollow victories are not fulfilling.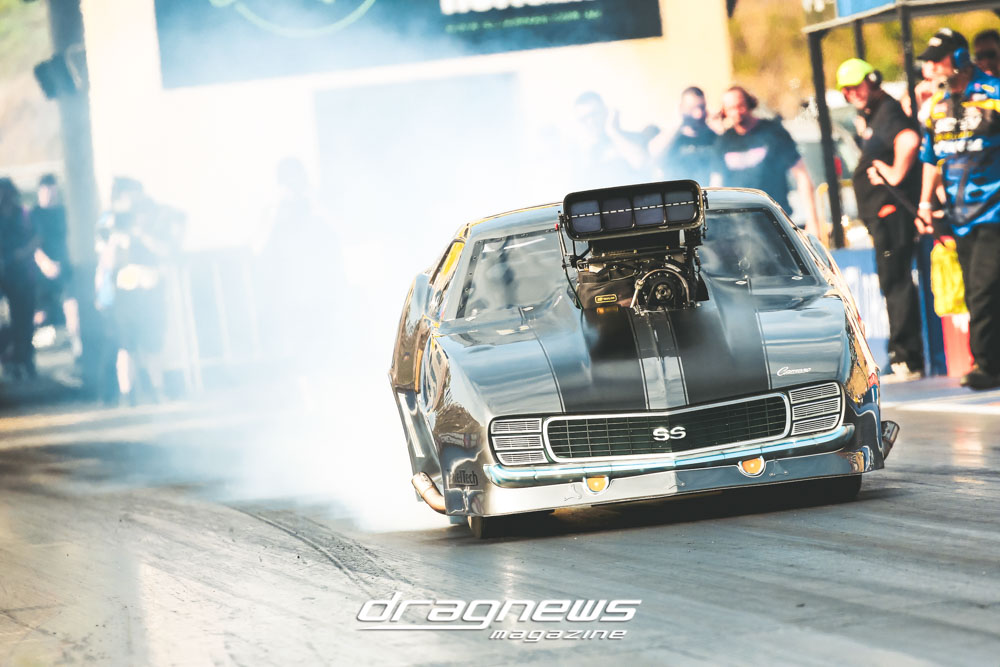 Ham first discovered speed on the streets of Queensland before finding that the drag strip was a safer and more fun prospect – and the competition was an added benefit.
"I used to have a street car that got me in a fair bit of strife," he said. "I started racing in Super Street but then I bought an altered and went into Modified, where I raced with my brother."
Ham took the traditional steps up, moving into a C/Altered combination before purchasing another altered from alcohol racer Gary Phillips, with quicker times in mind, making the switch to AA/Altered.
"We put a supercharged Alan Johnson motor in it and raced around the country. I raced that car for a few seasons and we won the Winternationals with it, before I bought an alcohol funny car from America and started racing that around 2008 or 2009."
This article originally appeared in Drag News Magazine Issue 46. Please help support the Australian drag racing industry magazine by subscribing.
The Queensland diesel mechanic was a force to be reckoned with on the national tour, and he eventually claimed his first national Top Alcohol championship in 2014. Seeking greater challenges, Ham then went to the USA to play in 2015, before returning to Australian fields in 2016.
At the time, Top Doorslammer/Pro Slammer was seeing a surge in extremely tough teams. "I bought the Doorslammer because I felt that was where all the competition was; there were a lot of quality cars and tuners. I want to earn my wins and I want to race the best, that is why I go racing."
Ham bought a G-Force built Camaro for the switch. They are one of the more boutique Pro Mod builders, but have a reputation for putting together quality, lasting race cars. He was very used to driving funny cars and altereds, which require big steering inputs despite their twitchy on track behaviour. The doorslammer was a different beast, riding on suspension and requiring a more finessed approach at the wheel.
"The solid-chassis car you could manhandle a lot, but with the doorslammer you can't be brutal on the steering wheel. You need to drive it gingerly compared to a funny car else a doorslammer will go on its roof real fast."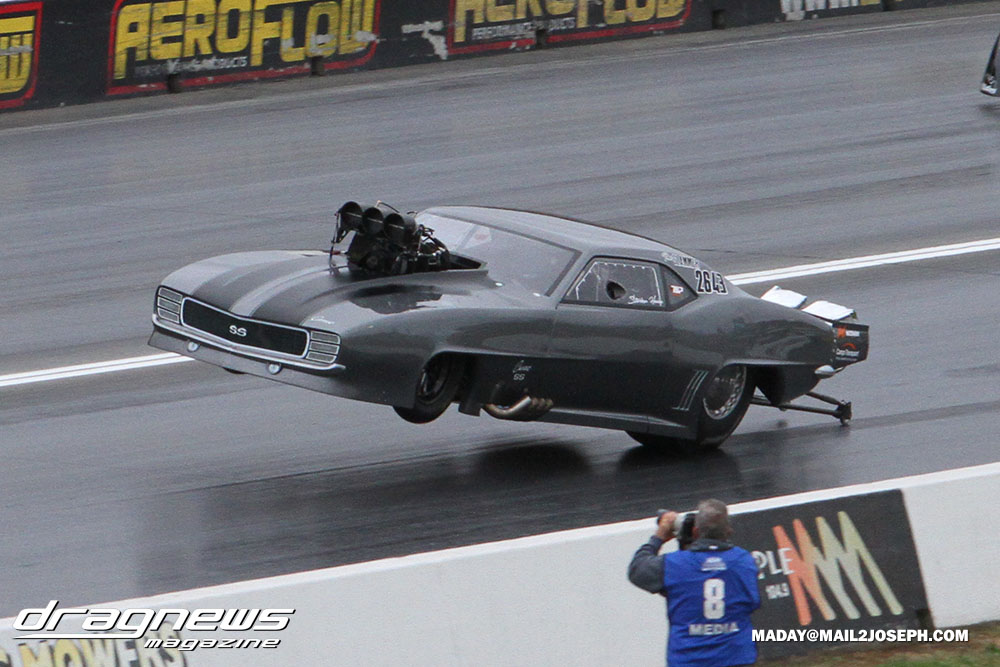 There have been a few occasions where Ham has come close to losing control, especially as he was learning what the doorslammer liked – and what it didn't.
"There are photos of it up on one wheel, where I learnt my place real fast. That one slowed me up, I learned once the convertor is locked up you can't mess with the throttle. If you have a second go and the suspension unloads and you are back on the wood again it gets dangerous. They are moving quick, they are big heavy things, and we are trying to go faster and faster."
The increasing speeds have had Ham's attention from a safety perspective, especially when veteran John Zappia recently lost his chutes at almost 260mph – it showed it could happen to anyone. He has made many positive moves already with his own car to improve its stopping ability.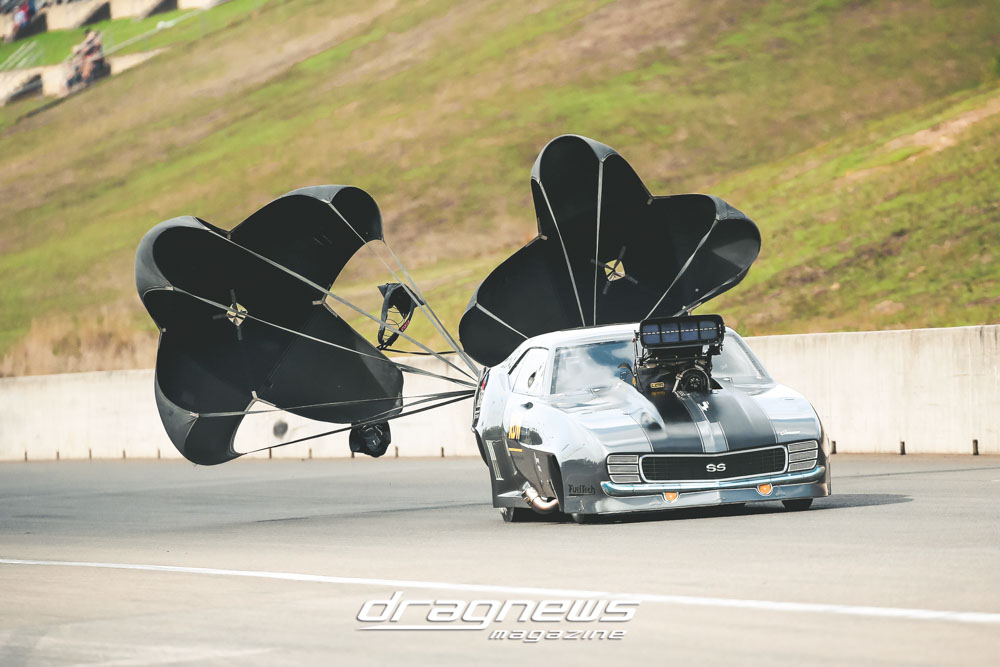 "When I built our car I had it made to NHRA spec so it already had the parachute tethers. They are mandatory in the USA but not here. The tethers run off the four link plates so you would have to tear the car apart to get the chutes off."
As well as the 'aerodynamic decelerators', Ham has also paid attention to the brake package of the Camaro.
"When I put my car in the sand I only had one chute come out and the brake packages just wasn't up to it. I spoke to Strange, and they have done something since with a four piston front. I changed over to a two piston deal not long ago and I think Zap is on to it to.
"The cars are heavy. They were all built for 2700 pound rules but they need to be more like 2550 pounds; what can you do? Guys have built cars for the rule book so you can't just say, 'Okay, we will change it.' Weight is not the fix, we need to upgrade the stuff we have to make it safe. We are going as fast as alcohol funny cars but we are 500 pounds heavier."
Though doorslammers were not Ham's first love, they seem to be have captivated him since the move. That's not to rule out any future fun in Pro Alcohol, it's just that the competition that drives Ham is all in the sedans right now. He revealed he may even change up the tyres. "I would like to go back to Pro Alcohol one day, I just recently sold our last Funny Car; it was just gathering dust.
"I want to go radial racing at some point. I have an old Stuart Bishop car I would like to set up for that. It ain't happening tomorrow but at some point I will get it going. What you see the radial guys doing over there in the USA is really impressive. I think we could hypothetically change this thing around to make it work for both classes but I don't want to mess with our main car, so I will leave it alone and do it to something else."
Pro Slammer has become more and more of a tuner's scene in recent years, with teams spending mega-dollars to bring in talented crew chiefs from around the world. Western Australia's Rowland family has been there alongside Ham, tuning his cars for much of his supercharged drag racing career. Ham met his current crew chief Stuart Rowland when he travelled to Perth for the Westernationals, where Rowland was also running in the AA/A class. There with his dad was James Rowland, who aspired to tune supercharged, methanol- fuelled engines as well.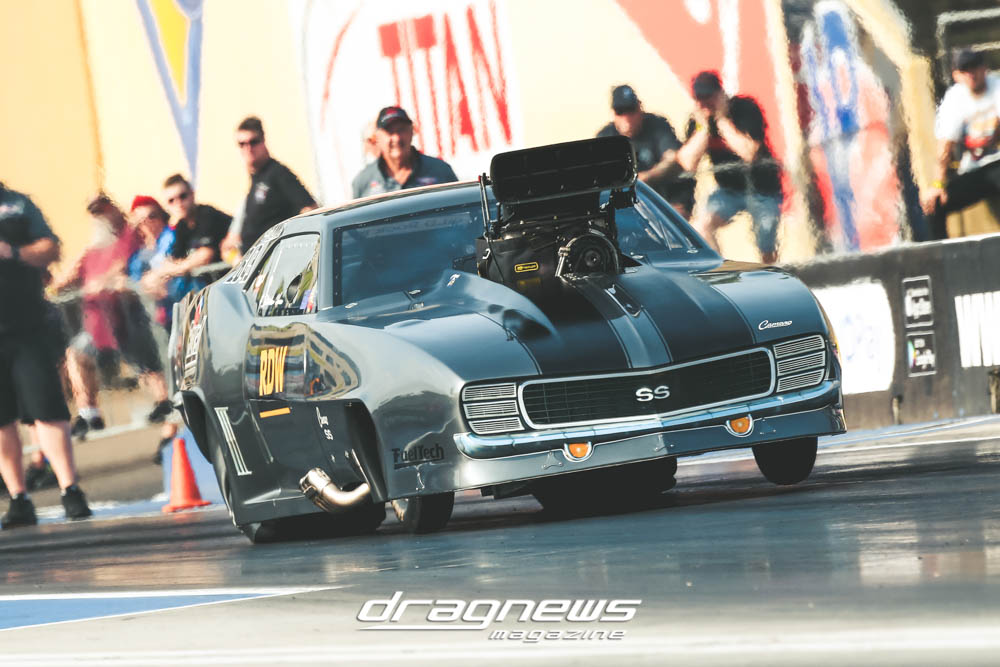 "I had always watched what Stu was up to and James was always hanging out since he was 14. We've worked together a lot since then. James came over for an event in about 2009 I think and we took him under our wing. When we came back from America James was helping some other guys so Stu came across and we ran the funny car together for a bit. "Stu is very serious, so I think we have knocked some of that out of him. We try to take a slightly light hearted approach whereas he is anal with data gathering and understanding. He always runs on the side of caution and we try to make clean runs all the time, that is to his credit."
It's going to take a few more of those clean runs for Ham to chase down his first Pro Slammer championship. As we go to press he is the points leader and trying to keep second-placed John Zappia, well, second-placed.
"We changed the cylinder heads at the last round in Sydney which we believe was a good thing but the air conditions weren't that great. John went 69 in that air, and we could have kept pegged with him but we needed more runs to get where he was, we were one or two runs behind him."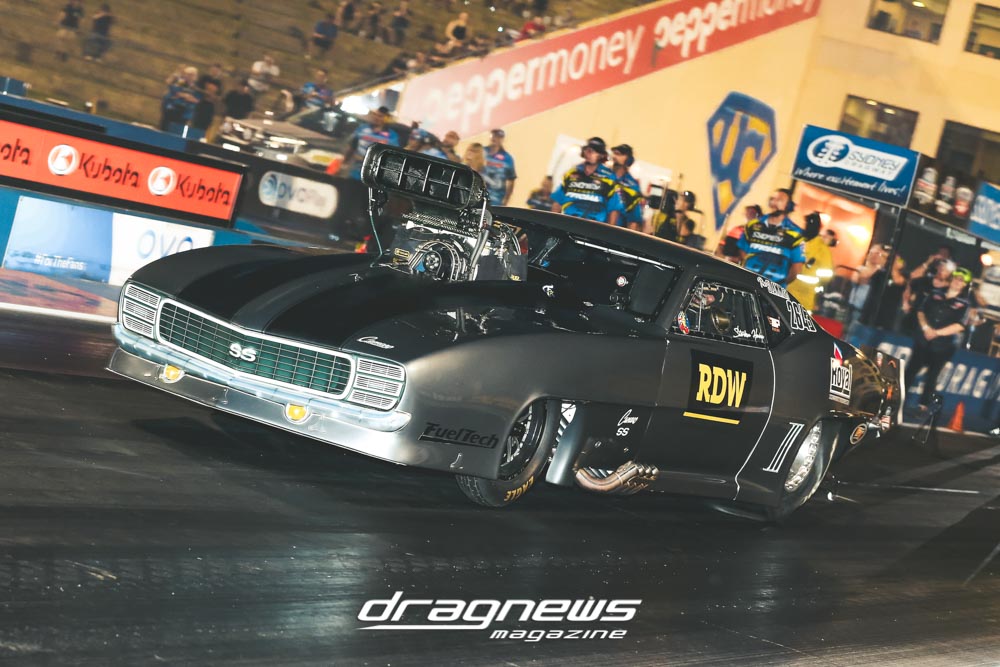 There is more to come performance-wise yet from the RDW Camaro, so long as the team can get into the right weather conditions. Ham suspects several teams are knocking on the door of 5.5 second runs in official championship competition.
"When we ran in the first 400 Thunder round in November it went 5.66 in bad air. The car is good for high 50s with the current engine combo. I think you will see that in May or June; the 50s are coming."
While Ham has no qualms about taking on tough competition, there was one aspect of racing that almost forced him to quit. As six-speed auto transmissions became a must-have for many teams, there was enormous pressure being put on diffs, with the top runners having to replace the rear end on every pass. It wasn't a feasible way of racing as far as Ham was concerned.
"We were going to park the car because of how much we were spending on rear ends," he said. "Moits Racing had the same problem, but they were able to keep throwing diffs at it because they were after the championship. I could not see the future in replacing a diff centre run after run."
Rather than persist with the ridiculous situation, Ham looked into building a better mousetrap.
"We basically grabbed an existing idea and made it fit a suspended car with four link brackets and track locaters; there was a fair bit of work in it to get it right. We put one in my car and started running and that same rear end is still in my car now, it has done run after run. We put one in Paul Mouhayet's car, one in Sam Fenech's car and I have now exported a fair few. We bought all the machining and assembly here to Brisbane and everything is now made here. We've got stock built up and we have Jon Salemi and Jerry Bickel moving them in the USA.
"It has all taken a fair bit of my time recently. We went to PRI to debut, and through the connection with Jerry Bickel he will have a one off program with his ideas and our ideas combined. We originally used the Chrisman gears so there weren't a bunch of ratios available, but now I have got a local guy manufacturing diff gears here. We are doing all different ratios now to cater for eighth mile, big tyre screw blown deals, radial cars, turbos, anything. The diff package was there but the ratio package wasn't so we have filled the void and we are picking up the market."
That seems like a pretty decent effort for a diesel mechanic by trade, but Ham's earthmoving parts supply business has always offered fabrication solutions and custom one-offs. The demands of 3000 horsepower Pro Slammers are just as rigorous.
"It is built by racers for racers," he said.
And in the end, racing is what Ham is here for.