Welcome to Drag News Magazine's online coverage from Day 2 of the 2022 Gulf Western Oil Winternationals at Willowbank Raceway.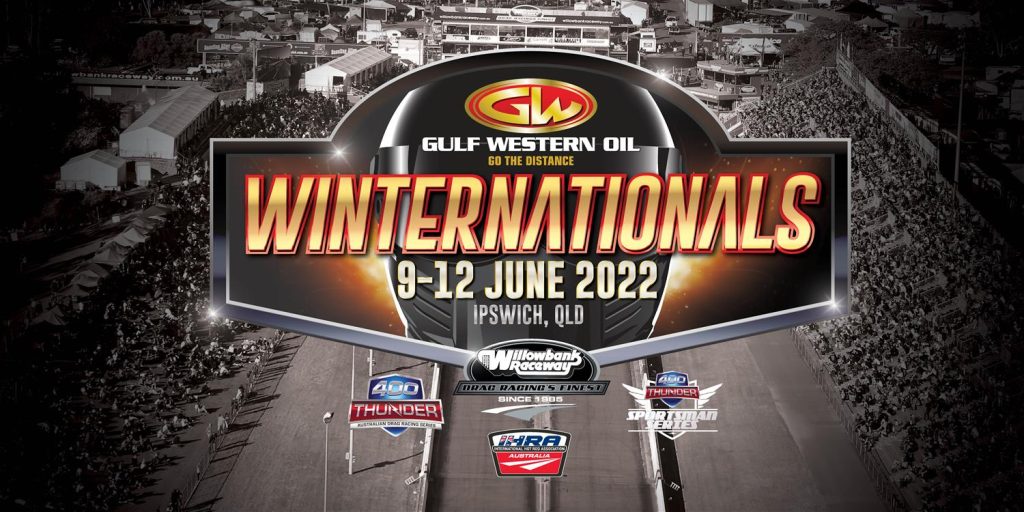 We are trying something a little bit different to keep everyone updated with what's going on, so we will see how it goes. This page will be continually updated through out the event so keep your finger on the refresh button.

We intend to engage with all racers social media, so any racer please tag Drag News Magazine in all your social posts so we see them and share them. Also any other updates or news you would like to share if you have a social media page or not, feel free to email us press@dragnews.com.au or PM us via the Drag News Magazine Facebook Page.
---
LATEST UPDATES DAY 2: 7.30pm
Pro Alcohol, Pro Slammer and Top Fuel Motorcycle qualifying orders at the close of proceedings today.
---
The last of the sportsman qualifying orders from the day; Junior Bike, Modified Bike and Real Street
---
Video of Morice McMillin's clean as half track pass in the Aeroflow Performance Funny Car
---
Run data from Q3 for Junior Bike, Modified Bike and Real Street, this end the night's racing. Hopefully we will get remaining qualifying sheets soon.
---
Still waiting on a few of the final qualifying order sheets for PRO classes, but here is Pro Mod, Pro Stock and Pro Stock Bike.
---
TOP FUEL FUNNY CAR TEST
Morice McMillin drops a clean half track planned shut off pass in the Aeroflow Performance Funny Car.
The Anthony Begley driven Funny Car had no throttle and didn't smoke the tyres in the burnout. Likewise on the launch, the car idled in on the clutch, and had no throttle response on the green light.
---
Video of Craig Burns' sending his Pro Slammer in a huge power wheelstand.
---
PRO ALCOHOL Q1
What a away to kick off Pro Alcohol. Justin Walshe with a new alcohol altered world record, 5.55/250MPH off the trailer. Cameron Ambesi was shut down after the burnout, looked to be a transmission issue.
Pair of funny cars next, Gary Phillips zings the tyres off the line and Jake Donnelly pedals multiple times to a 5.75.
Wayne Price is back behind the butterflies in his Dodge funny car with James Horwood unable to obtain his license in time and clocks 5.86, but in the other lane Steven Reed rockets his funny car to the top with a 5.49.
The Caan Childs dragster looked to pop the engine in the burnout throwing out the chutes to start off the next pairing. Chris Hargrave shakes hard in the funny car on the resulting solo and gets off the power.
Next Mark Rowland left before the tree was activated with his funny car, while Tim Clifton shook hard and was off it in his dragster.
The John Cannuli funny car had quick incremental in testing but they smashed up an engine in the process, and now have been shut down in the burnout after a fluid leak. Brett White was meant to be in the other lane, but elected not to run in the cold conditions and risking engine damage in 'Carlos'.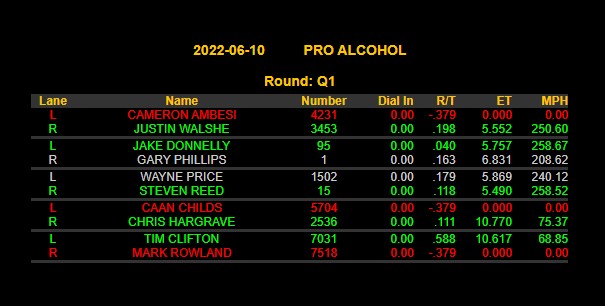 ---
PRO SLAMMER SIGHTING Cont.
We are back racing, the track and temperature has cooled dramatically. Steve Ham and Peter Lovering are the first pair on track after the break. Ham pedals to a 5.92, Lovering shake and spins before the sixty.
Rob Harrington has been thrashing to just make this event to debut in his Bad Influence II Monaro in Pro Slammer, and it continued all the way up to qualifying, with a number of mechanical gremlins that needed to be rectified during warm ups. Next to Sam Fenech, both cars were very wild off the line heading for their respective walls, Fenech aborted, but Harrington wrestled the Monaro back for a 6.16.
John Zappia ironically is facing his nemesis in the ex Moits Mustang that is now in the hands of Paul Cannuli. Zappia with an auto now in the Rat, rocketed to a 5.78, but was outgunned by Cannuli's 5.75 who was very loose in the braking area.
The ACDelco Monaro of Craig Burns has reached the start line after a monumental rebuild, which has seen a "new" Monaro body pieced together from previous damaged shells. Burns starts to head to the moon in a massive wheelstand that came down in a shower of sparks, just missing the wall, ending his lap. In the other lane, Ben Bray hit the tyres and turned for the wall before he aborted.
6.21 for Russell Pavey next up, against Michelle Davies who lifted after heading for the wall early into the run.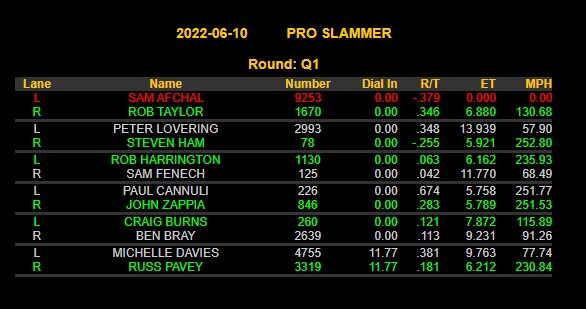 ---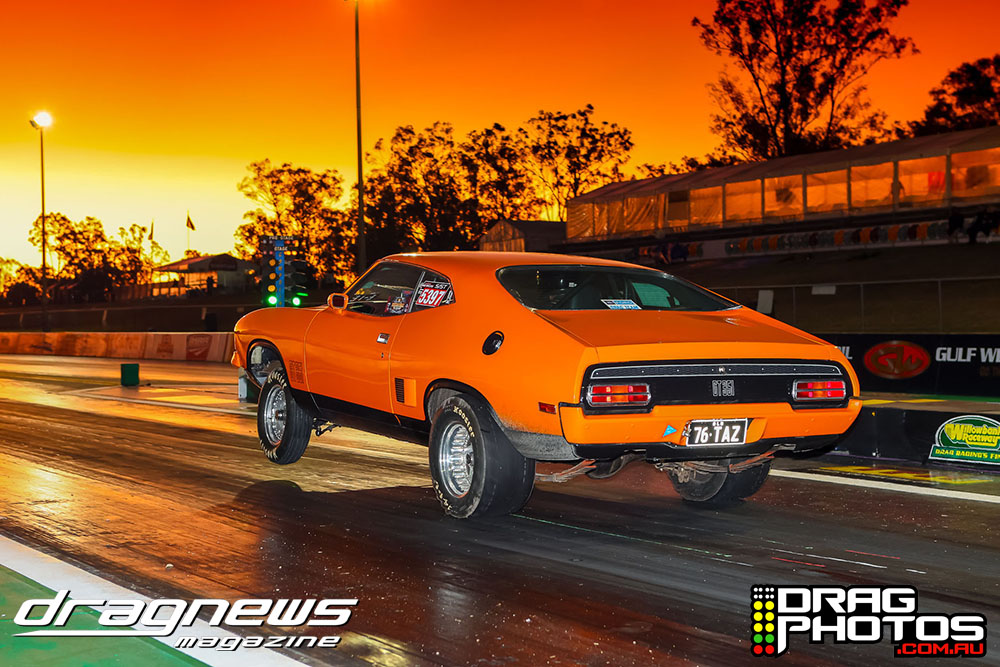 Thanks to Drag Photos for this action gallery from the first day of the 2022 Gulf Western Oil Winternationals at Willowbank Raceway. Check it out here: https://dragnews.com.au/gallery-2022-winternationals-day-1/
---
Qualifying orders for Pro Mod, Pro Stock and Pro Stock Motorcycle.
---
While we are waiting for qualifying to resume for Pro Slammer here is update of sportsman qualifying.
Factory Extreme Q3 sees no changed in qualifying order.
Super Comp Q3: Not many changes at top for Q3, Jai Schluter slides into third with a controlled wheelstand now from his Cavalier.
Pro Radial Q3: Tim Cross goes quicker with a 4.53 to further extend his lead over the field.
---
PRO SLAMMER SIGHTING : In Progress
Sam Afchal was shut down with the Duster on his first pass ever pass in Pro Slammer, leaving Rob Taylor on a solo.

Taylor's engine erupts at half track, and a terrible looking fire ensues all the way into the braking area. Taylor had the door open trying to escape while still moving at a considerable speed, the Camaro totally engulfed in flames. Once the car stopped moving, Taylor climbed out and was hosed down by fire marshals before walking off with medical personnel to be checked over. The once gorgeous Camaro looks completely destroyed. We hope Taylor has escaped any serious burns and wish him the best, but reports are he is being treat for some minor burns at this stage.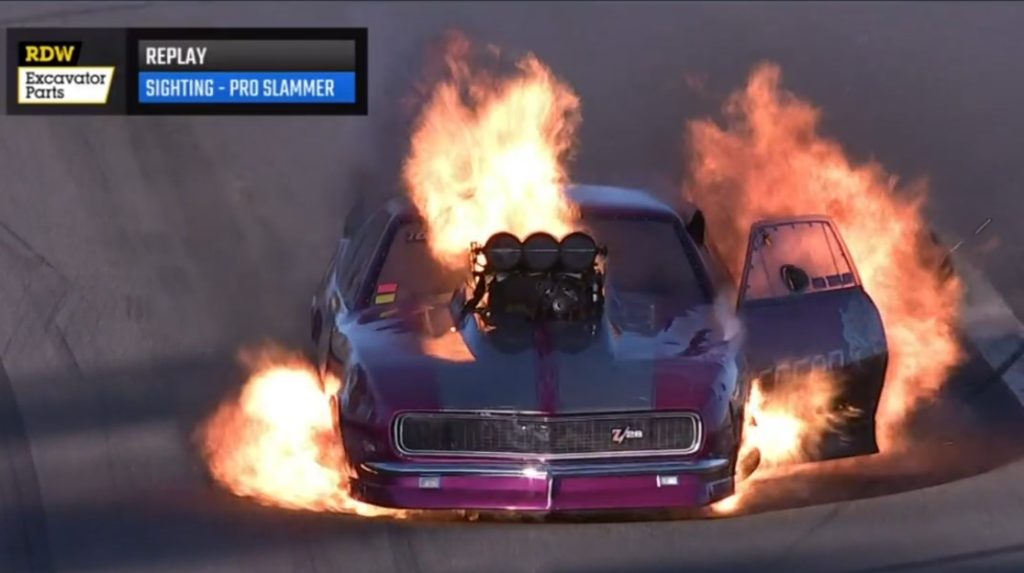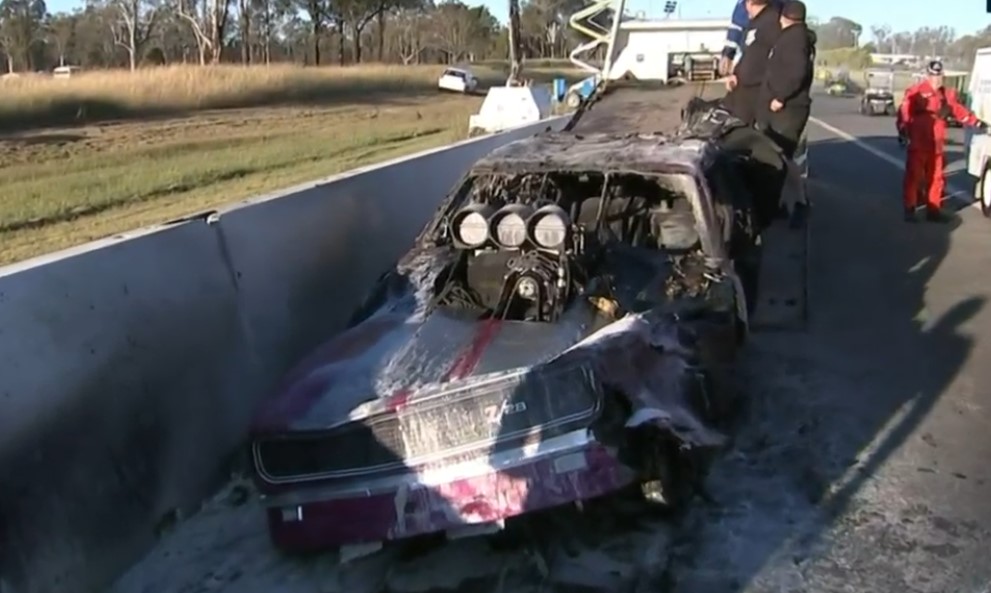 ---
Morice McMillin/Aeroflow Performance Top Fuel Funny Car warming up ahead of a test pass later on this afternoon.
---
TOP BIKE Q2
Mark Drew looked to have cracked a great number but left before the tree for no ET.
Chris Matheson on a solo, hugging the centreline with a 6.58.

---
PRO STOCK Q2
Soldatos moves up the qualifying ladder with a 6.94 even with dropping the chutes early, Clint George making his first pass of the weekend hits a 7.09.
John Barbagallo moves off the bump to number 4 with a 6.95, Omar Sedmak drove through a lot of tyre shake for a 7.53.
Mario Polito and Brian Pursell were locked together at half track, before Pursell's GXP moved about, Polito drives through to the stripe with a 7.08 to be on the bump, and Pursell remains on the outside.
Heavy weight match up now in Rob Dekert and Wayne Daley. Wheelstand from Daley and out of the groove but stays in it for a 7.08, Dekert moves close to the centre line at the stripe for a 6.97.
Cavallo rolled the beams, but Aaron Tremayne solidifies the top qualifying position with a 6.92.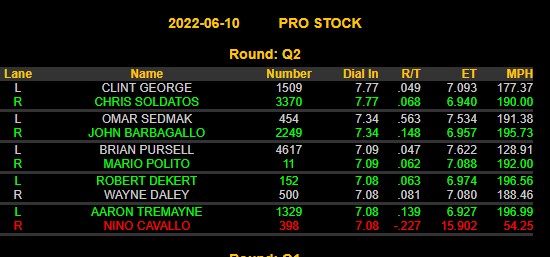 ---
PRO STOCK MOTORCYCLE Q2
Starting off with Andrew Badcock sounded like it didnt want to go into top gear and won't improve on his 7.70 top qualifying ET.
Lachlan Ireland was wild off the line against Scott White, both bikes were off the noise before half track.
Daniel Rabnott goes straight to the top with a 7.58, Mark Hancock had issues off the line and pulled up short of the finishline.
Tony Frost makes a nice straight pass to close out Pro Bike.

---
PRO MOD Q2
Zoran Gajic had the boost in the GAS Racing Mustang turned up with a power wheelstand at 300ft for a 5.94 at the strip. In the other lane Tony Wedlock suffered tyre shake off the line in the Solara in the opening pair.
Shake rattle and roll for Jeremy Callaghan's Camaro to an unrepresented ET and Stew Walsh barely moved off the line with seemingly no boost.
Greg Tsakiridis on a solo headed towards the centreline and wisely aborted his run.
Barry Plumpton hugged the finish line for a 6.09, but remains top qualifier. Peter Gratz shook to 60ft and lifted.
In the final pairing and it was side by side 5.96s, Neil Murphy with his first five in his brand new blown Camaro, and Collin Willshire with his turbo Mustang. Awesome run.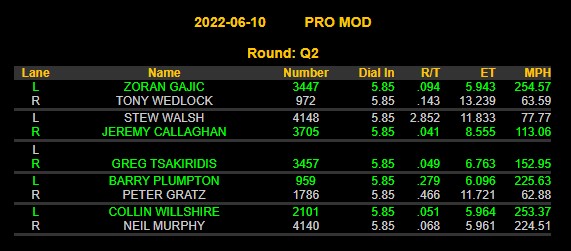 ---
Sportsman qualifying is continuing:
Extreme Bike Q3
Supercharged Outlaws Q3
Modified Q2
---
Via Aeroflow Funny Car Social Media – A bonus Top Fuel Funny Car run coming up with the Aeroflow Performance machine coming out for a test hit later.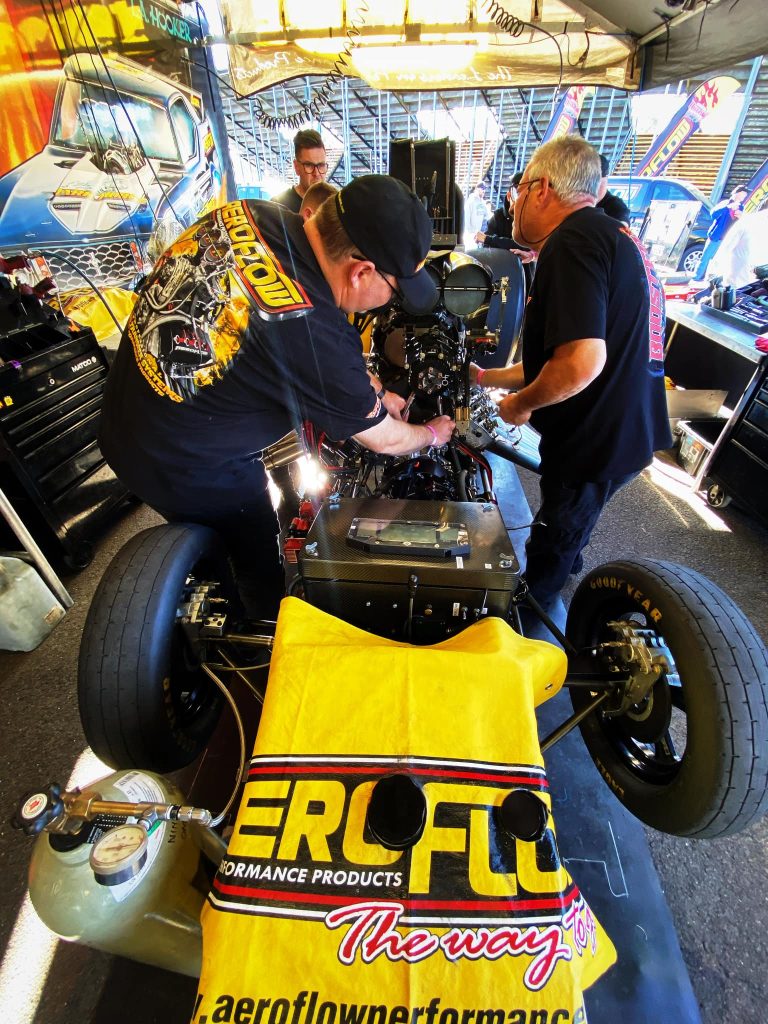 ---
Pro Mod, Pro Stock, Pro Stock Motorcycle, Top Bike Q1 qualifying orders.
---
Rest of the sportsman qualifying orders. Notes of interest include Tim Cross jumping way up the list with a 4.57 in Pro Radial to be on top, with young Jayden Seng slipping into second with a 4.82 over the eighth.
Adrian Vella still holds on to the top spot in Super Comp, despite a massive mic-drop run from Tony Bellert's Barra powered dragster. Jai Schluter put on a show with a huge wheelstand with his new Cavalier.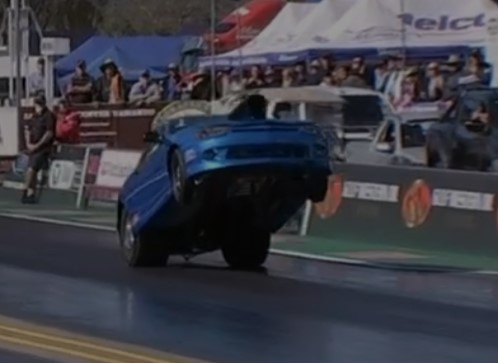 Luke Crowley is still the one to chase in Performance Bike. There were no monster numbers in Factory Xtreme yet with racers still dialling in. Frank Tarabay wheelstood his Scion to a 6.29, but has five second performances in the books.
---
Video of the crazy run between Collin Willshire and Neil Murphy in Pro Mod.
---
That is it for the first session of PRO qualifying, the next session begins at 2.40pm which will include Pro Slammer and Pro Alcohol Q1.
TOP BIKE Q1:
Just 3 bikes will be in the field, the Ben Stevens team unable to make the show with parts supplies problems.
Chris Matheson takes out the finish line reflectors with a 6.23 and giving Zahra and incorrect ET, John Zahra's bike quits as soon as he twists the throttle. Matheson said he misjudged a crosswind at the finish line.
Mark Drew was on and off the throttle wheeling it to a 7.38.

---
PRO STOCK Q1
Pro Stock opens with Rob Dekert versus John Barbagallo, Dekert with the quickest Pro Stock car in the unleaded fuel era goes 6.94, Barbagallo drives through the clutch for a 7.51. Dekert reveals a broken scoop after the run and wasn't feeding the engine enough air.
Pro Stock new comer Omar Sedmak pulls through the beams, in the other lane Mario Polito was on a solid 7.0 but pulled the chutes early.

Chris Soldatos goes on a solo and zings the tyres on the hit.
Nino Cavallo slots into #2 for now with a chutes out early for a 6.97, Brian Pursell drifts close to the centreline and aborts the run.

A 6.93 (4.44 at half track) from Aaron Tremayne snatches early bragging rights, Wayne Daley goes 7.02 with a big wiggle as he drifted towards the wall.
Scott Porter ends the session with a 6.99.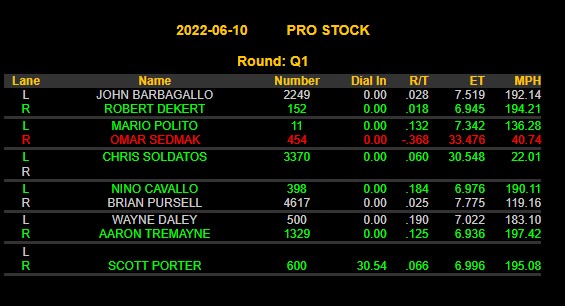 ---
PRO STOCK MOTORCYCLE Q1
Scott White and Locky Ireland start off Q1, Ireland bucks it down for a 7.97 and White does a better job with a 7.78.
Tony Frost making his Pro Stock Motorcycle debut, against Mark Hancock, both bike off the power by 330ft.
Andrew Badcock moves to #1 with a 7.70, against Daniel Rabnott who aborted his run around half track.

---
PRO MOD Q1
Huge power wheelstand from Stew Walsh's twin turbo Camaro in the first pairing while Greg 'Mauler' Tsakiridis goes straight down the middle for an easy 5.93.
Kiwi Barry Plumpton comes out with the wheels up with his nitrous Camaro for a great 5.90, and Peter 'Yahoo' Gratz drops a huge 6.04 PB.
Jeremy Callaghan gets it done with a 5.91 with his stunning twin turbo Camaro, while Mick Mahoney up from South Australia needs to find a bit more ET with 6.65 in his blown Mustang
A scary pass from Collin Willshire who crossed lanes in his turbo Mustang right in front of Neil Murphy's Camaro, who had to change lanes to miss the wayward Mustang. Fortunately for Murphy he was slower off the line which saved him from a potentially monster accident.

Word is Gratz's and Murphy's run have been disqualified for crew members feet in the beams.

Zoran Gajic crosses the centreline to close out Pro Mod in his turbo Mustang, while Tony Wedlock was pushed away for starting.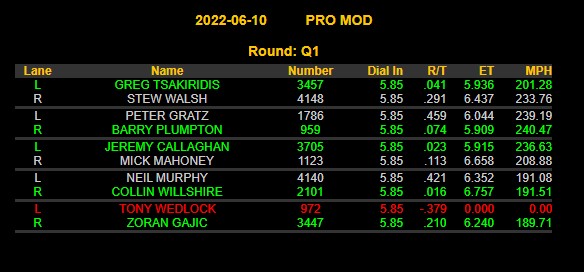 ---
Run data for Q2 of Top Sportsman, Super Comp, Performance Bike and Factory Extreme. Sorry we have not been given qualifying orders yet. Pro classes are up next.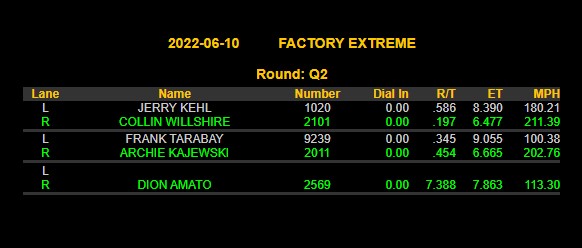 ---
Boom! Tony Bellert drops a number with his Barra powered rail in Super Comp qualifying, 6.28 at 226MPH. Surely the quickest Barra in the country now.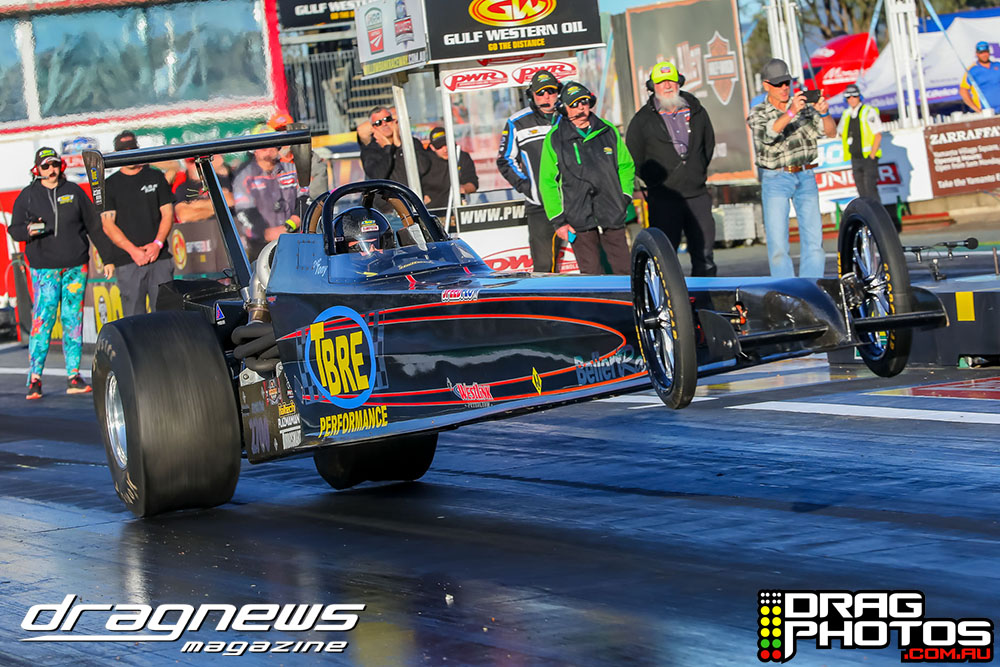 ---
Via ACDelco Slammer Drag Racing Team Social Media: What an epic effort from the ACDelco team to get Craig Burns' Pro Slammer Monaro completely rebuilt following his major crash at Sydney Dragway just a few weeks ago.
---
Run data for Supercharged Outlaws Q2, Extreme Bike Q2 and Pro Radial Q2
---
Latest qualifying orders for Super Sedan, Junior Dragster and Junior Bike
---
Via Rob Harrington Social Media: Nothing like last minute head gasket issues before your Pro Slammer debut to keep the crew happy.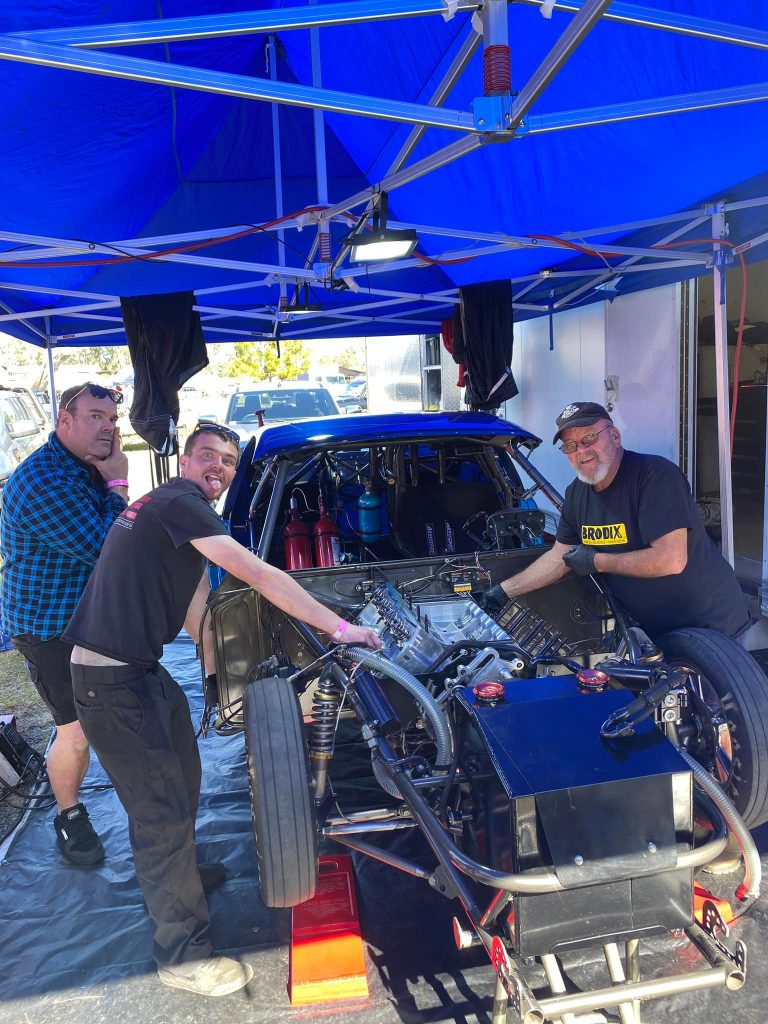 ---
We are still waiting for the first of the run sheets to come through, but here is the run data.
JUNIOR DRAG BIKE Q2

JUNIOR DRAGSTER Q3
SUPER SEDAN Q3
SUPER STREET Q3
---
REMINDER: You can watch the Winternationals if you have KAYO.
FOR AUSTRALIAN VIEWERS ONLY:
The 2022 Gulf Western Oil Winternationals will be livestreamed on KAYO SPORTS

The Livestream will be available at the following times:
Friday 10th June – 9am – AEST Time
Saturday 11th June – 8am – AEST Time
Sunday 12th June – 9am – AEST Time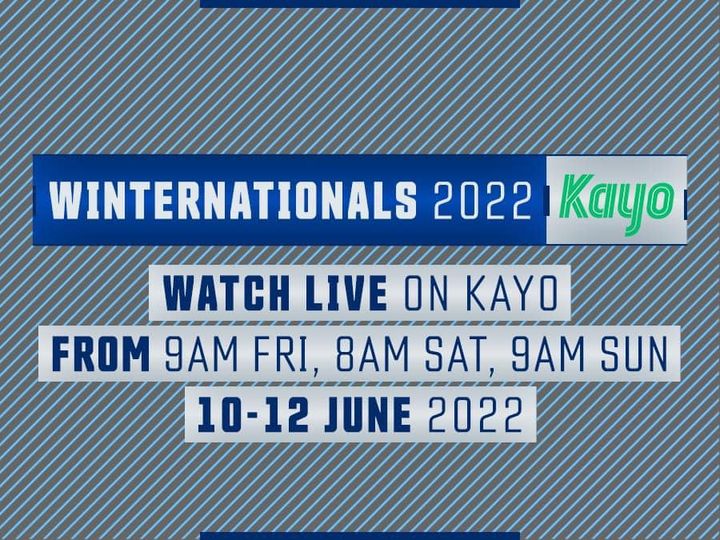 ---
Via Social Media: Fletcher Racing Supercharged Outlaws Q2 passes
---
400 THUNDER SPORTSMAN CALENDAR ANNOUNCED
Following the release of the Professional Categories calendar a few days ago, we are excited to announce the Calendar for the Sportsman Categories.
The Sportsman brackets will run at all the Professional Category events plus standalone events at Palmyra Dragway and Springmount Dragway in North Queensland.
Racers will also receive a 50% points bonus for travelling to an event more than 1000km away from their home track, with two interstate and two local rounds required for the season.
In exciting news for racers 400 Thunder will be awarding the Performance racer of the year awards and the Sportsman Racer of the year awards. First, second and third place trophies plus a cash bonus will be awarded to the highest points holders at the end of the season.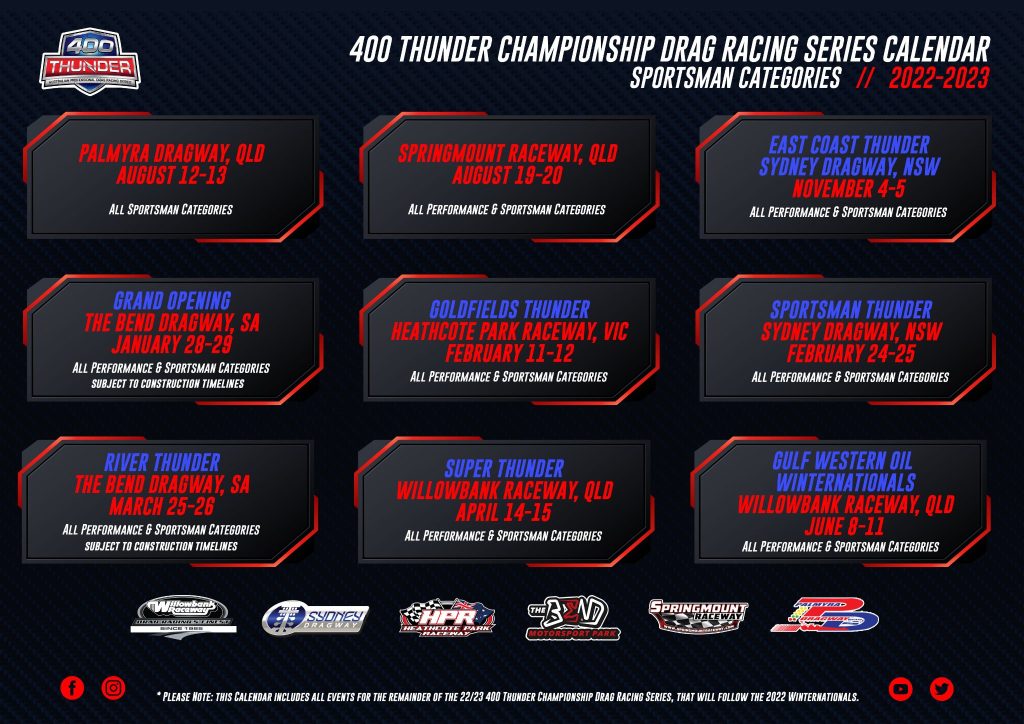 ---
Via Social Media: A few of the Pro Stock racers getting into gear for the tough qualifying that lays ahead.
---
Qualifying has commenced on Day 2 of the Gulf Western Oil Winternationals, has been very chilly overnight, but great horsepower weather.
Today's schedule: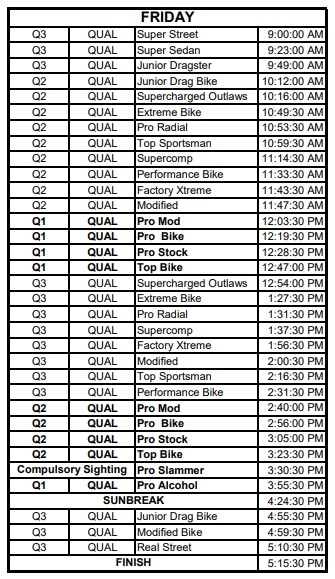 ---
PRE EVENT STORIES: