Welcome to Drag News Magazine's online coverage of the 2022 Gulf Western Oil Winternationals from Willowbank Raceway.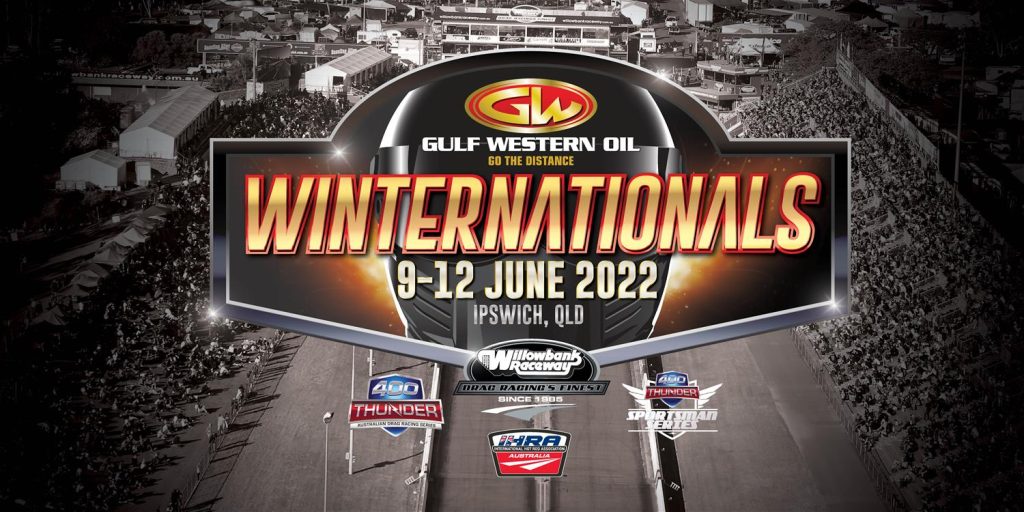 We are trying something a little bit different to keep everyone updated with what's going on, so we will see how it goes. This page will be continually updated through out the event so keep your finger on the refresh button.

We intend to engage with all racers social media, so any racer please tag Drag News Magazine in all your social posts so we see them and share them. Also any other updates or news you would like to share if you have a social media page or not, feel free to email us press@dragnews.com.au or PM us via the Drag News Magazine Facebook Page.
————–
LATEST UPDATES DAY 1: 6.00pm
We will leave you with the event promotion this morning from Sunrise. Our live notebook updates will be back tomorrow.
Qualifying for day one of the 2022 Gulf Western Oil Winternationals has finished with Q2 from Super Street and Real Street closing out the programme.
Via Pro Stock Motorcyle 868 Socials: The two wheel Pro Stock brigade are ready to fire tomorrow, Q1 from midday tomorrow.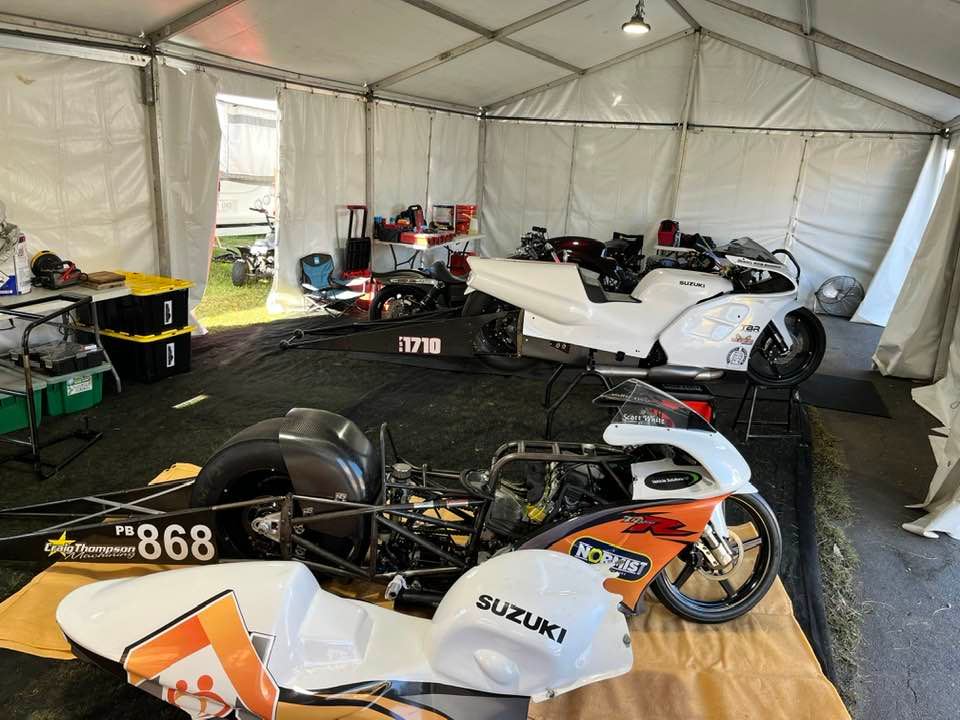 Q2 for Junior Dragster, that's it for these guys until tomorrow.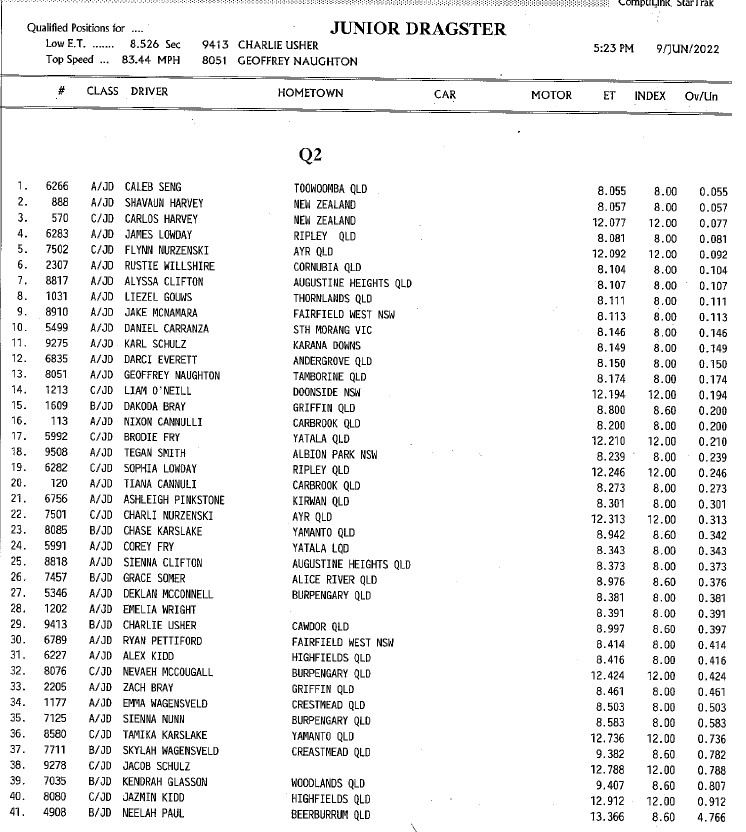 We are into the second round of qualifying with Q2 for Modified Bike and Super Sedan now in the books.
Only three cars went out for the first session of Factor Xtreme, be sure more will be out tomorrow.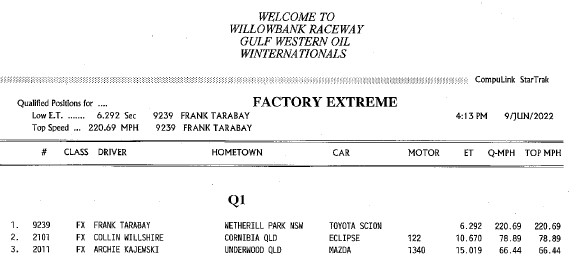 Via Socials: How sweet does Steven Swinscoe's Supercharged Outlaw funny car look.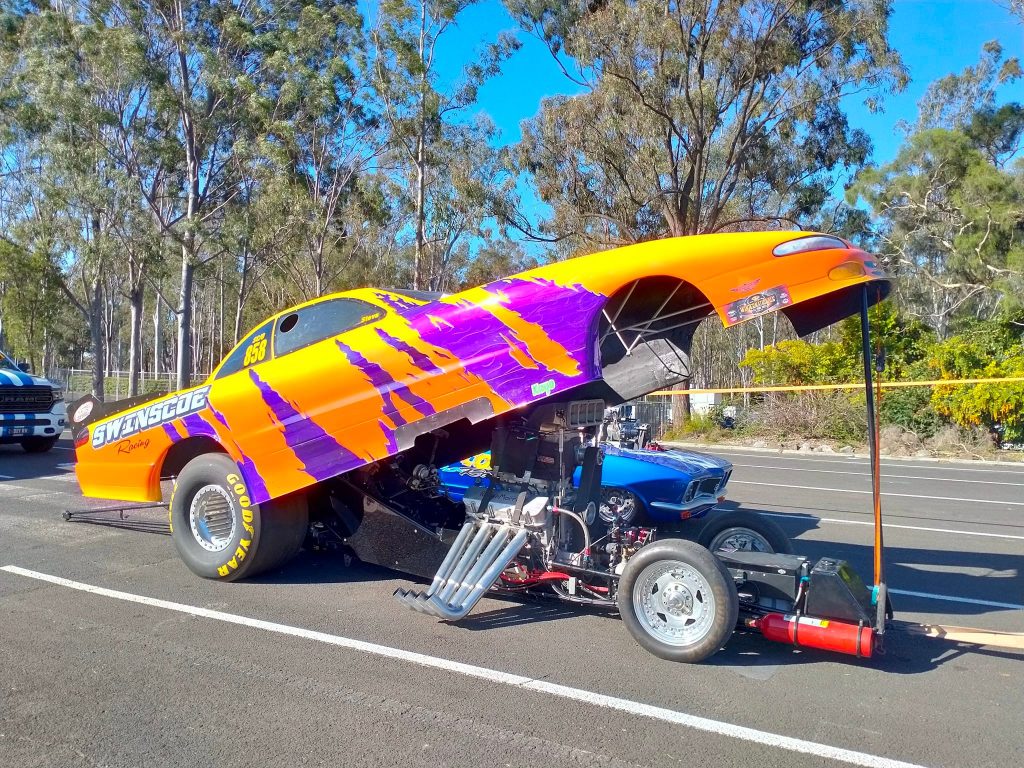 Qualifying orders for Supercharged Outlaws, Performance Bike, Super Comp, and Pro Radial

Adrian Vella already to the top in Super Comp and clearly the one to beat, his E/MPA Cobalt is a decade under the record and has half a second on the rest of the field. Nice showing for Jai Schluter his new Cavalier under the record on debut, but will have some chasing to do.

Former Pro Bike rider Luke Crowley is off to a strong start .5 under the record already on his DD/CB Kawasaki.

Pro Radial sees West Aussie gun Eddy Tassone make the trek across the country to stick his wicked HSV on pole for now with a 4.94 (1/8th mile)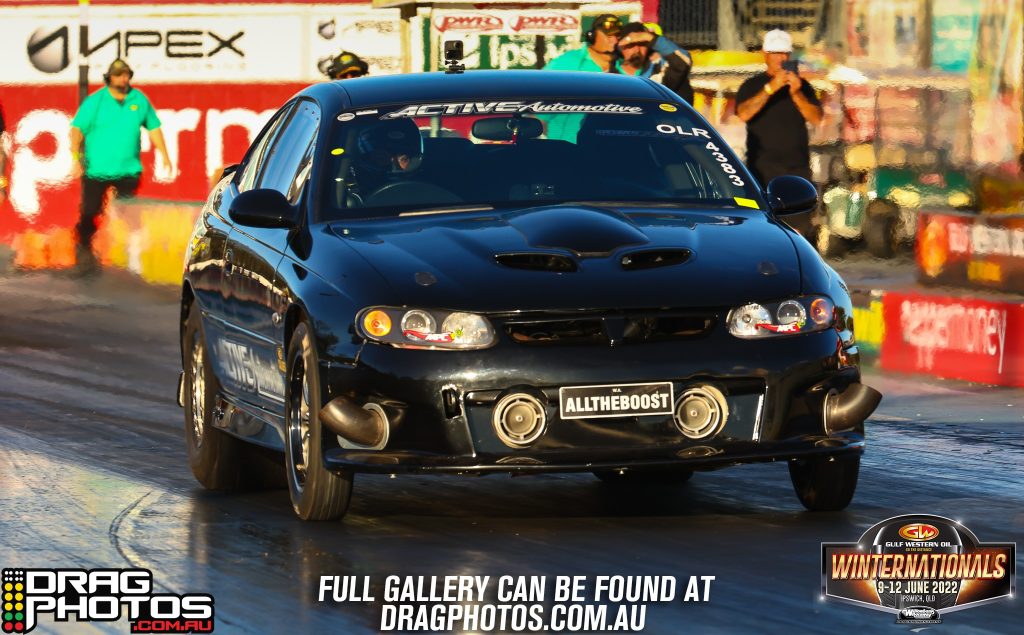 Supercharged Outlaws and Super Comp run data for their first qualifying session.
Factory Xtreme first qualifier thanks to Import Media.
Via Unique Racing Socials: Rob Dekert is all thumbs up ready for tomorrow's hectic Pro Stock qualifying. His 6.8 second record performances in Sydney make him the one to beat.
Sam Kipiros getting ready for his Super Comp first qualifier, in his little 3RZ pocket rocket Starlet.
Fiona Keatings Supercharged Outlaw first qualifier 7.06/185MPH
There is a track clean up going on in Supercharged Outlaws, here are the Q1 results for Modified and Super Street
Supercharged Outlaws Q1 is up.
Extreme Bike first session.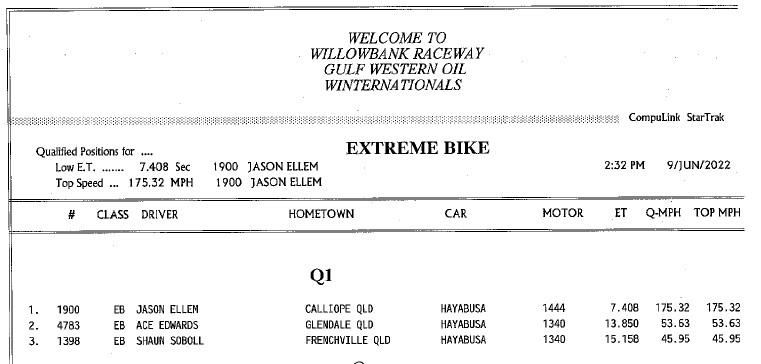 Holy hell! Kevin Ryan goes to the moon in his FED during Modified qualifying.
A few shots from the cool guys and girl at Drag Photos.
Q1 for a big field in Super Sedan and Top Sportsman, (working on getting Super Street).
Supercomp Q1 is not that far away.
Q1 times for Junior Dragster, Real Street and the debuting Junior Drag Bike.
Modified Bike has completed Q1, we will endeavour to have all run sheets posted as soon as we receive them.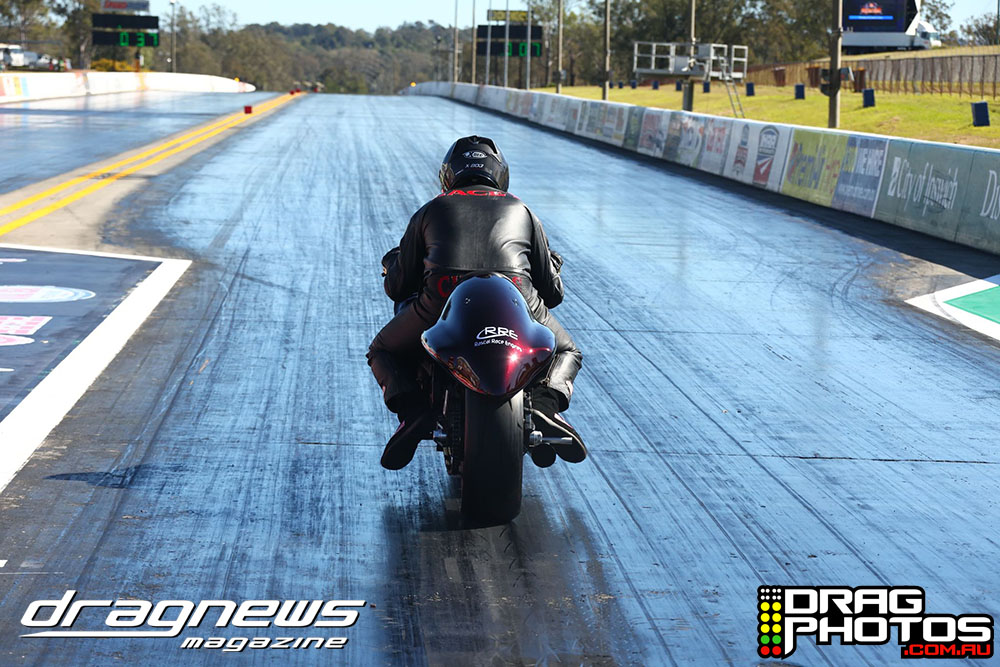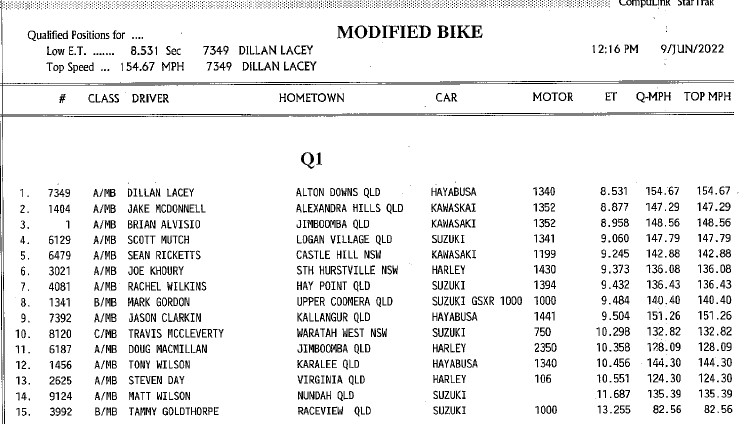 Racing is under way for the 2022 Gulf Western Oil Winternationals, looks like the weather will be perfect all weekend for quick times.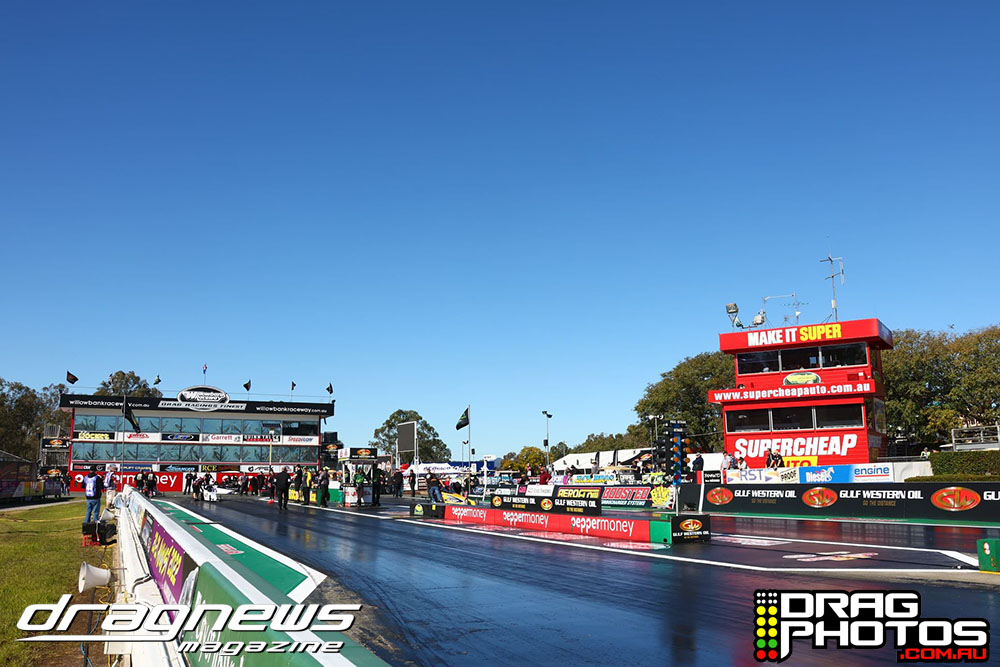 Here is today's schedule which will be featuring sportsman qualifying.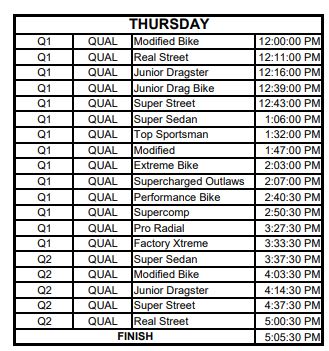 PRE EVENT STORIES: