Welcome to Drag News Magazine's online coverage from Day 3 of the 2022 Gulf Western Oil Winternationals at Willowbank Raceway.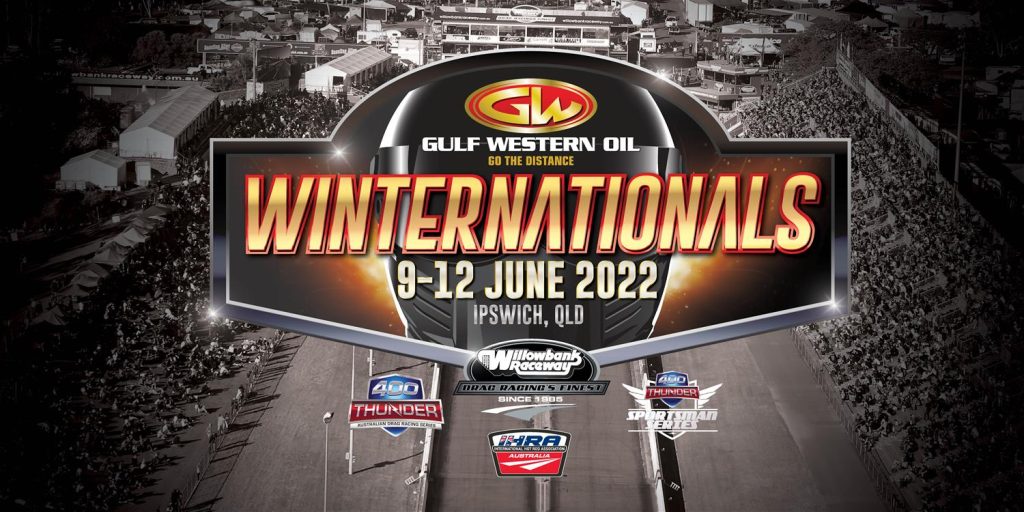 We are trying something a little bit different to keep everyone updated with what's going on, so we will see how it goes. This page will be continually updated through out the event so keep your finger on the refresh button.

We intend to engage with all racers social media, so any racer please tag Drag News Magazine in all your social posts so we see them and share them. Also any other updates or news you would like to share if you have a social media page or not, feel free to email us press@dragnews.com.au or PM us via the Drag News Magazine Facebook Page.
---
LATEST UPDATES DAY 4 – 8.30pm
Video from the last spectacular Top Fuel Funny Car session.
---
John Zappia's insane wheelstand in Pro Slammer qualifying.
---
TOP FUEL FUNNY CAR RD 2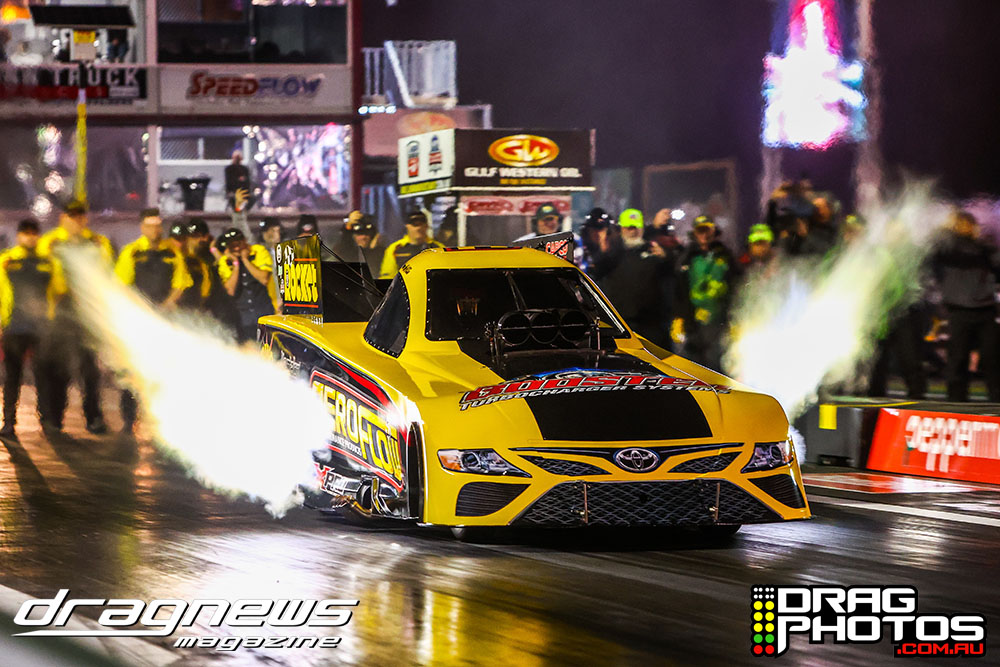 Anthony Begley had to be pushed back manually after his burnout but gets it into stage against Morice McMillin. Both cars pedalled, McMillin was very sideway and nearly tagged the wall, Begley rolls to the win.
Adam Murrihy also had to get pushed back via manpower, and was shut down.
Tim McCarthy gets to 100ft and explodes the engine in a massive fireball, blowing the body clear off.
---
PRO ALCOHOL ARF 3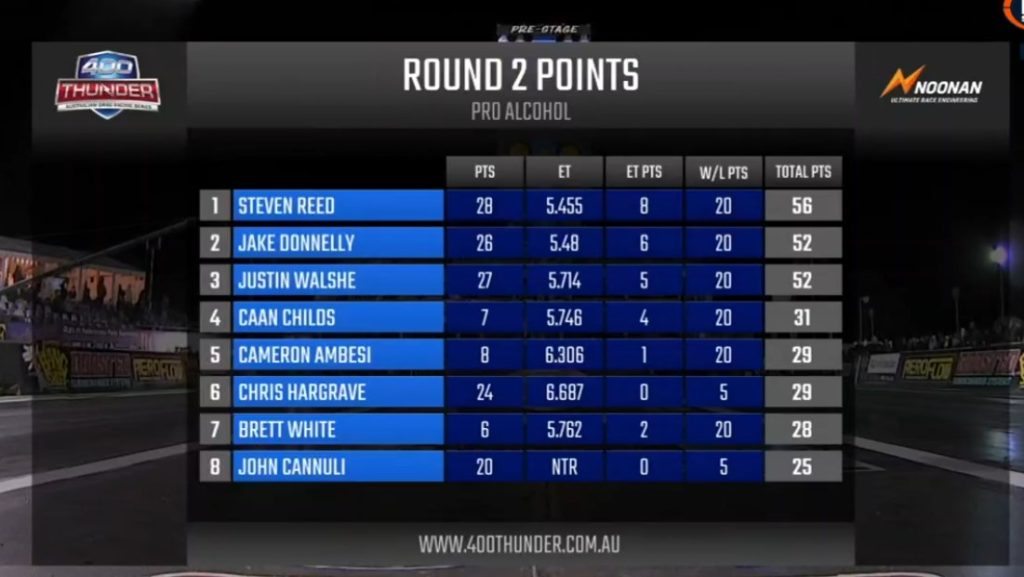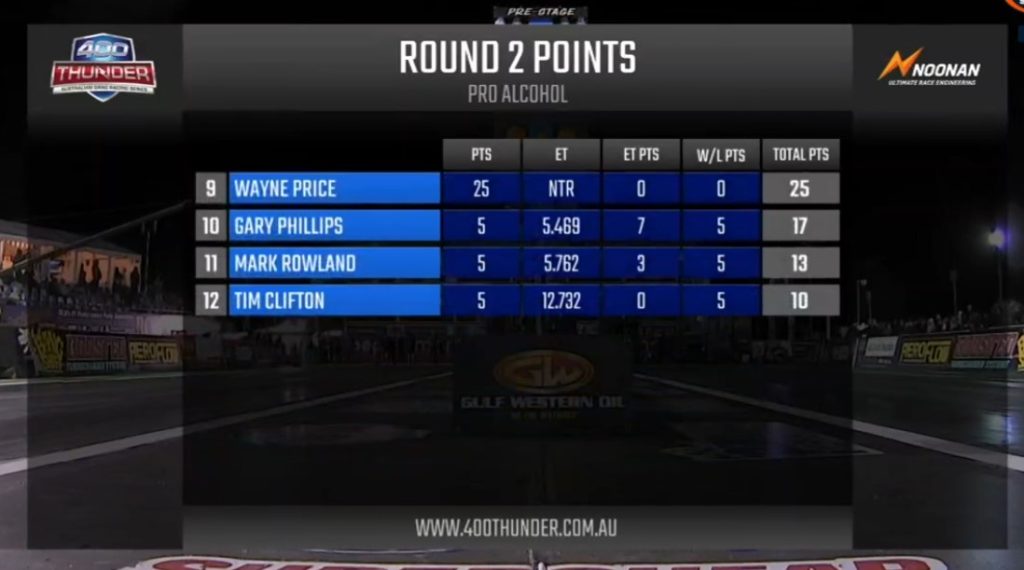 Tim Clifton and Mark Rowland started off the first session, both car couldn't keep the rear stuck to the track, and both rolled to the finish line, Clifton officially taking the win with a 10 second ET. We think Rowland may be hanging on to the qualified field.
Wayne Price on a solo and just shakes on the hit. He should stay in the field with his earlier 5.63.
John Cannuli is not qualified and Brett White may be on the bump at best. Cannuli has a big engine backfire at 300ft lifting the body up, White mowed down several timing reflectors in another wild race in Pro Alcohol.
Back racing after a clean up with Cameron Ambesi and Chris Hargrave are next to take a shot at the track. Hargrave goes straight up in smoke and Ambesi bangs the engine hard at 300ft.
Caan Childs pedals the dragster and almost kept it stuck but ended up heading for the centreline and then the wall before lifting.
The All Run Final is now up with Steven Reed versus Jake Donnelly in a pair of 5.40 funny cars, this could be a interesting pedalfest for the cash on offer. There was no pedalfest, Reed drives around a big holeshot for a 5.422 PB and low ET, Donnelly hung with him for a while but fell away to at 6.39.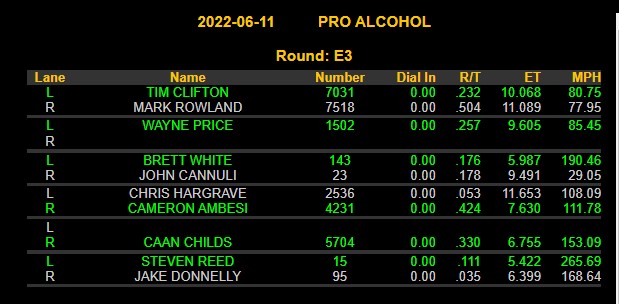 ---
Final qualifying orders for Pro Mod, Pro Stock, Pro Stock Motorcycle and Top Fuel Bike.
---
PRO SLAMMER ARF 3
Final round for today's All-Run Format Pro Slammer double header. Steven Ham and Sam Fenech will be running off for the cash.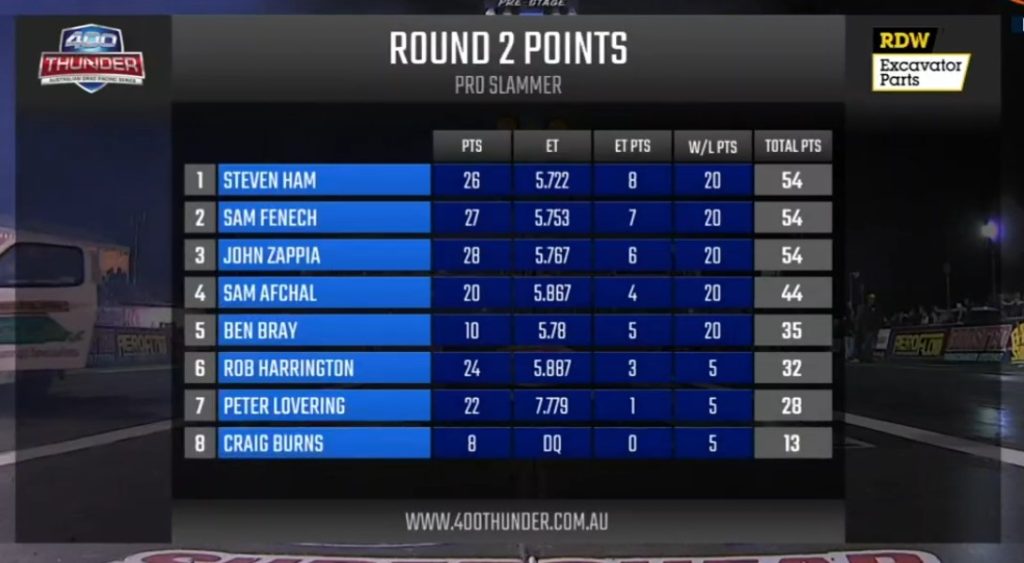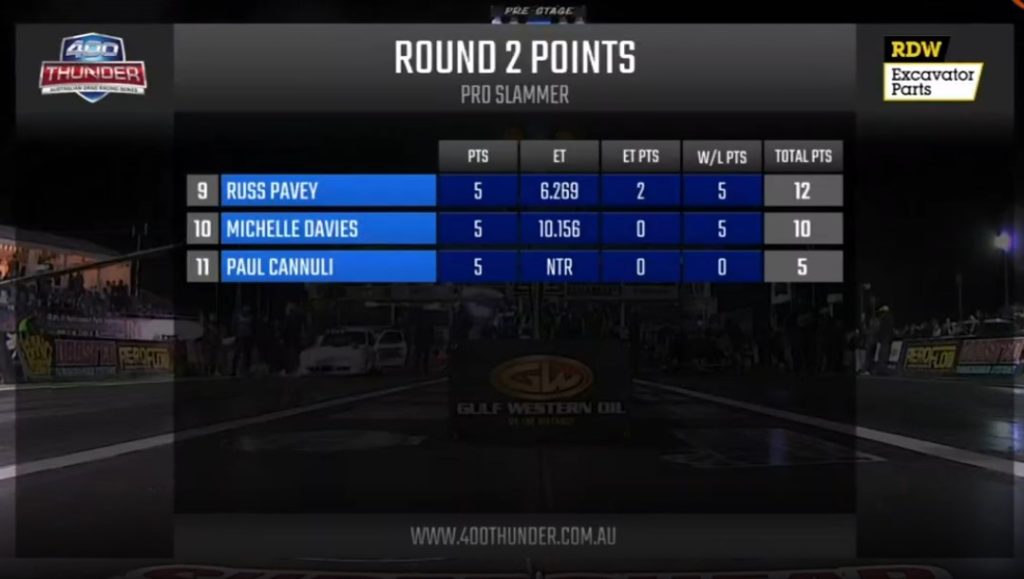 Russell Pavey and Paul Cannuli open the final round, both cars shook and bucked, Cannuli clipped a timing reflector ending any hope he had, and Pavey rolled to a 7.26.
Michelle Davies on a solo had a similar run, porposing the Mustang to a a nine second run.
The pattern continued with Craig Burns, at least this time there was not sky high wheelstand, the Monaro rolled to a 7.54. A broke wheelie bar was the cause of the last run's rocket ship impersonation.
In a crazy race Rob Harrington spins the tyres hard and looks dead in the water as Ben Bray streaks away, but the Corvette quits at half track and Harrington gets after the throttle again to run him down just before the stripe, with Super Sedan ETs – 8.07 to a 8.41.
Zappia on a solo lost this final slot on a countback. Wow! wicked power wheel stand all the way to half track and a 5.73 at the strip.
The A-Final for the cash and Steven Ham was all kinds of out of shape at 300ft, Sam Fenech had the race in the bag but clipped the 1000ft reflectors ruling out his win and 5.713 event low ET.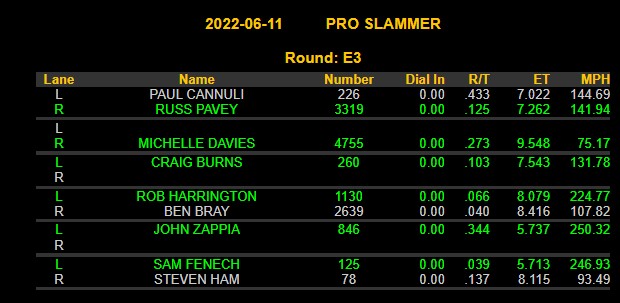 ---
For those keeping track of Top Sportsman, a re-run between Steve Fowler and Michael Obst was just run after a timing malfunction earlier, Fowler gets the win after a red light from Obst
---
TOP FUEL BIKE Q4: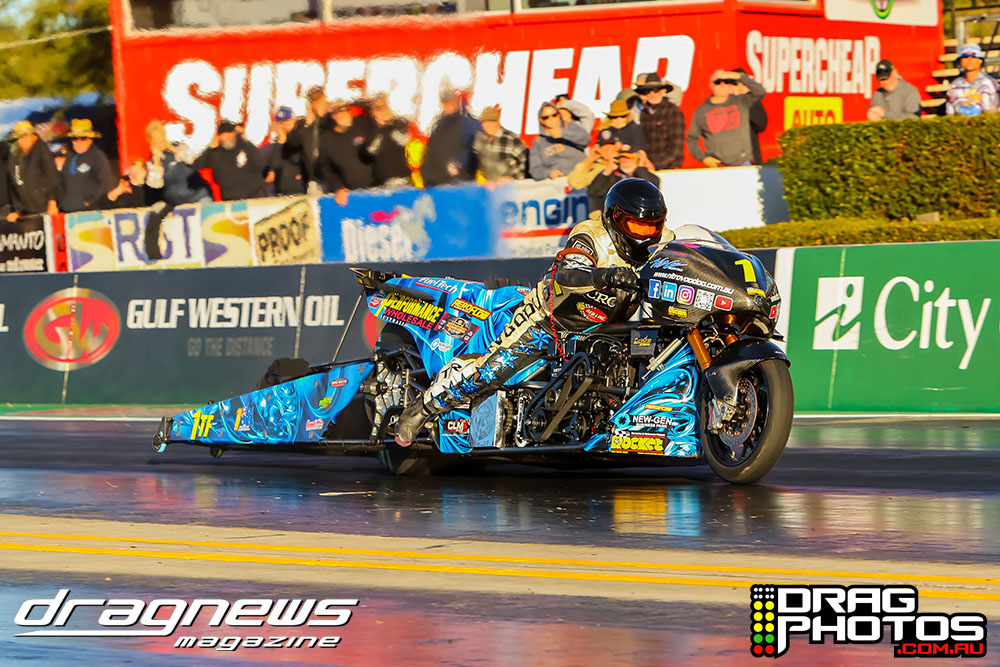 Strange moment for Chris Matheson, when Matheson blipped the throttle to move to the water, it went into a burnout. Then Matheson went to 330ft in the burnout before continuing on into the braking area. Word came through that Matheson just wanted to scrub in a new rear slick and wasn't intending to run it on the cold track.
Neither John Zahra and Mark Drew didn't get to 60ft under power.
---
PRO STOCK MOTORCYCLE Q4
Andrew Badcock blows away the field with a 7.001 at 183MPH, Luke Crowley jumped up to second with a 7.399. Badcock had a data logger issue yesterday for his reason for not running.
Former top qualifier going into the session, Scott White, went straight across the centreline off the launch. Tony Frost had cleared the wayward White Suzuki but released the throttle down track for a 7.85.
Lachlan Ireland on a singles with a 7.97, the bike a lot less violent than previous runs.
Last run for Pro Bike qualifying was Daniel Rabnott, and the Suzuki did not want to play the game missing going down the track with a visibly upset Rabnott along for the ride.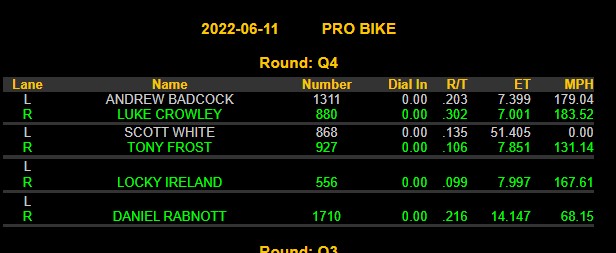 ---
PRO STOCK Q4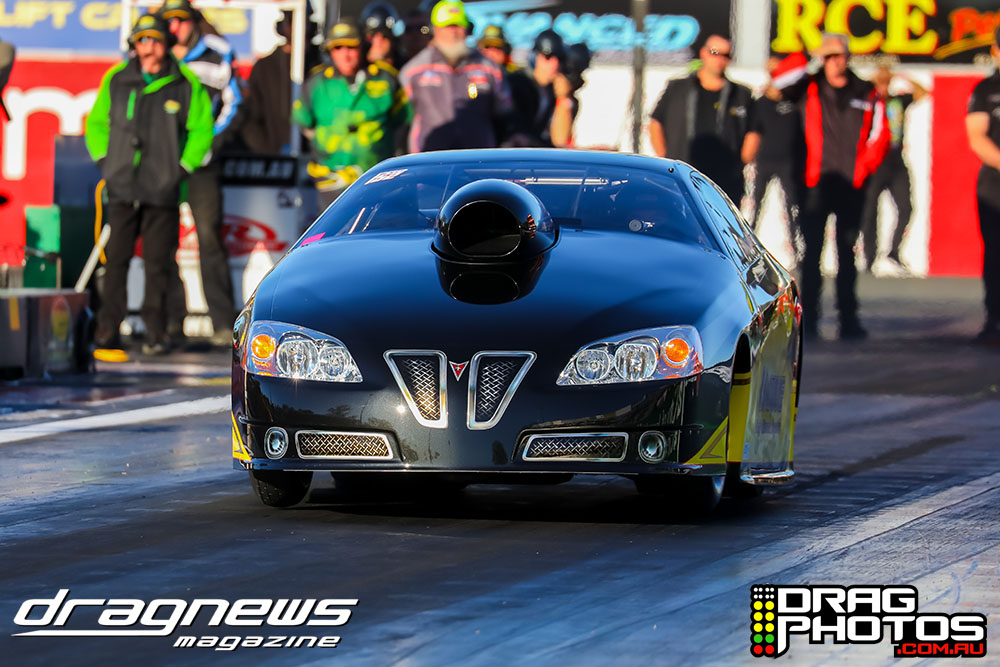 Clint George starts off the final session of Pro Stock, confirmation they are running the All-Run format tomorrow, so everyone will race. George shakes hard and off the power before 60ft.
These are killer conditions if the tuners can get it to stick. Cavallo has struggles on the tree, but no such problems this time with a 6.946 out of the Avenger. Omar Sedmak in the other lanes gets his Dodge to the line with a 7.11.
Clint George has broken the gearbox on his run unfortunately.
John Barbagallo goes 6.95, but it unlikely to count with his crew accidentally walking into the beams. On the other side Scott Porter runs 7.012, neither driver improve anyway.
Aaron Tremayne spins hard off the line and Chris Soldatos hugs the centreline rolling off the throttle for a 6.99 at 183MPH.
Rob Dekert on a solo to end Pro Stock qualifying, the GXP drove up close to the wall and Dekert wisely rolled out of the throttle with a 7.02 and just 178MPH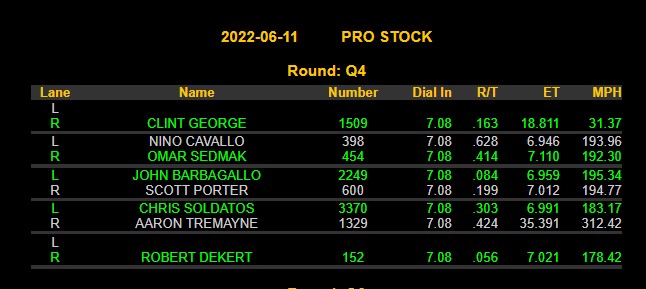 ---
We are about to head back into the final PRO session for the the day. I some news, Justin Walshe will not run the final session of Pro Alcohol after finding some engine damage. Likewise Peter Gratz is out, they sent crew off to get the body fixed, but unfortunately they have found some engine damage that will likely rule them out of the event.

PRO MOD Q4: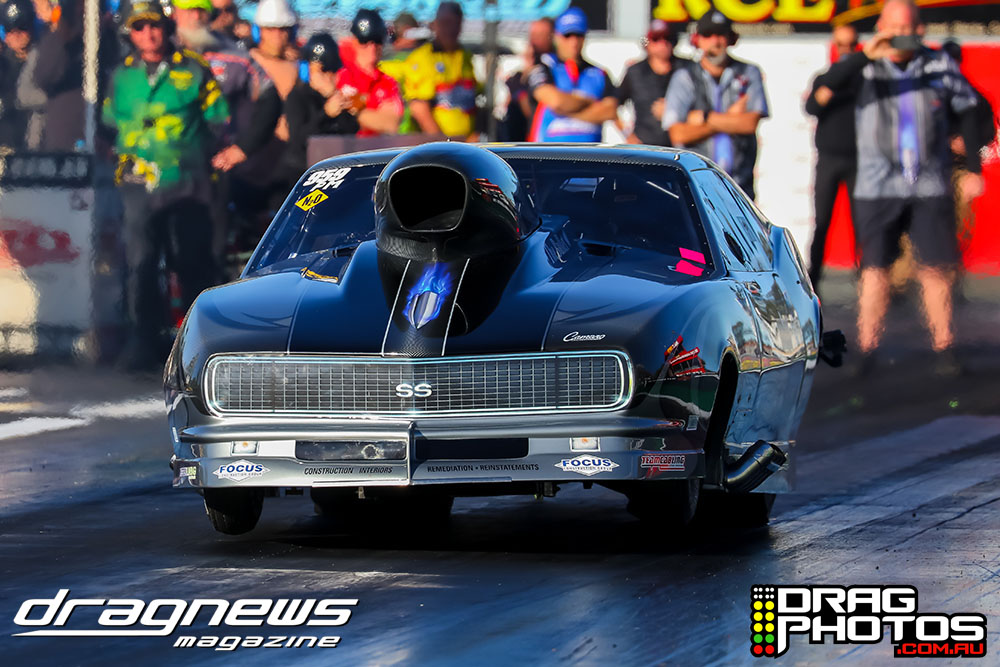 Mick Mahoney has rectified his transmission issue and will be with Greg Tsakiridis in the first pairing. Both cars looked good to half track then a bunch of smoke bellowed from the Mahoney Mustang, Tsakiridis crossed the stripe for a 6.010, but we may be down for a bit of a cleanup.
Back racing but night has fallen and it is very cold, so it will be a challenge for everyone to find a tune up. Stew Walsh on a solo, headed straight for the centre line with his twin turbo Mustang.

Turbo flames were popping on the start line from Jeremy Callaghan and Collin Willshire. Wheelstanding to half track from Callaghan's Camaro and Willshire goes to the top by one thou with a 5.895.
Barry Plumpton on a solo goes 5.91 with nitrous flames in the darkness.
Update from Mahoney it was only a breather hose spraying oil everywhere, and the car was on a big PB.
Zoran Gajic dialled into the track by the looks with a safe 5.97, Tony Wedlock remains outside the field with a 6.35.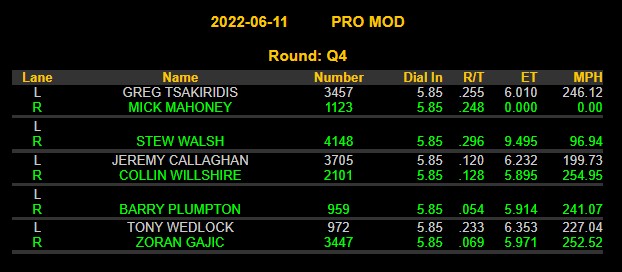 ---
Top Sportsman round two eliminations
---
Some ACDelco Slammer warm ups
---
Modified round 2 results.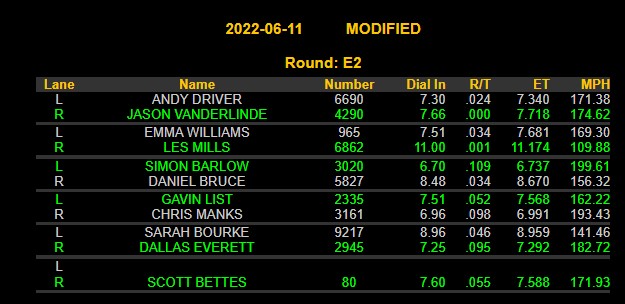 ---
Back racing and Supercharged Outlaws Round 1 results.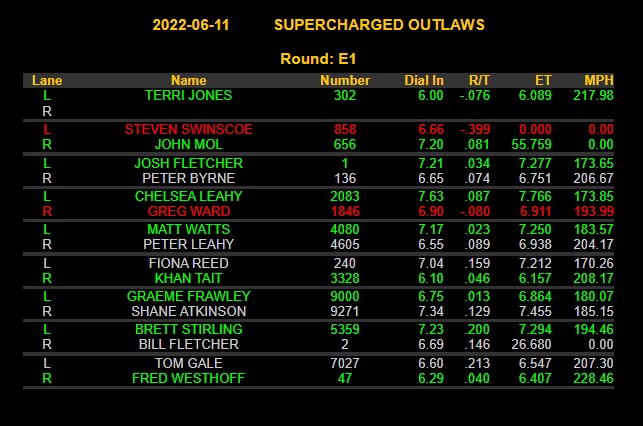 ---
Video of Bill Fletchers unfortunate accident, we wish Bill and Fletcher family all the best. It was a heavy hit and no doubt will he is sore and bruised, hopefully that's all it is, and will update if we hear anymore.
---
Aeroflow Performance Funny Car round one recap.
---
Bill Fletcher has had a major accident in Supercharged Outlaws, his dragster got loose on the top end and hit the wall shearing a rear wheel, sending his dragster back across the track head on into the opposite wall, narrowly missing his opponent, before going into a series of barrel rolls. Bill climbed and walked assisted to the ambulance, we will update when we know more.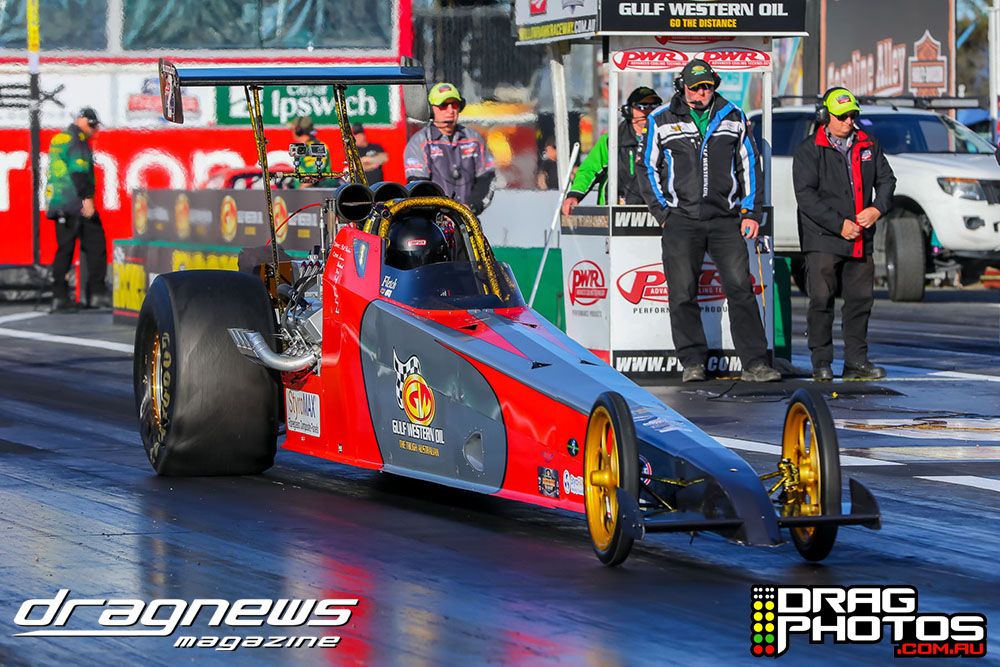 ---
Top Fuel Funny Car round one action.
---
Scott White's top qualifying 7.36 Pro Stock Motorcycle run
---
Rob Harrington's slight excitement at running his first five second run.
---
Q3 qualifying orders for Pro Stock, Pro Bike, Pro Mod and Top Fuel Bike.
---
Some house keeping, results for Junior Dragster round two are here, after 1320go kicked the rods and missed the session.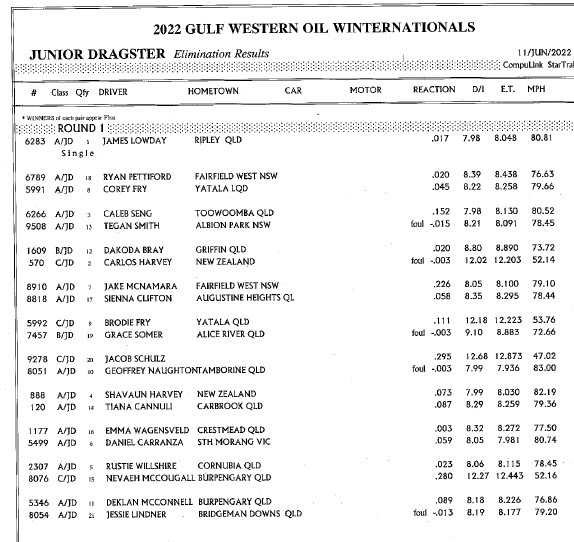 ---
TOP FUEL FUNNY CAR RD 1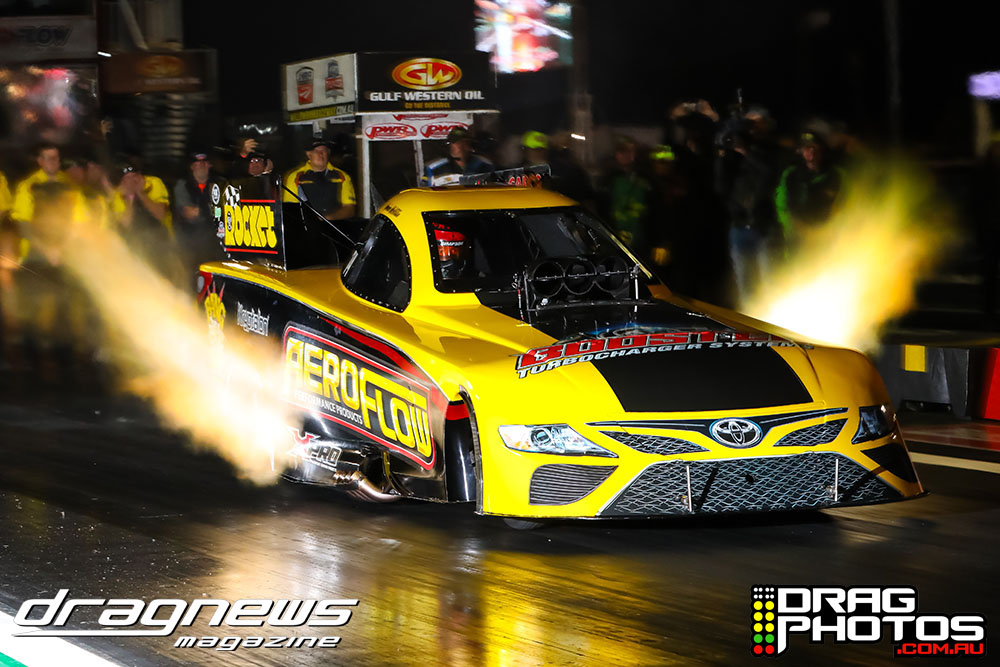 Morice McMillin in the Aeroflow machine is taking on the Nitro Freak of Adam Murrihy.
Murrihy smoked the tyres on the hit, McMillin on a strong pass, the car moved around a lot on the top end and clipped the finish line reflector for a 5.007
Anthony Begley on a solo with his Dodge bodied Funny Car 'Chemical Warfare', a strong burnout shows they have solved last night's throttle problems. The car smoked the bags hard instantly on the hit.
Tim McCarthy up next, but his Valvoline machine was idling high after the burnout and ended up shutting it down with McCarthy unable to select a gear.
---
PRO ALCOHOL ARF 2
Points after round 1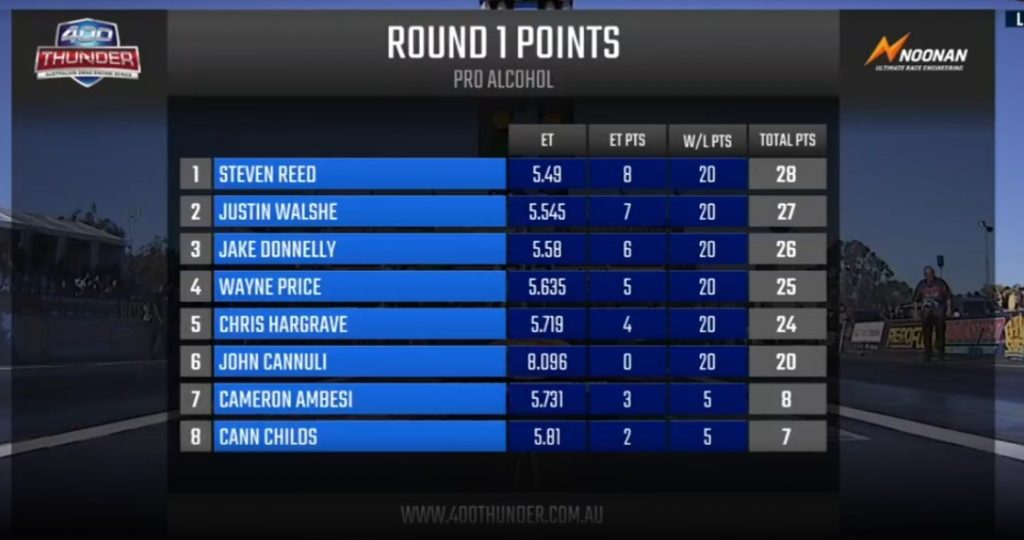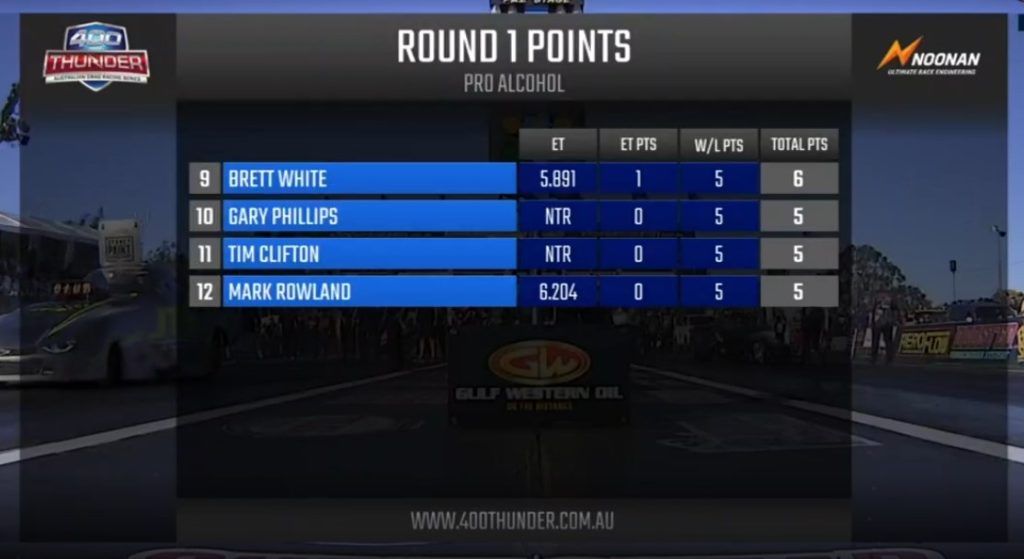 John Cannuli left before the tree was activated and looked to be a very quick run, the easy win goes to Cameron Ambesi, who got very close to the wall at half track and finished with a 6.30.
Chris Hargrave smokes the the shoes hard on the line and pedals, the funny car sounded like it popped the blower on the top end. It was to no avail with Caan Childs on a strong 5.74 run for his first Pro Alcohol round win.
Brett White solos 5.76 still clicking the funny car off the noise early.
Donnelly's had trouble getting the DBS funny car started, and does a short burnout not to cross the centreline and hold up opponent Gary Phillips any longer, who needs a good run to qualify for tomorrow. Phillips red lights but he won't make tonight's A-Final anyway, but still needs a good run, and he delivers with a 5.469 to Donnelly's equally good 5.48 to top the sheets and will go a long way to see Donnelly through to the A-final tonight.
Walshe needs a win and a quick ET against his race with Tim Clifton's dragster. Clifton goes into a big wheelstand and his run is over, Walshe will take the win but had a dropped cylinder for most of the run for a 5.71.
Final pairing and Steven Reed has been bumped down to third, he also needs to win to make the A-Final. Against Rowland who take a long time to bump in and was on the verge of being timed out, Reed is out of there and not only takes the win but steals back the number one qualifying position with a 5.455 to Rowland's 5.762.
Steve Reed will certainly be in tonight's A-Final, opponent will probably be Jake Donnelly subject to confirmation.
---
PRO SLAMMER ARF 2
Points after round 1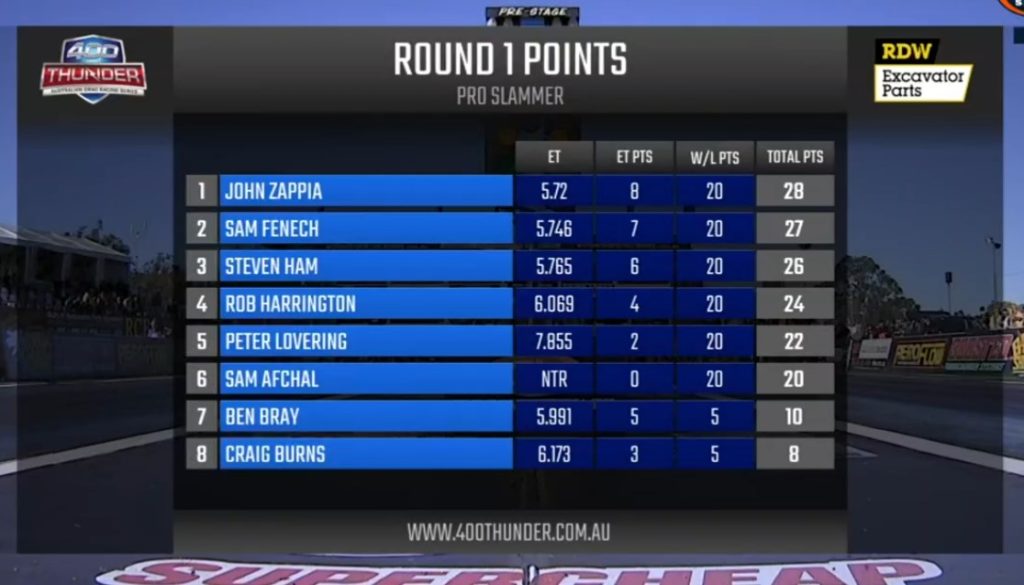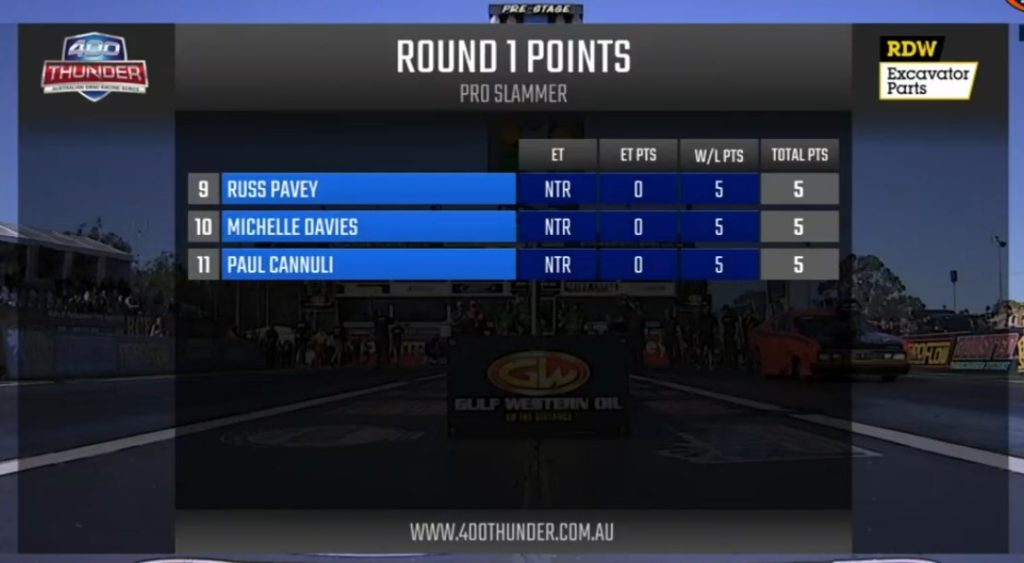 First pairing is Peter Lovering and Sam Afchal. The Duster of Afchal had no signs of transmission issues this time in the burnout and will face the green. Lovering banged the blower hard at half track and Afchal goes straight down the middle for a 5.86 PB and his first ever win in Pro Slammer.
Paul Cannuli on a solo pass but the Mustang had no air to activate the gear shifter and could not start.
Rob Harrington has a tough match up against Ben Bray for back to back wins. Harrington trees "The Kid" and both cars are locked together at the stripe, and it was Bray driving around the holeshot with a 5.78 to a 5.88. Despite the loss margin of just 3 hundredths, Harrington will be ecstatic with his first five.
Woah Craig Burns, if you thought his wheelstand last night was big, Burns said hold my beer while he goes bigger! Giving the concrete wall a solid slap as well. If anyone noticed, Steve Ham in the other lane went 5.722 for the win.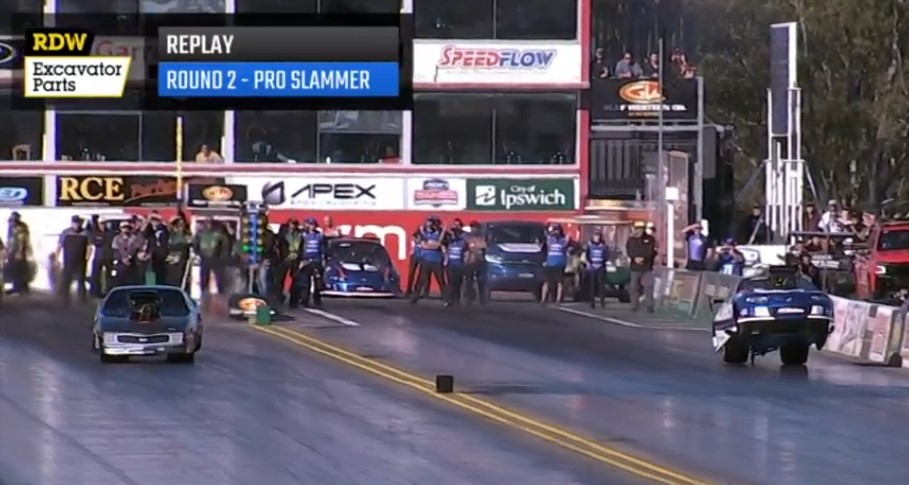 Russell Pavey took a shot at the tree against Sam Fenech next and came up red Fenech clocks a nice 5.753 in the second ACDelco Monaro to Pavey's 6.26 that still counts towards tomorrow's qualifying.
Michelle Davies goes after the tree and picks off a cherry against John Zappia, it didn't matter as the Mustang shook hard, Zappia with a clean 5.76 win.
Tonight A-final will likely be John Zappia and Steven Ham subject to confirmation.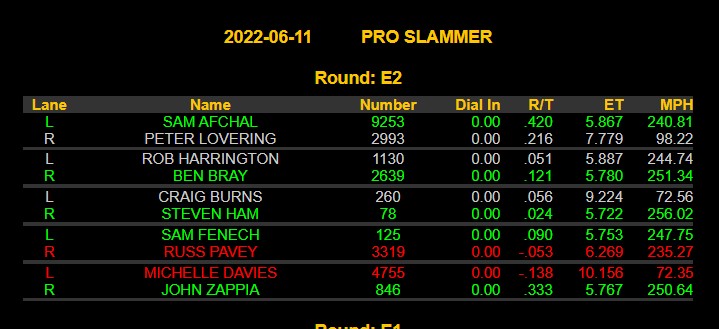 ---
TOP FUEL BIKE Q3: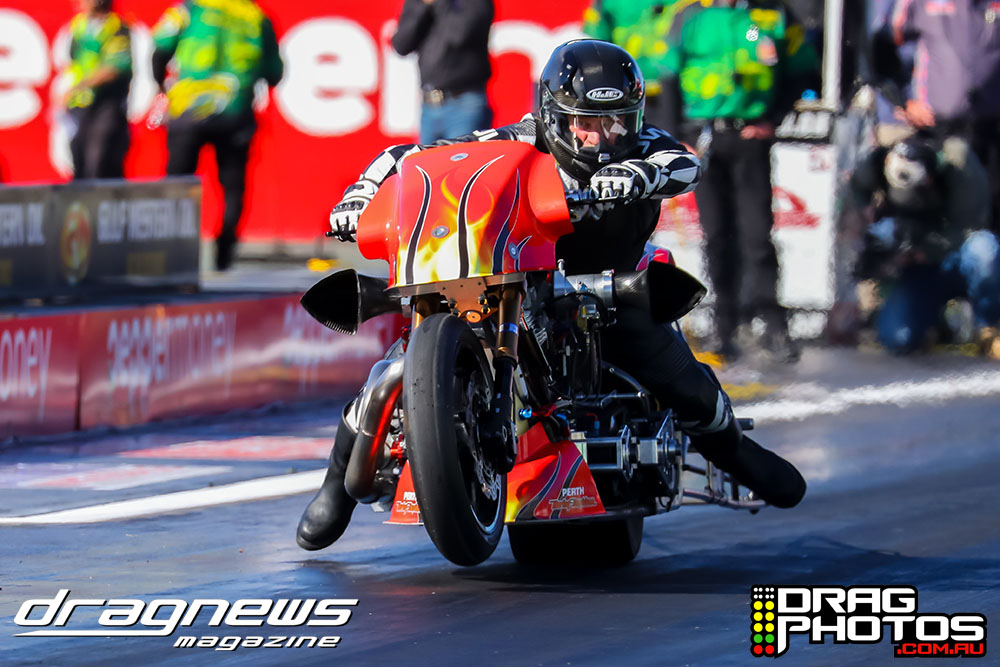 John Zahra does his burnout and continues on to the end of the track, leaving Chris Matheson on a solo. Matherson twists the throttle and black tracks all the way to the stripe with a 6.022 at 225MPH. Matheson Nitro Voodoo machine looked to have dropped a cylinder towards the end probably costing him a five.
Mark Drew left before the tree last night, the data showed he likely would of run the first 6.20 pass in Australia. Drew wouldn't be able to repeat the run in this session, the Harley got out quick but spun the tyres towards 300ft.

---
PRO STOCK MOTORCYCLE Q3
Six second man Luke Crowley returns to the class on his first pass for the weekend. But is was the other lane with all the good numbers, Andrew Badcock goes to the top with a 7.52. Crowley smokes the rear hard off the line.
Badcock's top spot lasted just one pass, Scott White rockets to a 7.369 for pole, Locky Ireland went 8.116 in the other lane.
Tony Frost is heading the right direction on his Pro Stock Motorcycle debut with a 7.51 on a solo.
Closing out the session we have Daniel Rabnott and Mark Hancock. Rabnott goes hard left and nudges the wall, Hancock with a consistent 7.88.

PRO STOCK Q3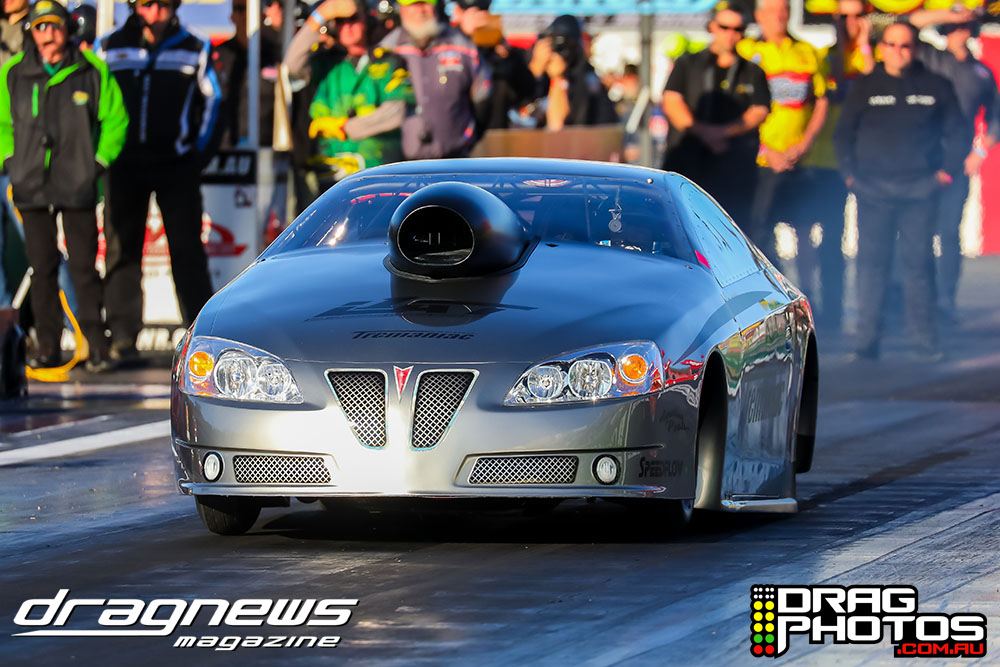 Pro Stock up now, apparently they are running All Run Format now tomorrow, need to get that clarified.
A pair of 7.09s first up from Brian Pursell and Mario Polito, Pursells GXP made a big wiggle at 1000ft which caused a few nervous moments.
Wayne Daley slips into the sixes with a 6.995 up next, Omar Sedmak PBs on the other side of the track with a 7.08.
Air conditions are perfect, we should see some big numbers if the track is there.
Cavallo rolled the beams again, and Clint George rattled hard and aborted the run.
Scott Porter up next and the teams has had some engine work to do after nicking a piston, he is against a returning John Barbagallo who is at his first event in three years. Both cars looked good early, Barbagallo pulled the chutes on the Escort before 1000ft, and Porter may of rolled off the throttle towards the stripe as the Mustang drifted closer to the centreline with a 7.019.
Next pairing is Robert Dekert and Chris Soldatos, both capable of big numbers, Soldatos was out of it early into the run, Dekert sets the benchmark with a 6.907 at 197MPH.
Aaron Tremayne on a solo and was quicker than Dekert at the half with a 4.41, but at the business end fell just short with a 6.916 at 196MPH.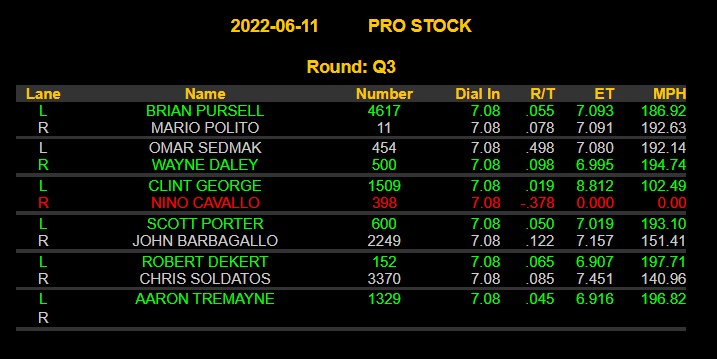 ---
PRO MOD Q3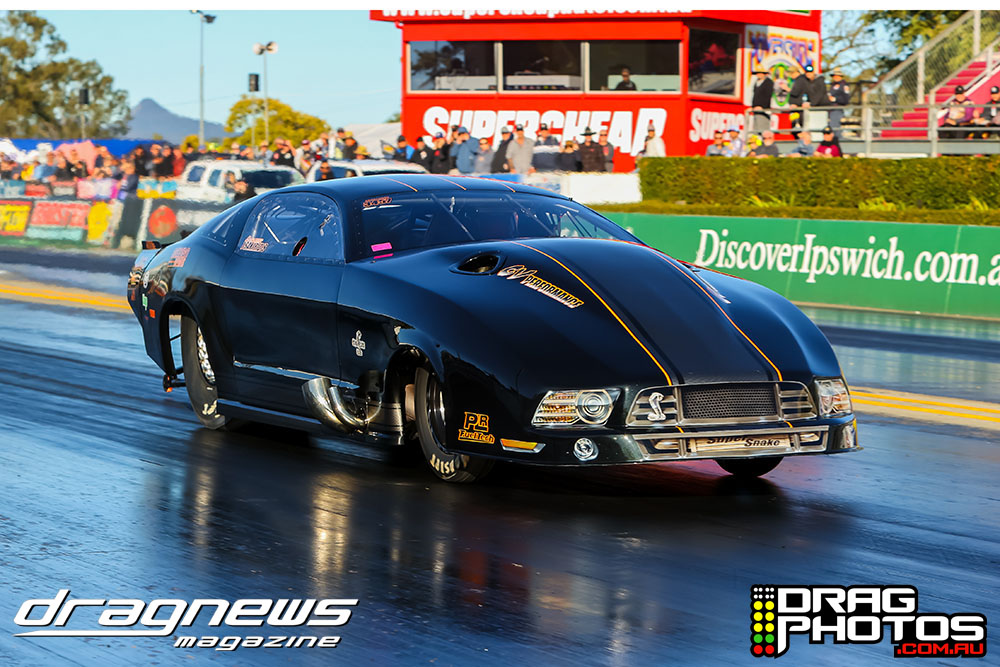 First pairing up for Q3 of Pro Mod is a pair of twin turbo cars with Stew Walsh and Greg Tsakiridis, strong passes from both sides of the track with a 5.962 and 5.908 respectively. Tsakridis taking the top spot by 1 thou.
Barry Plumpton runs a consistent 5.98 in the nitrous Camaro, Peter Gratz in the other lane is looking for his first five in the Plymouth 'Cuda stops the clocks with a 6.014 but his chutes were tangled up and has taken a trip into the sand trap, the front clip taking some damage.
Back racing with more twin turbo action and Jeremy Callaghan joins the 5.90 club with a 5.909 to tie Plumpton's #2 qualifying ET and Collin Willshire had much straighter run for a 6.003.
Neil Murphy in his new blown Camaro on a solo goes straight for a 5.99, but was there was a bit of engine haze.
Gratz is still holding the bump spot, Tony Wedlock up now will need a PB to take that down, but goes 6.47 from the six cylinder Solara. Zoran Gajic in the twin turbo Mustang goes to the top with a 5.896 in the other lane.

Mick Mahoney could not make the session, they are in the pits trying to rebuild a transmission.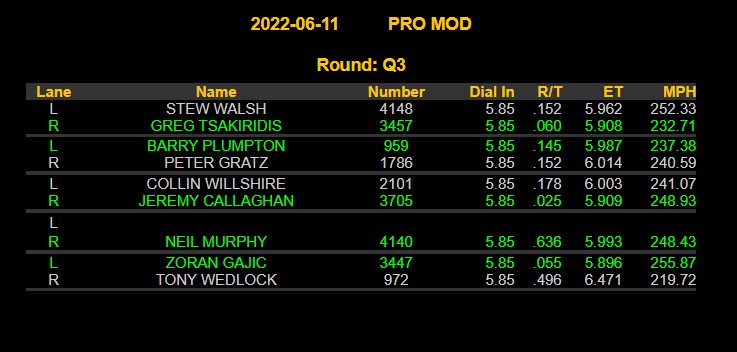 ---
Official results from the first ARF round of Pro Alcohol, this also doubles as qualifying for tomorrow eliminations.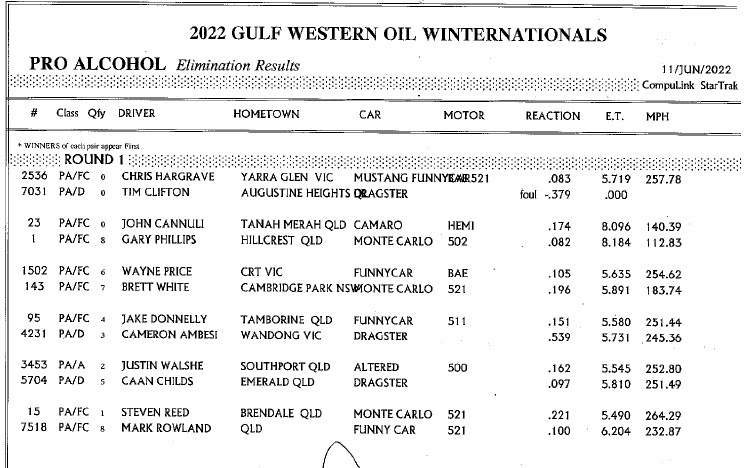 ---
A depleted Factory Extreme field sees its first round of eliminations.

---
Top Sportsman round one eliminations.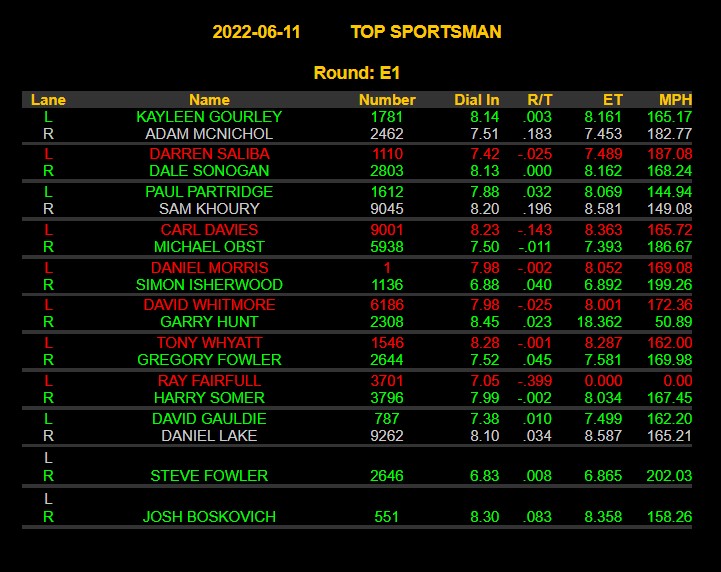 ---
John Zappia wins his first round of racing with an auto and the quickest Pro Slammer pass so far this weekend.
---
Day 2 Gulf Western Oil Winternationals action gallery from Willowbank Raceway courtesy of Drag Photos.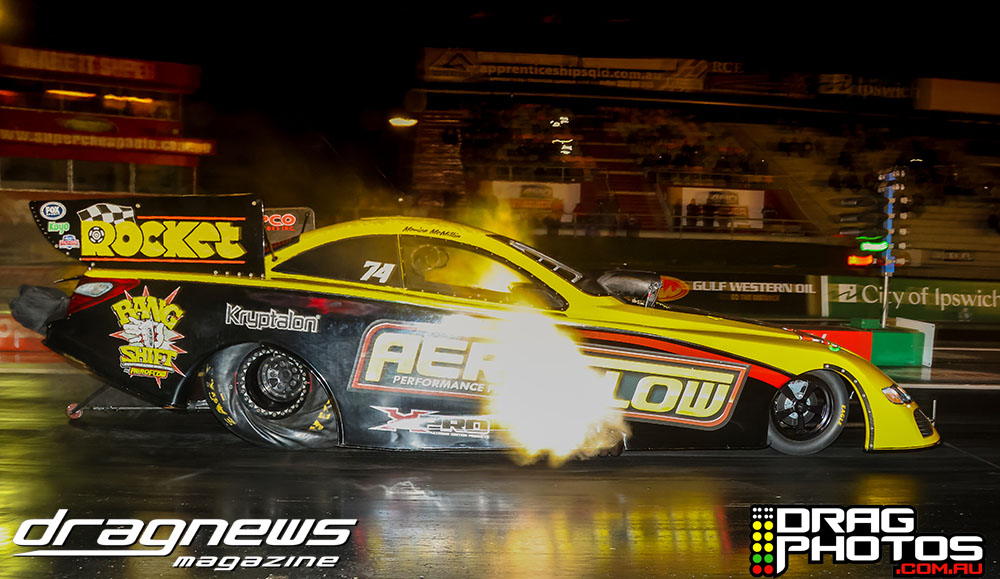 ---
Modified round 1 elimination results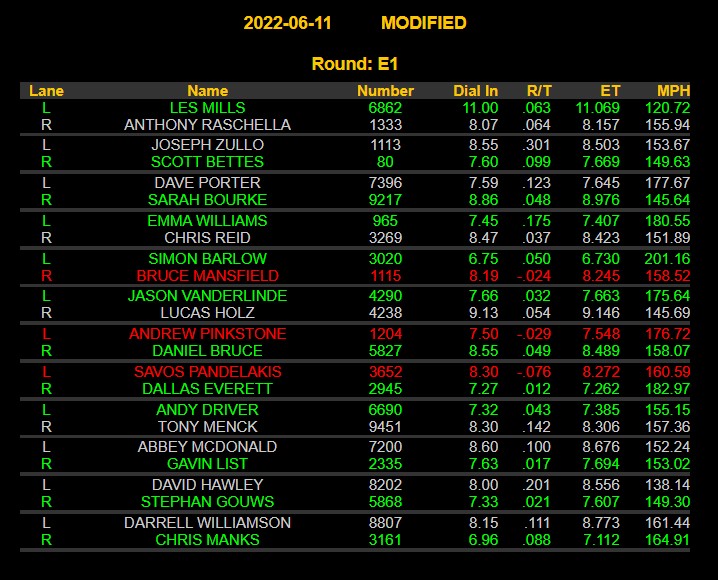 ---
Steve Reed's Pro Alcohol ARF round 1 win and equalling his top qualifying performance
---
Modified, Top Sportsman and Performance Bike final qualifying orders
---
Pro Slammer ARF 1 official results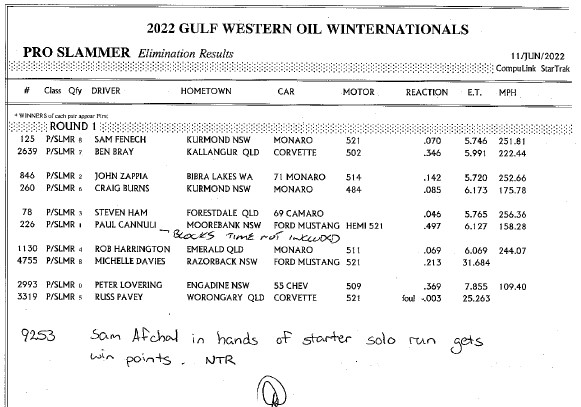 PRO ALCOHOL ARF 1
Pro Alcohol All-Run Format also counts for qualifying for tomorrow's eliminations.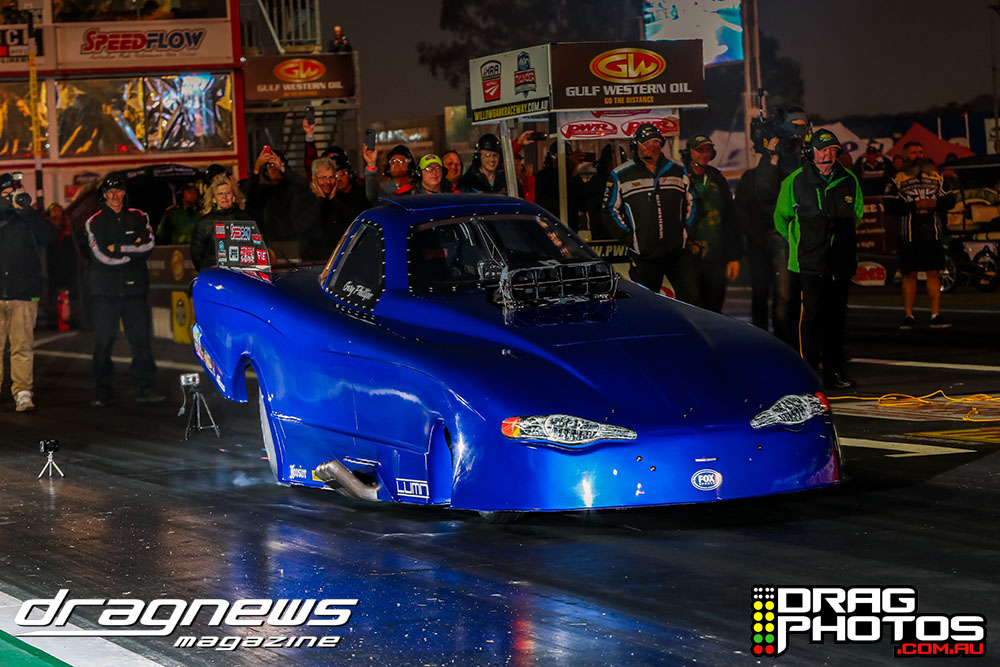 Tim Clifton had his dragster shut down with what looked like a fuel leak. Chris Hargrave therefore had a solo and ran a nice 5.71.
Pro Alcohol rivals Gary Phillips and John Cannuli clash here in and ugly race, Cannuli went right up in to smoke, turned left and looked done, Phillips was shaking and bucking in the other lane, crossing the centreline and handing the win to Cannuli. Phillips remains not qualified for tomorrow.
Brett White in first pass for the event taking on Wayne Price. A good race from the pair, Price left first and remained in front to the stripe with a 5.63, White kept him honest with a 5.89 shutting it off early in a cautious approach after serious engine damage at the last event. It will also be an emotional weekend for White with the passing of his mother Evelyn, a popular NSW drag racing personality in her own right.
Price's funny car was loose in the braking area, and there looks to be some oil and engine bits falling out behind the car, could be a lot of work ahead for the team for the next round.
We are down for a clean up.
Cameron Ambesi ran personal bests in testing but had a transmission problem yesterday in his dragster and will be taking on the funny car of Jake Donnelly that is loaded with quick potential. Ambesi was way late on the lights, they had plenty of shake, but was solid at the stripe with a 5.73, however Donnelly was already long gone clocking a 5.58 for the win and solidly in the field for tomorrow as well.
Justin Walshe up next facing Caan Childs, and Walshe betters his altered world record with a 5.54 at 252MPH, Childs drove through some early shake for a 5.81.
Top qualifier Steven Reed is taking on Mark Rowland, The funny car of Rowland had the holeshot, but Reed had the power, a 5.490 to a 6.20, solidifying his top spot with the exact same ET.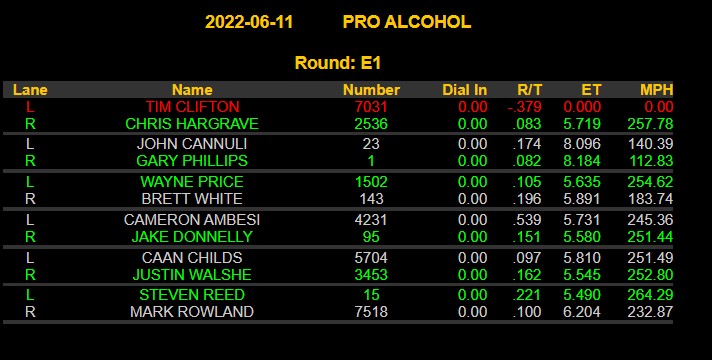 ---
PRO SLAMMER ARF 1
We are about to go into first round of today's All Run Format for Pro Slammer, it also doubles as qualifying for Sunday.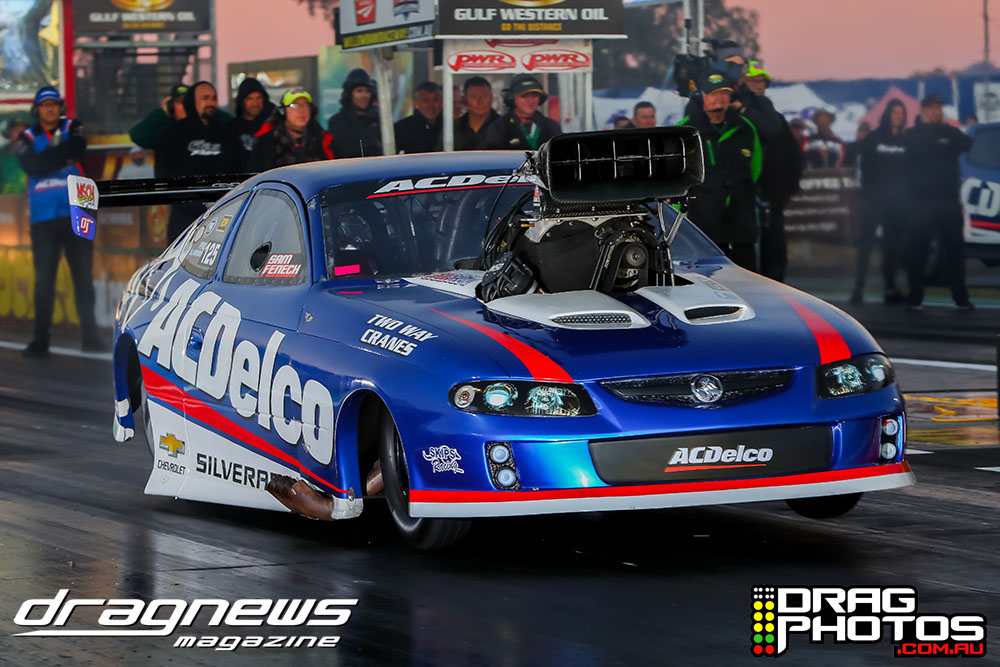 In the opening pairing of Pro Slammer, Sam Fenech nailed the tree with a .070 against Ben Bray and wasn't threatened with a great 5.74 win from the ACDelco Monaro over Bray's 5.99.
Sam Afchal on a solo has had a repeat of yesterday's problems, unable to back up after the burnout in the Duster.
John Zappia versus Craig Burns should be a hard fought race, Burns had the jump but it was all Zappia after that going into a power wheelstand and stopping the clocks with a 5.72 to a 6.17 for the win and also top qualifying for tomorrow.
Paul Cannuli was a day late on the tree against Steven Ham, the Mustang doubled down taking out a timing reflector as well, meanwhile Ham streaked away to a 5.76 win.
Living his dream, Rob Harrington grabs his first ever win in Pro Slammer with a 6.06, opponent Michelle Davies launched at the car and tossed the belt at the tree.
Russ Pavey the unlikely points leader taking on Peter Lovering in the shoebox 55 Chev. Pavey red lights the Corvette out of the race and chucks the belt at the line to make sure of the loss, Lovering pedals the Chev to half track and rolls off it for an easy win.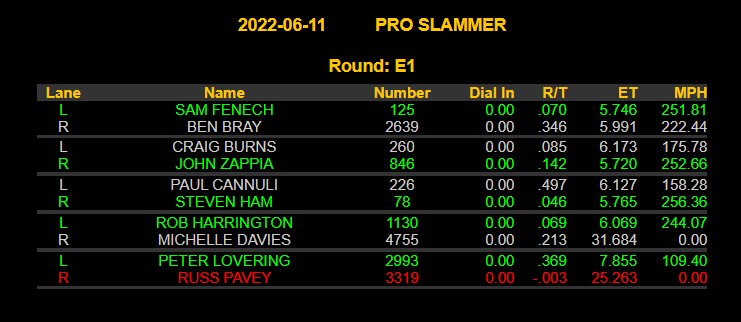 ---
Round one of Pro Radial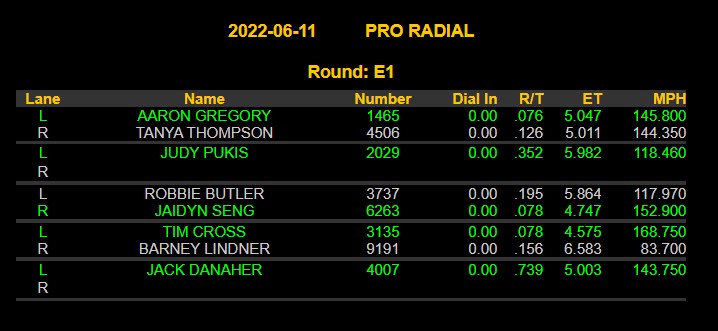 ---
Round one for Extreme Bike, unsure if they have been shifted to a three round format or it is eliminations still.

---
Q3 run data for Modifed, Performance Bike and Top Sportsman, we will hopefully get the final qualifying orders through.
---
The ACDelco team ready to tow out for the first round of today's All-Run format. Craig Burns was spectacular yesterday with a huge wheelstand you can seen in our previous day's coverage.
---
Recap of Wayne Daley's day in the Diamond T Custom Tool Boxes Pro Stocker. Daley is currently sitting in number 7 with a 7.02.
---
Pro Slammer and Pro Alcohol will be out for their All-Run Format first round at 10am
---
Check out the recap of Morice McMillin's test hit last night in the Aeroflow Performance Top Fuel Funny Car.
---
SUPER SEDAN E1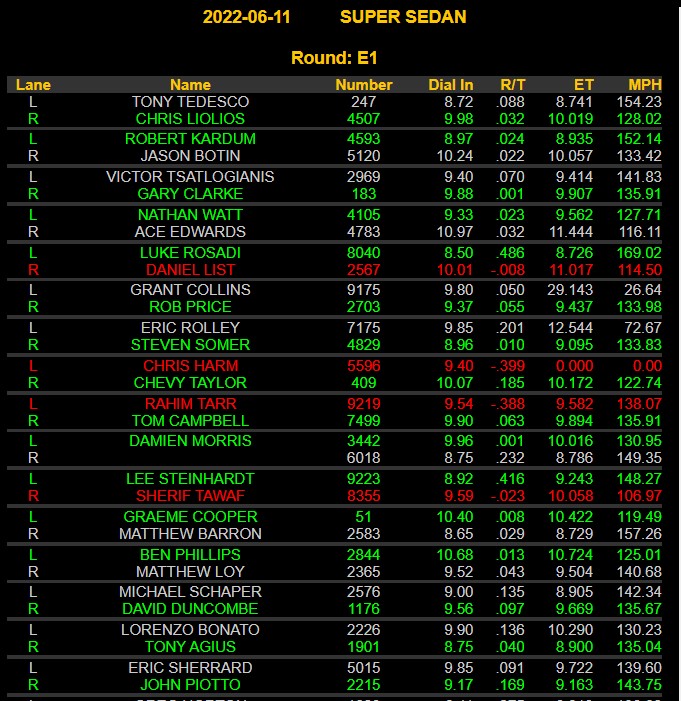 ---
MODIFIED BIKE E1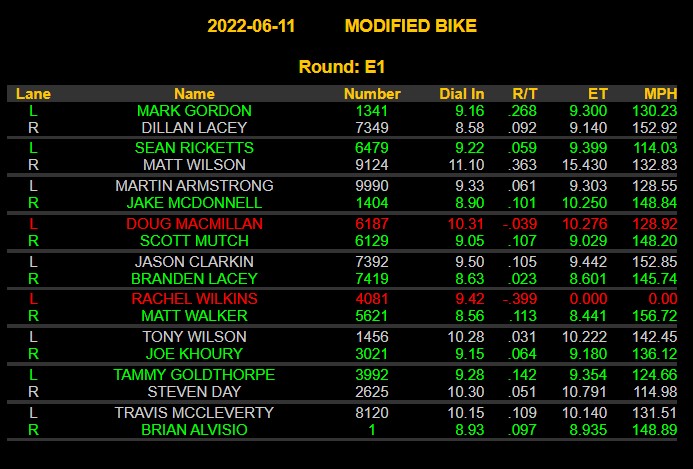 ---
JUNIOR DRAG BIKE E1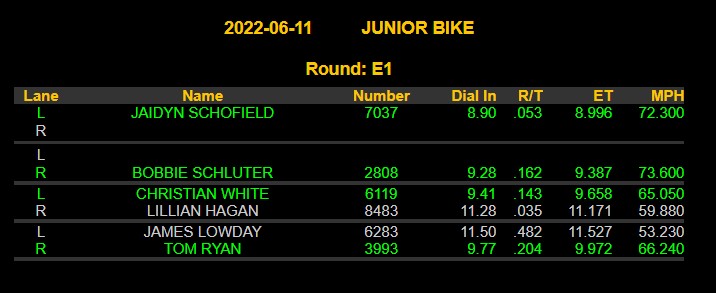 ---
SUPER STREET E1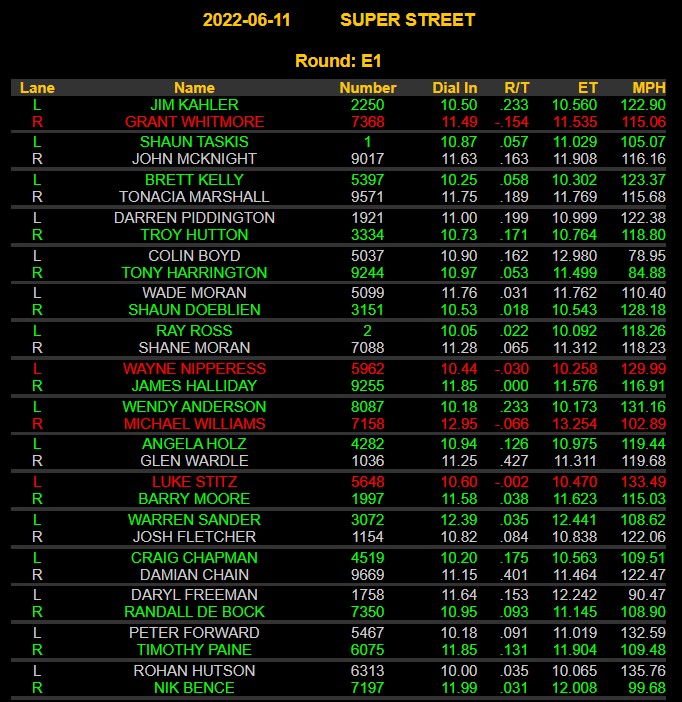 ---
JUNIOR DRAGSTER E1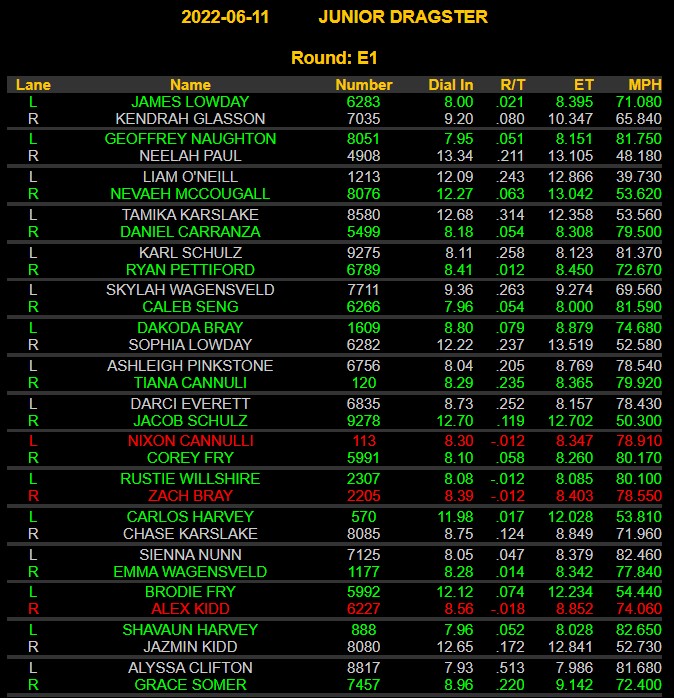 ---
Day 3 of the Winternationals is upon us, sportsman racers are starting their eliminations and we have final qualifying for Pro Mod, Pro Stock, Pro Bike, Top Bike plus All-Round format for Pro Slammer, Pro Alcohol and Top Fuel Funny Car.
Here is the schedule: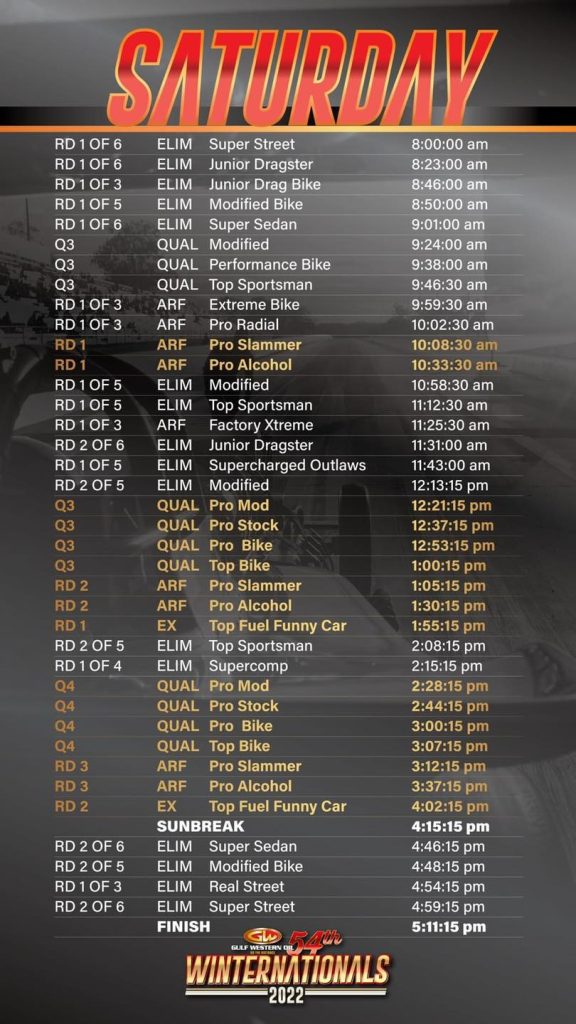 ---
EVENT STORIES:
PRE EVENT STORIES: