Welcome to Drag News Magazine's online coverage from the final day of the 2022 Gulf Western Oil Winternationals at Willowbank Raceway.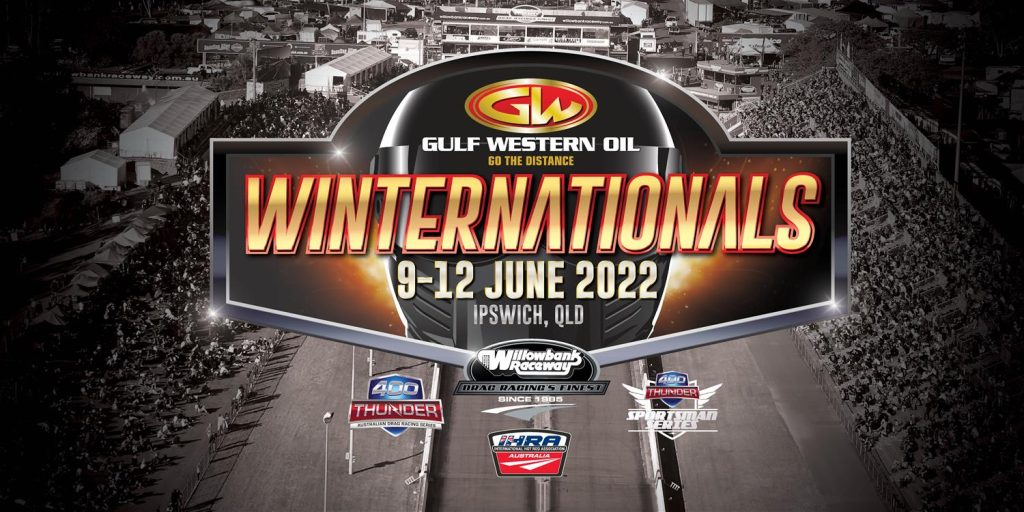 We are trying something a little bit different to keep everyone updated with what's going on, so we will see how it goes. This page will be continually updated through out the event so keep your finger on the refresh button.

We intend to engage with all racers social media, so any racer please tag Drag News Magazine in all your social posts so we see them and share them. Also any other updates or news you would like to share if you have a social media page or not, feel free to email us press@dragnews.com.au or PM us via the Drag News Magazine Facebook Page.
---
LATEST UPDATES DAY 4 – 6.00PM
It is finals time at the 2022 Gulf Western Winternationals.
VIDEO: Here is video of all the Professional finals, and that is a wrap from us.
---
TOP FUEL FUNNY CAR RD 4
Adam Murrihy had the manual reverse gear again, McMillin sitting on the line for a little longer than he surely would of liked. Both cars left clean, Murrihy had a pedal and crossed the centreline, McMillin was skirting the centreline at 1000ft and lifted off the noise for a 5.09 at 262MPH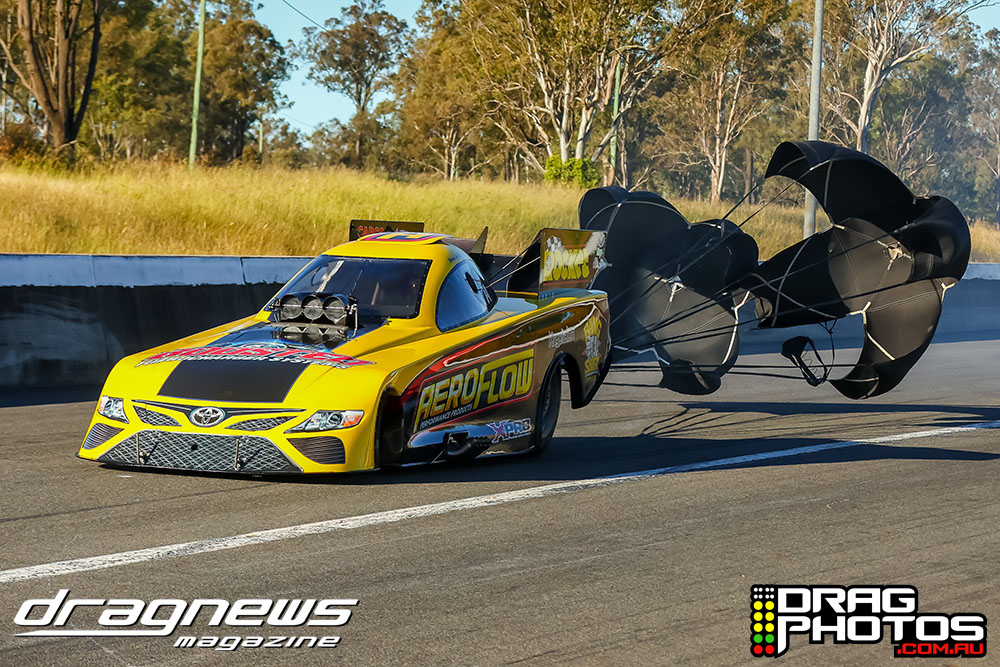 ---
PRO ALCOHOL FINAL
Gary Phillips tried to find the cause of his engine backfire in the semi-final and haven't been able to, so have elected not to run the final and risk more engine damage.
Steven Reed on a solo swung for the fences, and got the funny car out with a quick .948 sixty before going into a big rev, may of spun something in the drive train, and the run was done, but he will be the Winternationals champion.

---
PRO SLAMMER ARF FINAL
The final roar for the Craig Burns driven ACDelco ended in the burnout with the Monaro shut down, capping off a rough yet spectacular weekend for the last appearance of the team's Monaro body before moving to a Camaro. Peter Lovering drove on for a round with with a 6.58 in the 55 Chev Shoebox.
Michelle Davies gets the Mustang through the shake zone this time for a nice 5.77 and the win over a red lighting Russell Pavey.
Sam Fenech fronting John Zappia again, this will be the last pass for the ACDelco Monaro body Maurice Fabietti has been running for nearly two decades. Zappia red lights away a 5.71, Fenech surely sees the the red light and shuts off, taking the Monaro out a winner.
The Duster of Sam Afchal jumps backwards when he goes to move into stage, there is some smoke being emitted from the back of the car and the team elect to shut it down. Steven Ham launches and gives the Camaro a couple of pedals and shuts it off.
Pro Slammer final is Paul Cannuli who has had a complete reversal of fortune from yesterday, against Ben Bray. The Corvette of Bray chopped the tree and was out on the Cannuli Mustang, at the top end Cannuli had the Mustang's nose in front and even dropped the laundry early for a 5.726 defeating a 5.899.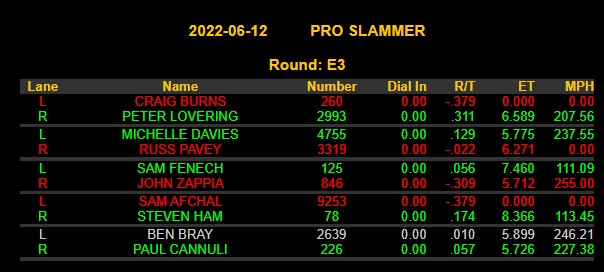 ---
IHRA PRO MOD FINAL
Collin Willshire's Mustang must of had a problem and doesn't move out of stage. Greg Tsakiridis runs it through to the stripe for a 5.96.

---
VIDEO: Nino Cavallo walks away from a huge accident in the Pro Stock final.
---
VIDEO: Ryan Pettiford and Bobbie Schluter's emotional wins in Junior Dragster and Junior Drag Bike.
VIDEO: Frank Tarabay with no chutes into the sand trap in the Factory Extreme final.
---
PRO STOCK ARF FINAL
Scott Porter opens the round with a .009 reaction and nails the stripe first with a 6.997 over Omar Sedmak's 7.49.
John Barbagallo runs 6.96 on a single, the Escort was 4.44 to half track but ran only 194MPH at the line.
Brian Pursell runs a clean 7.02 against Clint George's 7.08, both cars soft off the line.
Daley took a shot at the tree against Dekert and left before the ambers, Dekert also red lit likely off the site of the Dart streaking away early and cruised to a 7.01
The event final is Nino Cavallo and Aaron Tremayne. The reaction times from Tremayne average out to just 9 thousandths, so Cavallo will need to be on his game. Cavallo pulls out the holeshot but moves out of the groove and turns hard left, flipping over, hitting the wall hard, and slides to a stop on its side. Fortunately Cavallo climbs out seemingly unharmed and waves to the crowd. Tremayne records the win with a 6.93

---
TOP FUEL BIKE FINAL
Matheson cooks the tyres on the hit and gets back on it for a 6.69, Mark Drew was on a strong pass standing the Harley hard up on the back wheel and just clipped the finish line reflector, likely giving the win back to Matheson.

---
PRO STOCK BIKE FINAL
Scott White couldn't to leave anything at the tree, let alone a .5 reaction. Luke Crowley rides away with the Winternationals win with a 7.160 to a 7.266.

---
SUPER COMP FINAL
Adrian Vella has been on top all weekend, the Cobalt carries the wheels a long way and runs miles under the index, despite all the achievements of Tony Bellert's new Barra powered dragster this event, he couldn't run down the little Cobalt.

---
SUPERCHARGED OUTLAWS FINAL
Brett Stirling was fortunate to come away unscathed after being caught up in the Bill Fletcher accident yesterday, and is in his first Winternationals, Graeme Frawley is in his sixth! It was too much for Stirling who red lit in his Camaro and Frawley collects another Tree.

---
PRO RADIAL ARF FINAL
Tim Cross left first at the green with his turbo Cortina and wouldn't be caught over the short track by young gun Jayden Seng.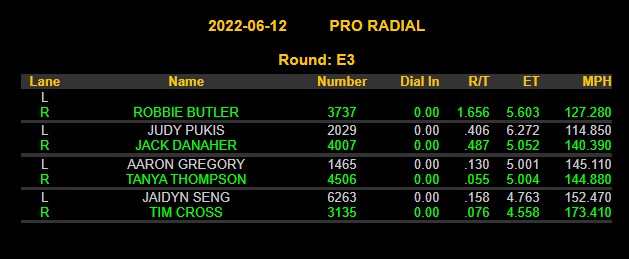 ---
EXTREME BIKE ARF FINAL
Jason Ellem rolled the beams when he hit the two step, there was confusion from Ellem who just ended launching and will collect the win.

---
PERFORMANCE BIKE FINAL
Ken Collin goes 7.75 on the 8.11 A/AB index to not be headed against Nathan Ward also on the A/AB index.

---
MODIFIED FINAL
Top qualifier Simon Barlow will take a Gold Christmas Tree back to South Australia winning in his dragster over Gavin List.

---
TOP SPORTSMAN FINAL
Tough reactions on both side of the race track, but the Steve Fowler GXP rocked on past Garry Hunt's Commodore on the top end for another Winternationals title. Hunt having to bail out of a wheelstand likely the difference in the end.

---
SUPER SEDAN FINAL
Ben Phillips beautiful HK Wagon picks a cherry picks off a cherry by 8 thou, and Paul Doeblien will win the Winternationals in his Falcon ute.

---
REAL STREET FINAL
Real Street was also debuting at the Winternationals as a bracket, and Hannes Uys will take the win light at the stripe over Cooper Leahy in a Holden versus Ford battle.

---
SUPER STREET FINAL
Craig Warren nailed his dial in in the Super Street final but was holeshot by the big wheelstanding Falcon of Brett Kelly that hung on for the win.

---
MODIFIED BIKE FINAL
Brian Alviso will grab the Gold Christmas Tree trophy on the 'Joker' bike over Matt Walker on a holeshot.

---
JUNIOR DRAG BIKE
Bobbie Schluter takes the victory in the first ever Junior Drag Bike eliminator at the Winternationals over Christian White.

---
JUNIOR DRAGSTER FINAL
Ryan Pettiford wins Junior Dragster over Dakoda Bray in an emotional final. Ryan is the Grandson of Evelyn White (mother of Pro Alcohol racer Brett White) and a popular NSW drag racing personality for many many year, sadly passed away a few weeks ago.

James Lowday is the 400 Thunder Junior Dragster champion for 2021/2022, the decision was made for the class, that the current season would not be extended into the Super Season because of the number or racers coming of age and unable to continue competing.
---
FACTORY EXTREME ARF FINAL
A smokey Scion of Tarabay lines up against Collin Willshire's Eclipse, Tarabay takes the win 6.14 to 6.30 but has no chute and goes into the sand and just noses safely into the net.

---
SUPER STREET SEMI FINAL

---
JUNIOR DRAGSTER SEMI FINAL

---
MODIFIED BIKE SEMI FINAL

---
SUPER SEDAN SEMI FINAL

---
PERFORMANCE BIKE SEMI FINAL

---
SUPERCHARGED OUTLAWS SEMI FINAL

---
MODIFIED SEMI FINAL

---
TOP SPORTSMAN SEMI FINAL

---
SUPER COMP SEMI FINAL
---
VIDEO: Nino Cavallo goes low ET in round two for Pro Stock
VIDEO: Classic Pro Alcohol battle – altered versus funny car
VIDEO: Some Pro Slammer semi final action
VIDEO: Morice McMillin Aeroflow Funny Car pass
---
IHRA PRO MOD SEMI FINAL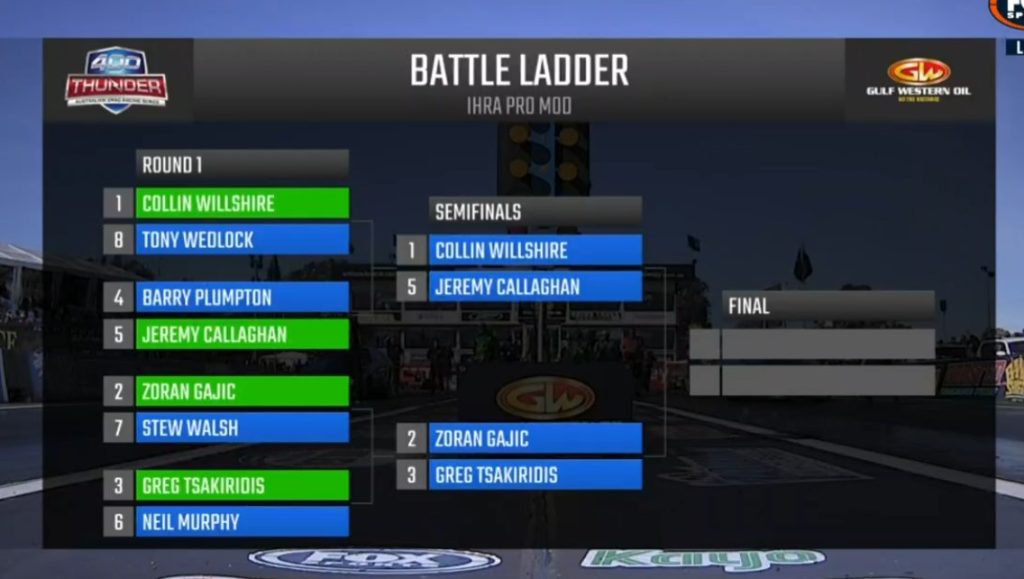 Gigantic two tenth holeshot to Jeremy Callaghan over Collin Willshire, but had to pedal the Camaro and Willshire stormed past on the top end with a 5.96 for the win into the final.
A .018 to .114 holeshot for Greg Tsakiridis against Zoran Gajic won the race for the Mauler team, 5.917 to 5.883, for an all twin turbo Mustang final.

---
TOP FUEL BIKE ARF ROUND 2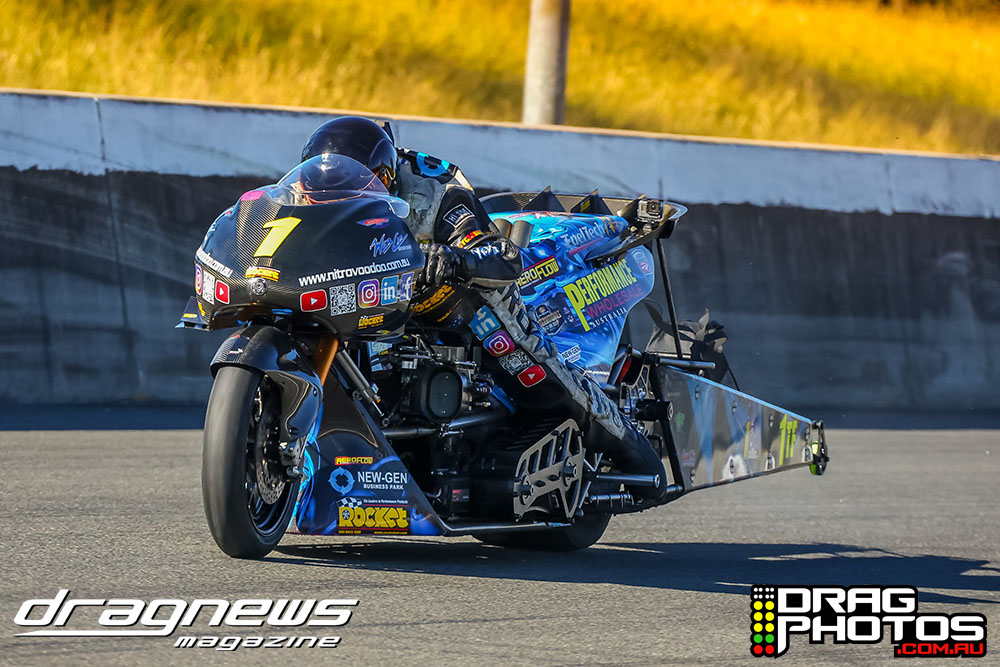 Chris Matheson was the only bike to do a pass. John Zahra remained in the pits and Mark Drew could not fire his Harley.

Matheson had Nitro Voodoo set to kill, but just blazed the big rear slick on the hit.
---
PRO STOCK MOTORCYCLE SEMI FINAL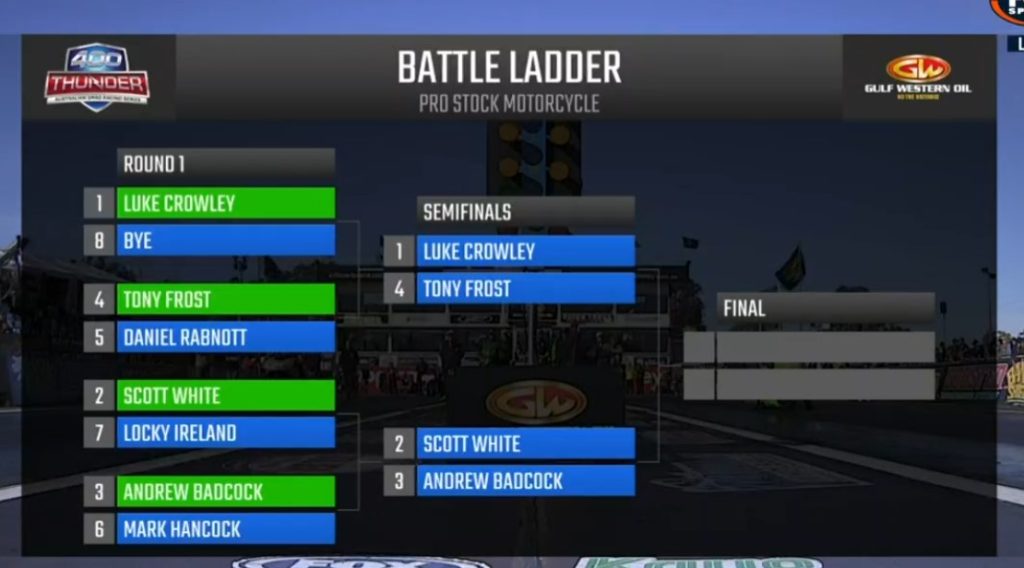 Tony Frost's bike bucks off the line and his Winternationals are over as Luke Crowley shoots to a 7.033 at 190MPH
Scott White goes straight down the middle of the lane and into the final defeating Andrew Badcock 7.253 to 7.713, White's best ET of the weekend, sends him to his first Winternationals final.

---
PRO STOCK ARF ROUND 2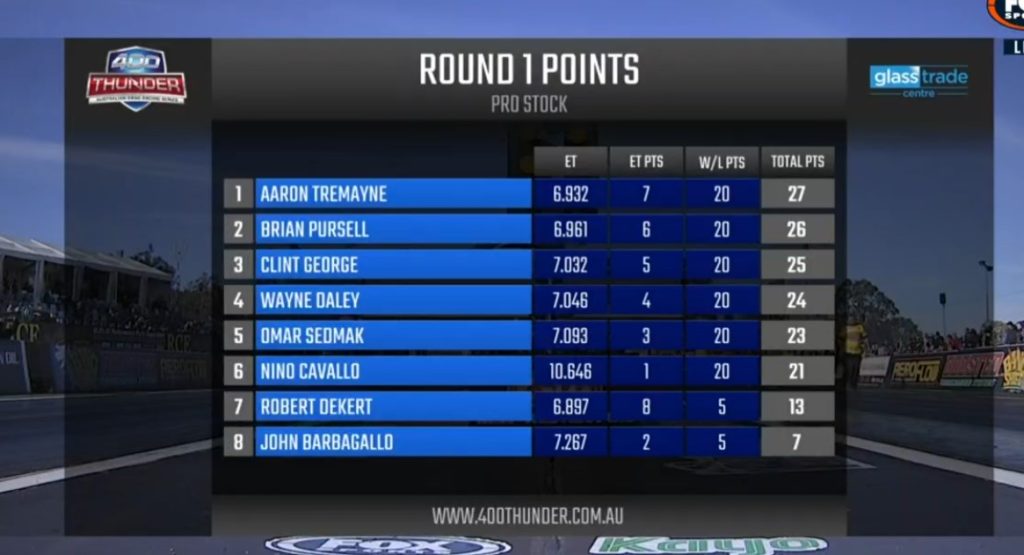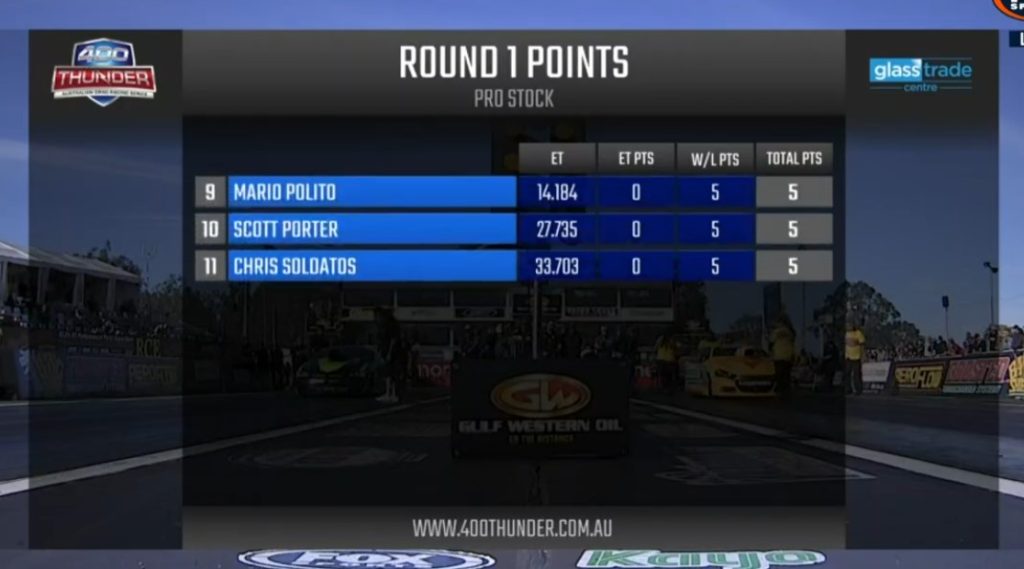 Wayne Daley lead from start to finish against Omar Sedmak with a 7.01 to 7.13 win to begin Pro Stock round two.
Scott Porter runs a clean 7.022 solo in the Mustang.
Nino Cavallo drops a great number with the battles everyone is having with the track, a 6.92 takes down Clint Georges 7.05. Cavallo needed every thou of that run to mow down George's holeshot.
Dekert looking for some redemption lays down a solid 6.96 at 194MPH against Brian Pursell. The GXP of Pursell walked around in the first 300ft before he jumped on the clutch.
Aaron Tremayne wins the closest race of the round, winning by a nose over John Barbagallo 6.953 to 6.968.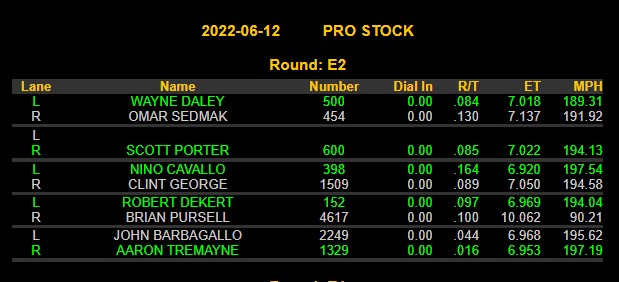 ---
TOP FUEL FUNNY CAR ROUND 3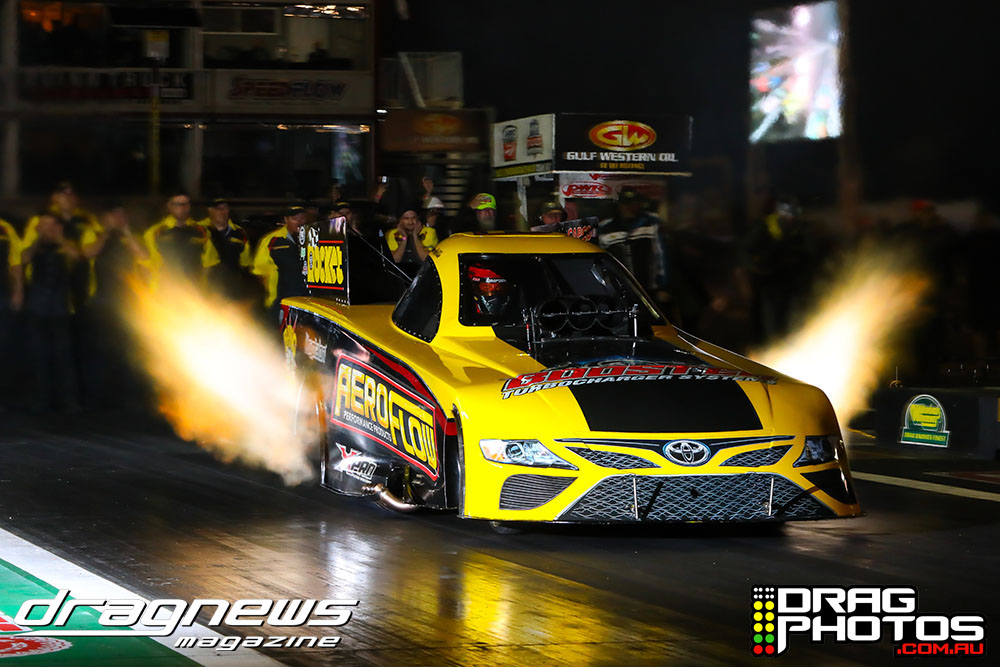 Morice McMillin in the Aeroflow Funny Car on a clean run before walking around on the top end for a 5.14 at 267MPH
---
PRO ALCOHOL SEMI FINAL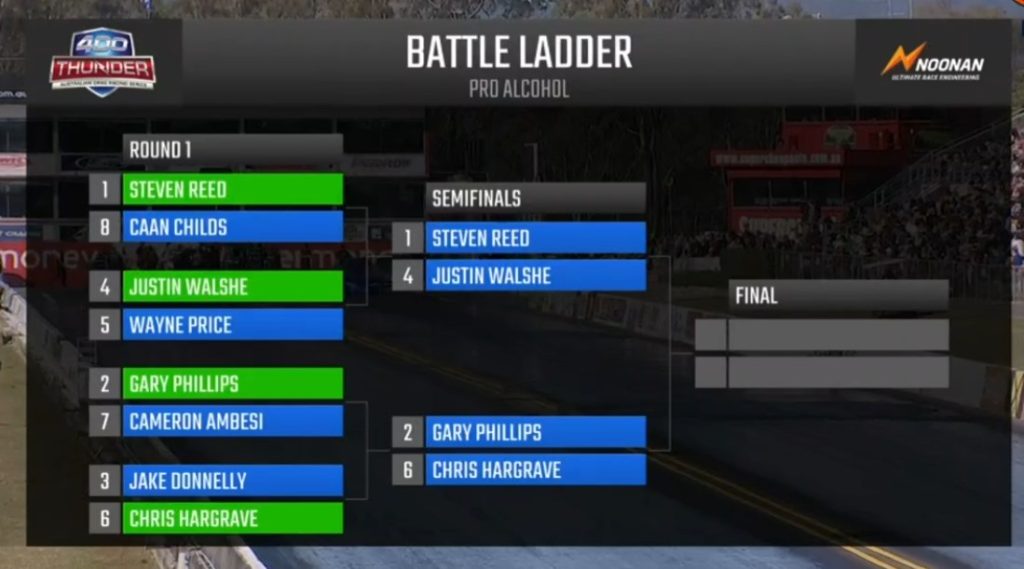 Hargrave gets the jump at the green, but Phillips even in the lane racers have been struggling with powers past but pops the blower at around 1000ft still hanging on to a 5.64 to 6.17 win.
Titantic match up with Steve Reed against Justin Walshe, the altered drills the tree with a .004 and was in front to about 1000ft until the speed of the Reed funny car passes him just before the stripe for a 5.484 to 5.567, a win by 21 thou.

---
PRO SLAMMER ARF ROUND 2
Points after round 1.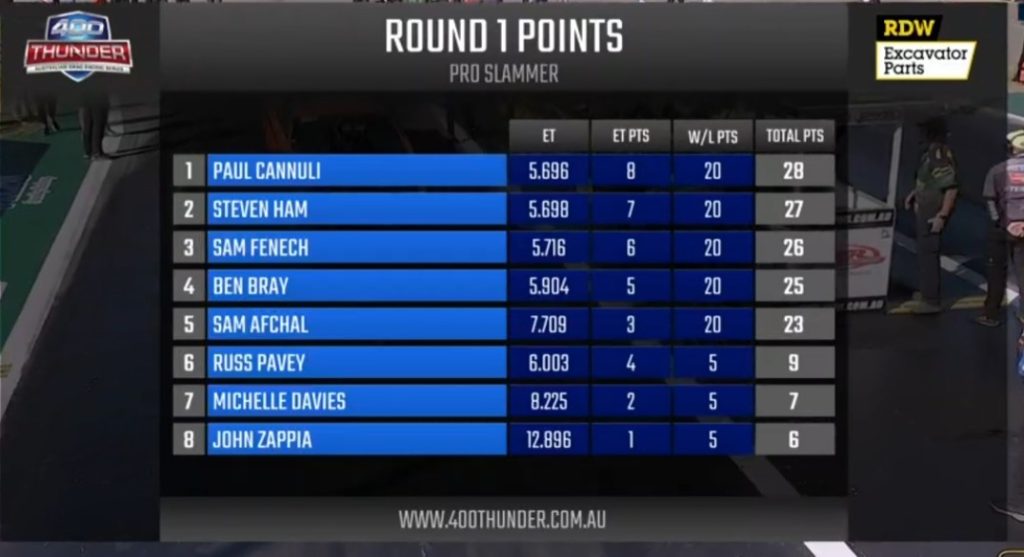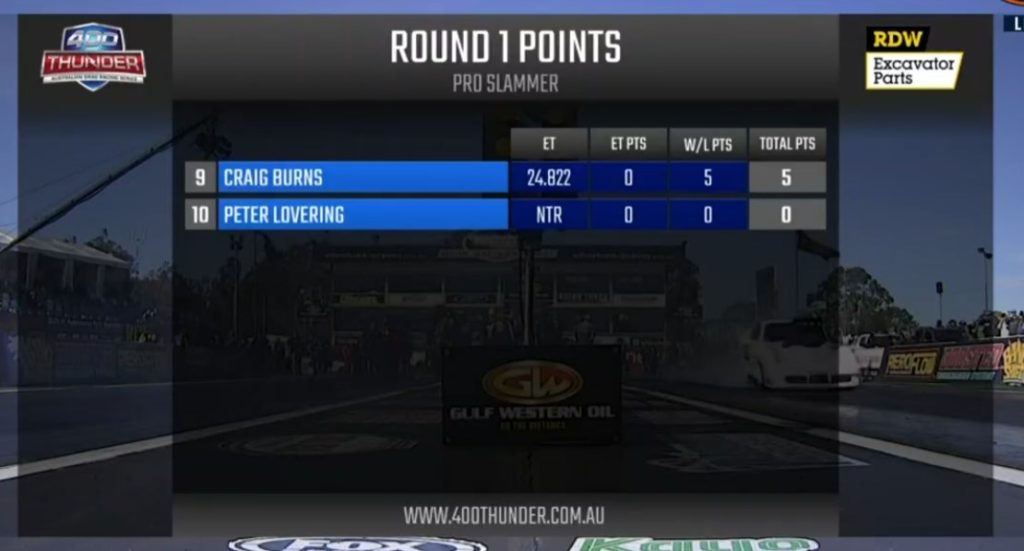 Russell Pavey had a big tank slapper early on in the run and tossed the belt on the Corvette, Sam Afchal in the other lane was on a good run before it looked like the Duster also through off a belt cruising to a 6.49.
Michelle Davies continued with tyre shaking problems, this time it struck about 100ft out causing one bucking Mustang. Opponent Ben Bray was conservative with a 5.89/
Sam Fenech ACDelco Monaro was shut down on the line, Zappia went on a solo and easy 5.74 win while holding on to low ET for the round to this point. Fenech's Monaro had no oil pressure.
Will Steve Ham be able to do something about low ET against Craig Burns? The answer is no, Ham picks up the win, but the Camaro was crazy sideways up on one tyre at 100ft after some severe tyre shake. Luckily for Ham, Burns went straight up into tyre spin.
Cannuli was on and off the two step in full stage, but went on for a solid 5.77 win against Peter Lovering's 6.32.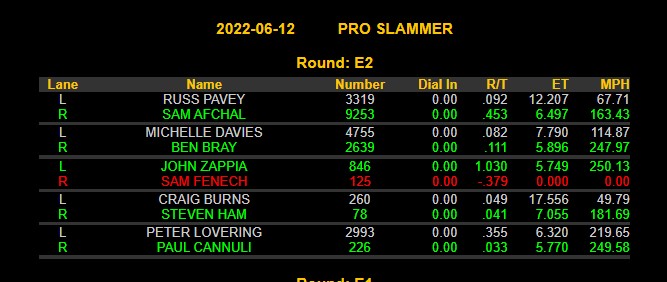 ---
Extreme Bike Round 2

---
Spectacular sequence from Drag Photos of Tim McCarthy's Funny Car explosion. Check out our full gallery of action here: https://dragnews.com.au/gallery-2022-winternationals-day-3/
---
Factory Extreme Round 2

---
Super Sedan Round 4

---
Performance Bike Round 2

---
Supercharged Outlaws Round 3
---
Junior Bike Round 2

---
Junior Dragster Round 4

---
Real Street Round 2

---
Super Street Round 4

---
Super Comp Round 2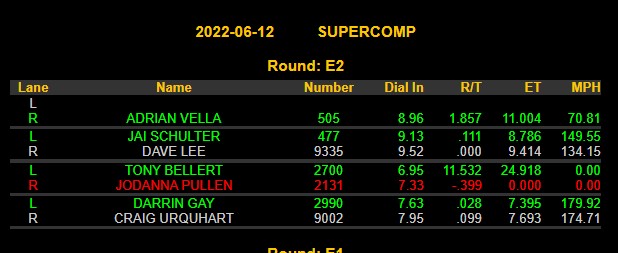 ---
Video of Funny Car Round 1
VIDEO: Justin Walshe versus Wayne Price in Pro Alcohol Round 1
VIDEO: IHRA Pro Mod highlights.
---
PRO ALCOHOL NON-QUALIFIERS TEST
Brett White has a big time backfire at 60ft against Mark Rowland who runs down the centreline timers.
---
IHRA PRO MOD ELIMINATIONS ROUND 1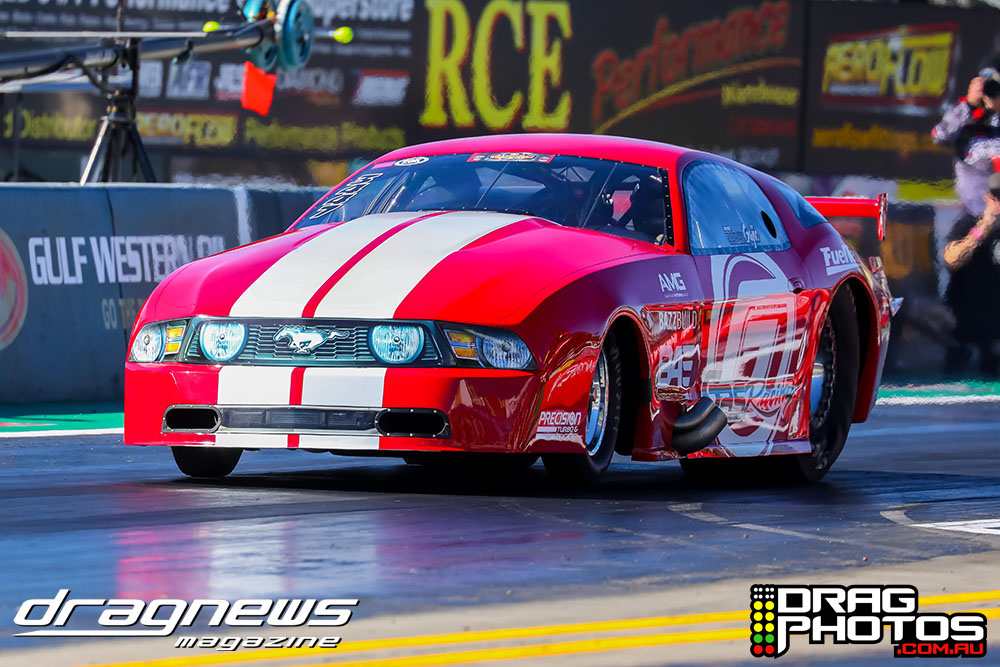 Pro Mod is indexed at 5.85, Jeremy Callaghan puts Barry Plumpton on the trailer in round one with a 5.88 to a 5.99 first up.
Neil Murphy red lights the Camaro out of competition against Greg Tsakiridis with a 5.909.
Tony Wedlock and Collin Willshire have an old fashioned burn down. Willshire goes in first, but Wedlock slaps the holeshot on him, however smoke starts pumping out of the Solara at half track and Willshire drives around for a 5.97 win.
Zoran Gajic takes a solo win with a 5.880 after a no-show from Stew Walsh.
---
PRO STOCK MOTORCYCLE ELIMINATION ROUND 1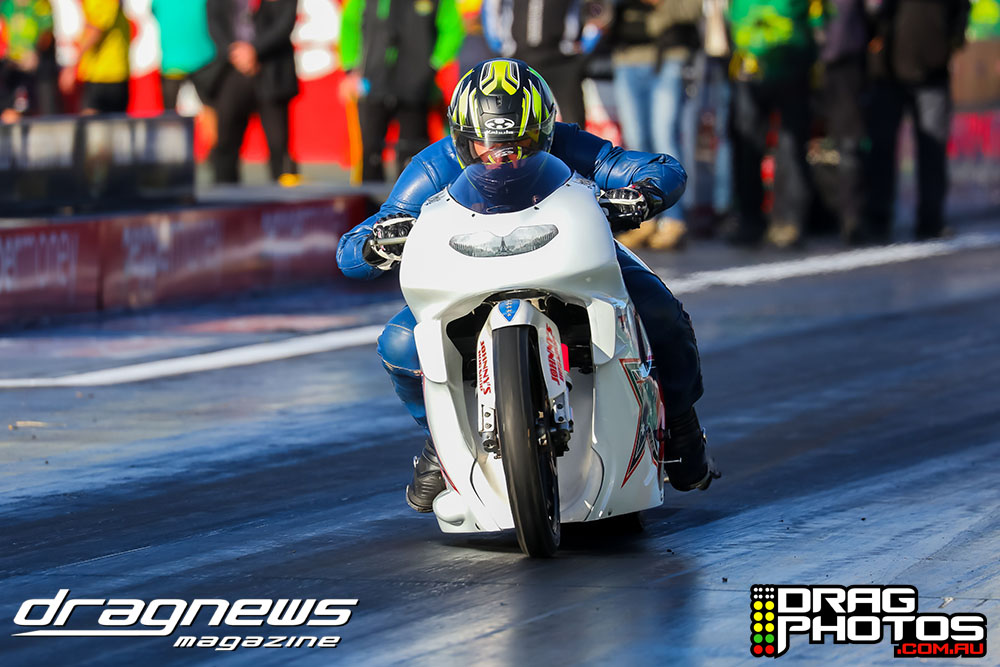 Scott White moved on to the semi final with a nice 7.347 against a porposing Locky Ireland.
Tony Frost continues to step up the Trevor Birrell prepped machine with a 7.411 win against a out of shape Daniel Rabnott.
Andrew Badcock drives through some wheel spin for a 7.636 win against Mark Hancock who had a trouble pass.
Luke Crowley asserts his dominance on the field with a solo 7.092 at 189MPH

---
PRO STOCK ARF ROUND 1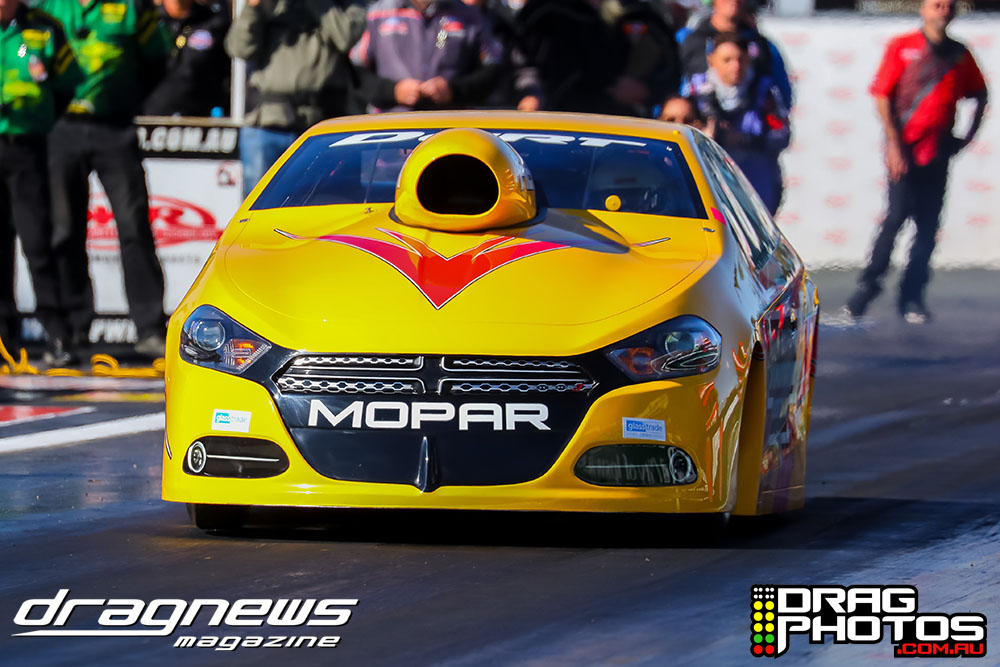 John Barbagallo and Wayne Daley were locked together at half track in the first race for Pro Stock. Barbagallo dumped the chutes early, the Escort may of been slightly out of the narrow groove, Daley gets the win with a 7.04 as he also started to drift towards the centreline.
Brian Pursell on a solo goes straight and clean for a 6.961.
Scott Porter bombs the tyres off the start in his Mustang, and Nino Cavallo had his own tyre shake problems and pushed the clutch in at 300ft rolling to the win.
Chris Soldatos repeats Porter's experience paddling the tyre hard, Crew Chief Peter Ridgeway commented on bald spots on the start line being hard to avoid. Omar Sedmak headed right down Broadway in the other lane with a 7.09.
Mario Polito against Aaron Tremayne got out with the wheels in the air in the sketchy left lane but headed to wall and pushed in the clutch. Tremayne rocketed to a 6.932 at 197MPH.
Rob Dekert throws away a 6.89 with a big cherry, handing Clint George the round win with a 7.03. Dekert still collects low ET points for the round.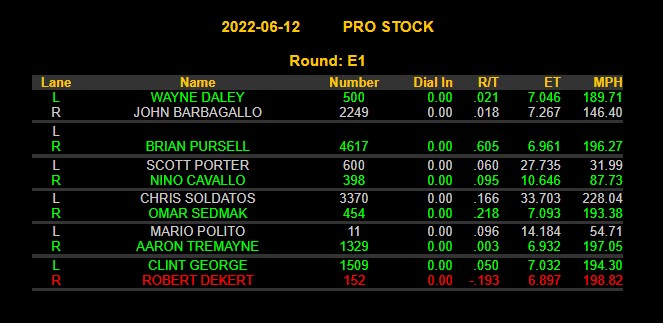 ---
TOP FUEL BIKE ARF ROUND 1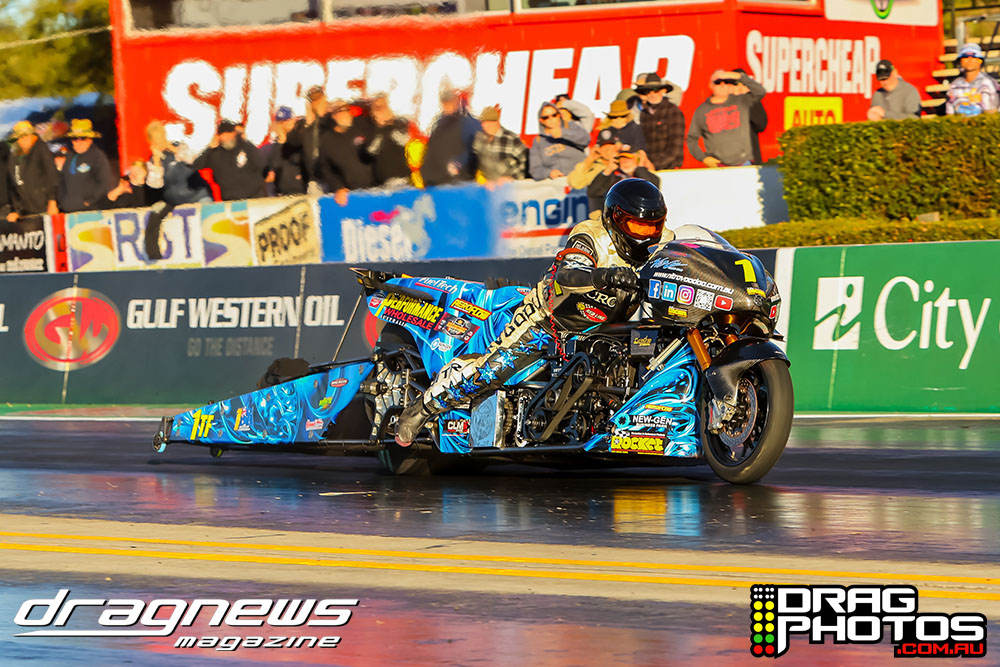 The Nitro Voodoo machine of Chris Matheson had eyes for the wall, nearly scraping it at half track as Matho gave up the run. Mark Drew went on a nice straight run for a 6.54.
---
PRO ALCOHOL ELIMINATION ROUND 1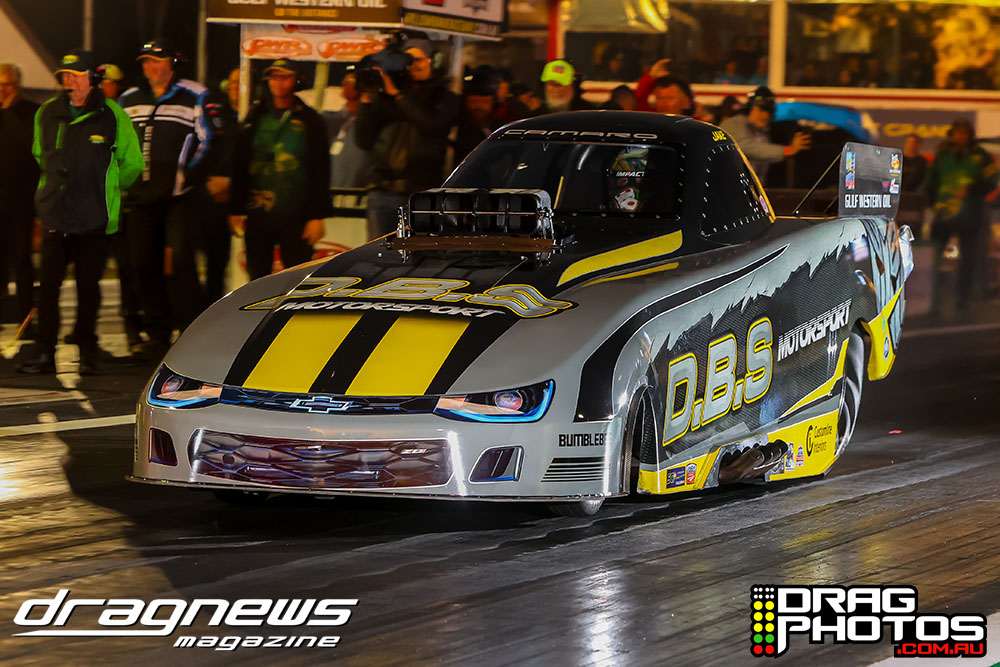 Wayne Price started mixing up the cylinders of the Mopar funny car and banged the blower at half track, opponent Justin Walshe had a bracket altered with a 5.547 for the win.
Caan Childs took a stab at the tree in dragster but picked off cherry with a -.018. It would not of mattered, the Steve Reed funny car was on another mission with a 5.436.
Cameron Ambesi is missing from his match up against Gary Phillips, who just accepts the green.
Reed will face Walshe in the semi finals.
Big upset in the final pairing, the Jake Donnelly funny car shakes and smokes off the line and dumps out the chutes, against Chris Hargrave in the Middy's Electrical funny car. Hargrave had to pedal but gets to the stripe with a 6.01 to go on and face Phillips in the semis.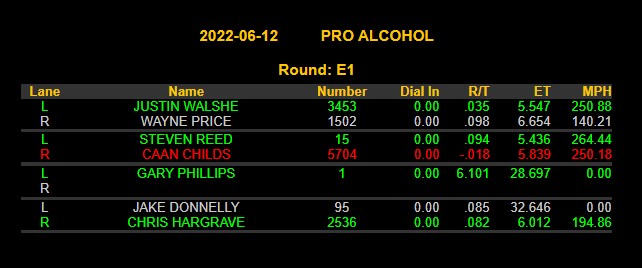 ---
PRO SLAMMER ARF ROUND 1: In Progress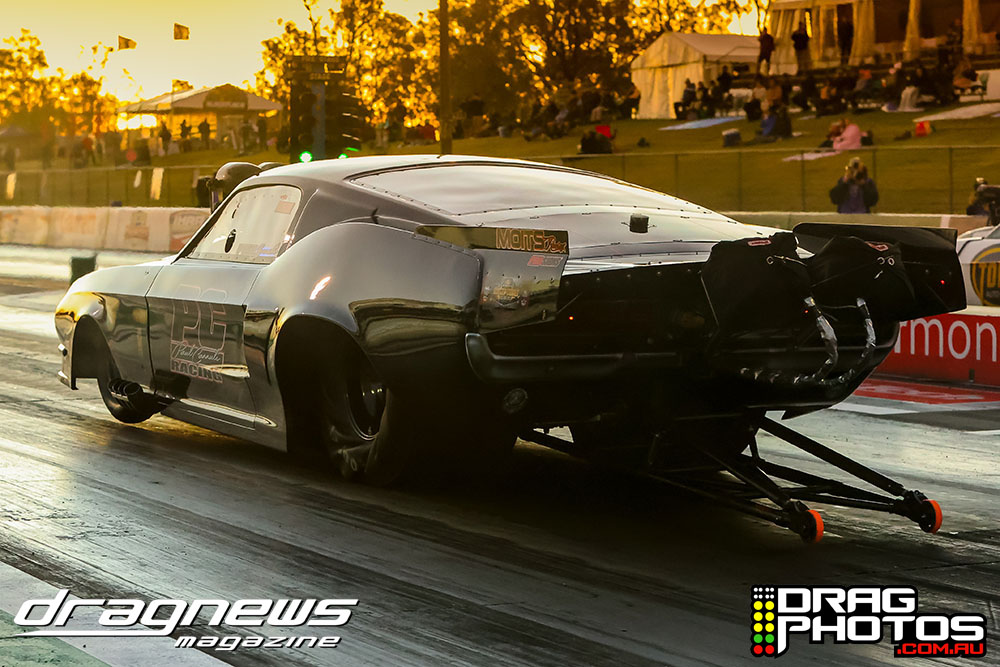 Pro Slammer are using the All Run Format to race for the event win.
Big time first pair match up in Pro Slammer, John Zappia and Sam Fenech. You could probably class this as an upset, well it is an upset when anyone beats Zappia. Fenech cranked out a clean 5.716 while Zap's Rat spun the tyres hard off the line.
The second ACDelco Monaro wasn't as fortunate, Burn's didn't get a chance to go into another spectacular wheelstand, smoking the tyres hard off the line fortunately for opponent Sam Afchal. The Duster of Afchal tossed the belt at half track an coasted to a 7.70 second win.
The tyre spin has been in both lanes, so it is just a matter of who can tune for a cold track. Michelle Davies couldn't keep the Mustang wheels on the deck and going straight against Ben Bray, the Century Batteries Corvette moved around a lot on the run, but Bray hung on to it for a 5.904 win.
Steve Ham was meant to face Lovering, but the Shoebox was a no show, not that he would of had much of an answer for Ham's low ET of weekend, a 5.698 at 256MPH, the first 5.6 of the event.
Paul Cannuli had all the potential going into the event, but it hasn't eventuated until now against Russell Pavey. Cannuli drops the event low ET to 5.696 taking the precious ET points for the first round. Pavey red lit to a 6.00.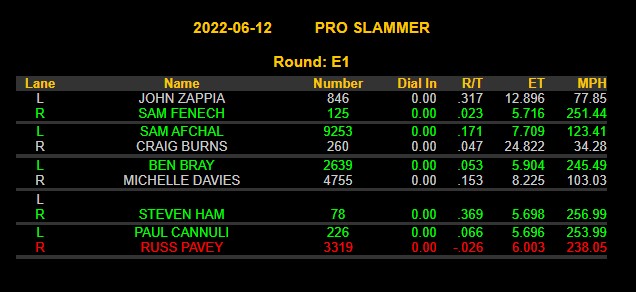 ---
TOP FUEL FUNNY CAR ROUND 1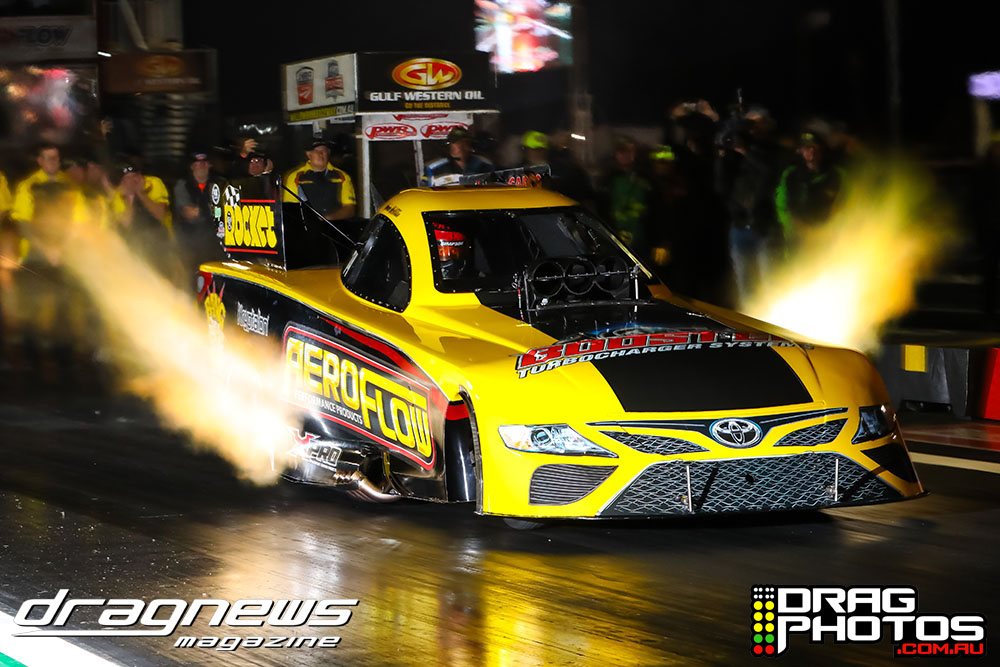 Morice McMillin and Anthony Begley kick off the Professional racing for the day. McMillin pedals the a Aeroflow Performance Funny Car to a 5.12 at 314MPH. Begley smokes the tyres on the hit, pedals and bangs the blower.
This the only race for the round, it was announced Justin Walshe will drive the third Aeroflow Performance Funny Car, joining Brandon Gosbell who was announced as the second car driver.
---
Rob Harrington has unfortunately had to pull of the Winternationals after running his first five second run in Pro Slammer.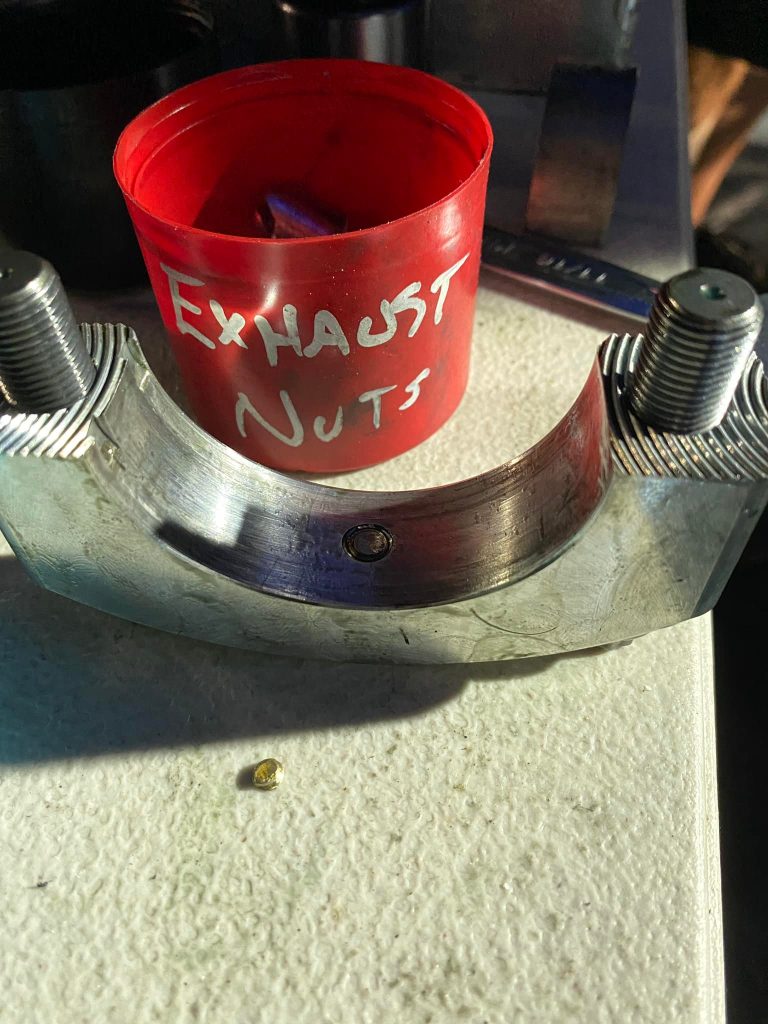 Here is what Rob had to say.

"So after a successful day during routine maintenance we found and issue with the rods. The pin has broken off the bottom of the cap and had spun the bearing in 1 and 2. Pretty weird deal not sure why so we will investigate further in coming months. So we are out of racing on Sunday. With our little budget we just cannot afford to risk a motor!"
---
Recap of Wayne Daley's qualifying in the Diamond T Custom Tool Boxes Dodge Pro Stocker.
---
Good news in from Team Fletcher Racing, with an update on driver Bill who suffered a terrible crash yesterday.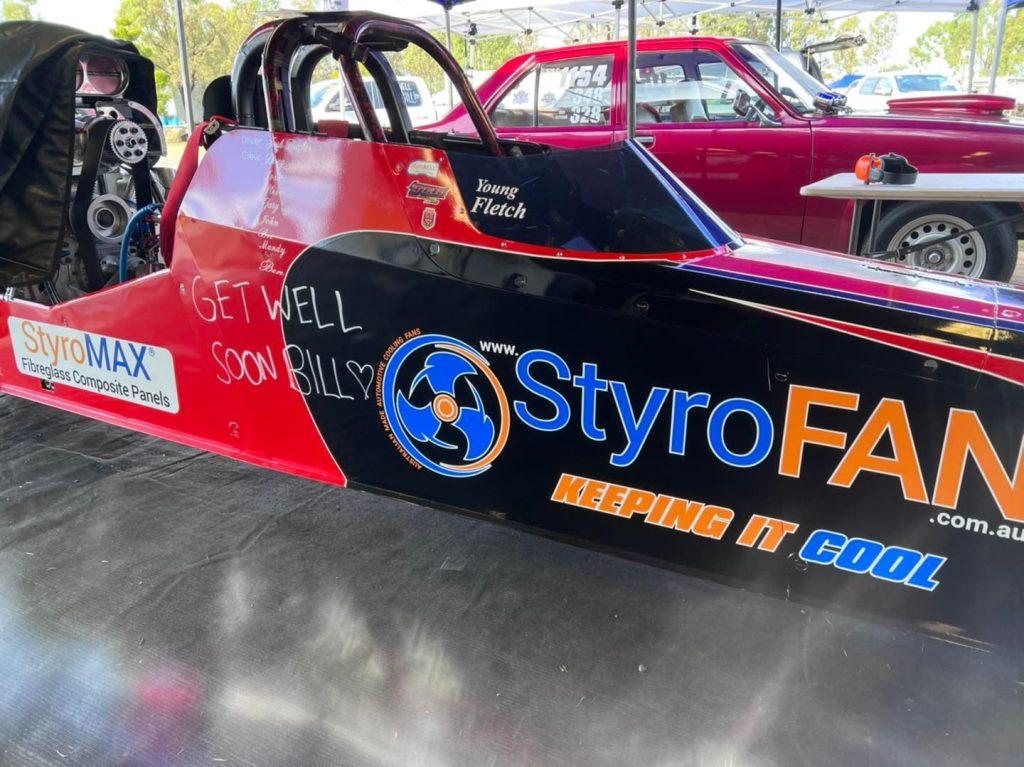 Yesterday afternoon we witnessed every racer's worst nightmare, a high speed crash at the fastest end of the track. As distressing as it was to witness, we knew in our hearts and minds that Bill would be ok.
Thankfully, we can report that Bill is ok. He has spent the night in hospital for tests and observation and will remain under the watchful eye of doctors for another day. Waking to such wonderful news has been a blessing.
TFR want to firstly thank the amazing Willowbank rescue and medical crew who were first to Bills aid. It takes a courageous crew to run towards danger and uncertainty and we are so grateful for them.
The offers of help and well wishes from fellow competitors, racers and our fans have been truly humbling. Bill is an exceptionally experienced racer and long time patriot of Willowbank and the sport of drag racing.
The support we have seen reflects his dedication to the sport and the camaraderie and rapport he has developed with competitors and spectators alike.
Bill has been madly texting 'race on' today and continue to enjoy everything that the Winternationals is and always will be.
---
The official Pro Alcohol qualifying list has come through. Opening ceremony followed by the PRO classes from 10am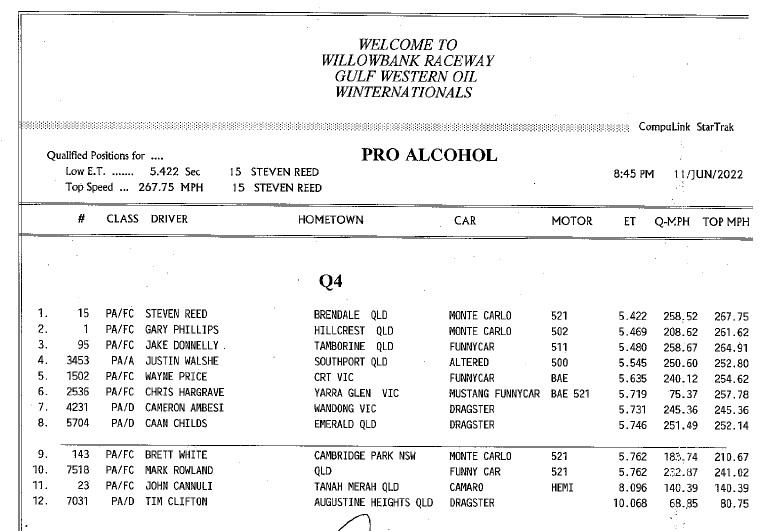 ---
Top Sportsman Round 3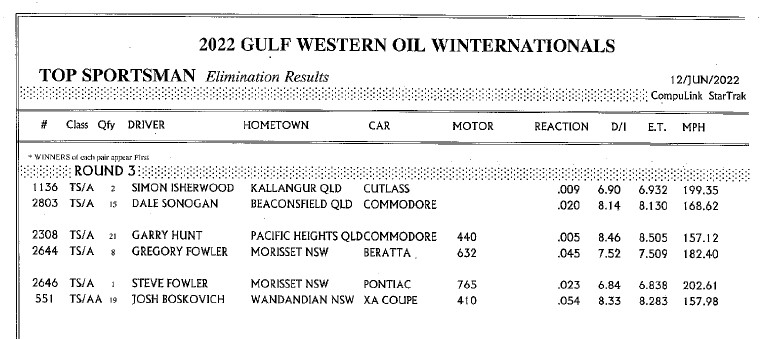 ---
Supercharged Outlaws Round 2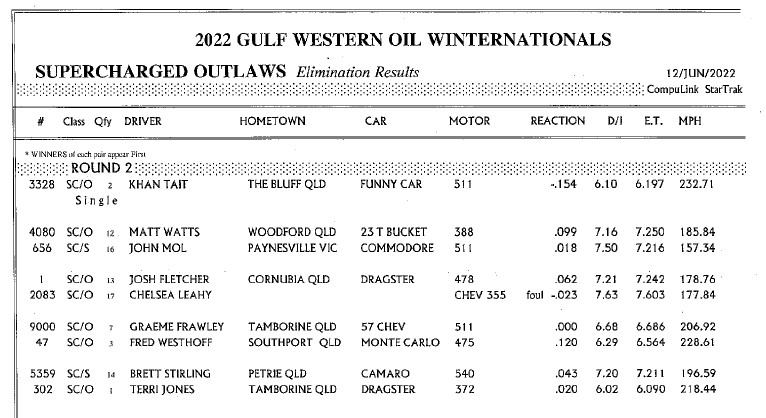 Performance Bike Round 1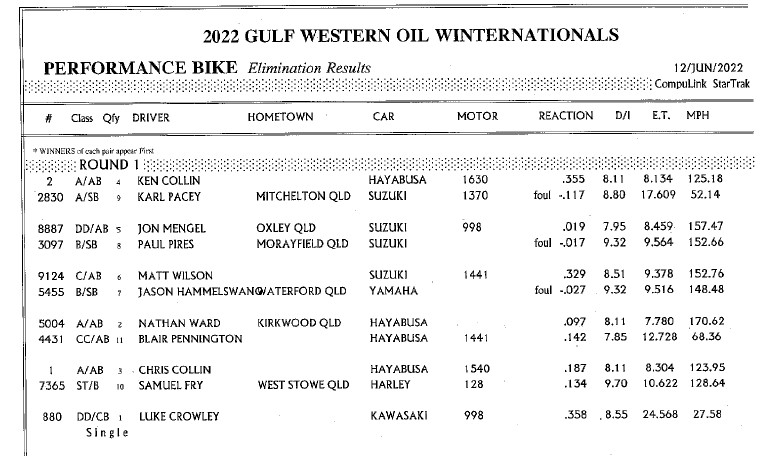 ---
Super Comp Round 1
---
Pro Radial Round 2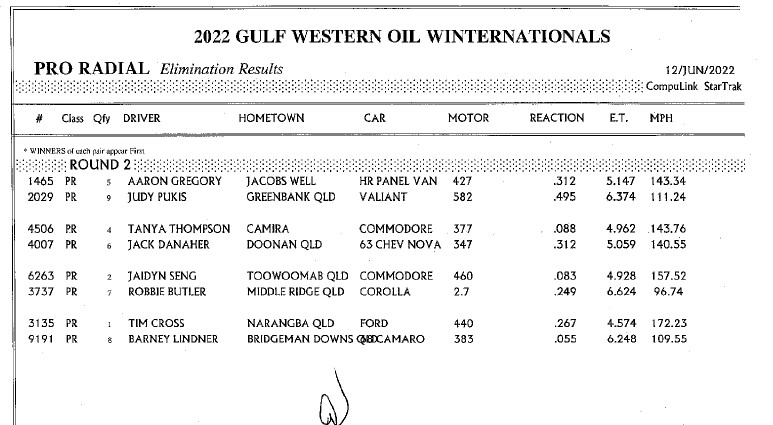 ---
Super Sedan Round 3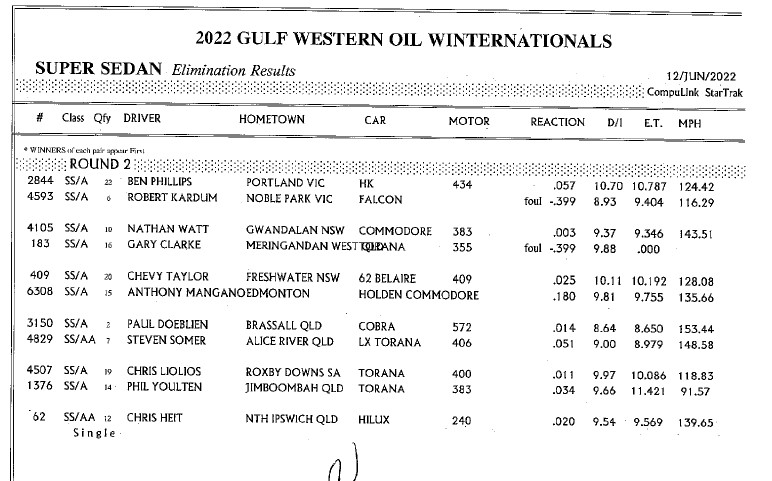 ---
Modified Bike Round 3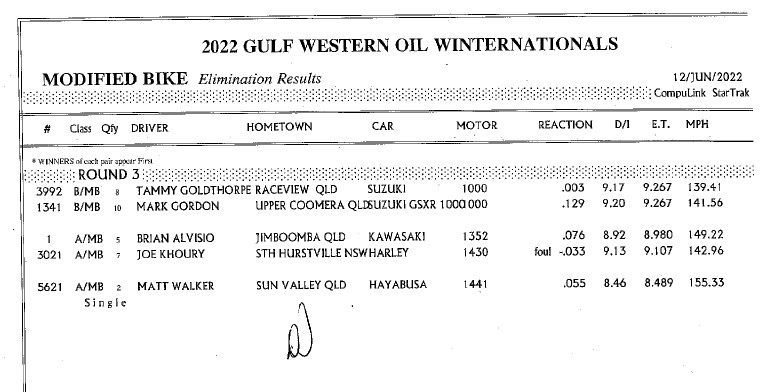 ---
Modified Round 3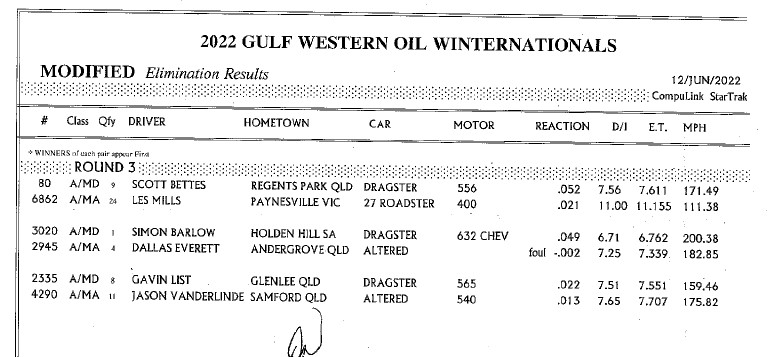 ---
Junior Dragster Round 3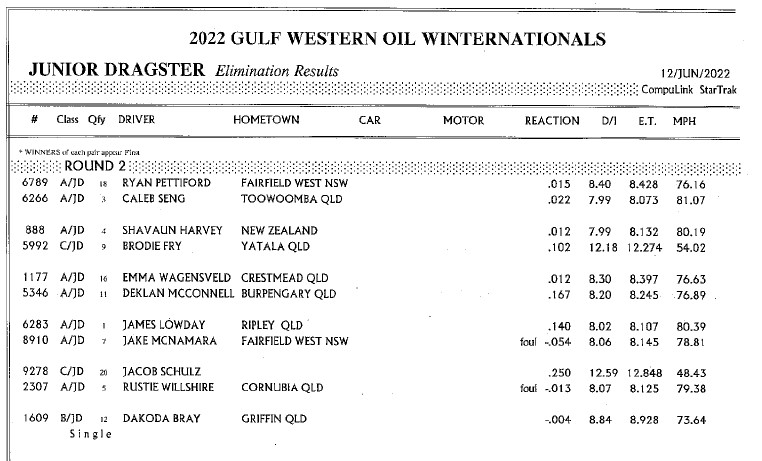 ---
Super Street Round 3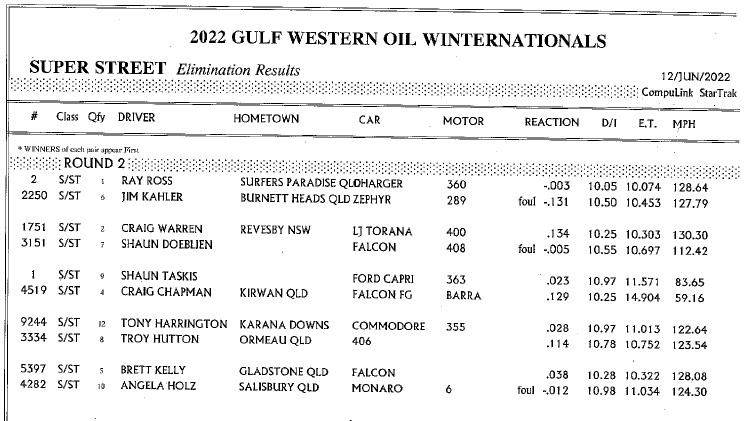 ---
Real Street Round 1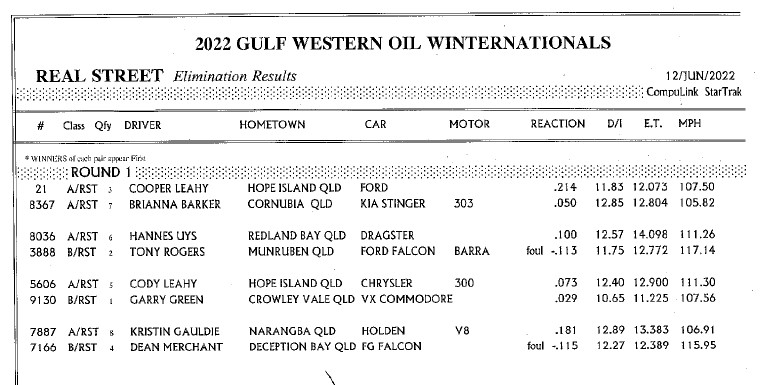 ---
Modified Bike Round 2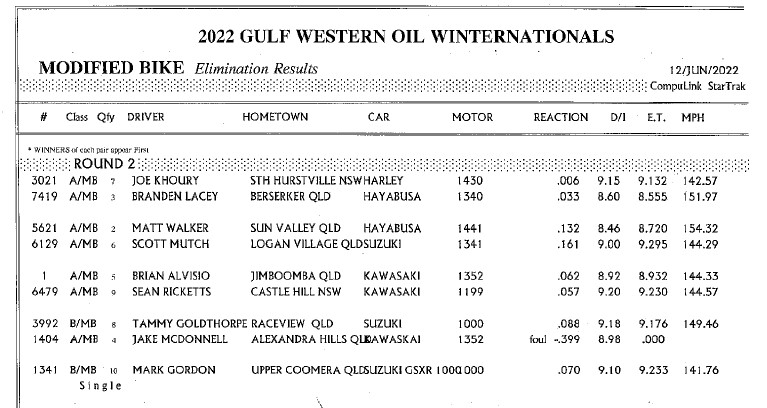 ---
Super Sedan Round 2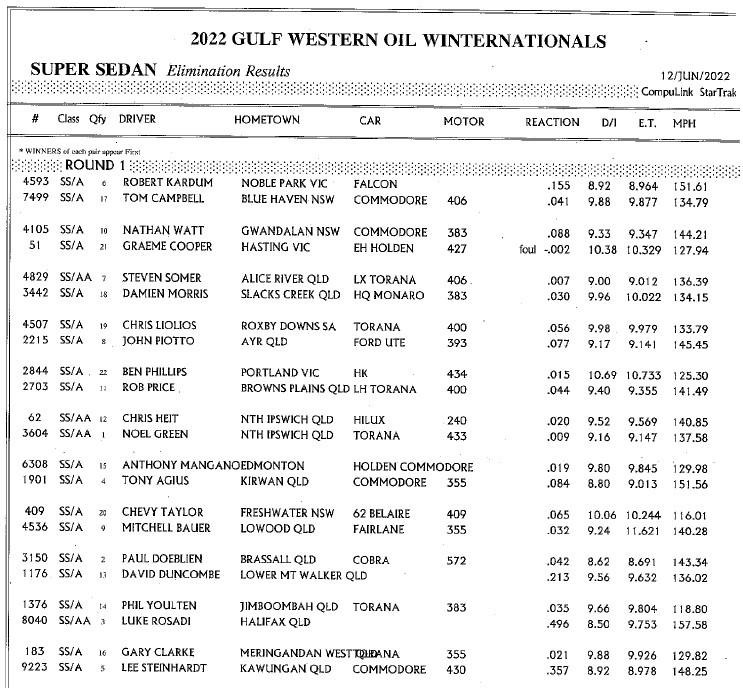 ---
Super Street round 2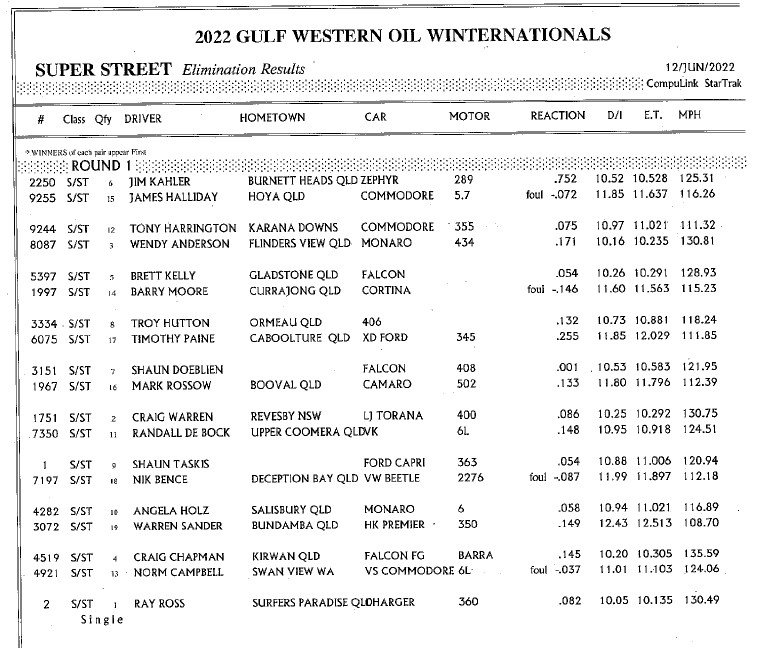 ---
The final day of the Winternationals is upon us, with Gold Christmas Trees the prize for today's bracket winners.
Here is the schedule: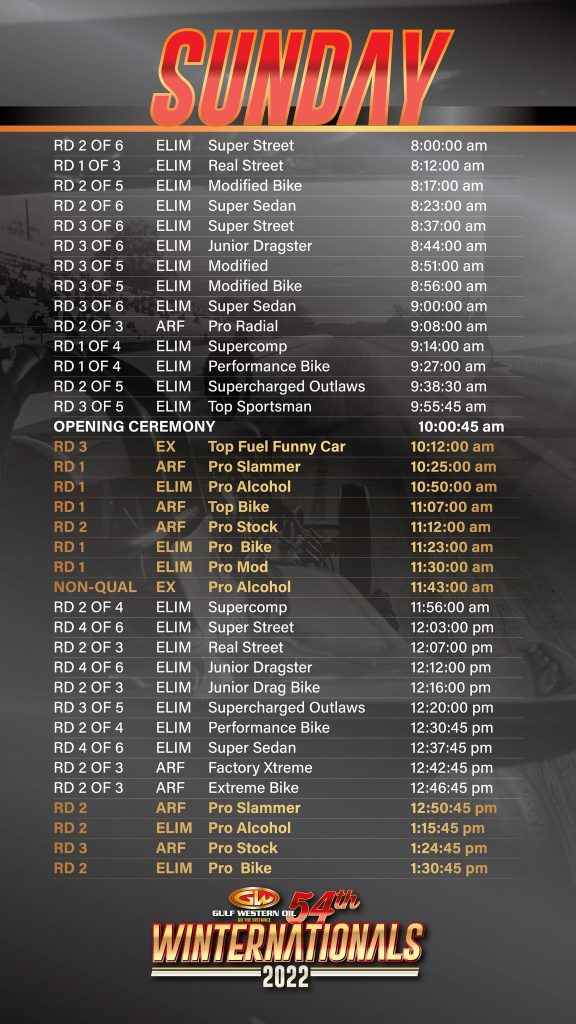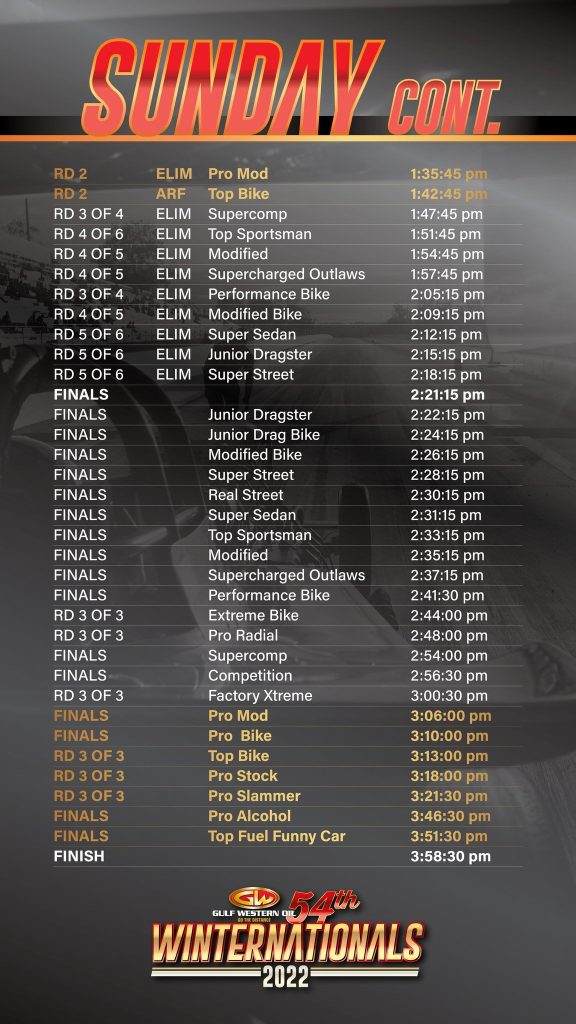 ---
EVENT STORIES:
PRE EVENT STORIES: